What Are The Biggest Industries In New Jersey?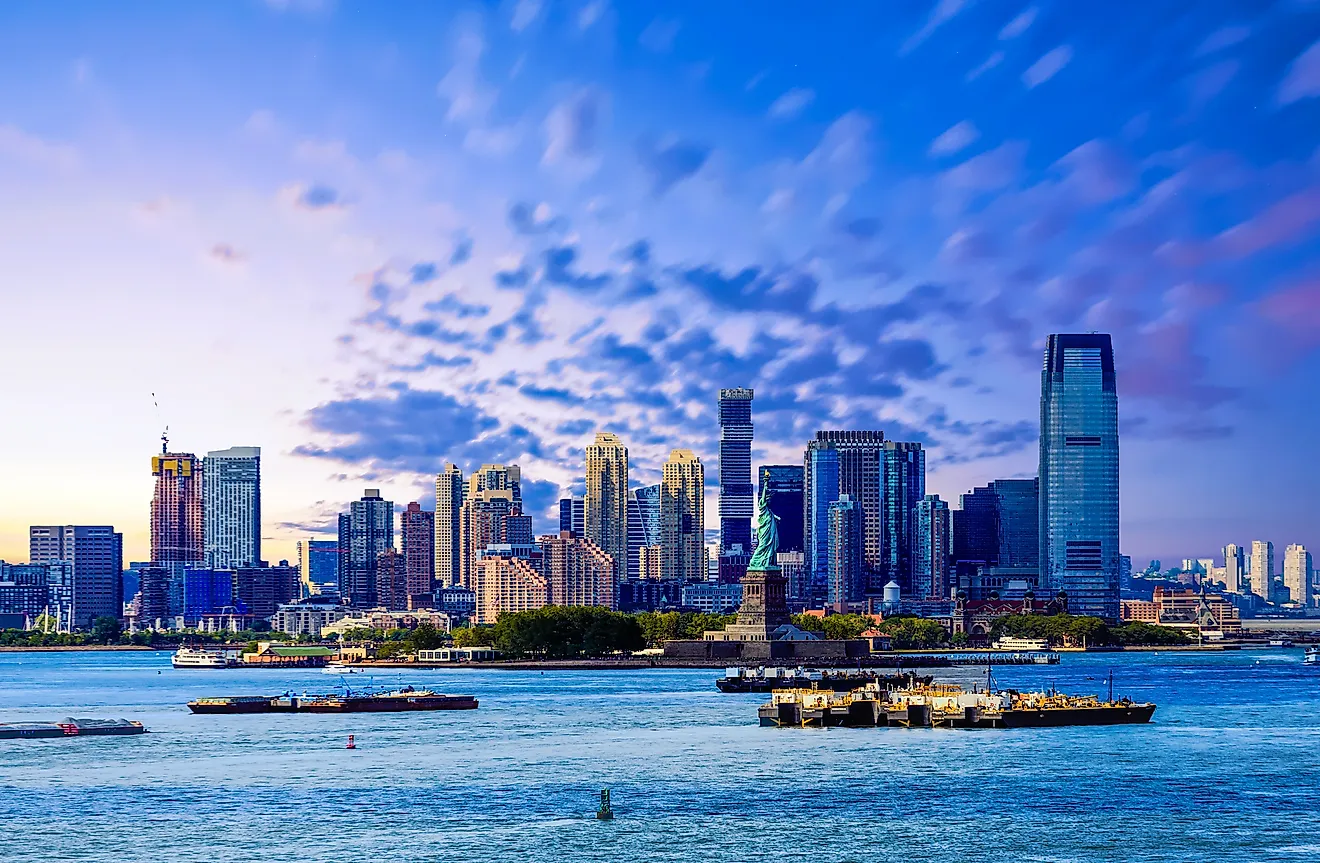 New Jersey is the fourth-smallest state in the United States. It is only larger than Connecticut, Delaware, and Rhode Island, yet it is the 9th most populous and the most densely populated state. Pharmaceutical and life science, financial services, advanced manufacturing, transport and logistics, film, and health industries are the biggest industries in the state.
A Brief On The Economy Of New Jersey
New Jersey is an industrial center and an important transport corridor and terminus. The state is known for its output of machinery, pharmaceuticals, chemicals, electronic equipment, processed foods, and a host of other products. Pipelines from Oklahoma and Texas converge in Bayonne, while oil refineries are located at Carteret and Linden. New Jersey has a long history with industrial research and development, producing world-changing innovations such as the videotape recorder, color television, and the LCD screen. Today, technology and telecommunications are significant players in the state economy, while the area near Princeton is a high-tech center. Warehousing, finance, and retailing are also major players. An elaborate transport system in the industrial lowlands moves enormous volumes of goods and traffic through the state. The extensive transport network has helped shape New Jersey as a popular vacation destination and an emerging casino gambling center. In addition, New Jersey is the leading state in agricultural income per hectare. Blueberries and cranberries are grown in the scrub pine areas in the southern region while corn, hay, potatoes, vegetables, peaches, and other crops are grown in the fertile soils north of the pine belt. Due to population pressure, residential and commercial expansion has encroached on agricultural land, leaving one-third of the state developed. The following are the largest industries in New Jersey. 
The Biggest Industries In New Jersey
Pharmaceutical And Life Science
Life science is a growing sector in the state of New Jersey, as evidenced by the growing employment. By 2019 employment in the industry concentrated on three primary components: pharmaceuticals, biotechnology research and development, and medical device manufacturing. The industry employs about 118,000 people representing 3.5% of employees in the private sector. Between 2011 and 2018, the pharmaceutical and life science industry grew by 10.5%. Prominent companies based in New Jersey are Johnson and Johnson, Bristol Myers Squibb Company, and Bayer Healthcare Pharmaceuticals. About 15% of New Jersey's population is above 65 years and have contributed positively to the growth of the Healthcare industry. About 21 firms in the Fortune 500 companies are based in the state.
Financial Services
Proximity to Wall Street and an educated workforce have helped shape New Jersey as the preferred destination for financial service companies. Many multinational companies have significant operations or headquarters within the state. More than 11,400 financial service firms, including insurance firms, employ about 180,000 employees and contribute over $31 billion annually. New Jersey has also become an attractive destination for the emerging fintech industry that utilizes technology to offer innovative solutions and strategies in banking, investment, and credit services. Other factors that attract financial companies to New Jersey are: less expensive but prime real estate, cheaper utilities, affordable cost of living, and lower taxes compared to neighboring States. New Jersey also has a highly educated population. Approximately 39% hold a bachelor's degree against a national average of 31%, while about 15% have a professional or graduate degree. The steady stream of graduates from colleges and universities enable financial firms to employ industry-ready employees. Lastly, New Jersey has one of the fastest and reliable fiber-optic networks that are crucial for connecting farms to the outside world. The state has the second-largest concentration of data centers in the country.
Advanced Manufacturing
New Jersey has had a vibrant manufacturing industry for the past 200 years. The state is credited with being the birthplace of the American Industrial Revolution. More than 2,500 advanced manufacturing firms operate in the state from small machine shops to large processing and pharmaceutical companies. The manufacturing industry employs over 245,000 people and contributes at least $37 billion to the state's economy. Pharmaceutical, chemical, food manufacturing, and petroleum refining are the state's manufacturing strongholds. Infrastructural development by the state and service improvement by utility companies support the manufacturing sector. Several clean energy projects are under development to ensure 100% clean energy by 2050. New Jersey's proximity to New York and Washington DC gives it access to a large and diversified market. Technology is replacing traditional manufacturing, and companies such as Succhi Inc represent the era of goods "Made in America." 
Transport And Logistics
New Jersey is a fast-growing hub for logistics and distribution. It hosts America's second densest road and rail network, second largest seaport, and the busiest airport network when combined with Philadelphia and New York. New Jersey's centralized location, robust supply chain, and skilled workforce make it attractive to logistic companies. E-commerce companies prefer the state for their warehouses and fulfillment centers, as more than 38 million consumers are 2 hours away from central New Jersey. Amazon operates ten fulfillment centers and employs over 17,500 people. Some companies prefer New Jersey over neighboring states due to affordable real estate. In 2014, online grocery market, Peapod, discovered that it could double its storage capacity by establishing a distribution facility in New Jersey to serve customers in New York. In 2018, more than 26 million square feet of industrial space was leased out to companies, and the vacancy rate dropped to about 3.2%, signifying increased demand. The port of Newark, Bayonne, and Elizabeth, combined with the regional air cargo network, creates the busiest North American gateway. 
Film Industry
The role of New Jersey in the development of the film industry in the United States is undisputed. in the 1880s and 1890s, Thomas Edison and his team of engineers invented the kinetograph and kinetoscope, and built the world's first film production studio. Before Hollywood was established in the 1890s, New Jersey was the film capital of the world. Today, it is home to the largest concentration of film production Studios outside California. 
Healthcare
New Jersey's healthcare system is fueled by world-class universities, research institutions, and an environment that fosters discovery. Researchers and healthcare providers in New Jersey are pioneering medical services and medicine. The state boasts of over 21,800 healthcare establishments and more than 460,000 workers. The industry contributes about $37 billion to the economy annually.