Who Has Won The Most Formula 1 Championships?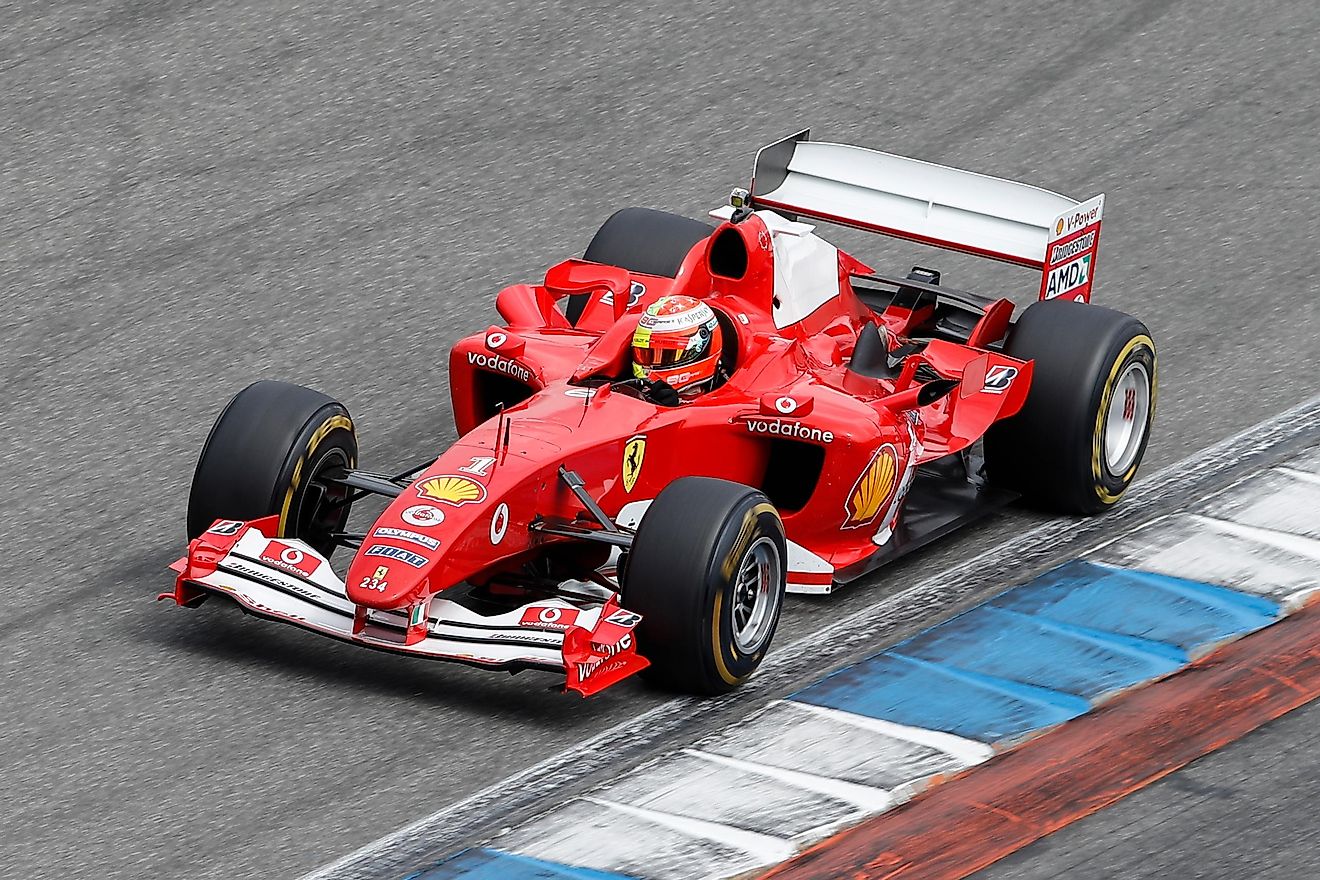 In 1997, as he was battling Jacques Villeneuve for the title, he made a similar move like the one that got him his first title in 1994, when he crashed into Graham Hill. Schumacher was not punished in 1994 for his dangerous actions on track, but after the 1997 incident, he was completely disqualified from the championship. Even Schumacher accepted that decision and admitted his wrongdoings on the track.
One of the weirdest victories for Schumacher came in 1998, when he won the British GP, by coming through the pit lane at the very last lap to serve a 10-second penalty.
Schumacher has a younger brother Ralf, who also competed in F1 for a decade. Mick Schumacher is Michael's son, and he is 21 now, competing in the F2 championship. There is a huge chance he will be coming to F1 (possibly Ferrari) to continue his father's legacy.
To win a Formula 1 championship is considered as one of the greatest achievements a racing driver can accomplish. Since 1950, dozens of teams, with 20+ drivers on the starting grid battle for the prestigious title of becoming F1 champions. One driver stands out from the rest, and his name is Michael Schumacher. 
Tough Start For The Talented Rookie
Michael Schumacher's career as an F1 driver started in 1991, with his first appearance being at the Belgian Grand Prix, which took place on the legendary Circuit de Spa-Francorchamps. At this time, the F1 world already had many famous drivers, one of them being the late and great Ayrton Senna.
It was not easy for rookie Schumacher to prove his class while Senna was battling Nelson Piquet, another great race driver from Brazil. However, just one year later, on the exact same Belgium GP, he claimed his first victory. 
There was one thing evident from the start, which made the F1 fans all over the world compare Schumacher and Senna: they were both great under pressure, and especially under wet conditions. Senna dominated in the years before whenever there was rain on the track, and Michael Schumacher showed a lot of the same qualities. 
First And Second Championship Titles With Benetton
In 1994, Michael drove for the Benetton Ford racing team. This particular season is one of the most memorable seasons of F1 ever, but not all of it is due to Schumacher's success. That season looked like it was going to be a very close race between Senna, Schumacher, and Damon Hill.
However, on the Imola race track in Italy, on May 1, Senna crashed and died as he was rushed to the hospital. Despite this colossal tragedy for the whole world of sports, the high-octane circus had to move on. The battle between Schumacher and Hill continued until the very last race. 
Australian GP was last in the schedule of the 1994 season, and Schumacher only had a 1 point advantage in front of Hill. On lap 36, Schumacher hit the barrier, heavily damaging his car, and with Hill being right behind him, everyone thought the championship title for the German driver was gone.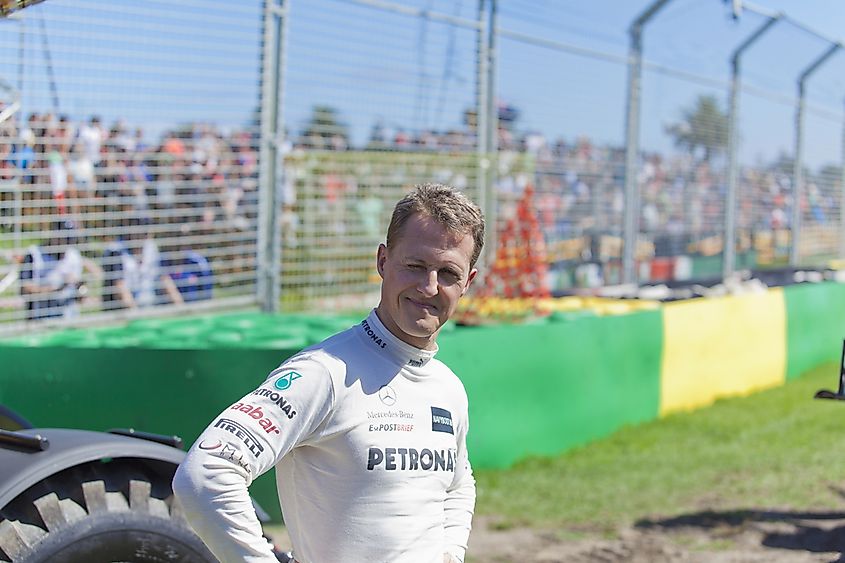 However, as he was coming back onto the track after the collision with the barrier, and Hill tried to make a move, Schumacher crashed into Hill's car, and they were both out of the race, and Schumacher won the title. An unbelievable ending to a tragic season. The next season was nothing alike, although his rivalry with Damon Hill continued. In the 1995 season, Schumacher won 9 out of 17 races that year, and his second title came in a far less dramatic fashion.
10 Years With Ferrari: Five Titles
Ferrari is an iconic car manufacturer, and the relationship between their racing team and Michael Schumacher is almost a romantic story. Despite the early F1 day's success and their excellent performances on the 24 hours of Le Mans, Ferrari had struggled in the F1 competition for years and years before Schumacher came along.
Everyone thought their V12 engine was no longer competitive against the new standard that was a V10 - a lighter engine that needed less fuel. However, Schumacher and Ferrari proved them all wrong, as the German won three races in his first season with this Italian team. However, for the next four years, although they were always close to the title, Schumacher and Ferrari did not win the driver championship. 
2000-2004: Era Of Dominance
As the new millennia came, so came Schumacher's dominance. All records that exist within the F1 franchise were broken by Schumacher. From 2000 to 2004, he won five consecutive titles: some of them were close, like the 2000 season battle with the Finnish driver Mika Häkkinen, and some of them could also be described as dull, as hard it may sound. In the 2004 season, Schumacher won 12 of the first 13 races in the F1 calendar, and he was way ahead of everyone as he claimed his record-breaking seventh title. 
During his career, Schumacher climbed to number 1 spot on the podium in 91 races, and he was 155 times on the podium besides that. He claimed 68 pole positions and 77 fastest laps of the race. 
After he retired from active racing in 2006, he worked as a consultant for the Ferrari team. In 2010 he returned to drive for three more seasons as a member of the Mercedes AMG team. However, neither he nor the team was competitive enough to fight against the other teams, and Schumacher had only one podium in three seasons with Mercedes. 
Accident In 2013
Michael Schumacher was racing 330 km/h around the most famous tracks in the world for more than two decades, with very few major accidents. However, one accident changed his life forever. As Schumacher was skiing with his son Mick in the French Alps, he fell down and hit a rock with his head. Even though he was wearing a helmet, he sustained massive injury.
He was in a medically induced coma for a long time. There is very little information about the current state of the former seven-time F1 world champion. From 2014 he is at his home, where he is still recovering. The injuries to the head were severe, and all we know for now that the race of life for Schumacher is still not done as he continues to recover from this horrific accident.