Top Performing Countries In The FIS Snowboard World Championships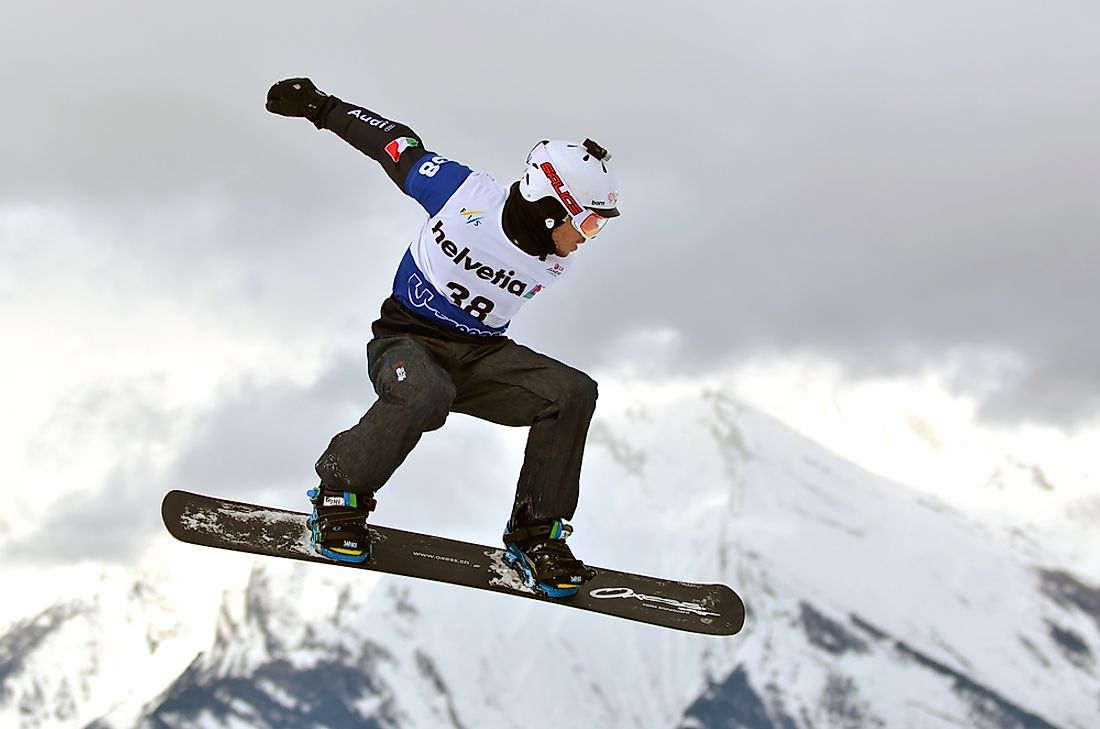 Ever since the sport of snowboarding was introduced it has grown in popularity around the world. The FIS Snowboarding World Championships has been held every odd-numbered year beginning in 1996. Among the disciplines featured at this international competition are Snowboard Cross, Big Air, Half-Pipe, and Slalom events. The competition also includes both male and female competitors. The FIS Championships is organized by the International Ski Federation. France currently tops the medal rankings with a total of 20 gold medals.
Recreational to Olympic Sport
Snowboarding first appeared on the sporting scene in the 1960s when it was considered more of a recreational activity than an accredited sport. Because of its unique mix of employing skateboarding, skiing, surfing, and sledding skills and techniques it didn't take long before it caught on with an increasing number of winter sports enthusiasts. In 1998, snowboarding was officially included in the Winter Olympics and some years later, in 2014, it became part of the Paralympic Games.
Medal Standings
Since that first international championship, France has topped the medal rankings earning 20 gold medals, more than any other nation. In that time, the European country has also accumulated 22 silver as well as 9 bronze medals for a grand total of 51. Following close behind in terms of medal totals are the countries of Austria (with 15 gold, 17 silver, and 18 bronze for a total of 50) and the United States (with 15 gold, 11 silver, and 19 bronze for a total of 45). Other countries whose teams have found success at the FIS Snowboard World Championships include Switzerland (37 total medals), Finland (22), Canada (21), and Italy (20).
Top French Athletes
Through the years, the French team has produced a number of talented snowboarders. Among the athletes who have won multiple medals include Nicolas Huet, who competed in the Parallel as well as the Parallel Giant Slalom from 1999 to 2005 and won two gold, one silver, and two bronze medals. Another noteworthy male snowboarder is Mathieu Crépel, who participated in the Halfpipe and Big Air disciplines between 2007 and 2009. Crépel took home two gold and one bronze medal.
Top female athletes from France who have competed at the FIS Snowboarding World Championships over the years include Karine Ruby, who from 1996 to 2005 competed in the Giant Slalom, Parallel Slalom, and Snowboard Cross, thus earning herself six gold and four silver medals. Another talented French female snowboarder, Isabelle Blanc, participated in all three Slalom disciplines from 1999 to 2003 and ended up winning two gold and three silver medals.
Top Austrian Athletes
Austria has also produced many great snowboarding champions including Benjamin Karl, who from 2009 to 2017 competed in the Parallel Slalom as well as the Parallel Giant Slalom, winning a total of seven medals (four gold, two silver, and one bronze). Among Austria's top female snowboarders is Manuela Riegler, who competed in Snowboard Cross as well as Parallel Slalom and Parallel Giant Slalom events from 1996 to 2005. She won a total of one gold, two silver, and one bronze medals at the international championships.
Host Cities
To illustrate the international appeal of snowboarding one needn't go any further than to check out all the cities which have hosted the FIS World Championships throughout the years. This list includes cities from around the globe including Lienz, Austria (1996), Madonna di Campiglio, Italy (2001), Whistler, Canada (2005), Gangwon, South Korea (2009), and La Molina / Barcelona, Spain (2011). The next FIS championship is scheduled to take place in Park City/Deer Valley in the United States in 2019.
Top Performing Countries In The FIS Snowboard World Championships
| Rank | Participating Countries | Gold Medals | Silver Medals | Bronze Medals | Total Medals |
| --- | --- | --- | --- | --- | --- |
| 1 | France | 20 | 22 | 9 | 51 |
| 2 | Austria | 15 | 17 | 18 | 50 |
| 3 | United States | 15 | 11 | 19 | 45 |
| 4 | Switzerland | 13 | 15 | 9 | 37 |
| 5 | Finland | 9 | 5 | 9 | 23 |
| 6 | Italy | 8 | 4 | 8 | 20 |
| 7 | Canada | 7 | 7 | 7 | 21 |
| 8 | Australia | 6 | 2 | 3 | 11 |
| 9 | Germany | 4 | 4 | 7 | 15 |
| 10 | Russia | 4 | 4 | 5 | 13 |
| 11 | Norway | 4 | 3 | 7 | 14 |
| 12 | Slovenia | 3 | 4 | 4 | 11 |
| 13 | China | 3 | 1 | 1 | 5 |
| 14 | Sweden | 2 | 7 | 6 | 15 |
| 15 | Japan | 2 | 4 | 2 | 8 |
| 16 | Belgium | 2 | 2 | 1 | 5 |
| 17 | Czech Republic | 2 | 2 | 0 | 4 |
| 18 | Netherlands | 1 | 2 | 1 | 4 |
| 19 | Spain | 0 | 3 | 0 | 3 |
| 20 | New Zealand | 0 | 1 | 1 | 2 |
| 21 | Poland | 0 | 0 | 2 | 2 |
| 22 | Slovakia | 0 | 0 | 1 | 1 |