Top Performing Countries In The World Taekwondo Championships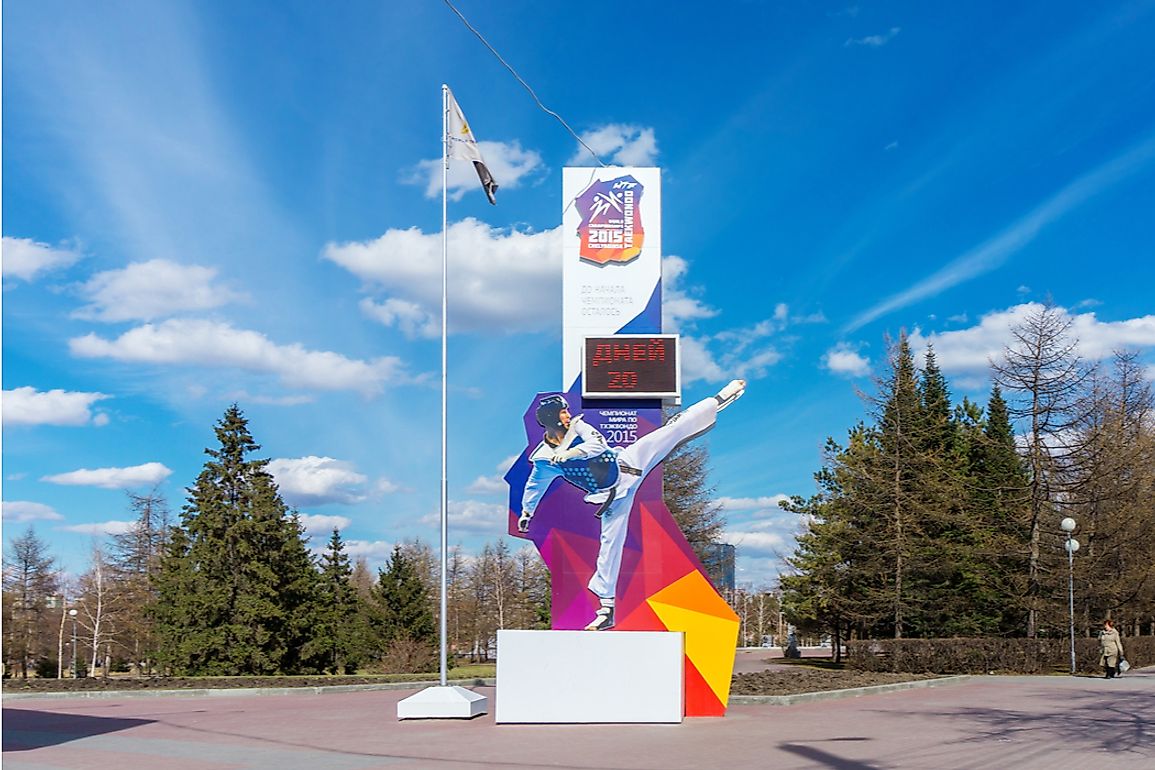 The sport of taekwondo originated in the Asian country of Korea about a thousand years ago before being fine-tuned during the 1940s and 50s and becoming a popular sporting activity all over the world. This form of martial art differs from other similar fighting forms because of its emphasis on a very specific rapid kicking style which includes spinning, jumping, and kicks directed at the opponent's head.
The international body in charge of taekwondo is the International Taekwon-Do Federation which was established in 1966 by Choi Hong Hi, a former South Korean military general. World Taekwondo is the organization in charge with overseeing global taekwondo competitions in events such as the Olympic and Paralympics.
History of Taekwondo

South Korea's connection to taekwondo goes back a very long time. At one point in its history this particular martial art was an essential part of combat training for Korean soldiers preparing to go into combat. Taekwondo later evolved from being a method of self-defense to becoming the national sport of South Korea. Due in part to its spiritual element the practice of taekwondo has become a popular practice for both men and women and over the years the sport has spread throughout the world with approximately 100 million people currently participating in the sport.
Taekwondo has played an important part in culture of South Korea since ancient times. For over a thousand years participants have taken part in it for a variety of reasons including self-defense, maintaining overall health and wellness, as well as on a competitive basis. The popularity of taekwondo is likely also due to the fact that it can be practiced by people of various ages and skill levels. Taekwondo participants are ranked into several categories including senior, junior, instructor, and student.
World Taekwondo Championships
Beginning in 1973, the World Taekwondo Championships have taken place every two years in various world cities. There are 8 divisions based on weigh class: Finweight (under 54 kg for men and under 46 kg for women), Flyweight (-58kg men/-49kg women), Bantamweight (-63kg men/-53kg women), Featherweight (-68kg men/-57kg women), Lightweight (-74kg men/-62kg women), Welterweight (-80kg men/-67kg women), Middleweight (-87kg men/-73kg women), and Heavyweight (over 87 kg for men and over 73 kg for women). Matches take place between two competitors of the same gender and weight division in a 8 meters square ring or similarly sized octagon. The winner is determined by points at the end of three 2-minute rounds or due to a knockout when one competitor is unable to continue. Points are awarded for punches, kicks, and technical kicks (involving turning or spinning) to the head and hogu (trunk protector) with the most complicated – a technical kick to the head – scoring the most points (5).
Top Performing Countries
Because the sport can trace its origins back to Korea it's not surprising that South Korea has by far won more medals than any other competing nation. At the present time the country's medal count stands at 167 gold, 31 silver, and 34 bronze for a total of 232 medals. In fact, it was not until 2009 and 2011 that the Women's Champion and Men's Champion respectively was won by a country other than South Korea.
Because of the historical and cultural importance of taekwondo and its status as South Korea's national sport it's not surprising that the country has dominated at the World Taekwondo Championships. Over years South Korean players who have earned a place as Hall of Fame champions include athletes such as Dong Keun Park (1962-1966), Byung Hyun Suh (1963-1966), Je Gyoung Kim (1991-2000), and Lee Sung-hye (2005-2010).

The nation with the second-most medals, Spain, lags far behind with 22 gold, 25 silver, and 62 bronze for a total of 109 medals. Chinese Taipei, Turkey, and Iran round out the top five medal winning countries in the sport.
International Appeal
To illustrate the international appeal of taekwondo it should be noted that the championship competitions have taken place in a wide variety of countries throughout the world. Since the first competition was held in Seoul, South Korea in 1973 the event has been held in cities as diverse as Copenhagen, Denmark (1983 and 2009), New York City, US (1993), Edmonton, Canada (1999), and Manila, Philippines (1995).
The most recent competitions took place in Muju, South Korea from June 24-30 2017 and previously in Chelyabinsk, Russia in May of 2015.
The next World Championships are scheduled to be held in Manchester, U.K. from May 15-19, 2019.
Top Performing Countries In The World Taekwondo Championships
| Rank | Nation | Gold | Silver | Bronze | Total |
| --- | --- | --- | --- | --- | --- |
| 1 | South Korea | 167 | 31 | 34 | 232 |
| 2 | Spain | 22 | 25 | 62 | 109 |
| 3 | Chinese Taipei | 15 | 27 | 38 | 80 |
| 4 | Turkey | 14 | 20 | 31 | 65 |
| 5 | Iran | 14 | 19 | 21 | 54 |
| 6 | United States | 13 | 21 | 49 | 83 |
| 7 | China | 10 | 11 | 13 | 34 |
| 8 | Germany | 6 | 12 | 33 | 51 |
| 9 | France | 6 | 11 | 15 | 32 |
| 10 | Mexico | 4 | 27 | 33 | 64 |
| 11 | Great Britain | 4 | 8 | 7 | 19 |
| 12 | Thailand | 4 | 6 | 14 | 24 |
| 13 | Netherlands | 4 | 5 | 16 | 25 |
| 14 | Cuba | 3 | 3 | 8 | 14 |
| 15 | Azerbaijan | 3 | 1 | 9 | 13 |
| 16 | Russia | 2 | 11 | 17 | 30 |
| 17 | Denmark | 2 | 6 | 3 | 11 |
| 18 | Croatia | 2 | 5 | 13 | 20 |
| 19 | Egypt | 2 | 3 | 12 | 17 |
| 20 | Serbia | 2 | 0 | 6 | 8 |
| 21 | Mali | 2 | 0 | 2 | 4 |
| 22 | Canada | 1 | 11 | 13 | 25 |
| 23 | Uzbekistan | 1 | 5 | 1 | 7 |
| 24 | Brazil | 1 | 4 | 9 | 14 |
| 25 | Ivory Coast | 1 | 3 | 11 | 15 |
| 26 | Greece | 1 | 3 | 10 | 14 |
| 27 | Ecuador | 1 | 2 | 1 | 4 |
| 28 | Australia | 1 | 1 | 17 | 19 |
| 29 | Japan | 1 | 1 | 5 | 7 |
| 30 | Belgium | 1 | 1 | 2 | 4 |
| 31 | Gabon | 1 | 0 | 2 | 3 |
| 32 | Niger | 1 | 0 | 0 | 1 |
| 33 | Italy | 0 | 5 | 16 | 21 |
| 34 | Philippines | 0 | 5 | 6 | 11 |
| 35 | Morocco | 0 | 3 | 7 | 10 |
| 36 | Afghanistan | 0 | 2 | 2 | 4 |
| 37 | Puerto Rico | 0 | 2 | 2 | 4 |
| 38 | Chile | 0 | 2 | 1 | 3 |
| 39 | Indonesia | 0 | 2 | 0 | 2 |
| 40 | Vietnam | 0 | 1 | 5 | 6 |
| 41 | Venezuela | 0 | 1 | 4 | 5 |
| 42 | Argentina | 0 | 1 | 3 | 4 |
| 43 | Jordan | 0 | 1 | 3 | 4 |
| 44 | Bahrain | 0 | 1 | 0 | 1 |
| 45 | Guam | 0 | 1 | 0 | 1 |
| 46 | Portugal | 0 | 1 | 0 | 1 |
| 47 | Ukraine | 0 | 1 | 0 | 1 |
| 48 | Kazakhstan | 0 | 0 | 7 | 7 |
| 49 | Sweden | 0 | 0 | 7 | 7 |
| 50 | Dominican Republic | 0 | 0 | 5 | 5 |
| 51 | Belarus | 0 | 0 | 4 | 4 |
| 52 | Colombia | 0 | 0 | 3 | 3 |
| 53 | Hungary | 0 | 0 | 3 | 3 |
| 54 | Norway | 0 | 0 | 3 | 3 |
| 55 | Saudi Arabia | 0 | 0 | 3 | 3 |
| 56 | Senegal | 0 | 0 | 3 | 3 |
| 57 | Slovenia | 0 | 0 | 3 | 3 |
| 58 | Switzerland | 0 | 0 | 3 | 3 |
| 59 | Tunisia | 0 | 0 | 3 | 3 |
| 60 | Austria | 0 | 0 | 2 | 2 |
| 61 | Cyprus | 0 | 0 | 2 | 2 |
| 62 | Finland | 0 | 0 | 2 | 2 |
| 63 | Guatemala | 0 | 0 | 2 | 2 |
| 64 | Malaysia | 0 | 0 | 2 | 2 |
| 65 | Moldova | 0 | 0 | 2 | 2 |
| 66 | Nepal | 0 | 0 | 2 | 2 |
| 67 | Bulgaria | 0 | 0 | 1 | 1 |
| 68 | Costa Rica | 0 | 0 | 1 | 1 |
| 69 | Israel | 0 | 0 | 1 | 1 |
| 70 | Latvia | 0 | 0 | 1 | 1 |
| 71 | Nigeria | 0 | 0 | 1 | 1 |
| 72 | Poland | 0 | 0 | 1 | 1 |
| 73 | Uganda | 0 | 0 | 1 | 1 |