Society
What is the United Nations Geoscheme?
The United Nations geoscheme is an organization system used by the United Nations.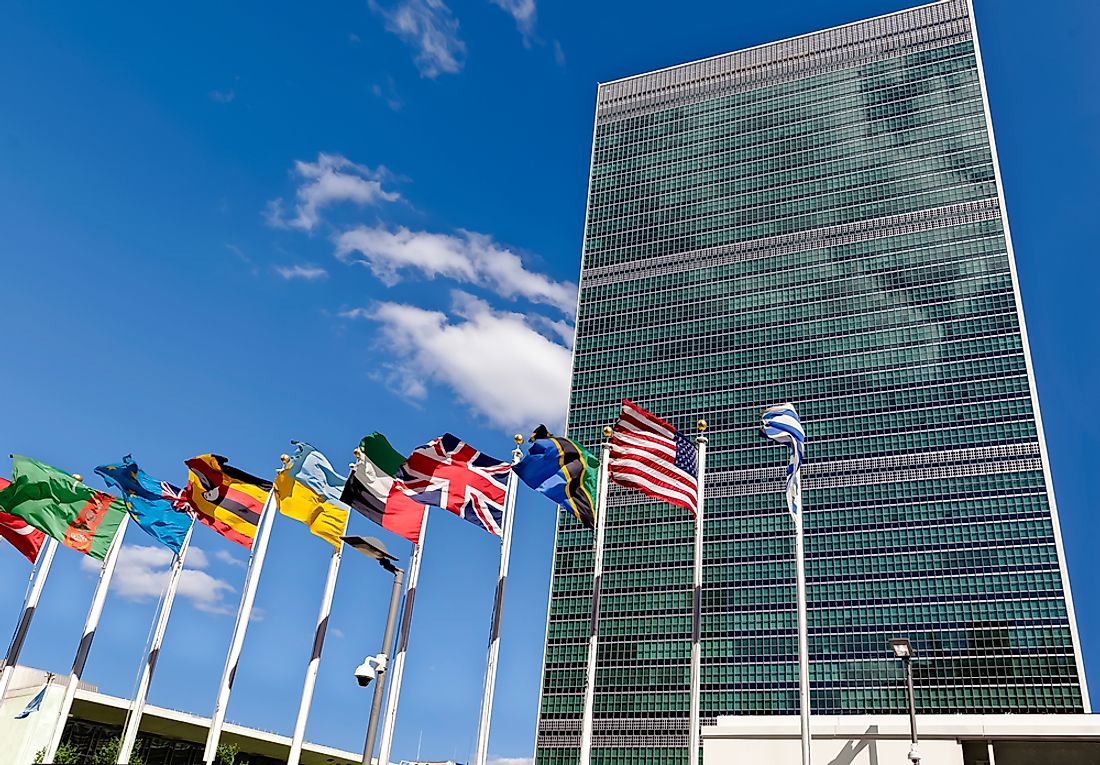 The United Nations Geoscheme is a system used by the UN to classify countries into regional and subregional groups. The system was formulated by the United Nations Statistics Division (UNSD) following the M49 coding classification. Some alternative groupings to this system include CIA World Factbook regions and the World Bank regional classification.
The Classifications Under The UN Geoscheme
Africa
The UN Geoscheme for Africa features five subregions. Eastern Africa encompasses 20 nations which occupy the easterly area of the African continent. Geopolitics also plays a role in the classification of the various countries. A further nine countries are categorized in the Central African subregion, and they are situated in the core region of the continent. North Africa has seven nations, most of which lie along the Mediterranean including Egypt, Morocco, Algeria, Tunisia, and Libya. North Africa has been closed off from the rest of Sub-Saharan Africa due to the expansive Sahara Desert. A total of five countries makes up Southern Africa which encompasses nations in the southern part of the continent. Western Africa is identified as Africa's westernmost region, and it has 18 nations. The subregion's estimated population is 340,000,000.
Americas
The United Nations geoscheme for the Americas has four subregions. The Caribbean encompasses the Caribbean Sea in addition to its islands and the surrounding coasts. This subregion has 13 sovereign states as well as 17 dependent territories. Central America has nine countries such as Belize, Nicaragua, Costa Rica, and Panama. 16 countries and territories make up South America, which is sometimes regarded as a subcontinent of the Americas. Northern America features five countries and territories, and it is North America's northernmost subcontinent. Canada occupies the largest area in this subregion at 3,855,103 square miles followed by the US at 3,796,742 square miles.
Asia
The UN Geoscheme for Asia features five subregions. Central Asia has five nations which were former Soviet Republics, and they are Uzbekistan, Kazakhstan, Tajikistan, Kyrgyzstan, and Turkmenistan. The easterly region of Asia is referred to as Eastern Asia with seven nations and territories. Southern Asia occupies an estimated area of 1.9 million square miles and has nine countries. The sub-region of Southeastern Asia features 11 countries and territories which are geographically west of New Guinea, south of China, north of Australia, and east of India. Western Asia has an estimated 18 nations, and it is often called the Middle East.
Europe
The UN Geoscheme for Europe has four subregions. Eastern Europe has ten nations, Northern Europe features 17 countries and territories, Southern Europe consists of 16 nations and territories, and Western Europe has nine countries.
Oceania
The UN Geoscheme for Oceania has four subregions. Australia and New Zealand features the countries of Australia and New Zealand. Australia consists of the mainland region of the Australian continent in addition to the island of Tasmania and many smaller islands. New Zealand occupies an area of 103,738 square miles in the Pacific Ocean. Melanesia has four countries as well as several dependent territories. Micronesia consists of thousands of small islands situated in the western region of the Pacific Ocean. Polynesia has more than 1,000 islands in southern and central Pacific Ocean.
Applications Of The Geoscheme
The developers of the UN Geoscheme acknowledge it was created for statistical purposes. The Geoscheme is not the standard for the whole United Nations system as autonomous UN specialized agencies use their own geographical definitions. The division of different regions of the world allows for detailed analysis.
What is the United Nations Geoscheme?
| Rank | Subregion | Region |
| --- | --- | --- |
| 1 | Eastern Africa | Africa |
| 2 | Middle Africa | Africa |
| 3 | Northern Africa | Africa |
| 4 | Southern Africa | Africa |
| 5 | Western Africa | Africa |
| 6 | South America | Americas |
| 7 | Caribbean | Americas |
| 8 | Central America | Americas |
| 9 | Northern America | Americas |
| 10 | Central Asia | Asia |
| 11 | Eastern Asia | Asia |
| 12 | Southern Asia | Asia |
| 13 | South-Eastern Asia | Asia |
| 14 | Western Asia | Asia |
| 15 | Eastern Europe | Europe |
| 16 | Northern Europe | Europe |
| 17 | Southern Europe | Europe |
| 18 | Western Europe | Europe |
| 19 | Australia | Oceania |
| 20 | Melanesia | Oceania |
| 21 | Micronesia | Oceania |
| 22 | Polynesia | Oceania |
About the Author
Benjamin Elisha Sawe holds a Bachelor of Arts in Economics and Statistics and an MBA in Strategic Management. He is a frequent World Atlas contributor. 
This page was last updated on August 1, 2017.
Citations
Your MLA Citation
Your APA Citation
Your Chicago Citation
Your Harvard Citation
Remember to italicize the title of this article in your Harvard citation.