The World's Leading Bauxite Producing Countries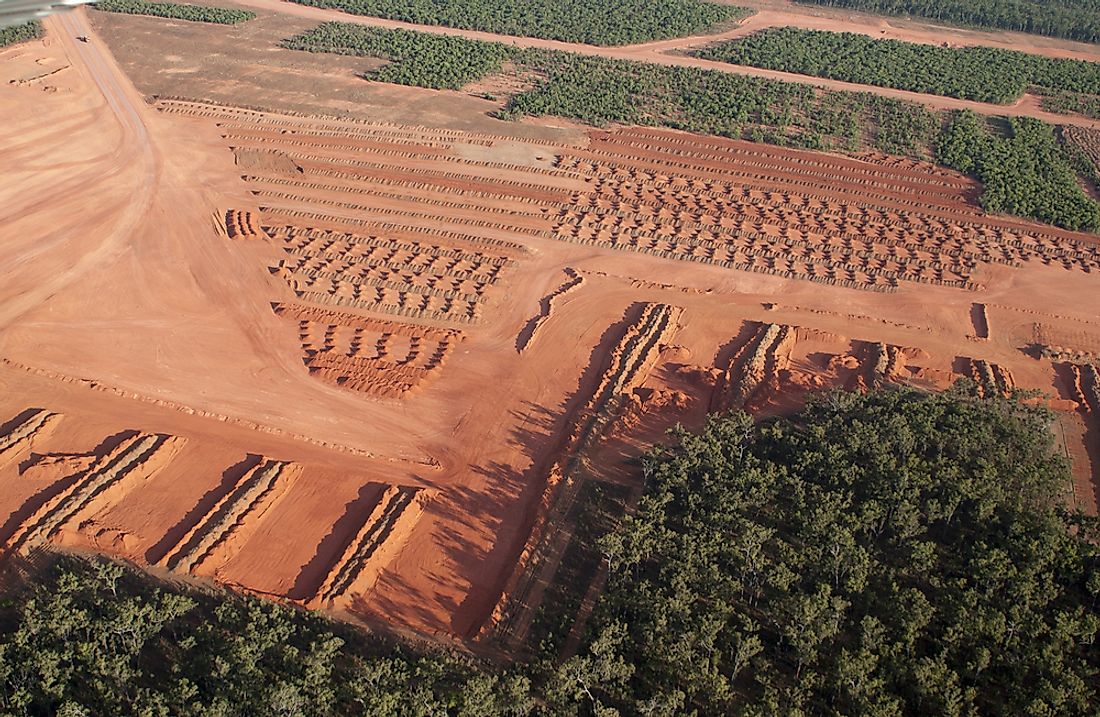 Bauxite is a soft limonite iron ore rock with portions of its iron composition replaced by aluminum. Bauxite forms when silica leaches out from laterite soil. Bauxite does not exhibit any particular composition instead it is just an assortment of clay minerals, aluminum hydroxides, and hydrous aluminum oxides. Although insoluble minerals are also part of its composition, namely siderite, magnetite, quartz, goethite, and hematite. It is found mostly in wet subtropical or tropical climates, and is the chief source material for the world's aluminum production industry. Its main sources of aluminum are the ores bohmite, diaspore, and gibbsite. It has a pisolithic structure and reddish brown coloration, along with a low specific gravity of 2.0-2.5.
Major Bauxite Producing Areas
Extraction of the Mineral Ore
Bauxite is one rock that is found in large quantities in many countries from all around the world. In fact, some countries have more than 100 years worth of reserves of Bauxite. The rock is easily obtained by open cast mining. Blasting or drilling is used to uncover the bauxite layer under the topsoil, which are then broken and loaded onto trucks for crushing and washing before transport to alumina refineries. The following figures for country-by-country outputs of bauxite are from 2014.
Australia
The number one Bauxite producer in the world today is Australia with 81,000 metric tons of bauxite production annually. It is being extracted in five mines that supply seven refineries that supply six smelters, all in Australia.
China
Number two is China with about 47,000 metric tons of bauxite production annually. China's bauxite reserves have decreased in size due to the increased world demand for aluminum and its byproducts. China has settled for importing bauxite from India, Australia, and Malaysia.
Brazil
Number three is Brazil with 32,500 metric tons of bauxite production annually. Brazil has the world's largest alumina refinery which gets its supply from two mines in the Para state. It has a unique underground pipeline for transporting the raw bauxite to the refineries.
Guinea
Number four is Guinea with 19,300 metric tons of bauxite production annually. Guinea has reputedly the largest bauxite deposits in the world. Although Guinea does not have any refineries to date so the rocks are shipped out to Ukraine refineries. However, the mines are all owned by foreign companies.
India
Number five is India with 19,000 metric tons of bauxite production annually. India has seven bauxite producing states. It has seven smelting plants and nine refineries for aluminum.
Other Leading Bauxite Producers
Next are Jamaica at 9,800 metric tons, Kazakhstan at 5,500 metric tons, Russia at 5,300 metric tons, Suriname at 32,700 metric tons, and Venezuela at 2,200 metric tons.
What is Bauxite Used For?
French geologist Henri Rouvere discovered the rock Bauxite in 1821 in Les Baux-de-Provence in southern France. Rouvere named his rock discovery after the village Les Baux. Today, bauxite is used in many ways such as aluminum-based chemicals, aluminum metal, cements, abrasives, and refractory materials. Aluminum-based chemicals are used in deodorants and other cosmetics. It is also used in waste water treatment facilities. Aluminum metals are used for making electrical cables, car bodies, aircraft skins, beer cans, and electronic shells. Refractory materials are used in kilns, furnaces, fireboxes, and fireplaces. Abrasives that contain aluminum are used for grinding carbon steel and high speed steel. It is also used in electrical insulators and sandpaper products.
The World's Leading Bauxite Producing Countries
| Rank | Country | Bauxite Production (in thousand tonnes), 2014 |
| --- | --- | --- |
| 1 | Australia | 81,000 |
| 2 | China | 47,000 |
| 3 | Brazil | 32,500 |
| 4 | Guinea | 19,300 |
| 5 | India | 19,000 |
| 6 | Jamaica | 9,800 |
| 7 | Kazakhstan | 5,500 |
| 8 | Russia | 5,300 |
| 9 | Suriname | 2,700 |
| 10 | Venezuela | 2,200 |