Biggest South Asian Cities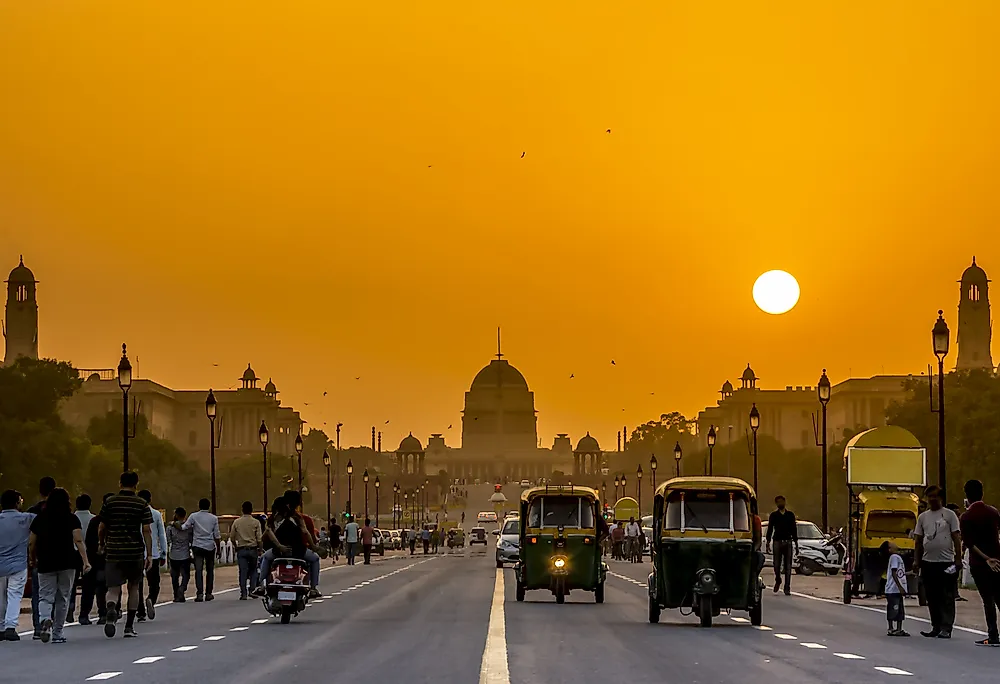 South Asia encompasses the region on the southern side of Asia and the Indian subcontinent. It is comprised of 8 countries which including Afghanistan, Nepal, Maldives, Sri Lanka, Bhutan, India, Bangladesh, and Pakistan. Sometimes Burma, Tibet, and Iraq are also included. All these countries together, have a population of 1.6 Billion. A surge in urbanization has made South Asia home to largely populated cities. Delhi in India and Karachi in Pakistan host inhabitants exceeding 20 million each. The other main cities include Kolkata, Dhaka, Lahore, Bengaluru, Chennai, Hyderabad, and Ahmadabad.
The Most Populus Urban Areas of South Asia
Delhi, India
An estimated 24.99 million people live in the 2,072 square kilometer area that is Delhi in India. Neighboring New Delhi is the capital city of India and is a blend of historical and contemporary civilization. The economy of Delhi is dominated primarily by the service sector including tourism, banking, health, information Technology, and Media which employ thousands of its inhabitants. Government's activities in Delhi also earn the city a lot of revenue. The Retail sector is also a lucrative business market in Delhi.
Delhi has experienced a population boom in the last decade. There are huge strides made by India's government to improved infrastructure and the living standards. These improvements attract people from all over India and beyond New Delhi. Males outnumber females and Hinduism is the dominant religion in Delhi. Delhi is considered to have a high literacy rate estimated at 86%.
Karachi, Pakistan
Karachi is the capital of Singh, a province in Pakistan. It is the largest city and the financial hub in Pakistan. It is also the most populous of Pakistan's cities with an estimated population of 22.12 million inhabitants. Karachi is strategically located on the coastline of the Arabian Sea and is home to two of the busiest ports namely, Port Bin Qasim and Port of Karachi. Karachi contributes substantially to the revenue of Singh. Karachi alone is attributed to 20% of the overall GDP of Pakistan.
The most lucrative sectors are trade, banking, and industries such as automobile and steel. Karachi also enjoys massive revenue collection for the port's activities such as import tax. The city is comprised of people mostly the descendants from other nations such as Bangladesh and Afghanistan and subsequently has a diverse mix of culture. Islam is the main religion in Karachi. The city is most famed for being the birth and death place of the founder of Pakistan, Muhammad Ali Jinnah.
Mumbai, India
Mumbai in India has a population of 17.71 million inhabitants and sits on an approximated area of 546 square kilometers. It was previously called Bombay and is the capital of Maharashtra State. It is the financial hub of India with a stock exchange ranked among the largest in the world. Mumbai has a diverse industry base that includes cotton textile, manufacturing of automobiles, electronics, and petrochemicals. It is a port city located on the coastline of the Arab Sea and has a deep natural harbor.
Mumbai is a culture hub as well and is home to the Bollywood industry which generates millions of revenue and employs thousands of people annually. The ethnicity of the population of Mumbai is majorly Maratha followed by Gujarati. The large population has however stretched Mumbai's amenities and led to the emergence of slums.
Dhaka, Bangladesh
Dhaka is the capital city of Bangladesh with a population of 15.67 million people and covers an area of 360 square kilometers. Dhaka is known as a Muslim center all over the world with prominent mosques such as the Seven Domed Mosque and the Star Mosque. Rice and Jute are grown around the Dhaka region.
Males outnumber females, and the major ethnicity is Bengali. Dhaka has a variety of attractions especially medieval churches and mosques which facilitate tourism. The principal sectors of the economy of Dhaka are textile, Pharma-chemical, and Information Technology.
Continued Growth Expected in Major South Asian Cities
Other populous cities and their estimated populations in South Asia include Kolkata, India, which is home to 14.67 million residents, followed by Lahore, Pakistan (10.05 million), Bengaluru, India (9.8 million), Chennai, India (9.71 million), Hyderabad, India (8.75 million), and Ahmadabad, India (7.18 million). Populations in South Asia are projected to continue rising by an estimated 250 million by the year 2030. These projections have raised concerns over the environmental impacts such a population will bring forth. Slums sprawls are already an emerging problem in these largely populated cities.
The Most Populated Urban Areas of South Asia
| Rank | City | Country | Population | Area (km2) |
| --- | --- | --- | --- | --- |
| 1 | Delhi | India | 24,998,000 | 2,072 |
| 2 | Karachi | Pakistan | 22,123,000 | 945 |
| 3 | Mumbai | India | 17,712,000 | 546 |
| 4 | Dhaka | Bangladesh | 15,669,000 | 360 |
| 5 | Kolkata | India | 14,667,000 | 1,204 |
| 6 | Lahore | Pakistan | 10,052,000 | 790 |
| 7 | Bengaluru | India | 9,807,000 | 1,116 |
| 8 | Chennai | India | 9,714,000 | 375 |
| 9 | Hyderabad | India | 8,754,000 | 971 |
| 10 | Ahmedabad | India | 7,186,000 | 350 |