World Facts
The 10 Most Populated Countries in Oceania
Australia is the most populous country in Oceania, followed by Papua New Guinea and New Zealand.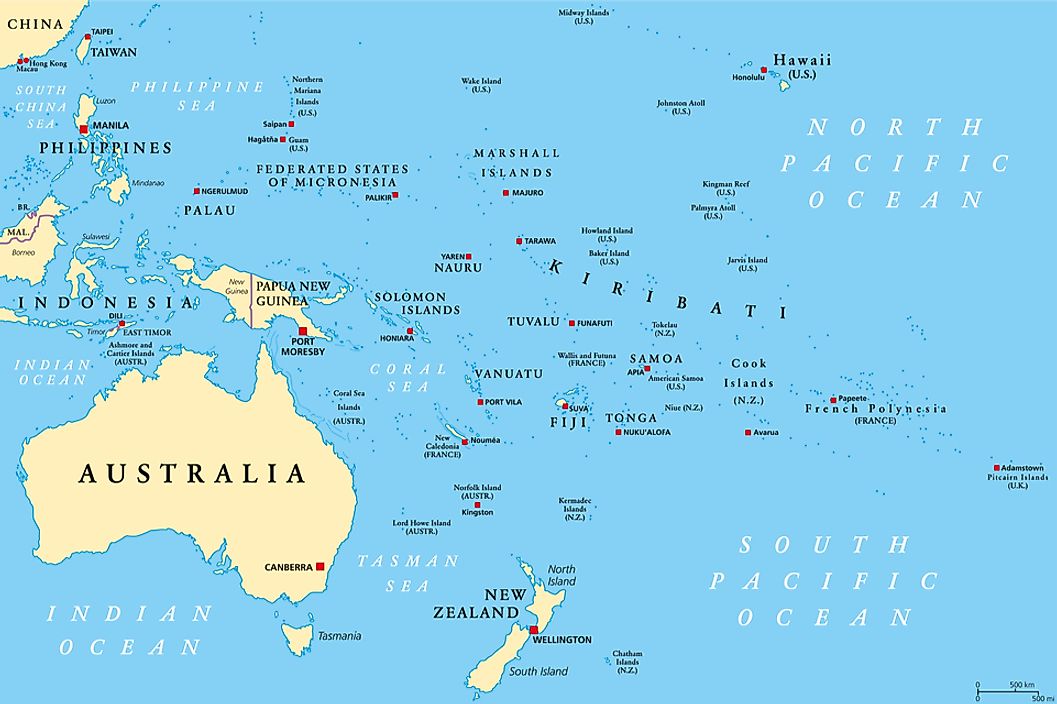 Oceania is a geographic region that includes Micronesia, Polynesia, Melanesia, and Australasia. Oceania spans an area of about 8.5 million square kilometers and has a population of 40 million inhabitants. Oceania is the second smallest continental region by population, and is larger than only Antarctica. The ten most populated countries in Oceania are listed below.
10. Guam (United States)
Guam is a United States island territory located in the Micronesia-Western Pacific. The island has a great Spanish colonial heritage evidenced by Fort Nuestra Señora de la Soledad, which is located in Umatac. The population of Guam is 162,000, and its capital city is Hagåtña, while its most populous city is Dededo. Guam covers an area of 540 square kilometers, with a negligible area of water. Guam is the largest Micronesian island with a tropical rain forest climate.
9. Samoa
Samoa is an independent nation located in the South Pacific. Until 1997, the country was named Western Samoa. Samoa covers an area of 2,842 square kilometers and has a population of 193,000. Most inhabitants of live on Upolu Island. Samoa's capital and largest city is Apia. The two main languages spoken in Samoa are Samoan and English. The country is famous for its reef-bordered beaches, rugged terrain and stunningly beautiful waterfalls.
8. French Polynesia (France)
French Polynesia is a French territory made up of five groups of Islands: the Society Islands; the Tuamotu Archipelago; the Marquesas Islands; the Gambier Islands; and the Austral Islands. In total, the territory has 118 islands and atolls, only 67 of which have human population. French Polynesia covers an area of 4,167 square kilometers and has a population of 273,000. 12% of the country's area is covered by water, while the rest is land. The capital of French Polynesia is Papeete, while its largest city is Fa'a'a.
7. New Caledonia (France)
New Caledonia is a French territory located in the western Pacific Ocean. It includes the main island of Grand Terre, the Isle of Pines, the Loyalty Islands archipelago, and many other small islands and atolls. New Caledonia has a population of 273,000 and covers an area of 18,576 square kilometers. The capital city of New Caledonia is Nouméa. New Caledonia has one of the largest lagoons in the world, which covers an area of 24,000 square kilometers. The country is also famous for its palm-lined beaches.
6. Vanuatu
Previously known as New Hebrides Islands, Vanuatu is a country located in the South Pacific Ocean. It covers an area of 12,189 square kilometers and has a population of 278,000. Its capital and largest city is Port Vila, which is located on Efate Island. Vanuatu is of volcanic origin and is made up of 83 islands. Tourists fill the beautiful country in the months of July-December.
5. Solomon Islands
Solomon Islands is an independent nation made up of six major islands and more than 900 smaller ones. The country is located in the South Pacific and covers an area of 28,450 square kilometers. Its location is strategically situated on sea routes between the Coral Sea, the South Pacific Ocean, and the Solomon Sea. The population of Solomon Islands is 587,000 and its capital city is Honiara, which is located on Guadalcanal Island. By population, Solomon Islands is the fifth largest Oceanian country.
4. Fiji
Fiji is a Melanesian country located in the South Pacific and it is an archipelago of more than 300 islands. Fiji covers an area of 18,270 square kilometers and has a population of 867,000. Most of its population live on the main islands of Vanua Levu and Viti Levu. 58% of the Fijians are Christian. The capital of Fiji is Suva, which is located on the island of Vita Levu. Fiji is a product of volcanic mountains and some of its common features are rugged landscapes, coral reefs having clear lagoons, and palm-lined beaches.
3. New Zealand
New Zealand is an island country located in the southwest Pacific Ocean. Geographically, the country consists of two main landmasses, the South Island and North Island, as well as over 600 smaller islands. New Zealand covers an area of 267,710 square kilometers and has a population of 4,579,000 people. The capital of New Zealand is Wellington, while Auckland is its largest and most populated city.
2. Papua New Guinea
Papua New Guinea is country that covers the eastern half of the island of New Guinea. Its offshore islands extend to Melanesia, which is a region in the Pacific Ocean. Papua New Guinea has a land area of 462,840 square kilometers and a population of 8.2 million. Its capital city is Port Moresby. The country is culturally diverse, and its population speaks over 800 indigenous languages.
1. Australia
Australia is surrounded by both the Pacific and Indian Oceans. The country has an area of 7,741,220 square kilometers. Water covers 58,920 square kilometers of this area, while the remainder is land. The capital city of Australia is Canberra. The country has a population of approximately 23.8 million people, most of which live in highly urbanized large cities such as Sydney, Perth, Melbourne, and Brisbane.
About the Author
Sharon is a Kenyan native with a wide range of interests. An accountant and financial analyst by profession, Sharon enjoys writing about world facts, the environment, society, politics, and more.
This page was last updated on October 17, 2017.
Citations
Your MLA Citation
Your APA Citation
Your Chicago Citation
Your Harvard Citation
Remember to italicize the title of this article in your Harvard citation.