World Facts
Which Country is the World's Most Densely Populated?
The Chinese Special Administrative Region of Macau is the world's most densely populated territory, followed by the countries of Monaco and Singapore.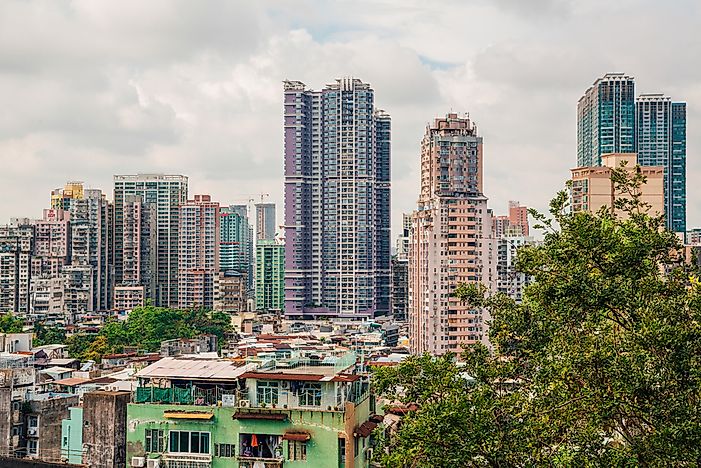 Human population density is determined by the amount of residents who live within a given land area of a city or country (generally a division of either a square mile or kilometer). Population density can be calculated for a city, town, country, or even for the whole world. The following is a list of the most densely populated countries and territories in the world.
Countries With the Highest Population Density
Macau
Macau is the most densely populated region in the world, with 48,003 people per square mile (18,534 people per square kilometer). Macau is not a sovereign country but is instead a Special Administrative Region of the Republic of China. It has a population of 650,900, many of whom are evenly distributed throughout the region's 44.5 square miles. Due to a low birth rate, Macau primarily relies on immigration in order to increase population levels. According to the Population Division of the United Nations Department of Economic and Social Affairs, Macau's urban population grew 2.66% between the years 2005 and 2010.
Monaco
Monaco, one of the world's smallest countries, is also second most densely populated country in the world. It has a population density of 43,830 people per square mile (16,923 per square kilometer). As Macau is technically not an independent country, Monaco can be considered the world's most densely populated country. There are 37,308 people living in Monaco. The country grows at a rate of 2.25% every year. While not a member of the European Union, Monaco still plays a vital part in European affairs. Monaco uses the euro as currency.
Singapore
Singapore is the world's third most densely populated place with 18,513 people per every square mile. Singapore is a country in Asia known for its warm climate, vibrant economy, and high quality of life. Although the idea of a high population density may bring to mind images of crowded and unpleasant city streets, Singapore does an excellent job of handling its population volume, with top-notch public transportation systems and vertical housing.
Hong Kong
Hong Kong, like Macau, is a Special Administrative Region (SAR) of China. Hong Kong is the world's fourth most densely populated place with 16,444 people per every square mile (6,349 people per square km). Population density is not evenly distributed across Hong Kong. Within its most dense areas, such as the district of Mong Kok, the population density of Hong Kong soar as high as over 120,000 people per square km.
Social, Economic & Political Effects of a High Population Density
Socioeconomic changes may be felt as human population density increases. There is also the concern that natural resources may become depleted as more people migrate to one country. However, a densely populated country does not mean a chaotic one - many of the places featured on this list also rank among the world's best places for quality of life. If organized efficiently, a high population density can be very compatible with a high quality of life.
Most Densely Populated Countries In The World
| Rank | Country or Territory | Density (Per Mile Squared) | Density (Per Km Squared) |
| --- | --- | --- | --- |
| 1 | Macau (China) | 48,003 | 18,534 |
| 2 | Monaco | 43,830 | 16,923 |
| 3 | Singapore | 18,513 | 7,148 |
| 4 | Hong Kong (China) | 16,444 | 6,349 |
| 5 | Gibraltar (United Kingdom) | 11,808 | 4,559 |
| 6 | Vatican City | 4,861 | 1,877 |
| 7 | Bahrain | 4,263 | 1,646 |
| 8 | Malta | 3,424 | 1,322 |
| 9 | Bermuda (United Kingdom) | 3,175 | 1,226 |
| 10 | Sint Maarten (Netherlands) | 2,852 | 1,101 |
| 11 | Maldives | 2,886 | 1,037 |
| 12 | Bangladesh | 2,896 | 1,118 |
| 13 | Bailiwick of Jersey | 2,186 | 844.0 |
| 14 | Bailiwick of Guernsey | 2,183 | 843.0 |
| 15 | Saint-Martin (France) | 1,717 | 663.0 |