Most Dangerous Cities In North America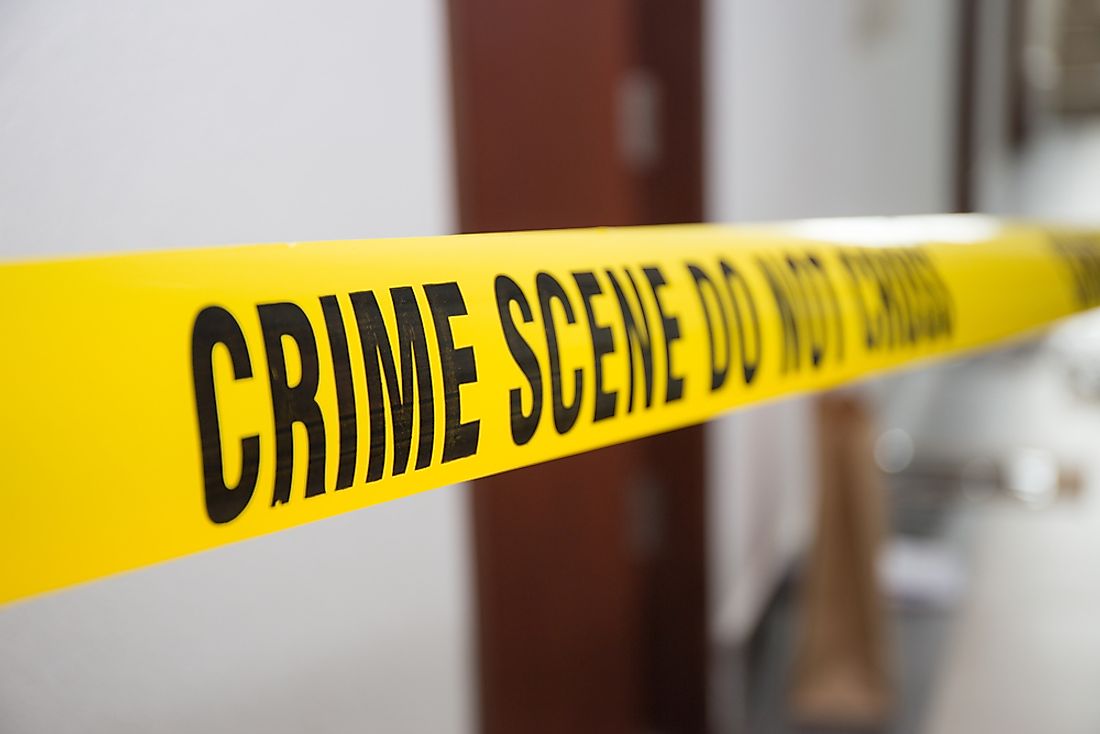 For many, North America is a land of opportunity, with its rich natural resources, ecological beauty, and significance as a cultural melting pot. Nonetheless, some of the most dangerous cities on our globe are found in the region, particularly in Mexico, where organized crime and the drug trade have longtime been a problem. These numbers were taken from a study produced by the Igarapé Institute, which is the most comprehensive database of homicide statistics that is available to the public. Although murder rates is also one way to determine how dangerous a city may be, it is often a rate that is indicative of dangerous conditions within a city. St. Louis, the only American city to make it on the list, also struggles with other violent crimes besides murder such as aggravated assault.
10. Kingston, Jamaica (49.5 per 100,000)
Kingston is the largest city on the Caribbean island of Jamaica. In 2011, the city of 663,182 reported 328 homicides, creating a rate of 49.5 per 100,000 citizens. The rate of violent crime such as murder with the city of Kingston appears to be on the upswing, although government forces have continued to state their dedication to cracking down on crime. Much of the murder total in Kingston can be said to be due to clashes between rival gangs, where shootings continue to be the most popular type of homicide.
9. St. Louis, United States (49.9 per 100,000)
St. Louis is the largest city in the midwestern state of Missouri and has a population of 318,574. It is partly due to these relatively low population that the murder rate of 49.9 exists, as 159 homicides were counted in 2014. St. Louis has longtime struggled with a reputation for being a dangerous city, and the murder rate greatly perpetuates this reputation, as it is the highest rate in the United States, followed by Detroit at 43.5 homicides per 100,000 residents. Unfortunately, other crimes such as rape, armed robbery, arson, and assault and also common in St. Louis.
8. Tepic, Mexico (52.4 per 100,000)
Tepic, Mexico has a population of 396,779 and witnessed 208 homicides in 2011, creating a rate of 52.4 per 100,000 people. It is located in the state of Nayarit. Unfortunately, Tepic has earned a spot on this list because of a high number of gun battles and gang killings, many of which are related to the illegal drug trade and organized crime.
7. Monterrey, Mexico (60.6 per 100,000)
Monterrey is a city in Nuevo Leon, Mexico. It is one of the largest cities in Mexico with a population of over 1.5 million. In 2011, there were 700 murders in Monterrey, a staggering rate even when the city's large population is taken into consideration. Although the murder rate in Monterrey, like many cities in Mexico, has close ties to the drug trade and other organized criminal activities, it is possible for innocent citizens to fall victim. Travel within the city during nighttime is often not recommended.
6. Chilpancingo de Los Bravo, Mexico (60.8 per 100,000)
Chilpancingo de Los Bravo is a Mexican city with a population of 250,194. In 2011 there was a reported 152 homicides, a number that when combined with the city's relatively small population creates a high rate of 60.8 murders per 100,000 residents. Like many entries of this list, the drug trade has had a negative affect on Chilpancingo, leading to a high rate of violent crime such as murder.
5. Chihauhau, Mexico (64.2 per 100,000)
Chihauhau is a the capital of the Mexican state of the same name. Its population is 862,459 and in 2011, 554 occurred, creating a per capita homicide rate of 64.2 per 100,000 people. In addition to this rate, property crime such as theft and graffiti are also reported to be major issues across Chihauhau. Drug-related crime, however, remains the main driving force behind a high crime rate in Chihauhau. There are, however, been efforts made in recent years by the Federal Police and Army to work to decrease this rate of crime, so far appearing to have had a positive affect.
4. Mazatlán (67 per 100,000)
Mazatlán is a city in Mexico located in the state of Sinaloa. It has a population of 457,965, and in 2011 there were 307 murders reported in the city, creating a homicide rate of 67 per 100,000 residents. Like many cities across Mexico, Mazatlan has been affected by the illicit drug trade and dangerous cartels. Recently, reports of a Canadian tourist being beaten in Mazatlan was reported on extensively across the United States and Canada and has had a negative affect on the city's reputation as well as tourism industry, as many visitors come from these countries north of Mexico.
3. Culiacán, Mexico (72 per 100,000)
Culiacán is located in northwestern Mexico and has a population of 896,832. In 2011, there were 646 reported murders, resulting in a homicide rate of 72 per 100,000 inhabitants. The roots of Culiacan's rough reputation are tied to its involvement in the country's illegal drug trade, thought to have begun in the 1950s. Not only is Culiacan home to a number of so called "drug kingpins", but souvenir shops in the area are known to sell an array of illicit and drug-related products.
2. Ciudad Juarez, Mexico (105.6 per 100,000)
Ciudad Juarez is located in the Mexican state of Chihuahua, just south of the Texas city of El Paso. It has a population of just under one half million, and reported 1460 homicides in 2011 alone, resulting in a homicide rate of 105.6 for that year. Founded in 1659, the city is presently the battleground for a bloody turf wars between rival crime syndicates. Corruption within the police department, as well as growing rates of violence against women, are also a significant problems in Ciudad Juarez. According to a study conducted by Amnesty International, since the 1990s an estimated 370 women and girls have been victims of murder. Due to its high crime rates, economic benefits from the tourism industry in Ciudad Juarez have been greatly diminished, although campaigns have been started in an attempt to win back visitors.
1. Acapulco de Juarez (123.9 per 100,000)
Acapulco de Juarez, also known as Acapulco, is a city in Mexico with a population of 813,443. In 2011, there were a reported 1008 murders, creating a staggering murder rate of 123.9 per 100,000 residents. Although a popular tourist destination, organized crime has creeped into Acapulco, prompting the United States State Department to issue travel alerts, particularly during spring break periods when travel to Acapulco is especially popular. However, crime tends to not be directed at the city's visitors, meaning that tourism in Acapulco remains a popular endeavour.