Interesting Facts About Luxembourg
While small in terms of land area, Luxembourg could be considered "The Heart of Europe"; its strategic position, a healthy mix of cultures, and a powerful economy give it more heft than you might expect from a country of 2,586 km². Along with economic and cultural strength, the Grand Duchy served as a founder of the EU, leading the charge in the creation of an overall politically stronger Europe.
If you're thinking of visiting, either on business or for pleasure, here are some amazing insights into the "Little Country That Could" that might interest and amaze you.
Luxembourg has the highest nominal GDP per Capita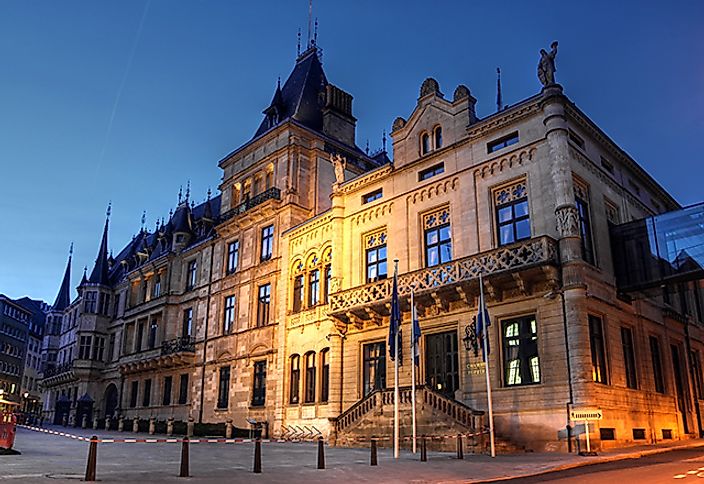 Luxembourgers enjoy one of the highest per capita GDPs in the world, ranking second (after Qatar) in 2014. The steel industry made the country rich in the 19th century, but when that collapsed in the late 1970's, Luxembourg evolved into a major financial center. Today, there are about 150 banks in a country that's smaller than the state of Rhode Island.
Its reputation as a tax haven made it attractive to all kinds of foreign investment. Amazon and Skype have headquarters there. But in the past, the financial laws favoring secrecy also appealed to some questionable types, including Kim Jong Il of North Korea, so the regulations, or lack thereof, came under pressure, which has led to more transparency in recent years.
Luxembourgers Are Multilingual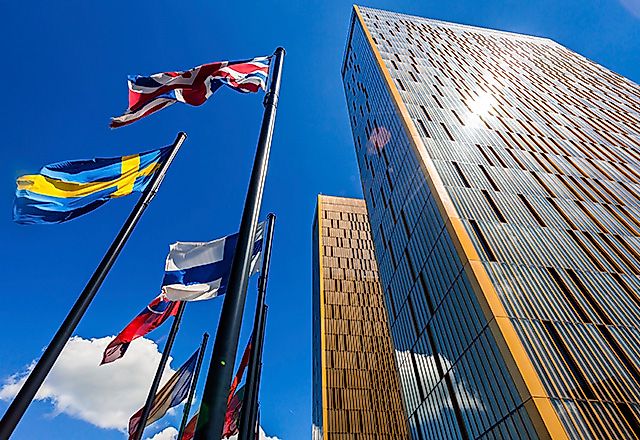 Luxembourgers speak German and French, but the language they learn as children is Luxembourgish. Yes, that's a thing. People switch among the three fluidly. A child might speak German in class and Luxembourgish on the playground, and French is considered the most upscale of the three. Newspapers and websites will mix them on the same page.
Despite, or perhaps because of the heavy influence of major European powers on all sides – it's bordered by France, Germany, and Belgium - Luxembourg's national motto is "Mir wëlle bleiwe, war mir sin", which means "We want to remain what we are." And that includes speaking Luxembourgish.
Strong Happiness Index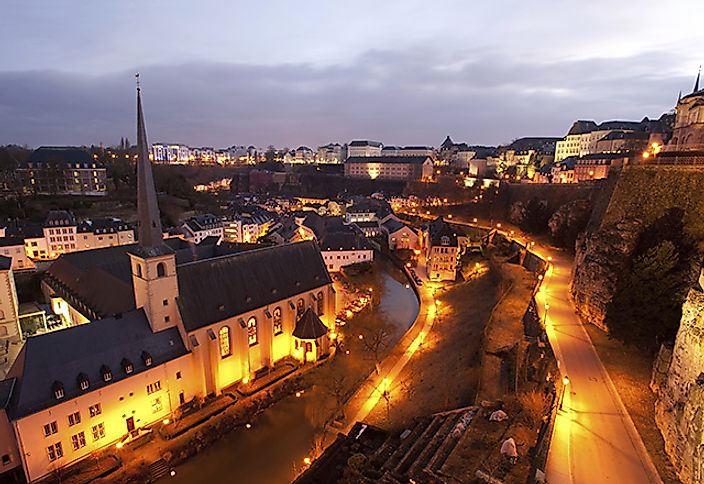 In their 2015 World Happiness Report, the United Nations ranked Luxembourg number 17 out of 158, not bad for a country with a population of about half a million. The report cites the high GDP, which translates into purchasing power, as the biggest factor. It also did well in social support, meaning that Luxembourgers feel they can count on friends and family.
The country is very generous with its citizens, spending about 1/3 of its revenue on social services and universal, free health care. Who says money can't buy happiness?
Castles of Luxembourg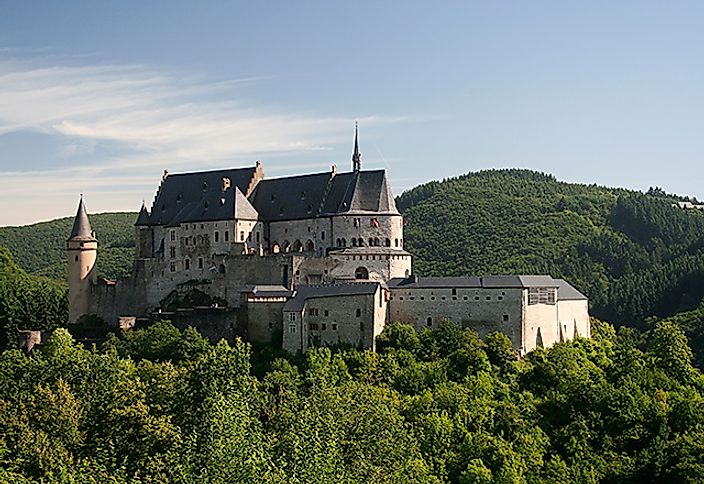 Luxembourg has enough castles to equal one per every 100 square miles. Of the 110 that are known to have existed in the Middle Ages, about 75 still stand. Many are open to the public. You can drive an hour or walk a 37km trail through the Valley of the Seven Castles to see some of the best.
Beaufort, which is a bit farther afield, has a reconstructed, historically accurate torture chamber if that's your thing. And Castle Bourscheid, perched atop a hillside, is one of the best-preserved castles in Europe. It really is a truly regal nation.
Luxembourg Cuisine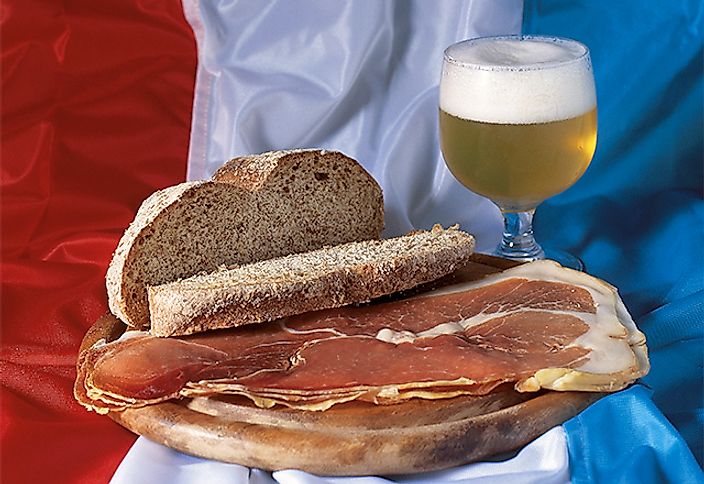 The cuisine of the pint-sized nation reflects its neighbors with a mix of French, German and Belgian influences. Expect enormous portions of traditional dishes like Judd mat gaardebounen, smoked pork with broad beans. But you can also enjoy lighter, more modern fare, which is known to be equally delicious. In 2012, Luxembourg boasted the most Michelin stars per person in Europe – a total of 12 for 11 restaurants.
For a landlocked country, they also like their fish, usually freshwater species like trout and pike. A serving of Friture de la Moselle, a small fried fish, is very popular, as is cold Ardennes smoked ham. Luxembourg wines are more like French than German varieties, despite the fact that the vineyards are located near the Moselle River on the German border.
Weather in Lux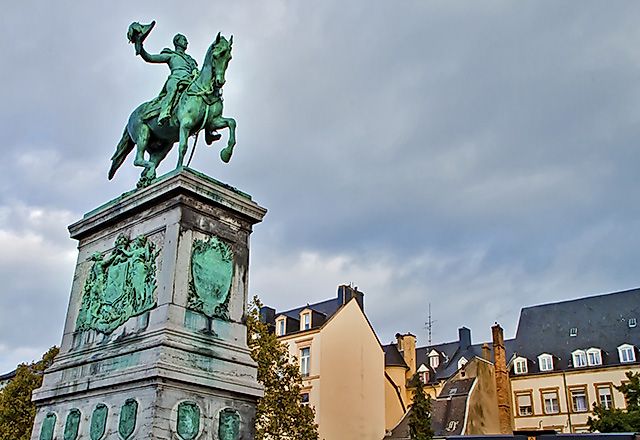 The climate is basically temperate but it can be cloudy a considerable amount of the time. Landlocked Luxembourg has the equivalent of about 61 days of sun per year. In comparison, that's 10 less days of Sun than perennial rain capital, Seattle, Washington.
The good news is that the summers are fair, and never too hot like neighbouring France. The temperature rarely goes above 84F. It tends to be more humid in the winter and drier in the summer, the reverse of what you'd find in large swaths of North America. They don't actually have a dry season, so expect rain, especially if you're going in the cooler months.
Luxembourg's Geography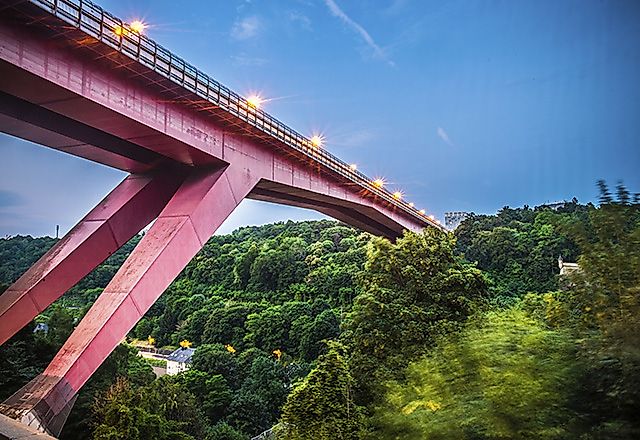 The northern part of Luxembourg, called Eisleck (if you're speaking Luxembourgish), is hilly and heavily forested. The Ardennes conservation region, near the Belgian border in the north, offers fabulous views onto the rolling valleys below. Both regions are fairly sparsely populated and popular as getaways from the busy cities of France and Germany.
If you're looking for more of the metropolitan scene, the true action can be found in the southern portion of the country, where about 85% of the people live. This region is called Gutland, which in German means "Good Land."
It's The Only Grand Duchy Left In The World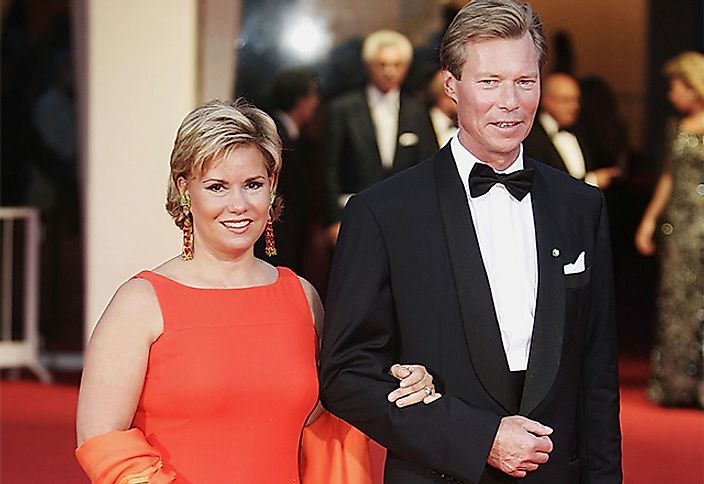 Luxembourg was founded in 963, when Count Siegfried bought the fortress of Luxembourg from the Holy Roman Empire. It has a complicated history. For some three centuries various European countries including Spain, France and Austria held it.
In 1815, after Napoleon's defeat, Luxembourg was up for grabs. The Congress of Vienna declared it a Grand Duchy, which is a step up from a plain old Duchy, and handed it off to the Netherlands. There were more squabbling and land grabs, but in 1867, what was left of Luxembourg gained full independence.
Today, it's a hereditary constitutional monarchy, headed by Grand Duke Henri Albert Gabriel Félix Marie Guillaume, but, you can just call him "His Royal Highness." In 2008, Henri refused to sign a bill allowing euthanasia and the elected government reacted by limiting much of his power. Laws can be passed without his ok now, and as such the role of the Monarchy has become more of a figurehead position.