Wisconsin Description
During the last Ice Age, North America was sculpted by massive glaciers and the subsequent craters formed by retreating (melting) ice. In that process the Great Lakes were born and this state named Wisconsin took shape.

An advanced mound-building culture (called the Mississippians) flourished in this area of North America from 800 A.D., up to the mid-15th century. That civilization vanished for unknown reasons.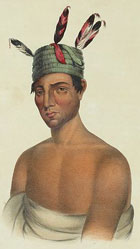 When European explorers arrived, the area was inhabited by a variety of Indian tribes, including the Kickapoo, Menominee, Sioux and Winnebago.

In 1634, while looking for a northwest passage to China, the French explorer Jean Nicolet was the first European to reach the area, coming ashore in what is now the city of Green Bay.

French traders and missionaries followed Nicolet into this uncharted land, and in 1660, a trading post and Roman Catholic mission were established near Ashland.

By the end of the century, scattered posts were constructed as small storehouses for furs; none had any permanent settlers as the French were apparently only interested in fur trading with the Indians.

Nicolas Perrot, a French explorer, diplomat, and fur trader, helped establish Green Bay as the center of regional fur trading. In 1686, the French formally claimed all of this region for France.

It subsequently became part of a vast slice of land across North America called New France. France held that land for decades, until the Treaty of Paris of 1763 when it was awarded to the British as a result of their victory in the French and Indian War (1754-1763).

The British dominated the area during the mid-18th century, and they (like the French) were in the fur trading business. British land possessions in America, including the Wisconsin region ended in 1783, after their crushing defeat in the American Revolution War.

In 1787, Wisconsin lands became a part of America's Northwest Territory, and in 1800, a part of the Indiana Territory. Later, it was merged into both the Illinois and Michigan territories.

A lead mining boom in the 1820's brought thousands of new settlers. The inevitable conflicts with indigenous Native Americans over land (and mining) rights motivated the Federal government to uproot and force (by treaty or by deception) entire tribes west of the Mississippi River.



In what proved to be a disastrous attempt to regain their indigenous homelands, the Fox and Saux Indians returned in 1832. The subsequent Black Hawk War and its final battle, the Battle of Bad Axe, resulted in the deaths (or massacre) of hundreds of Indians, and literally ended any future threat of Native American attacks.

Although an unwarranted fear of Native Americans remained for years, settlers continued to stream into Wisconsin. On April 20, 1836 the Wisconsin Territory was created by an act of the U.S. Congress. It included all of the present day states of Iowa, Minnesota and Wisconsin, as well as parts of North and South Dakota.



Wisconsin Cities, Counties & Area Codes