Frank Lloyd Wright – Important Architect in History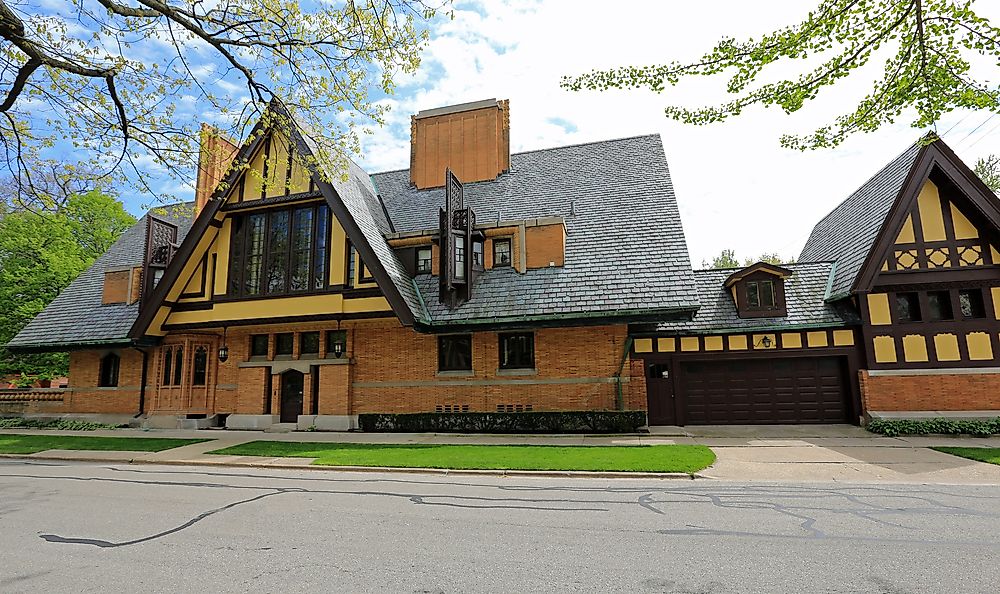 Early Life
Born Frank Lincoln Wright on June 8th, 1867 in Richland Center, Wisconsin, United States, Frank Lloyd Wright was the son of William Carey Wright, a preacher, occasional lawyer, orator, and music teacher. Wright's mother was Anna Lloyd Jones, from a large and well-known Welsh family who had emigrated to the US settling in Spring Green, Wisconsin. It is believed that Wright's mother, Anna, decorated his son's nursery with inscriptions of English cathedrals which had been torn from a magazine or newspaper to stimulate her son's ambition after declaring that her first child would build elegant buildings once they grow up. Wright's mother, upon visiting and exhibition in Philadelphia known as the Centennial Exhibition witnessed educational blocks known as Froebel Gifts built by August Fröbel for kindergarten curriculum on display. Excited by the building blocks, Anna bought the set which would adversely influence her son's approach to architectural design.
Due to financial strains, the family moved back to Spring Green Wisconsin settling in Madison where they could get support from the Lloyd Jones family. In 1881 Wright's parents separated ending in a divorce in 1885 prompting his father to leave Wisconsin and never to be seen again. It was then that Wright changed the "Lincoln" in his name to Lloyd to honor Lloyd Jones from his mother's family. Despite there not being any evidence of graduation, Wright went to Madison High School, and in 1886 he was admitted as a special student at the University of Wisconsin-Madison. At the University, Wright only attended two semesters which he took part time classes and worked with Allan D. Conover, a civil engineering professor. Wright also joined the university's fraternity known as Phi Delta Theta. Even though Wright left university without taking his degree, in 1955, the institution granted him an honorary Doctorate in Fine Arts.
Career
In 1887, Wright left Madison for Chicago to work as a draftsman. For Wright, in order to learn the traditional and classical architectural language, moving from the countryside to Chicago was necessary. At first, he landed a job with the architectural firm of Joseph Layman Silsbee where he worked as a draftsman but later quit because he felt he was underpaid. Wright worked at another firm as a designer before returning to Silsbee after being offered a salary raise. After learning that the Adler & Sullivan architects were hiring, Wright demonstrated his competence and was hired. A year later during his time at Adler & Sullivan, Wright married Catherine Lee Tobin his first wife also known as Kitty. Sullivan played a role in facilitating the union by awarding Wright a five-year contract at Adler & Sullivan and as a request Wright acquired a loan of $5,000 using the five-year contract as a guarantee for payment. While working at Adler & Sullivan, Wright acquired huge debts due to his exquisite taste in expensive automobiles and wardrobes. As a result, Wright began an illicit architecture practice of bootlegging houses without the office's awareness incorporating the knowledge he had acquired from his previous and current employers.
Major Contributions
Frank Lloyd Wright was the most influential and creative architect of the 20th century and his impact was felt worldwide in modern architecture, influencing designs in the US, Europe, and Asia. He developed the theory of 'Form and Function Are One" the principle of organic architecture. His designs motivated the prairie school of architecture, who worked to accommodate Midwestern lifestyle and environment. Wright also opened his home for young architects in 1932 to study with him and creating the Taliesin Fellowship. During his final years, Wright designed two notable projects, the Marin County Civic Center and Guggenheim Museum. Frank Lloyd Wright was both a visionary and a controversial architect and some of his other major contributions include the community planning designs he worked on such as Broadacre City, Suntop Homes, the Usonia Homes among many others. As a writer and educator, Wright got to sharpen the minds and skills of his students creating a new generation of talented and innovative architects.
Challenges
Despite his success, Frank Lloyd Wright's designs had some problems prompting several of his designs to be demolished while he was still alive and even after his death. Some of the buildings he designed leaked and the roofs were not adequately supported. Some of the houses were destroyed by forces of nature such as the Great Kanto Earthquake and Hurricanes Katrina and Camille. Another building was destroyed by fire.
Death And Legacy
Frank Lloyd Wright died on April 9th, 1959 aged 96 only half a year before the Museum of Modern and contemporary art known as Guggenheim a project he had worked on for 16 years opened its doors in New York City. Wright is widely celebrated among the greatest architects of the 20th century as he is considered the greatest American architect of all time. Wright's architectural legacy lives on through the beautiful structures he designed throughout his career. In 1941, Wright received recognition for his lifetime achievement and was awarded the Gold Medal award by the Royal Institute of British Architects (RIBA), In 1949 he was awarded the AIA Gold Medal by the American Institute of Architects. Similarly, in 1966 the US Postal Services honored Wright as one of the prominent American series and appeared on 2¢ postage stamp. Most of his designs in the US have been proposed to be listed as UNESCO world heritage sites.