There are over 1,600 lakes in the United States. Most of these lakes are located entirely within the country's border, while others like Superior, Huron, Ontario and Erie, stretch into the neighboring country of Canada. Lake Winnebago is Wisconsin's largest lake, located entirely within its borders, and it's the 28th largest lake in the country. This shallow freshwater lake spans 534 km2 and has numerous islands and shallow reefs.
Where Is Lake Winnebago?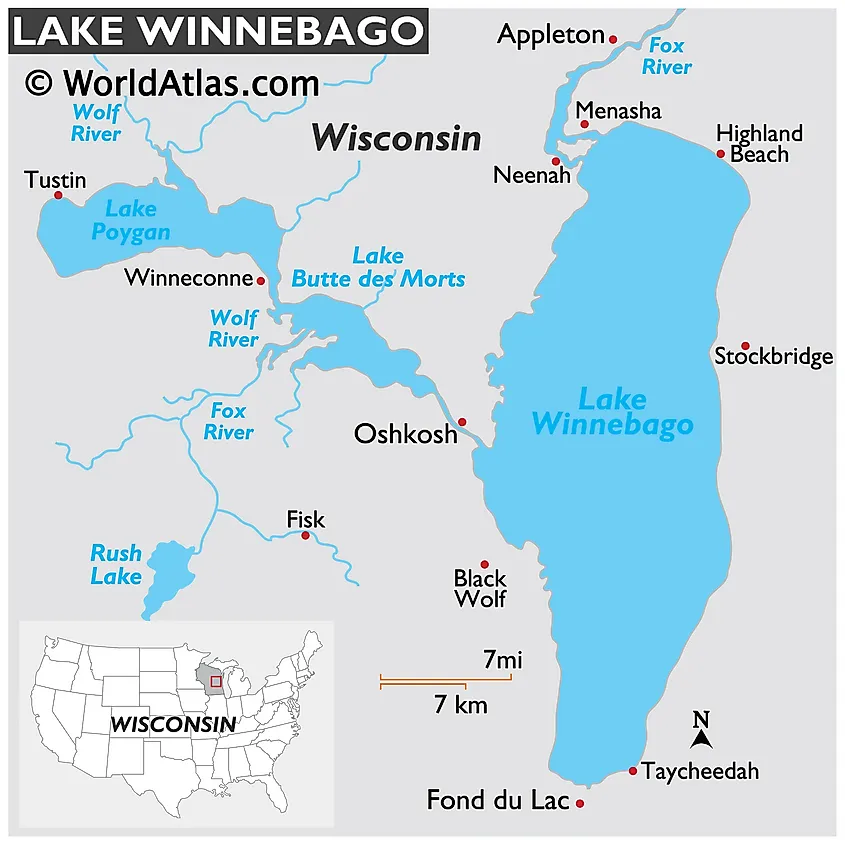 Lake Winnebago is a freshwater lake that sits in three Wisconsin counties. It straddles the Winnebago-Calumet border, with Winnebago in the west and Calumet in the east. The lake's southern tip extends into Fond du Lac County. Some towns and villages on Lake Winnebago's shores include Oshkosh, Neenah, Menasha, North Fond du Lac, Stockbridge, Black Wolf, Sherwood, and Taycheedah. The lake is approximately 125 km southeast of Milwaukee.
Geography
Lake Winnebago is Wisconsin's largest lake by both size and volume, with an average depth of 4.7 m and a maximum depth of 6.4 m. The lake is 48 km long and 16 km wide and has a 141 km-long shoreline.
Lake Winnebago is part of a system of various lakes, including Lake Winneconne, Lake Butte des Morts, and Lake Poygan. It is one of the remnants of Glacial Lake Oshkosh, which existed about 12,000 years ago. Although Winnebago is a natural lake, its level was raised artificially by about 0.9 meters by dams constructed on both sides of Doty Island in 1850 and 1930. The lake is connected to Lake Michigan by series of 17 locks. It has several islands, including Island Park, Black Bird Island, Doty Island, and Long Point Island.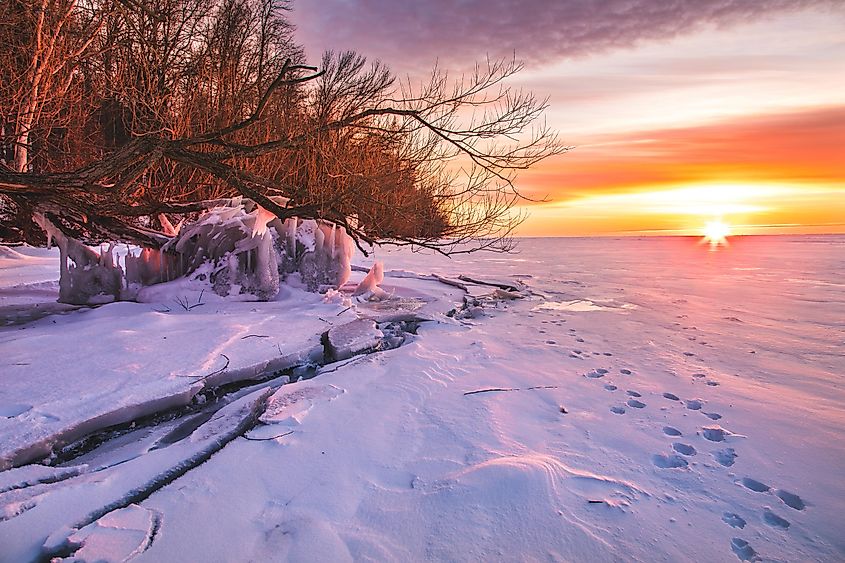 Lake Winnebago has plenty of fish, some of which are panfish, catfish, sturgeon, largemouth bass, walleye, musky, and smallmouth bass. Lake Winnebago pool, which includes Lake Butte des Morts and Poygan, hosts North America's largest population of self-producing sturgeon. During the summer months (July to August), blue-green algae form on the water. The algae cause water discoloration and produce a foul smell. Some of the mammals found around the lake include badgers, muskrats, Eastern cottontail rabbits, and chipmunks.
Brief History
Lake Winnebago formed about 12,000 years ago when water entering Lake Michigan near Green Bay was blocked by ice. The shores have long been inhabited by the Winnebago tribe, who call themselves the Ho-Chunk tribe. They were given the name Winnebago by their Algonquian neighbors. Winnebago means "people of stinking water" in Algonquian because of the fish odor that came from the lake. The French made contact with the tribe in 1634.
The Winnebago Pool, the group of connecting lakes including Lake Winnebago, hosts numerous annual events, including fishing, boating, and shoreline concerts. The lake is one of the country's top walleye fisheries. It has some of the best walleye spawning areas due to the abundant species. Ice fishing is popular during winter. Recreational fishing in the pool is valued at over $300 million annually. Camping and hiking are common in High Cliff State Park on the northeastern shores of Lake Winnebago.