Contrary to popular belief, lightning does hit the same spot twice, and it also comes in a variety of colors. It is one of the oldest observed occurrences on our planet. Even though lightning is beautiful, it is also very dangerous. It can cause death to humans and animals, as well as destroy properties.
While you are reading this article, there are more than 2000 thunderstorms (and each one if producing around 200 lightning bolts per second) happening in the world. What might surprise you is that not all of the lightning produced by those thunderstorms has the same color.
What Affects The Color Of The Lightning?
The appearance of lightning depends on the conditions of the atmosphere (dust, moisture, haze, and other), and because of it, it can appear in various colors. Upon striking an object or the ground, the lightning is usually red or orange color. The most common color is white, but lightning bolts can also appear blue, yellow, violet, and even green.
The atmosphere is a major factor in determining the color of the lightning, as well as the environment and temperature. The higher the temperature (it can get as hot as 50,000 degrees Fahrenheit), the closer it is to the end of the color spectrum.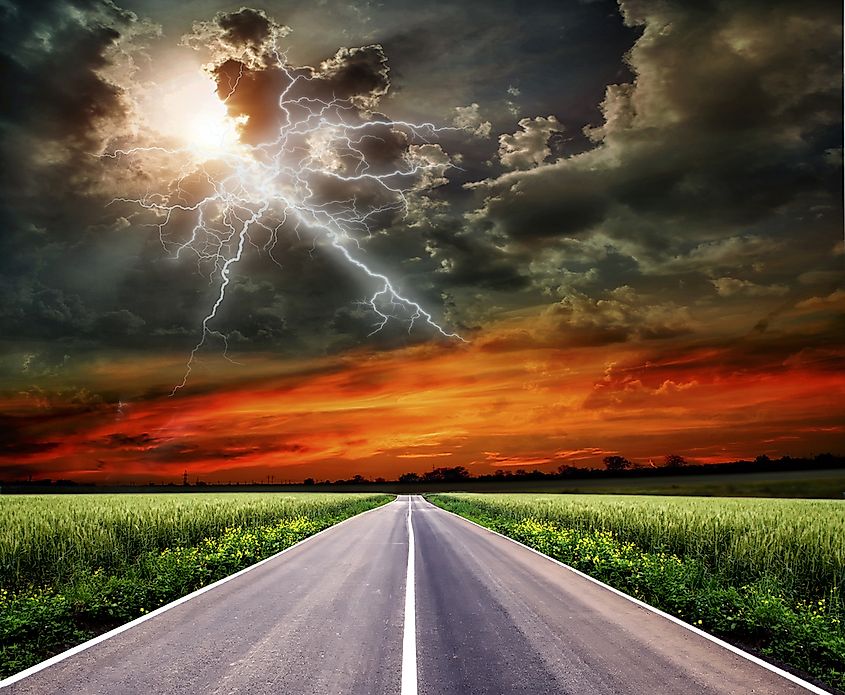 "Beauty is in the eye of the beholder," said Margaret Wolfe Hungerford, and it goes for the beauty of lightning as well since the distance between the lightning and the observer changes the perception of the color. It is because the rays of the lightning can scatter while traveling due to the dust particles in the air, as well as the air's composition, and change how the lightning bolts appear to the observer. 
What Do Different Colors Tell Us About Lightning?
Other than being a wonderful display of the beauty of nature, different colors of lightning also offer information about the thunderstorm and weather conditions. All the types of lightning are considered dangerous but not in the same degree. For example, the most common color is white, but it is also the hottest, and they indicate low concentrations of moisture in the atmosphere.
Also, it is one of the strongest and most dangerous colors of lightning due to it being the hottest. Yellow lightning bolts are much less common, but they tend to be cooler than the rest and point towards a dry thunderstorm and high amounts of dust. Both purple and blue lightning is often accompanied by rain, hail, and other precipitations.
There is also green lightning, but it is hard to see for the observer because it is concealed inside the cloud. The only photographic evidence of such a phenomenon happened in Chile. Because the blue lightning can travel fast and strike at any time, it is considered to be the most dangerous. Lightning can kill, and it can leave tremendous consequences on the body, such as heart failure, burns, and seizures.