The Irukandji jellyfish can be found off the coasts of Australia, and it is considered one of the deadliest creatures on the entire continent. These jellyfish are extremely venomous, and most often inhabit the northern waters of Australia. They are incredibly small in size, only growing to about one cubic centimeter, but are still considered extremely dangerous and deadly.
They can fire their stingers into people and cause symptoms that are commonly referred to as the Irukandji syndrome. There are several known species of this jellyfish, but all are equally dangerous. Not only are they deadly, but it was recently discovered that they also actively hunt their prey. This means that you should be extremely careful if you find yourself near an area where they live.
The Deadliest Jellyfish
If you find yourself swimming near the beaches of north Queensland, you should be very careful. Do not jump into the water blindly without checking because there is a chance you might get attacked by an Irukandji jellyfish. After an encounter with one of these, you actually might end up in a hospital, and for some people, this turned out to be deadly. These creatures are silent and nearly invisible, which means that they can attack out of nowhere, and they are known to be aggressive.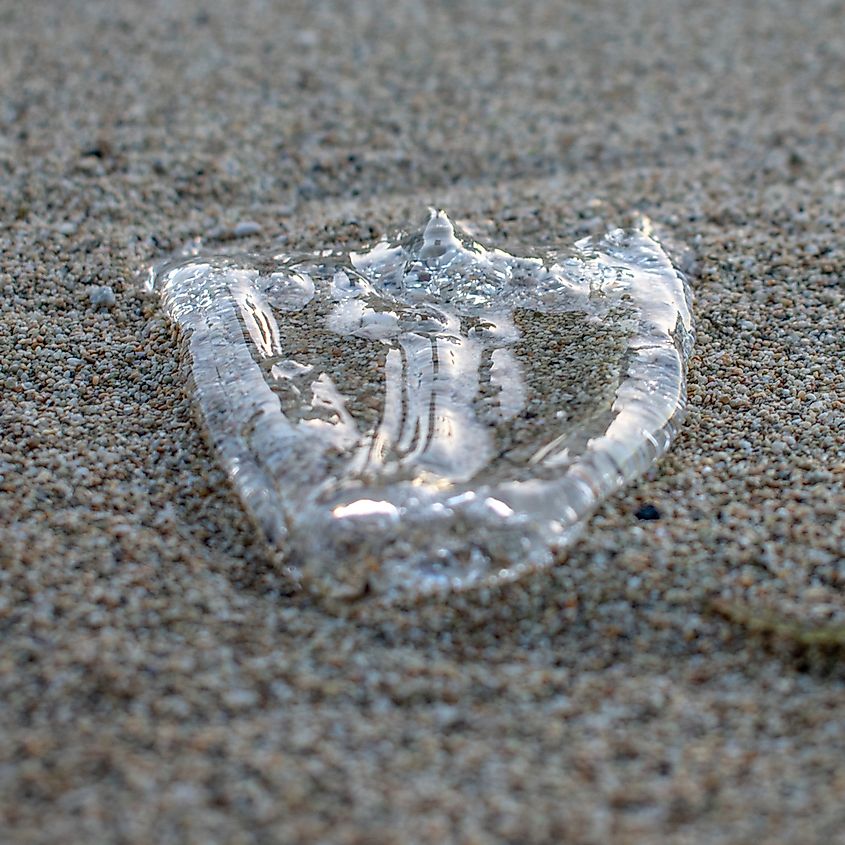 The scientific name of the Irukandji jellyfish is Carukia barnesi, and they can be found mostly around the arc ranging from Exmouth in Western Australia to Gladstone, Queensland. They can be found during jellyfish season, which starts near the end of October and ends in May. If their sting is treated correctly and quickly, it won't end in death. Throughout the last 100 years, there have been only three deaths caused by the Irukandji jellyfish.
Always Be On A Lookout
This means that you only need to be aware of them. They are extremely dangerous, but also quite common, and once you are used to the Australian waters, it is not that hard to avoid them. Their small size makes it hard to notice them, so it is still important to practice caution. They can also be found far from the shore, as opposed to most other jellyfish species that are located in coastal waters.
The Irukandji jellyfish became well known in 2002 when Richard Jordan, a British tourist, died after being stung by one of them. That same year Robert Hamilton, a tourist from the United States, also died after an encounter with these deadly creatures. While the number of deaths caused by the Irukandji jellyfish is not large, they should still be considered dangerous, and one should be cautious when in these waters. However, if we take a look at the number of deaths caused by the box jellyfish, which is more common, we can see that they are more dangerous. Throughout the 20th century, there have been at least 70 deaths caused by the box jellyfish near Australia. However, this probably has more to do with their large numbers.
When people are stung by an Irukandji jellyfish, they usually do not feel anything, only a small irritant. Sometimes it is accompanied by a rash. The severe symptoms do not appear until much later, and it can be too late by that time. This is why it is important to react right away and treat the symptoms, and also be aware while you are in the water. The easiest way to handle these stings before going to the hospital is to apply vinegar to them, so it might not be a bad idea to carry it with you if you ever decide to go swimming near the northern shores of Australia.