These water birds are magnificent swimmers, have an endearing temperament, and apparently no fear of humans (possibly due to the lack of any land predators). Their black-and-white bodies are often associated with a white tie suit, and they are stars in cartoons and films.
Even though black-and-white is their most common appearance in nature (and in popular culture), not all penguins are black-and-white. As a matter of fact, there have been several appearances (both in the zoo and in their natural habitat) of the so-called "albino penguins." 
White Feathers And Pink Eyes
The world was in for a surprise when a mutant penguin was spotted at one of the South Shetland Island in Antarctica. We can call this penguin an albino penguin, but this bird has a condition called isabellinism, according to P. Dee Boersma, a penguin expert from the University of Washington. This rare genetic mutation changes the pigment in their feathers, transforming their dark color into a lighter color.
Another condition, very similar to isabellinism is leucism - a mutation that reduces the production of melanin in the feathers of a bird. Most cases of isabellinism, albeit very rare, happen in gentoo penguins, a species in the genus Pygoscelis (discovered in 1781 in the Falkland Islands).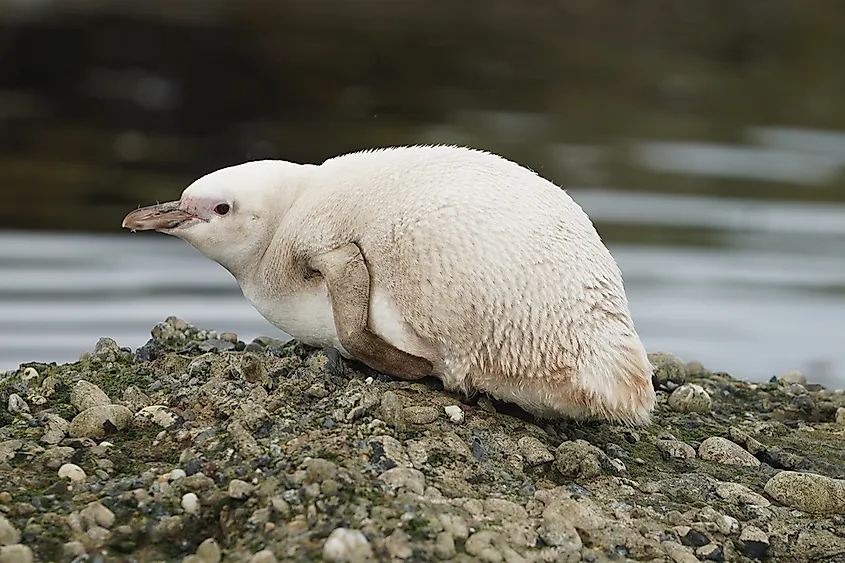 They are the third-largest penguin species (after the emperor and the king penguin). Although their unusual coloration might not seem like a problem, penguin's black back helps them against various predators, and these mutations may affect their chance of survival. Usually, penguins are counter-shaded, i.e., their upper body is darker than their underside for camouflage.
One of the most popular appearances of an albino penguin happened in Poland in Gdansk zoo. The penguin was hatched in December of 2019 and is believed to be the only one of its kind held in captivity. This little penguin was immediately placed under medical supervision because penguins with this condition are more likely to get sick due to the lack of the black pigment needed for protection.
The Many Colors Of Penguins
Odd color in penguins can happen for many reasons, including disease, nutrition, health, but mutation seems to be the most common reason. Genetic analysis is essential to determine the correct source of color aberration. Penguins are no rainbows, but the color of their feather (however minute it might be) indicates their overall health condition, sex, species, and other important factors. Usually, penguins have shiny black or grey feathers, but some species experience mutations and develop differently than the rest.
Albinism is a rare condition in penguins, but also a dangerous one. These penguins lack melanin and are completely white, apart from their beak, eyes, and skin that is pink. These penguins do not live long due to blindness. It can be hard to differentiate albino penguins from leucistic penguins who are not always entirely white, as some of their cells are not affected and can produce pigment partially. There are also brown penguins, and they are more common. They are brown because of the alternation of the dark eumelanin pigment and have pale feet.