Very few people can talk about this phenomenon, and it is most likely that a lot of us will never experience it during our lifetime. Imagine being so far up you can see our planet the way you never saw it before.
The earth overview effect is precisely that - a very specific cognitive moment a person can experience, that later affects how life itself is viewed. 
Major Rusty To Ground Control: Planet Earth Is Blue, And There Is Nothing I Can Do
Frank White created the term overview effect in 1987, which he wrote about in a book published under the same title. However, the person who first expressed this effect, probably because he was about to go out for a spacewalk, was Russel Schweickart. In 1969, as a member of the Apollo 9 mission, Rusty was working on a module that was later used in other Apollo missions around the Moon. As he was about to step outside of his lunar module out into space, he explained how an unfamiliar sensation struck him. 
Thousands of miles up in space, Schweickart and his team could travel around the globe in less than two hours, which put a whole other perspective on their identity. As Schweickart elaborated, once he was up there, ready to step outside, he suddenly realized how everything is connected to the blue planet he was staring down at. 
Who Are We, But Lost Souls On This Pale Blue Dot?
Another person who referred to this perspective, admitting how minuscule is this planet when we look at it from far away, was Carl Sagan. In 1994, while delivering a speech at Cornell University, Sagan was inspired by the images of Earth that were taken from 3.7 billion miles (6 billion km) away.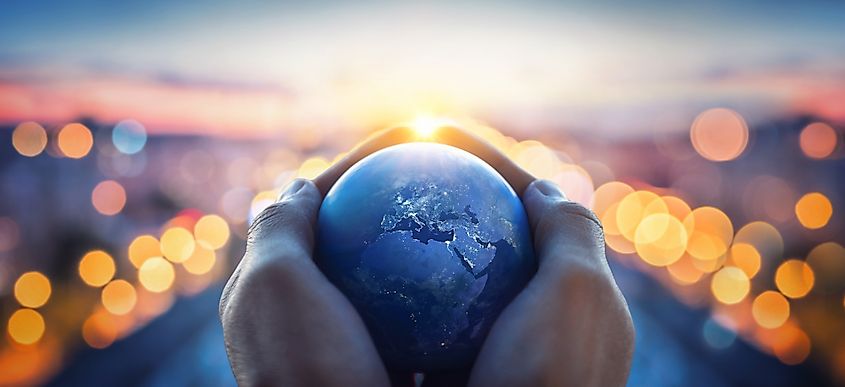 In those pictures that the Voyager 1 spacecraft made, Earth is a barely visible dot. Sagan called it a ''pale blue dot'', also linking the concepts of identity, time and life to the fact that they are all, from the beginning of time, always been happening on Earth. This planet is what holds everything and everyone humankind has ever done. This exact realization is at the very core of the overview effect. 
Once people become aware of this unique, and in many ways privileged experience that happens far above the ground, it causes a cut in the way they were thinking before. The overview effect is something that inevitably makes people question what is important, because, for the first time in their life, they can see how our planet stands alone, looking motionless in the dark. The overview effect changes the way people view human existence on this planet.
In the years that lie ahead, when the existence of life on this planet is threatened, how could we not want everyone to experience Earth from another perspective? Space travel looks closer than ever before, but it will probably be a privileged experience for the rich and famous. Let us all hope that there is a planet left to observe, while the planet craves for everyone to dream that the overview effect becomes a reality.