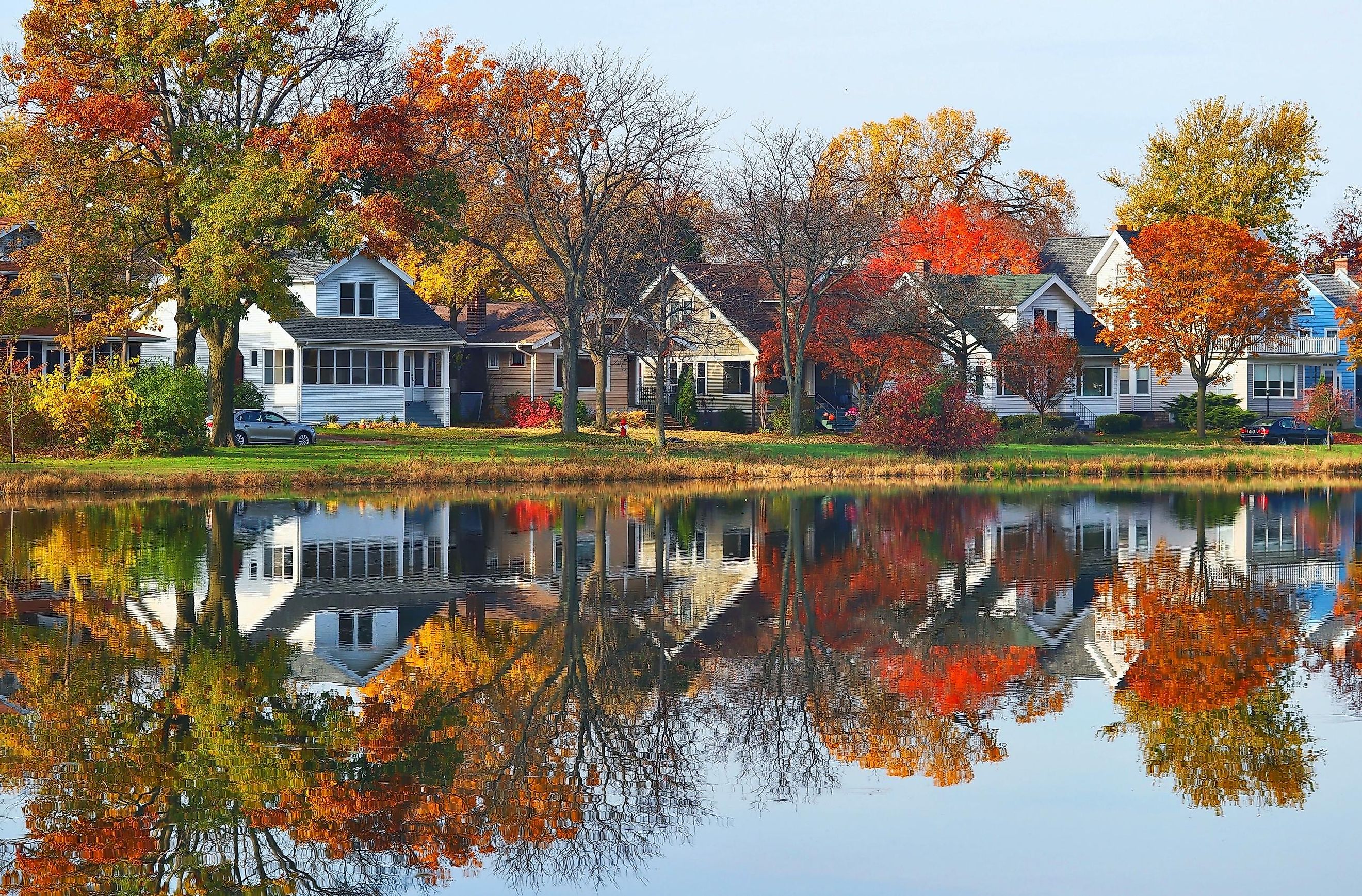 8 Best Fall Travel Destinations in the US
Nothing says "it's fall!" more than road trips and pumpkin patches. For some, the local small town they grew up in does not cut it anymore - and for those pioneers, only the best of the best will take the edge off an autumn addiction. Therefore, check out this curated selection that checks off every box when it comes to seasonal sensations. Containing 8 of the most beloved destinations all across the US, there is a little something for everyone.
Bar Harbor, Maine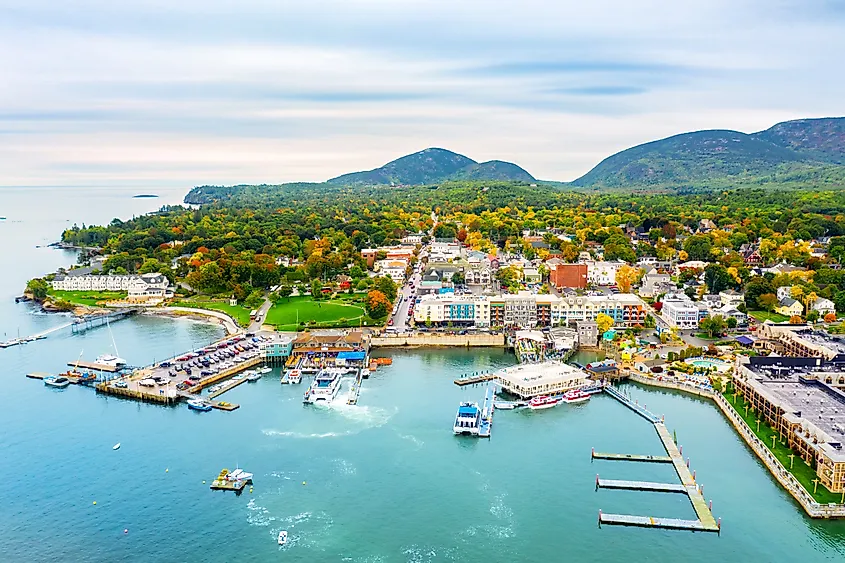 It goes without saying that Maine is royalty when it comes to New England charm, and during the Fall, Bar Harbor is an epicenter of Autumn majesty. Just the drive to Acadia Park is unmatched, with gothic steeples adjacent to cozy American Diners serving maple syrup pancakes all season long. Bar Harbor never fails to impress with its awe-inspiring cliff faces hanging over the ocean, where sunset and burnt orange hues meld together. Local history museums offer relaxing opportunities to learn about the indigenous cultures that existed before the 13 colonies, and quaint, '50's-esque,' storefronts line the street, purveying seaside memorabilia. Overall, it is the local vibrancy of the fall season that sets Bar Harbor apart from competitors, which demands a visit from Autumn lovers.
Park City, Utah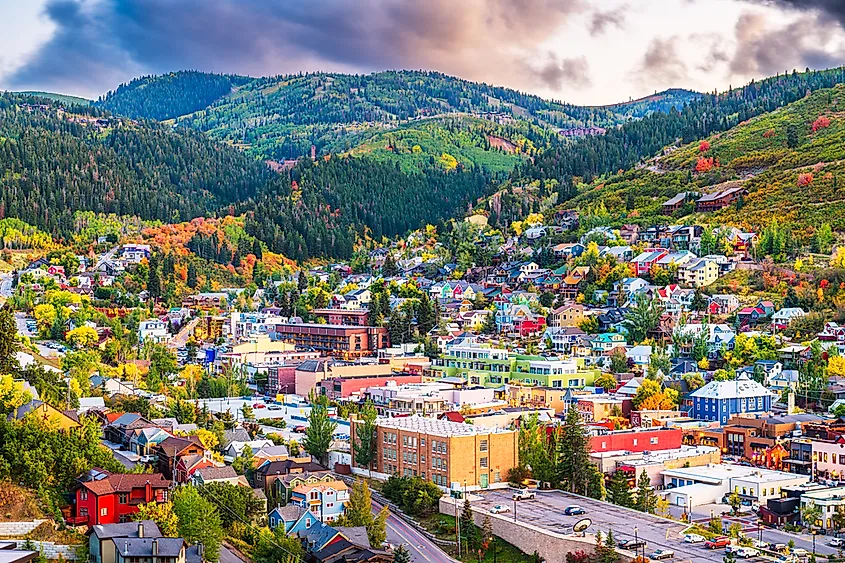 East of Salt lake City, Park City is an oasis of seasonal life amidst the west's grand stretches of desert and canyon. Visitors first take notice of lingering streets tucked between multicolored houses, pointing towards lofty clouds dangling above faraway hills. The town itself is famous for fall decorations, with archways and autumn foliage placed thoughtfully throughout. The Deer Valley Resort offers a gondola ride up through this magical landscape, where scenic views of this untouched paradise can be captured. Here, hiking trails are not just suggested but almost required, for all who visit Park City during the fall season. Moreover, do not be surprised to stumble upon a marriage proposal in these intimate woods, especially during that golden time of year.
Munising, Michigan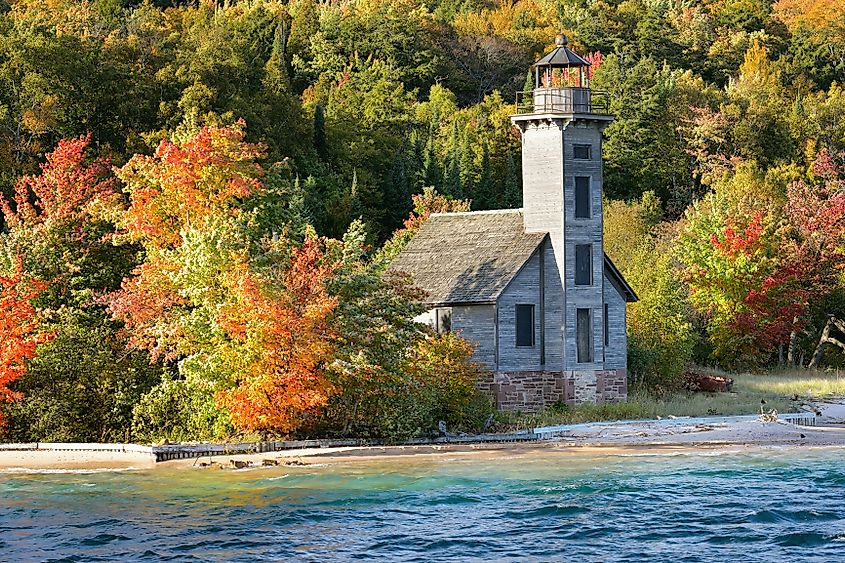 Hidden below Lake Superior in a little cove protected by Grand Island, the town of Munising is a treasure in a field when it comes to fall discoveries. Occupied by a small population of less than three thousand, Munising guarantees the quiet reflections that most folks look for during the Thanksgiving season. On this one-of-a-kind shore, wooden lighthouses are draped by auburn foliage and explorable waterfalls are sprinkled throughout the municipality. Munising is a top fall destination because of the cliffside forests that hang above a beautifully carved coast. Sandy beaches lead to an expanse of bay that shimmers under the reflection of the sun, with Grand Island just beyond reach but not out of sight. When all is said and done, no location embodies the fall spirit quite the way Munising does.
Stowe, Vermont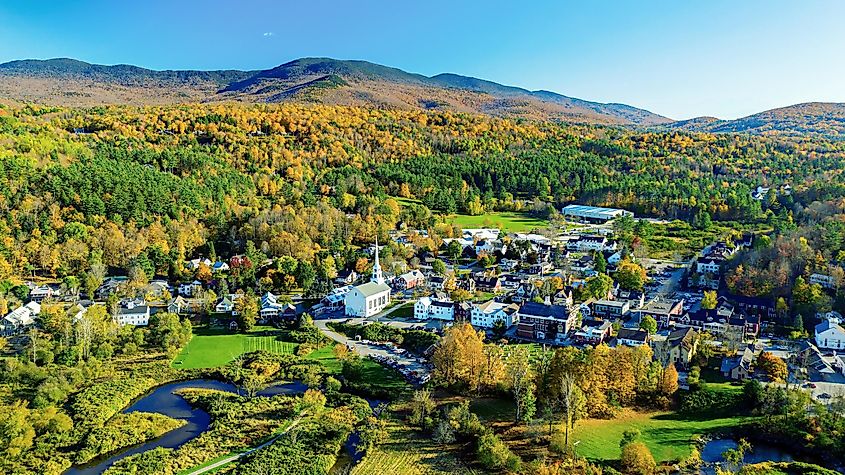 A typical hotspot for winter sports, Stowe in Vermont is uniquely positioned in a gorgeous valley surrounded by dense forest. The topography offers a sculpted terrain that is impossible to ignore when coated in bright red and orange. Friendly, well-kempt, architecture decorates the town among her many community hubs. Woven into the town itself are mountain bike trails aplenty, as well as a local Golf Course which comes alive with festival spirit during hot air balloon launches. Plenty of inns and bistros keep visitors warm and fed, such as Green Goddess Café which is proudly women-owned and LGBTQ+ friendly. The town secret of Stowe is the Gold Brook Covered Bridge, a walnut-stained 19th-century crossing that offers a perfect background for an Autumn photoshoot. 
Jim Thorpe, Pennsylvania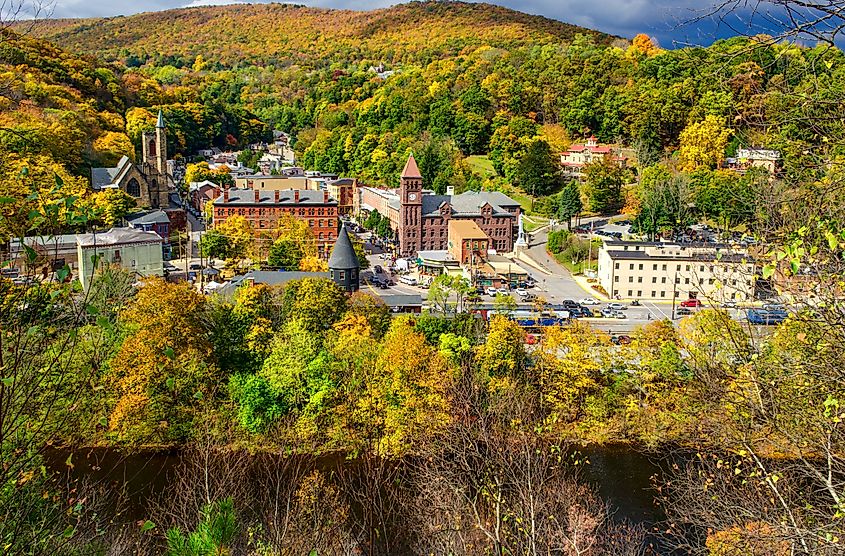 Jim Thorpe, a quiet retreat in Pennsylvania, is no stranger to nostalgia for all those who are lucky enough to either visit or grow up there. A walk into the adjacent woods will reveal quiet streams with an almost curated sense of autumn coloring, where yellows, purples, and greens work expertly to draw in the eye. Church steeples and spired towers give the area an iconically 18th-century appearance, an identity that has kept the local community glued together. Bed and breakfasts like The Bella Victoria are lovely escapes from the drudgery of career life, with gardens and flowery interiors that evoke a sense of whimsy. The Lehigh River crosses through the town aimlessly, providing a true delight during the fall to watch orange-hued leaves idly drifting by. So, between cozy streets and abundant nature, Jim Thorpe is absent nothing during the fall season. 
Lewes, Delaware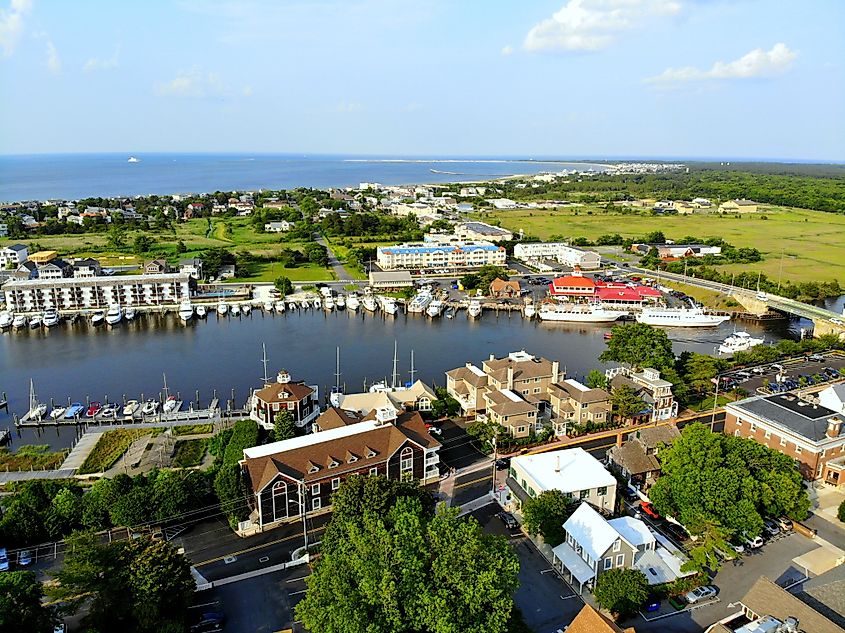 Less than 80 miles east of Baltimore and on the cusp of the Atlantic Ocean, Lewes is a small town in Delaware accustomed to small crowds and plenty of history, having been founded in 1631. As a friendly beach town, Lewes is best experienced by bike or kayak in between tax-free shopping centers. Ornate wooden and stone bridges are plentiful in the area, as are the towering hickory trees that glow with more intensity with each day that summer fades away. The Historic Lewes Farmers Market is the perfect place to whittle away a morning, where great conversation and even better produce can be found in abundance. Naturally, the beach is a popular spot for locals, even during colder waters, as it provides a great place to recline and read a spicy bestseller while sipping on a thermos. For a beachside fall destination, Lewes takes the cake.
Port Townsend, Washington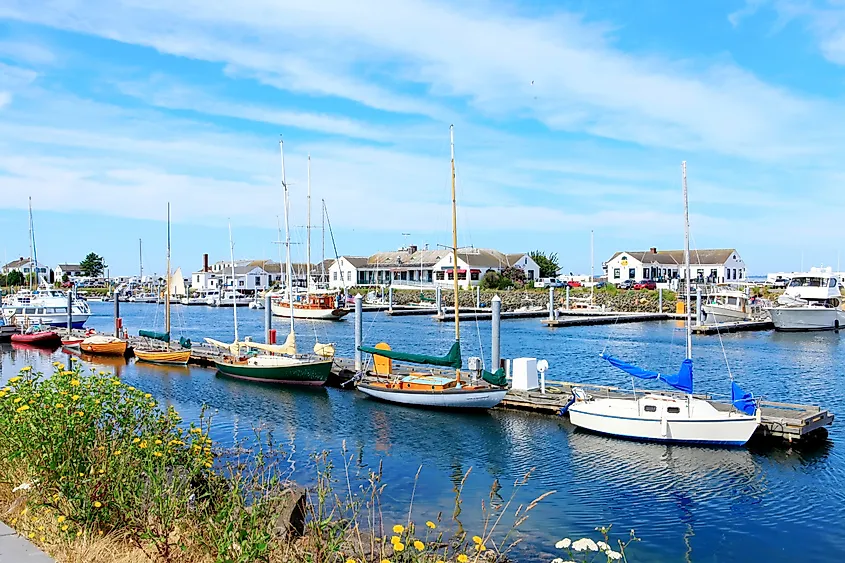 In the northwest corner of the United States, Port Townsend rests on the tip of the Quimper Peninsula across a bay from Canada. The hilly terrain with elegant brickwork, adjacent to the water's edge, results in stunning fall foliage that deserves to be seen by all. In particular, the Jefferson County Courthouse is a historic location with a regal clockwork tower, famous for its friendly employees and hardworking groundskeepers. The nearby Port Townsend Vineyards also offer gorgeous tours and locally produced wines, and guests are happy to learn they can picnic out on the peaceful courtyard grounds. Lastly, the Manresa Castle Hotel is a stunning construction set to the backdrop of snow-tipped mountains and autumn brilliance, which is worth a visit to Port Townsend alone.
Savannah, Georgia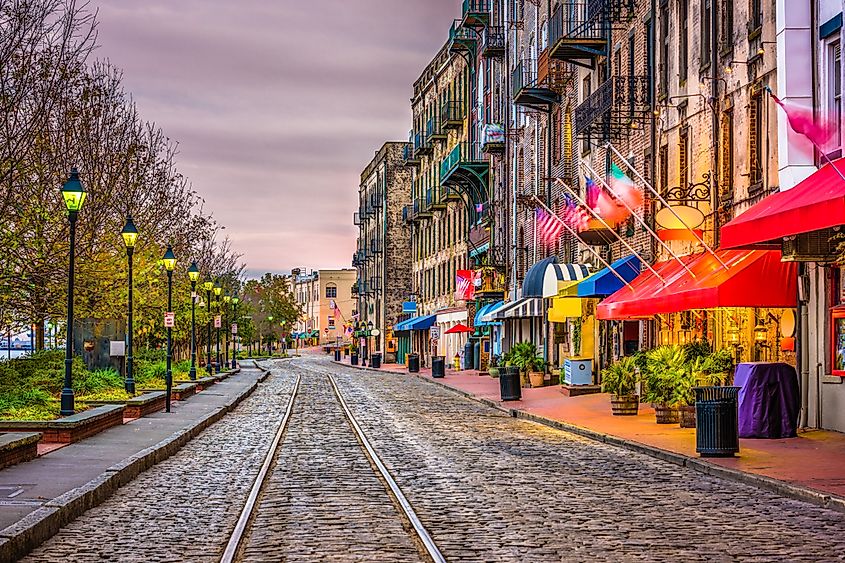 For fall bustle and hustle, look no further than Savannah Georgia. This is a city that takes pride in public parks, a history of horse-drawn carriages, and antebellum aesthetics. Naturally, when one is bundled-up in a toasty coat, the sounds of clip-clopping hooves parading you through downtown is akin to living like a queen (or king). Cinematic amber arches of trees, woven together, create spaces for the most alluring strolls one could imagine. Activities like the Victorian District tours, visiting haunted hotels, and listening to the sounds of antique-cannon fire are quick to fill up guests' schedules. Worth mentioning are the historical forts that are sprinkled in the Savannah region, which revel in their grandeur every Autumn.
Nothing scratches the itch of fall traditions more than checking out what the neighbors are up to. Along the way, you might even get invited to a harvest festival. The best part about the season is the recollection of childhood joys, be they apple picking or diving into a tempting pile of leaves. It is in these shared human sentiments that one can grow closer to folks they never may have met before, with an understanding that we all have plenty in common despite the melting pot of cultures that makes up the US. So bundle up, pack a lunch, and come visit one of these spectacular places.