13 Ideal Destinations For A 3-Day Weekend In the Pacific Northwest
When most people think of the Pacific Northwest, they imagine sprawling forests on a cold, rainy day or kayaking in an expansive cyan-colored lake. Or perhaps folks picture the majestic mountains covered in fog with populated cities below. Either way, these characteristics make the Pacific Northwest such a unique and beloved place. Consisting of Oregon, Washington, Alaska, and the Canadian provinces of British Columbia and Yukon, this stretch of land has its fair share of stunning destinations visitors can flock to for a relaxing 3-day weekend.
Vancouver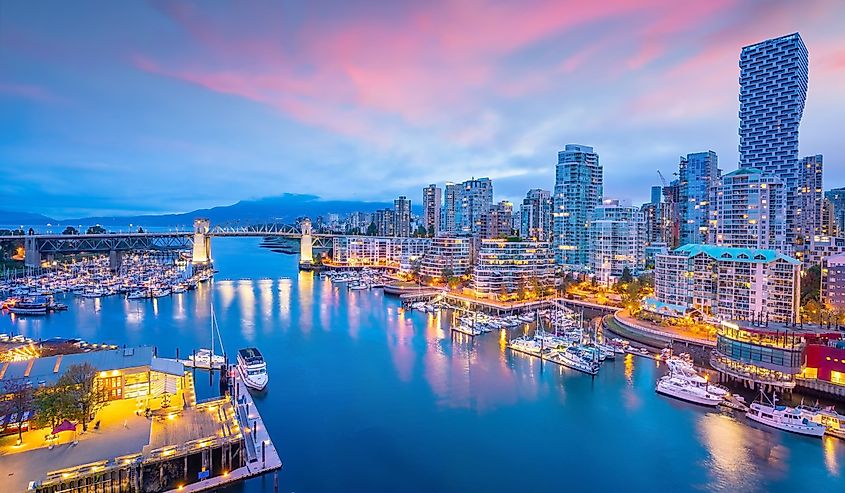 Are you looking for a perfect mix between a bustling metropolis and a panoramic view of mountains, forests, and lakes? Vancouver offers all of that and more. While it is a well-developed area with many things to do, three days is just enough time to understand what makes this Canadian city so unique. Three mountains surround Vancouver: Grouse, Cypress, and Seymour, and all are open during the summer and winter for tourists to either challenge themselves with a hike or hit the slopes with fresh-powdered snow. Capilano Suspension Bridge offers excellent views of a large forest and river while providing activities for kids and adults alike. Once those views have been explored, head over to downtown Vancouver, chockful of bars and nightlife here; the city's vibrancy never truly dies down. 
Timberline Lodge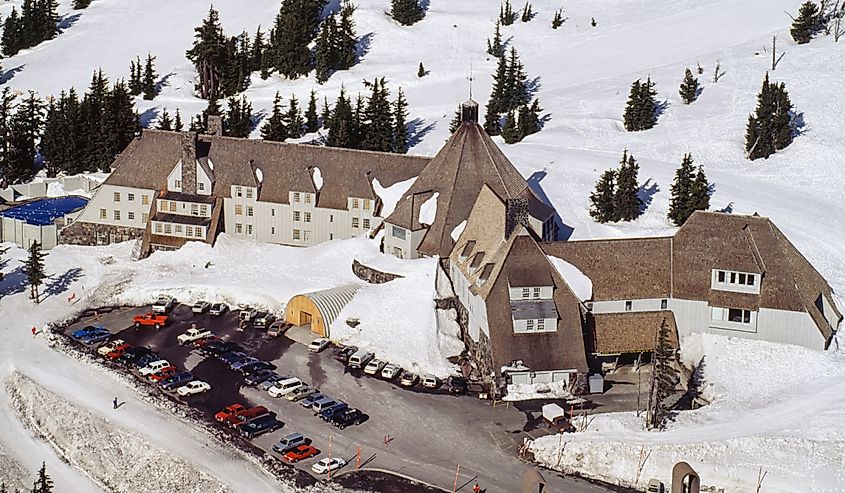 Situated a 90-minute drive from Portland, Timber Lodge is located on Mount Hood, the highest peak in Oregon, and is open year-round. This incredible dormant volcano has excellent terrain and areas for families and lone travelers alike to hike or camp, and its high-elevation lakes, reservoirs, and streams are perfect for those looking to go fishing. However, Mount Hood might best be known for its skiing experience. Timberline Lodge, a national historic landmark and ski resort, boasts North America's most extended ski season, running from mid-November to the end of May! The mountain is a great way to spend an extended weekend, either by exploring its natural terrain during the summer or breathing in its icy air in the winter months.
Ross Lake Resort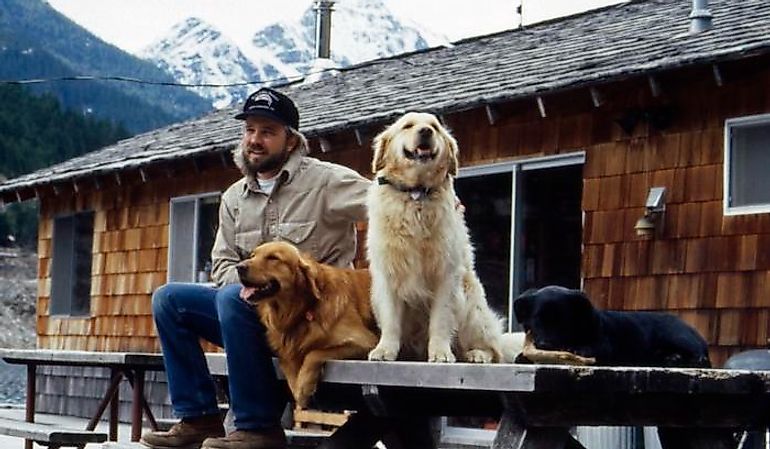 Ross Lake Resort is one of the best places to stay to marvel at the gorgeous North Cascades National Park. It is located in Washington and is home to forested valleys, wetlands, swamps, more than 300 glacier-topped peaks, and 500 lakes and ponds. Safe to say, it is one of the most diverse parks in the area and has its fair share of aquatic life, including salamanders, plankton, frogs, and others. For many tourists and travelers, North Cascades National Park features all of the scenes and landscapes one might picture when imagining the views of Washington. Visitors can enjoy the many recreational activities available, such as climbing, horseback riding, boating, fishing, and more while taking a look at Columbia River—the most extensive river system in the Western United States—and Lake Chelan, the third-deepest natural lake in the nation.
Seattle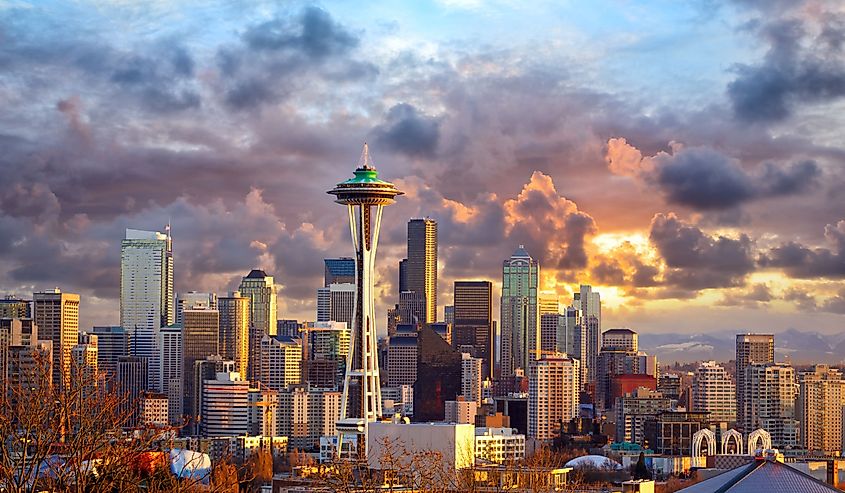 Seattle is very similar to Vancouver in terms of scenery. It is surrounded by tranquil water, mountains, and evergreen forests while offering travelers the amenities of a bustling city. The futuristic and iconic Space Needle towers 605 ft (184m) in length and can be seen in pictures and views of Seattle's gorgeous skyline; check it out for real here! A few of the city's top sights include Pike Place Market, where its small businesses and stores are owned by farmers, crafters, and nearby residents, and Pier 57, which is home to The Seattle Great Wheel and Fisherman's Restaurant and Bar. A little outside the city is the world-famous Mount Rainier National Park or Snow Lake, where visitors can spend a day exploring and taking in Washington's stunning natural landscapes.
Whistler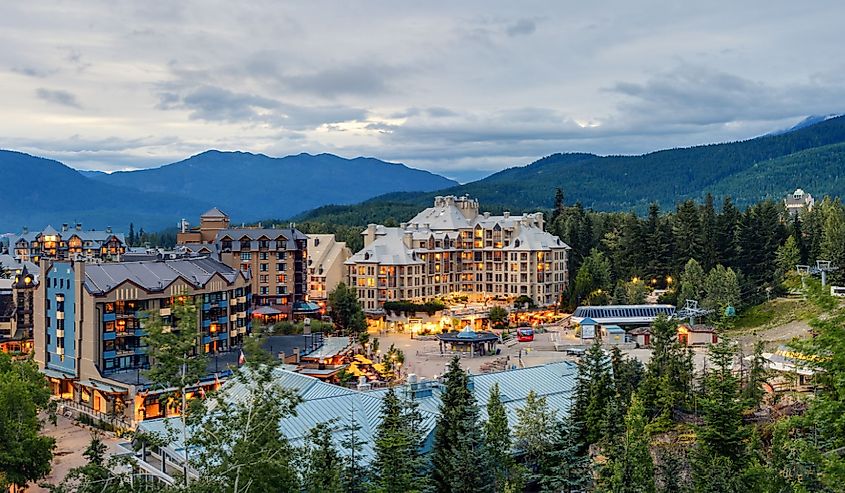 Located about a 2-hour drive from Vancouver, Whistler is the perfect destination for a quick weekend getaway trip. It comprises two mountains, Blackcomb and Whistler, and many locals living in Western Canada love spending the holidays here, where winter recreation is at its best. Come ski, snowshoe, or enjoy the small village with a diverse selection of restaurants. While Whistler is most prevalent during the holiday season, it offers many summer activities such as ziplining or hiking, and three days is more than enough time to experience what makes this town so unique. To get to Whistler, travelers must take the beautiful Sea to Sky Highway, a tourist attraction often known as the most scenic drive in Western Canada. 
Great Wolf Lodge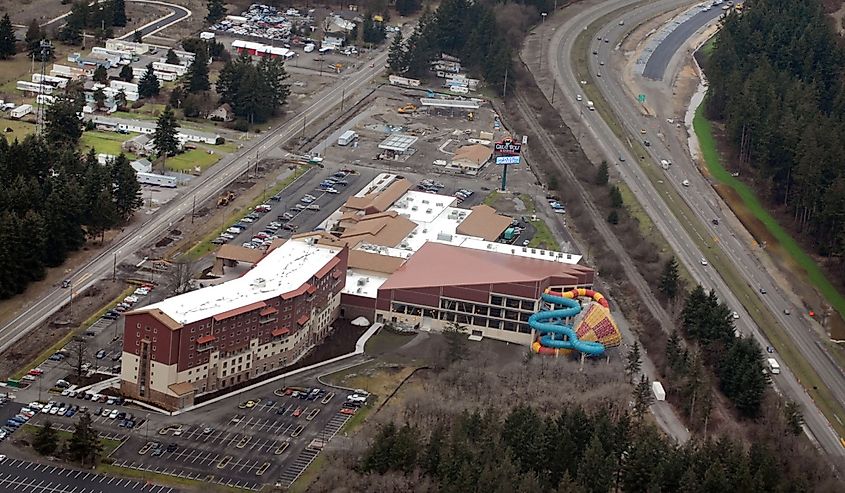 While not necessarily surrounded by luscious lakes and towering mountains, Great Wolf Lodge is one of the best getaways in the Pacific Northwest for a family vacation or a quick trip with friends. Located in Centralia, Washington, the Lodge is a 100,000-square-foot indoor waterpark with steep waterslides, a lazy river, and other attractions like an 18-hole interactive miniature gold course and a bowling alley. They also offer a selection of themed hotel rooms where guests can pick between an in-room log cabin or a wolf den with bunk beds. This is a fascinating destination if children are in your group! However, no matter what kind of adventure travelers seek, they are bound to find something enjoyable all under one roof.
Northern Lights Resort & Spa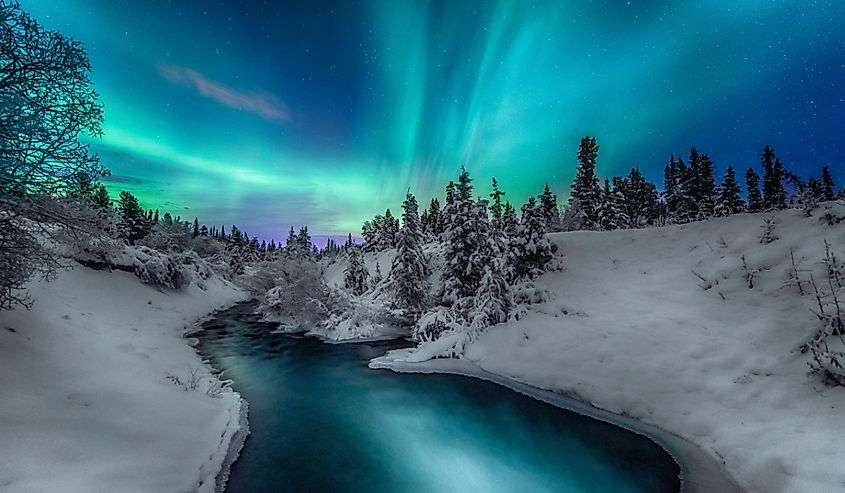 The Aurora Borealis: one of the seven wonders of nature and a sight most people have on their bucket list. Luckily for travelers seeking to witness the stunning Northern Lights, this resort in Yukon, Canada, is about twenty minutes from its capital, Whitehorse, also known as the "Wilderness City." Their Aurora Glass Chalets are built to watch the Aurora Borealis from the comfort and warmth of one's room. The floor-to-ceiling windows wrap around the whole room, fit right in front of the queen-size bed, and give travelers a genuinely unforgettable winter experience.
Girdwood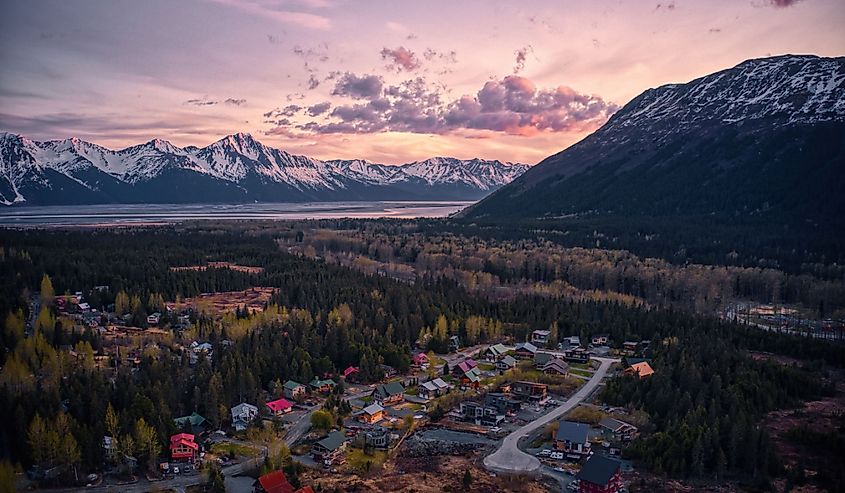 Girdwood is a small resort town south of Anchorage, Alaska, with thrilling outdoor activities. It is a very active community where visitors can partake in various outdoor adventures, including hiking, gold panning, rafting, skiing, glacier dog sledding, and more! With its staggered forests, multiple lakes and streams, and, of course, its towering glaciers, it is no surprise that Girdwood would make an excellent destination for lovers of the outdoors. 
Portland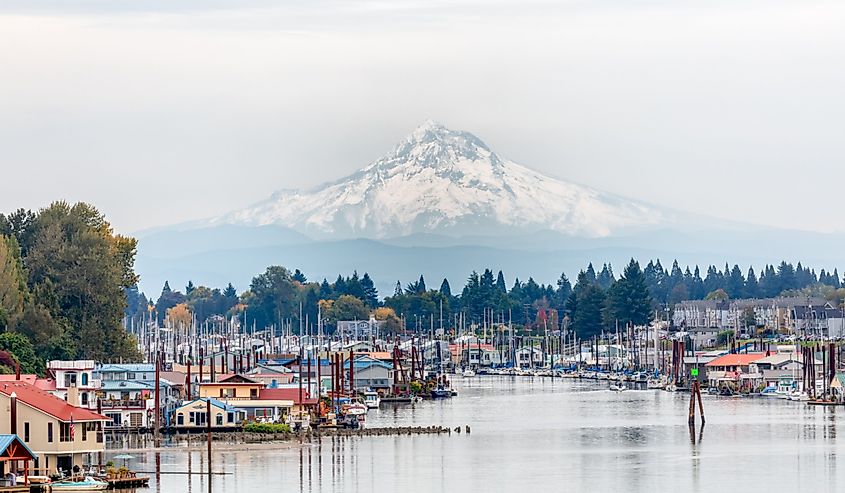 While Portland, Oregon, may be known for its rainy weather or countless breweries in its downtown area, this Pacific Northwest city is unique with its plethora of breathtaking outdoor activities. There are many local walking tours for visitors, and the city's 350 miles of bike paths are another great activity. Go a little further, and visitors can find 77 waterfalls in the Columbia River Gorge or the surfing waves located on the Oregon Coast. Tourists can visit all these natural attractions within the day and return to Portland by dinner, making it an ideal destination for a long weekend.
San Juan Islands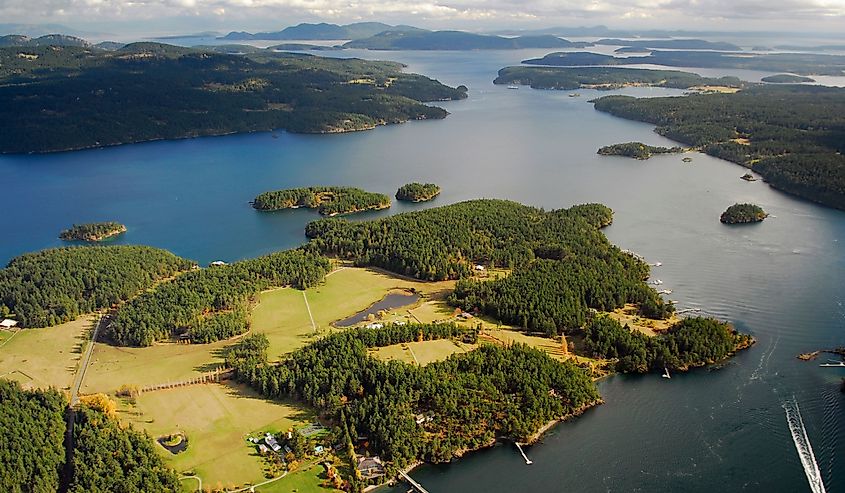 Hawaii is one of many great island vacations in the United States. Consisting of 172 islands and reefs in San Juan County, this area off the Washington Coast is a hidden paradise. A ferry can easily access its three main islands, Orcas, San Juan, and Lopez. Lopez Island is known as the "the Friendly Isle" and is just what the name implies. Locals may wave at tourists from their cars with a natural backdrop of endless farmlands and long beaches. Shifting over to Orcas Islands, travelers will find its rural and hilly landscapes incredible scenery for a road trip. Lastly, San Juan Island has rolling lavender fields and herds of alpacas to discover. Everyone is bound to find something of their enjoyment! 
West Coast Wilderness Lodge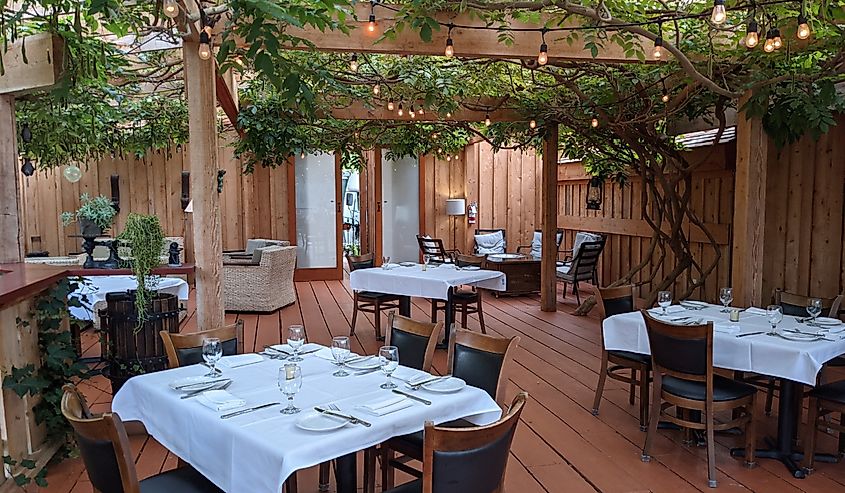 West Coast Wildness Lodge is located in Egmont, British Columbia. The area offers things from rapid river rafting to scenic crystal-clear and naturally warm Ruby Lake views. Visitors might also glimpse a couple of beavers or loons swimming around the many other lakes surrounding the lodge. And, of course, only resort by the water is entirely complete with wine, which is why West Coast Wilderness Lodge provides guests with a selection of British Columbia's finest wines.
Inn On The Lake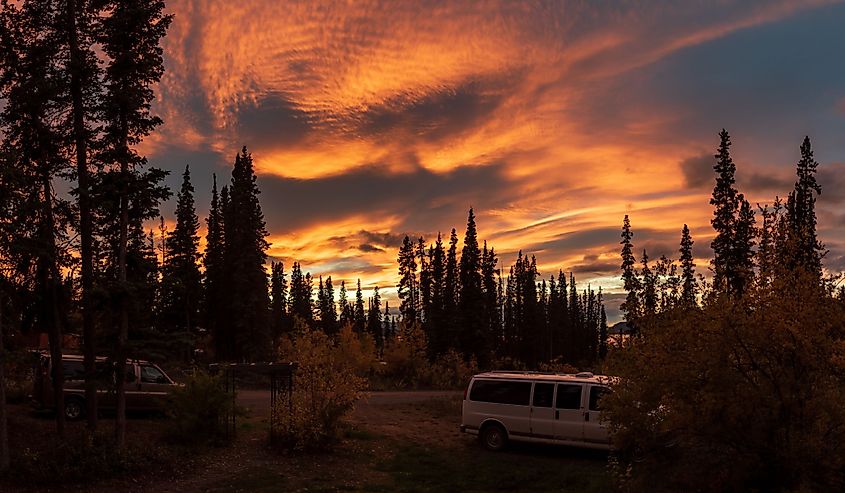 There is much more to do in Yukon besides seeing the Aurora Borealis, and the Inn on the Lake is a great place to experience all of it! The inn offers packages where visitors can drive a dog sled through the snow or cut through one-meter-thick ice to fish for trout. Other activities include snowshoeing and snowmobiling through a winter wonderland. This is all available from December 1st to April 7th and will make guests' trip to this subarctic region a lifelong memory. 
Cannon Beach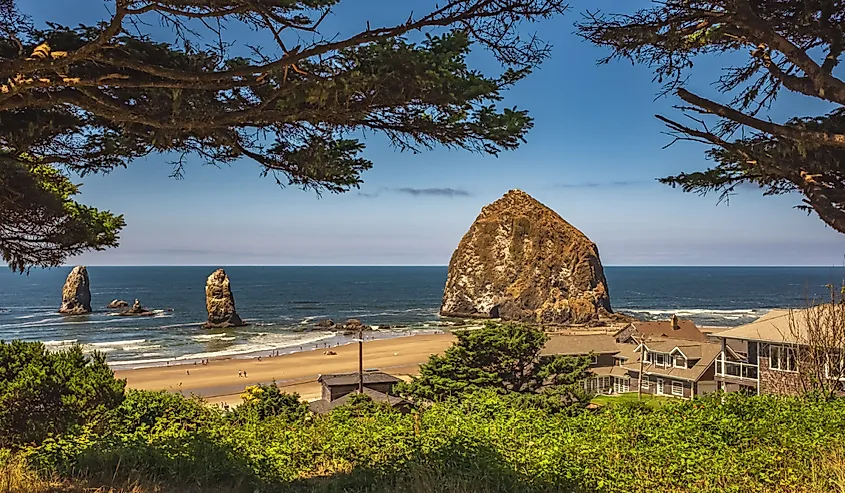 The main attraction is in the name itself — the sandy beach of this stretch of the Oregon Coast is unlike any other. Crowned by Haystack Rock, National Geographic named Cannon Beach one of the world's 100 most beautiful places. Its expansive coastline fused with a small, picturesque village make this a remarkable getaway from the city. 
A Twilight Escape
Undoubtedly, the Pacific Northwest is one of the most diverse regions in the world and does a great job of turning the dark, dreary, rainy days of the fall into a calming, extraordinary escape from reality. Whether visitors want to experience that feeling or are just looking for a road trip filled with memorable moments, these destinations will surely provide all of that.