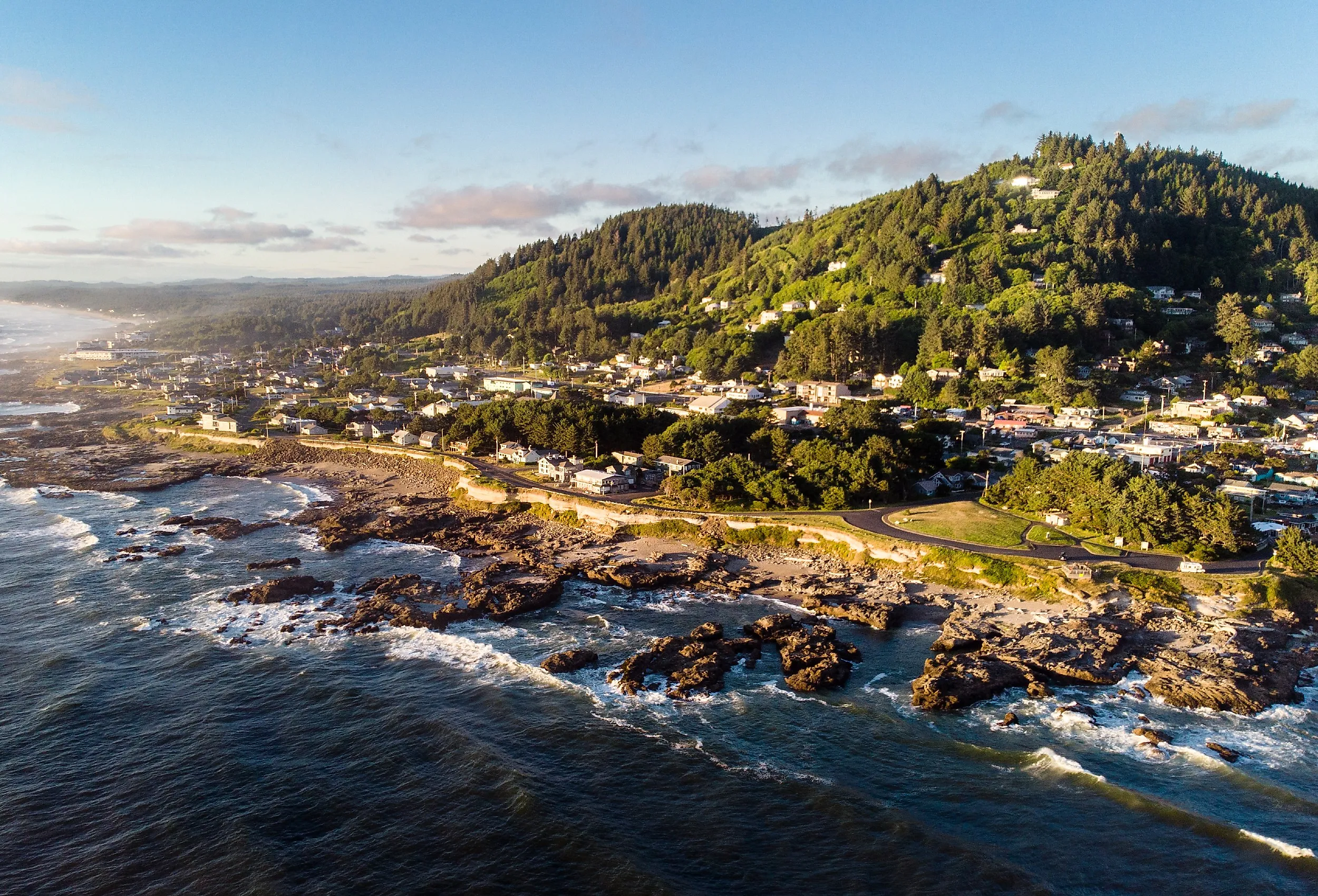 12 Most Scenic Pacific Northwest Towns
The Pacific Northwest is a scenic region stretching across the western United States along its northern coastline. It offers varied landscapes with untamed nature and cozy towns to escape from the city for a quick weekend getaway or an entire vacation. These small towns with enormous charm offer family-friendly attractions and unwinding with a drink since the original Starbucks opened here in Seattle in 1971. From the burgeoning wine scene, breweries, and distilleries to Oregon's many mouthwatering stops for fresh seafood, each of these towns offers a different vibe among beautiful nature. Best of all, you can enjoy the scenic views without crowds — just your loved ones and the unspoiled, truly stunning scenery!
Bainbridge Island, Washington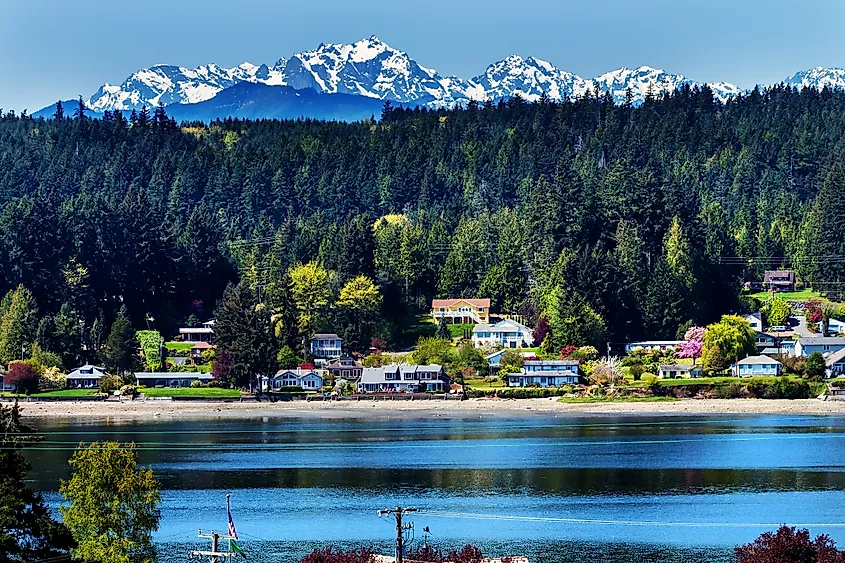 Bainbridge Island, an island town just off the Seattle coast, offers a real-deal Pacific Northwest atmosphere for epic explorations. Exchange the stuffy city for its rugged nature embrace and remote feel with just over 24,000 locals, full of discoveries against stunning scenery. Grab a coffee from one of the cute cafes, like Pegasus Coffee House, for a stroll through charming boutiques and bookshops, or hit the nearby beach scene.
From fun-filled days of lounging to water treading, you will also find trails through the cozy parks of Grand Forest West and Grand Forest East or the Gazzam Lake Nature Preserve. Choose Harbour Public House for a waterside dinner after a seaside stroll at sunset. With an enticing array of local cuisine, world foods like Sawatdy Thai Cuisine, and many wineries, you can unwind over fulfilling moments with your loved ones at Eleven Winery or Bainbridge Vineyard.
Cannon Beach, Oregon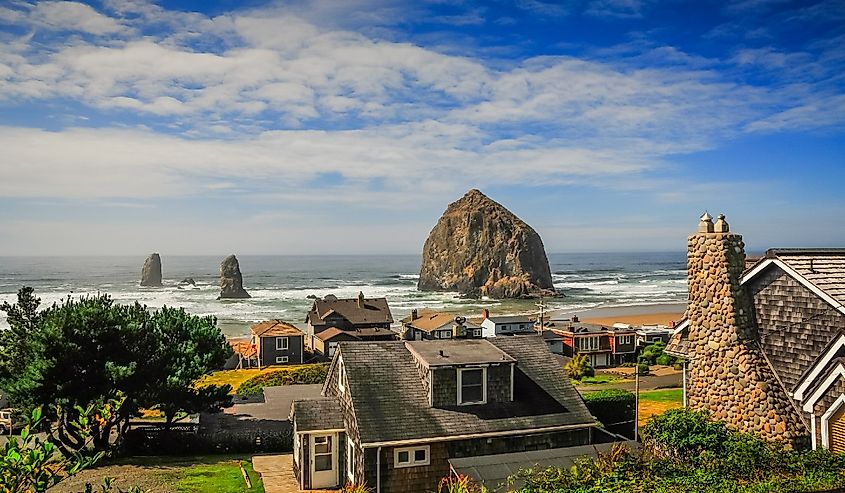 Cannon Beach is an unmissable and must-visit town in Oregon whose beauty cannot be ignored, especially with the dominating Haystack Rock — a must-see when in the state. Whether you are a beach lover or scenery seeker, the small-town atmosphere and its expansive rock-studded beach on the Pacific Coast are popular for swimming, surfing, fishing, and watching waterfowl. Visit the nearby Ecola State Park for leaf-peeping hikes and trek to Hug Point for a romantic selfie. After the nearby Tillamook Head trail to a lighthouse, you will be starving for the delightful dining scene awaiting you in town in between galleries, celebrated boutiques, and frequent outdoor festivals.
Crescent City, Northern California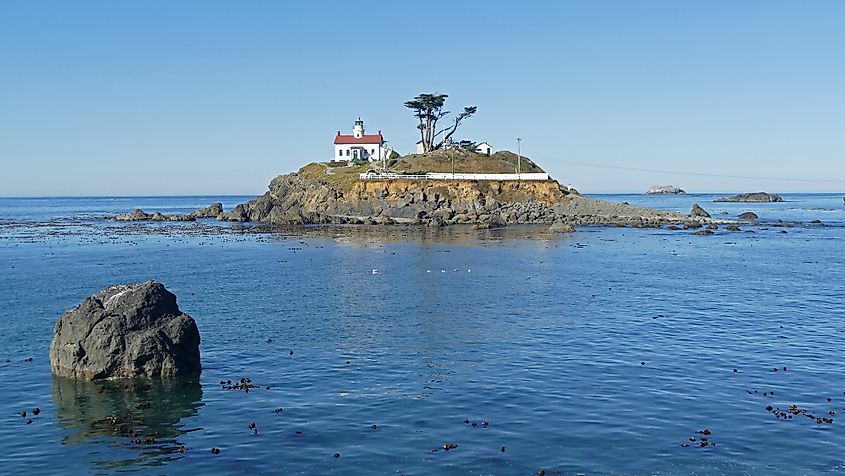 This enchanting waterfront city, really just a small NorCal town by the sea, boasts coastal scenery that does its name justice. Crescent City, a highlight of any Pacific road trip, is an enticing slice with few tourists and persevering locals who rebuilt the waterfront following an earthquake in 1964 with fun attractions for everyone. With a pocket full of history and old-Cali vibes along the streets, Crescent City's roots dig deep into the mid-19th century. Visit Crescent City Cinemas, with free refills, a game room, and Tsunami Lanes for bowling like back in the day, as well as vintage arcade games and the best fries in town. There's nature for everyone, from the coastal redwoods that enchant with an ancient atmosphere to the Ocean World aquarium with pool creatures and performing sea lions!
Del Norte Coast Redwoods State Park, with its towering giants, the largest trees in the world, is drenched with forest scents and the sea breeze for an inebriating scent and cosmic views. The Crescent City Harbor Trail is great for strolls and bike rides along this stretch of the infamous California Coastal Trail, with water vistas from South Beach to Pebble Beach. With crystal clear waters and just the right bite, the sun-drenched South Beach and Crescent Beach call for fun paddleboarding and swimming in the summer. You can sleep under the stars at Sleep Under Stars RV Park, a serene experience right in the town's heart, and stroll to the gorgeous panoramic view in the morning for sunrise at the Battery Point Lighthouse.
Cottage Grove, Oregon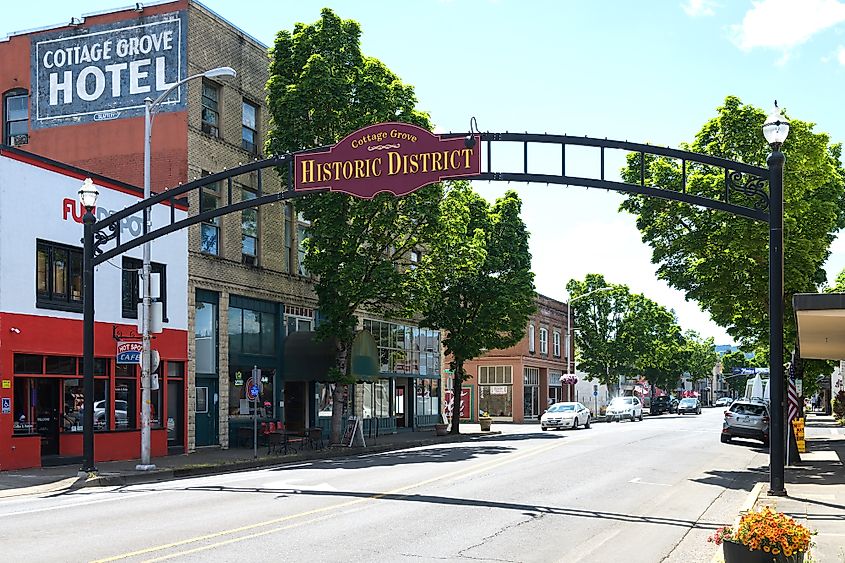 This charming town with big character and beauty abounding near Dorena Lake basks in nature and movie fame. Cottage Grove, the "All America City," is home to stardom sites from Buster Keaton's film, The General, as well as Stand By Me and Animal House. Chase a bounty of waterfalls just five miles apart from each other for blissful relaxation in the midst of some of the area's most stunning cascades, like Wildwood Falls.
With six historic covered bridges and over 20 outdoor murals in town, the town keeps you on your toes until finally winding down over a glass at the gorgeous Saginaw Vineyard. Come in the summer for lakeside pursuits, sip great beer at Coast Fork Brewing, and visit Territorial Seed Company to plant and grow a piece of this gorgeous town back in the city.
Friday Harbor, Washington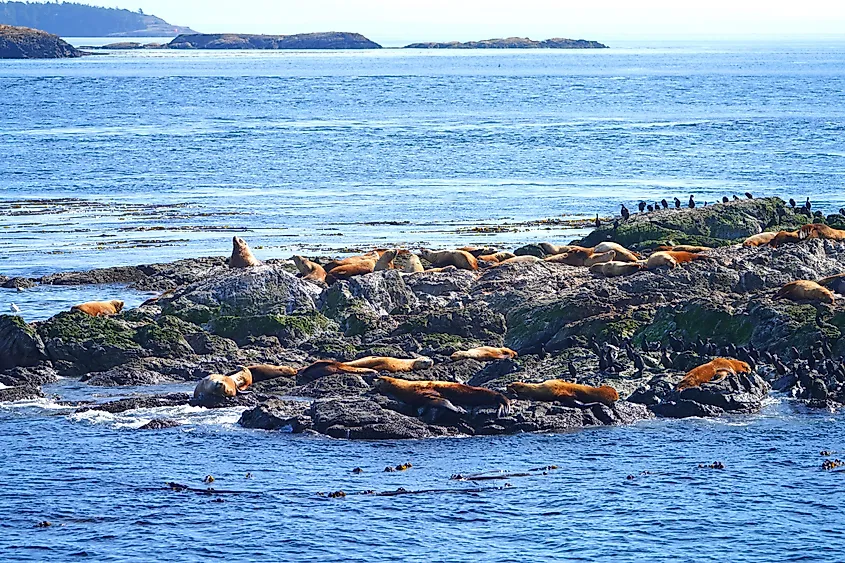 This spectacular island town of just over 2,000 people is the most popular on the largest of the magical San Juan Islands archipelago, San Juan Island. The charming town of Friday Harbor sits basking in ocean vistas with easy access halfway between Vancouver Island and northern Washington. The seashore is speckled with treasures like the 1.3-mile shoreline trail of the Salish Sea for bike rides and Lime Kiln Point for whale watching with a picnic until sunset. You can hike deep into the vastness of the unreplicable San Juan Islands National Historical Park or stay a stone's throw away from historical sights, museums, galleries, and local restaurants. The strollable town in a remote corner of the Pacific Northwest offers low tourist crowds and friendly locals to unwind over a glass at one of the wineries from the island's own luscious vineyards, like San Juan Vineyard.
Joseph, Oregon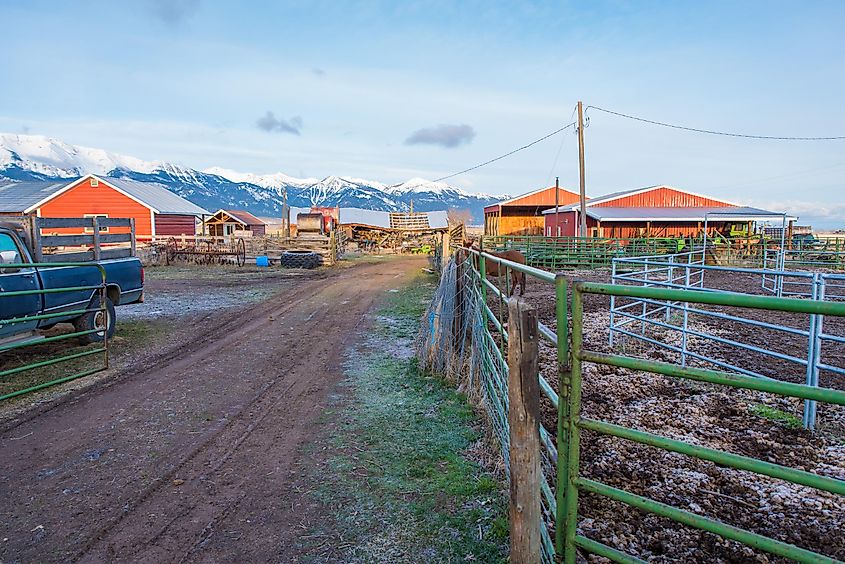 Joseph, a northeast Oregon gem, is often overlooked, hiding in the shadows of the spectacular Wallowa Mountain Range. This tiny town with enormous charm enchants with outdoor recreation and on-the-town entertainment along the streets basking in breathtaking peaks, revealing the town's moniker as the "Little Switzerland of America."
Grab a unique keepsake or gift from one of the specialty shops and galleries, like fine art, pastries, wines, coffee, or sweets from Arrowhead Chocolates. The local market offers fresh produce and cultural sights to browse and stock up for a picnic in nature lakeside at Wallowa Lake after a bike ride around the shore or fishing in solitude. Enjoy picture-perfect scenery on horseback, with a sketchbook in hand, or hunting with a camera before a great outdoor dining experience at La Laguna with mountain views and the highly-rated Embers Brewhouse.
Long Beach, Washington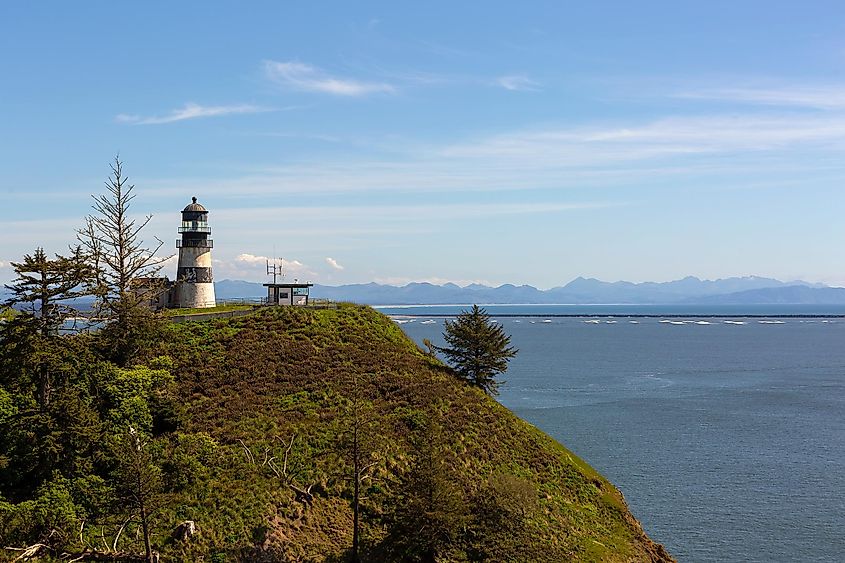 There are a few other namesake towns in the country, but none quite like Long Beach, Washington. Looking out into the Pacific from a beautiful coastline, this cozy town of under 1,800 locals is idyllic for sunbathing and swimming in the state without crowds. Come in the summer for scenic ventures at the nearby Cape Disappointment State Park at the mouth of the Columbia River, post-hike dips, and a downtown full of local eateries and breweries to complete your perfect weekend escape.
The town with engulfing Pacific views on the Long Beach Peninsula offers modernity to unwind in comfort against the serene natural beauty. You can also utilize RV camping for easy access to lounging, snorkeling, horseback riding, and whale watching, and cook what you catch for dinner. With epic nature glaring at you from every corner, the Willapa National Wildlife Refuge calls for wild explorations, while the coastal Discovery Trail still feels like Lewis and Clark.
Mazama, Washington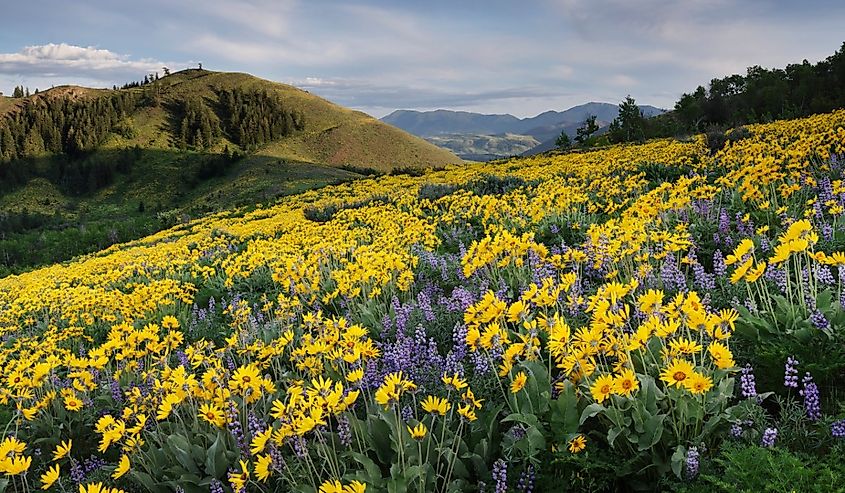 Mazama, one of the state's eastern tiny towns in the heart of the North Cascades, boasts geographical benefits that make it shine through the mountains in every season, leaving the rain shadow in the west. The captivating outdoors of ponderosa pines and the open Methow Valley views in the foothills are spliced with trails, while the Methow River is whitewater and fishing heaven. With thrills like rock climbing and heli-skiing, as well as over 120 miles of the state's best Nordic skiing trails through the backcountry, you will want the next day off to unwind downtown. Check out why Mazama Store is so famous after a morning coffee at the town's great bakery, and start early on the brewery and distillery scene to keep the fun going.
Port Townsend, Washington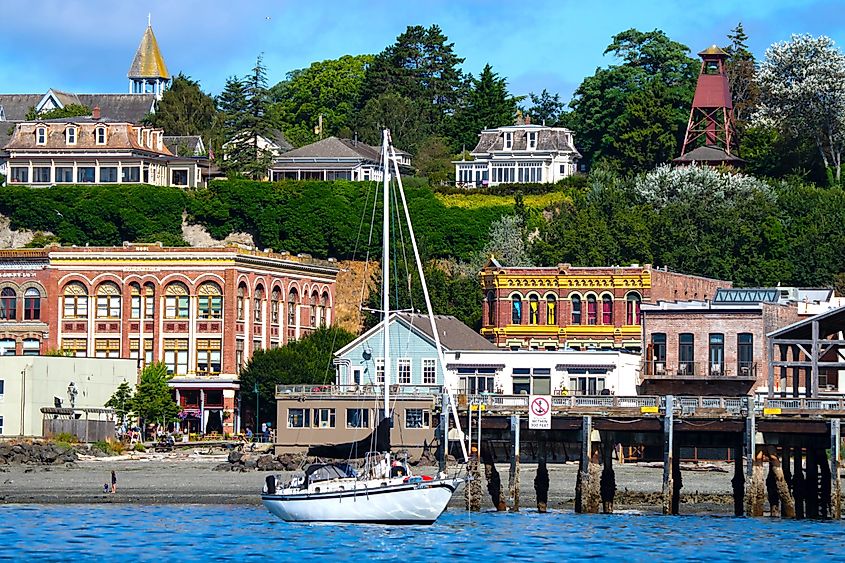 Port Townsend, one of the most charming towns on the Pacific Coast, nestles scenically in between the Salish Sea and Olympic National Park, with a refined mix of nature and culture. Visit this small Olympic Peninsula town for big-time outdoor fun and an impressive array of attractions in the vibrant, eventful downtown, thanks to an active community of creatives. Spend a day hiking at Fort Worden State Park before a shoreside stroll at sunset and dinner at Blue Moose Cafe or Doc's Marina Grill on the water. Nature awes with breathtaking views or whale watching tours with Puget Sound Express around this Olympic Peninsula gem, with many islands speckled in the water for the venturous.
Sequim, Washington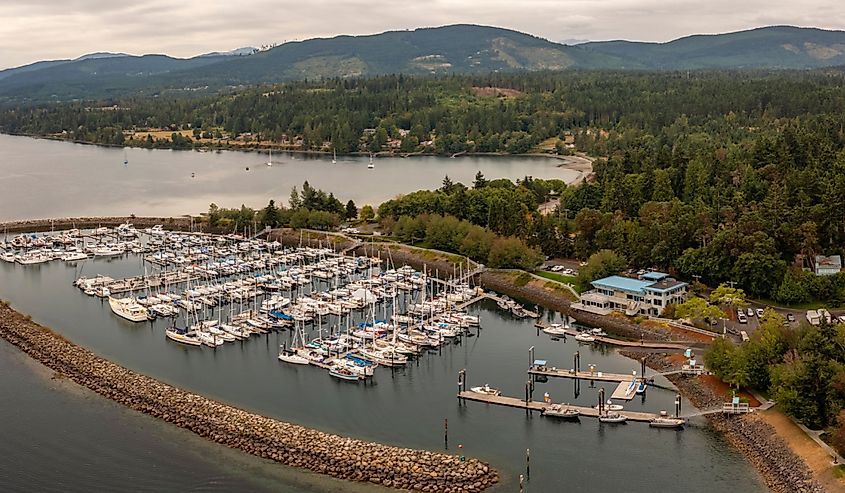 This adorable town on a coastal inlet offers a sensual escape, perpetually appearing on the list of all things beautiful in Washington. Sequim awakens you with scenery after months of work at its renowned Lavender Festival in July, stretching from the scenic waterfront through the downtown. Named both the Lavender Capital of North America and Sunny Sequim for more days of sunshine than any other in the state and almost no chance of rain, there's tons of Olympic Coast nature to discover in the beautiful weather. Choose the cozy Juan de Fuca's Cottages for a retreat feel with gorgeous Sequim Bay views, and take the drive to Olympic National Park with its own hiking trails and the Hoh Rainforest, one of the largest temperate rainforests in the US.
Snoqualmie, Washington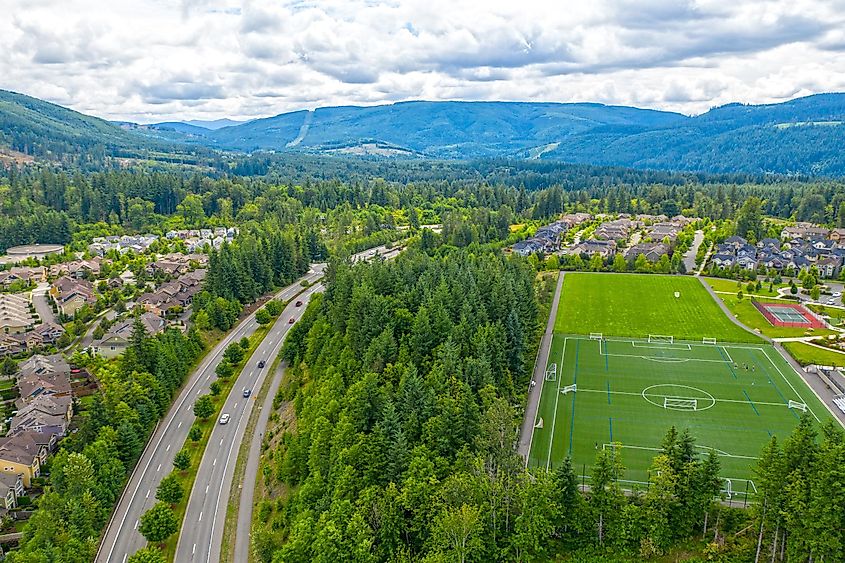 With beauty in the eye of the beholder, the cute town of Snoqualmie is the kind of place where beauty finds you through your favorite pursuits. Home to Snoqualmie Waterfall, the state's second-most visited natural landmark after Mount Rainier, the iconic cascade on the National Register of Historic Places is a must-visit that blows minds with its 270-foot drop—twice that of Niagara. Take a scenic hike through the natural history of Snoqualmie Falls Park to this sparkling veil, complete with a sky bridge and two observation decks, to gawk, listen to narratives, and stock up at gift and snack shops.
Just 25 miles east of Seattle, the town is a popular locale for skiing or hiking through the Cascade Mountains, with Snoqualmie Ski Resort nearby. Family attractions include the luxurious spa by the falls, great shopping downtown, and the Northwest Railway Museum.
Yachats, Oregon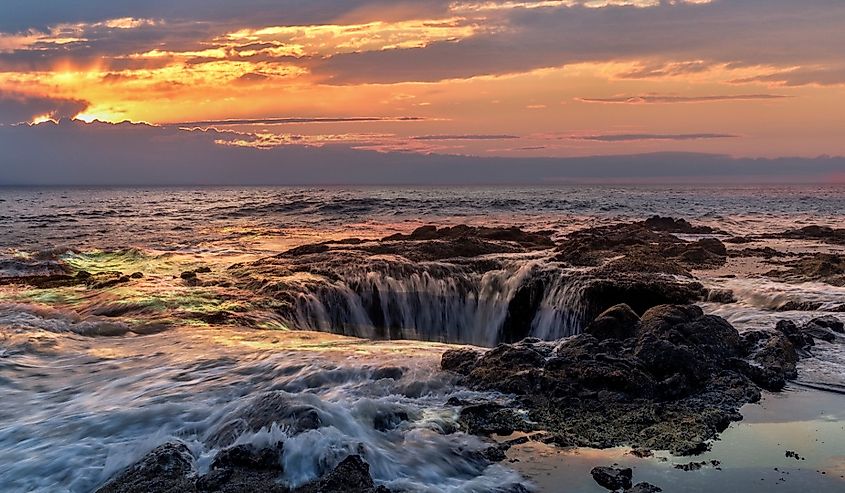 Yachats, a scenic seaside enclave along the Oregon coast, boasts an atmosphere unlike anywhere else. Take a shoreline stroll along the surging waves or hike to the high bluffs for the overwhelming scenery of the Oregon Coastal Range and rainforest in every direction. The quintessential town is home to unique wonders like the huge coastal sinkhole of Thor's Well, which attracts worldwide gawkers, and a generous mileage of gorgeous trails for hiking the top of the Oregon Coast, Cape Perpetua Scenic Area, its highest point.
After a day of eye-feasting through galleries with local artists undoubtedly inspired by nature's beauty, Ona Restaurant, and Lounge is unmatched for dinnertime and relaxation over drinks. Discover for yourself the meaning behind this peaceful village's name, "where the trail leaves the beach" with experiences for all groups and tastes.
Stretching through the western United States, the Pacific Northwest scenery is diverse and spectacular, from the ocean through state parks and rainforests encircling mountains. While the region is a real adventure-land to discover with mountain biking, exploring around the water, and on rainforest hikes, these postcard towns host a family-friendly atmosphere and low crowds to enjoy the scenery. Don't wait to discover some of the region's best in these Washington and Oregon towns, as well as the Northern California gem of Crescent City! From enticing seaside towns to island gems and mountain nests with post-nature attractions galore downtown, you can truly appreciate the most scenic towns in the Pacific Northwest in any style with your loved ones.