Portland Head Light, Maine - Unique Landmarks around the World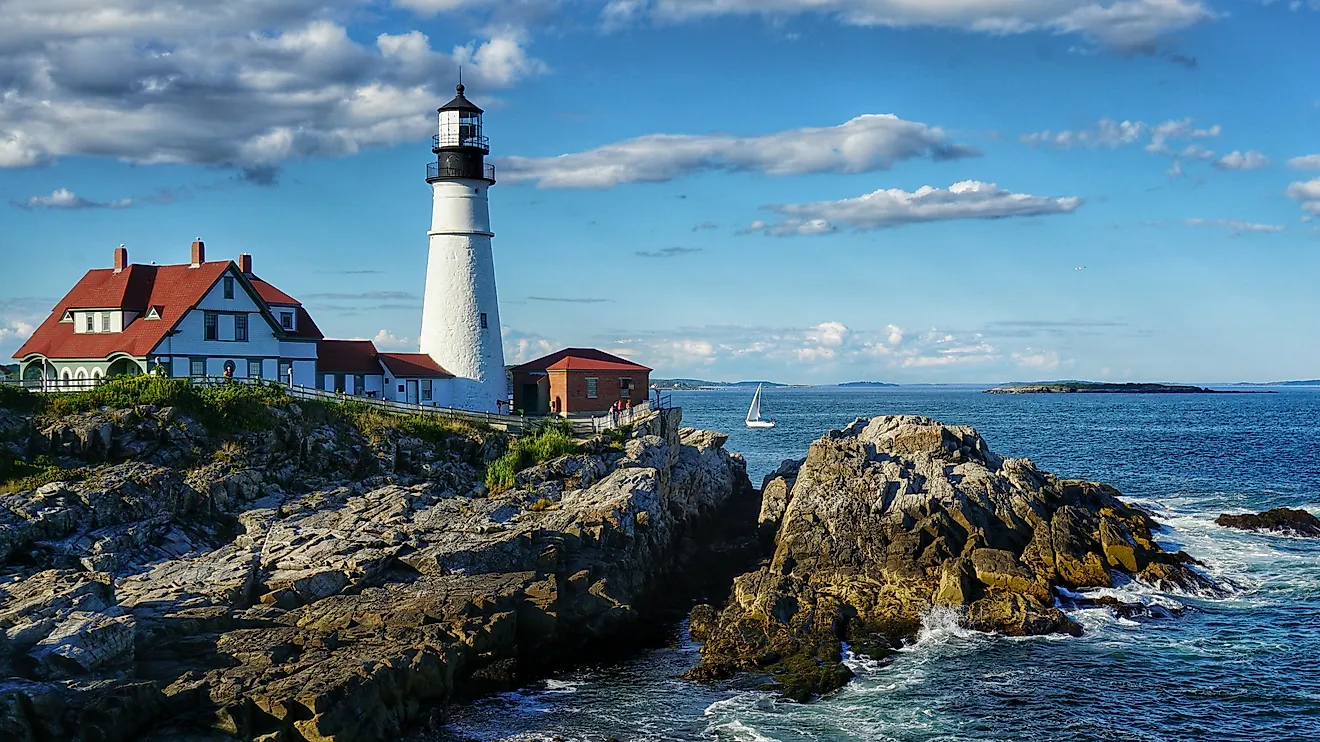 5. Description
The Portland Head Light is a cone-shaped lighthouse in Cape Elizabeth Town in Cumberland County in the US state of Maine. Its height is 80 feet, and the lighthouse is white in color, except for the upper part of the house and its tip, which are black. Portland Head Light, and the red-roofed Victorian house beside it, are conspicuous landmarks along the shores of Fort Williams Park, at 1000 Shore Road along the Gulf of Maine's Casco Bay. The climate at Cape Elizabeth is cold and temperate and, even in the driest month, it rains often. The average annual temperature is 47°F (8.1°C) and rainfall totals average 45 inches (1147 millimeters) per year. The Koppen Climate Classification for Cape Elizabeth's climate is "Dfb", which is characterized as humid, with severe winters, no dry season, and warm summers.
4. Tourism
Yearly, the Portland Head Light attracts nearly one million tourists. It is the most photographed of any lighthouse in America. To visit the Portland Head Light from the north, one usually takes Interstate 295 from Portland, and then takes Route 77 South to South Portland. From there, a left turn is made onto Broadway, and a right turn onto Cottage Road, which further leads to Shore Road at the Cape Elizabeth city limits. Tourists coming from the south will take Route 1 North to Oak Hill in Scarborough. They then turn right onto Route 207, then left onto Route 77 North to Cape Elizabeth. At the stoplight, they will turn right again onto Shore Road which will finally take them to their destination at Portland Head Light.
3. Uniqueness
Tourists visiting the Portland Headlight learn about its historical role in American Independence from the British from its knowledgeable curators. There is also an award-winning museum within the former Keepers' Quarters. This residence was constructed in 1891 to house head and assistant lighthouse keepers and their families. The museum has several lighthouse lenses that were used to look out over the bay's waters through the lighthouse's history. Outdoor enthusiasts can enjoy birdwatching, painting, playing at the beach, exploring military ruins, flying kites, rock climbing, taking photos, hiking, and picnicking within the 90 acres of Fort Williams Park. All the while, they can enjoy witnessing the breathtaking crashing waves of the Atlantic Ocean upon the Maine shoreline. Children's activities include bike rides on the park paths, soccer or baseball matches, sledding during winter, and "geocaching".
2. History
Plans for the Portland Head Light began in 1787, after being commissioned by the legendary Revolutionary War hero and President-to-be George Washington himself. He charged two Portland masons, namely Jonathan Bryant and John Nichols, to oversee its construction, according to Lighthouse Tours. The General Court of Massachusetts initially provided $750 for its construction. Then, in 1790, the US Government chipped in $1,500 to assist in its completion. In January 10th, 1791 the Portland Head Light was lit for the first time. Various historical accounts report it was built to replace eight soldiers who were placed at Portland Head to warn of attacks during America's fight for independence from the British, as well as to lessen the frequency of shipwrecks in the bay. Just as in its early days, to date it still aids sailors in navigating the Maine coast, and has helped boost tourism in Maine due to its historical value.
1. Threats
Visits to the Portland Head Light are not risky to tourists, and no dangers have been reported yet of tourism hurting the site. However, according to a Oakridge National Laboratory study in 2015, climate change very much poses a threat here. The study reports that Casco Bay, where the Portland Head Light is located, faces risks of rising sea levels, and salt water intrusion into its coastal aquifers and nearby wells used for drinking water. Therefore, Portland Head Light faces many of the same challenges posed by climate-related weather events and sea level rises, as well as environmental pollution, that also threaten most other historic manmade and natural wonders along the coasts of all of the world's oceans.