Hiking resonates with our primal, hunter-gatherer nature. After all, humans are bipedal for a reason – we are meant to move! Even with high-tech gear, detailed maps, guidebooks, GPS units, travel blogs, and tour companies, using your own two legs to propel yourself over novel terrain is a deeply satisfying pastime. But the world is a big place, and there are too many blazed trails for one human life, so some strategic selections must be made. Are you looking for a gigantic quest? A spiritual undertaking? A memorable, single-day push? These eleven hikes present something for all globe-trotting tramps. 
Camino Portugues – The Coastal Way, Portugal/Spain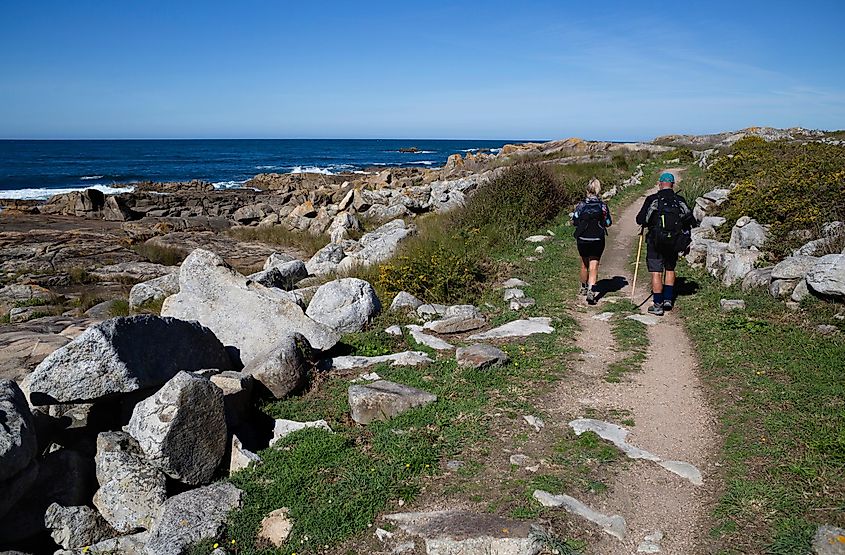 There are many rewarding pilgrimages to choose from that fall under the banner of Camino de Santiago. While the Camino Frances is the most famous, the Coastal portion of the Camino Portugues has been skyrocketing in popularity as of late. This 280 kilometer/174 mile (depending on the exact combination of chosen paths) mostly waterfront stroll begins in the UNESCO city of Porto, Portugal. It ends at the Santiago de Compostela Cathedral in Spain (i.e., the traditional endpoint for all these spiritual sojourns). 
Along with a refreshing ocean breeze, sunny skies, adorable seaside towns, and no shortage of espresso-break patios, the Coastal Way (or the Coastal Route) almost equally blends the two countries and their respective languages and cultures. A ferry crossing marks the changeover, whereupon attentive pilgrims will switch from the "Bom Caminho!" Portuguese greeting to the Spanish "Buen Camino!" 
West Coast Trail, Canada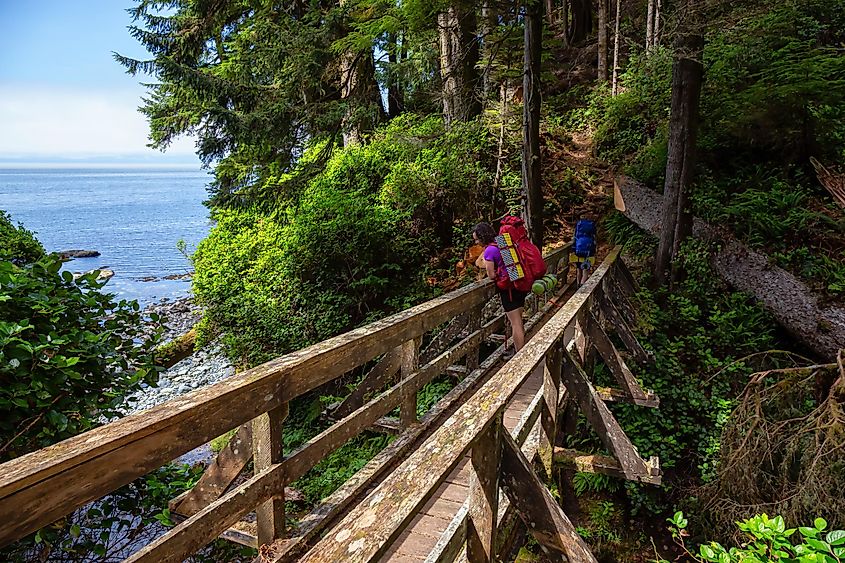 Along the Southwest shore of British Columbia's Vancouver Island, the West Coast Trail spans 47 soggy, challenging miles (75 km) through the rainforest of Pacific Rim National Park Reserve. This once-in-a-lifetime trek combines naturally worn footpaths, courtesy of the region's first nations, and a manufactured exit route for shipwrecked sailors that used to wash ashore so frequently that this ominous coastline became known as "the graveyard of the Pacific." Present-day hikers have to contend with often incessant rain and tide schedules. Challenges on the way also include ascending or descending 100 wooden ladders, cable-car river crossings (or good old-fashioned unassisted river crossings), slippery rocks and roots, and occasional black bear sightings. All of the above makes the WCT a slow-going experience, but that is all part of the adventure. As a reward for your efforts, expect to be dazzled by the enormous vegetation, wild beaches, sea caves, rock arches, pods of gray whales, and sizable sea lion gatherings.
La Ciudad Perdida, Colombia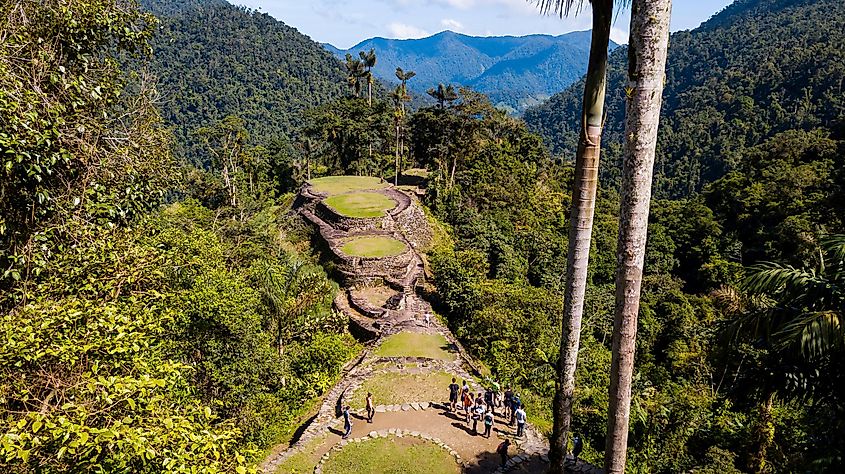 Everyone knows that Peru's Machu Picchu treks are awesome, but permits are tightly controlled at the best of times. Due to political unrest, the world-famous Inca Trail has been closed down entirely (as of the writing of this article) – so an alternative is needed. Colombia's La Ciudad Perdida was built around 800 CE (i.e., roughly 650 years before Machu Picchu) by the pre-Columbian Tairona people – ancestors to the modern Kogi people. Unlike Machu Picchu, which has road and rail access via Cusco, "The Lost City" can only be reached by hiking for 4 to 6 days through the Sierra Nevada de Santa Marta mountains and associated sweaty jungles of Colombia's Northeast. Only a small fraction of the once-thriving site has been uncovered and visible today erupting out of the vegetation that once had completely engulfed the advanced infrastructure until it was rediscovered (though locals likely knew of its existence) in the 1970s.
Pacific Crest Trail, United States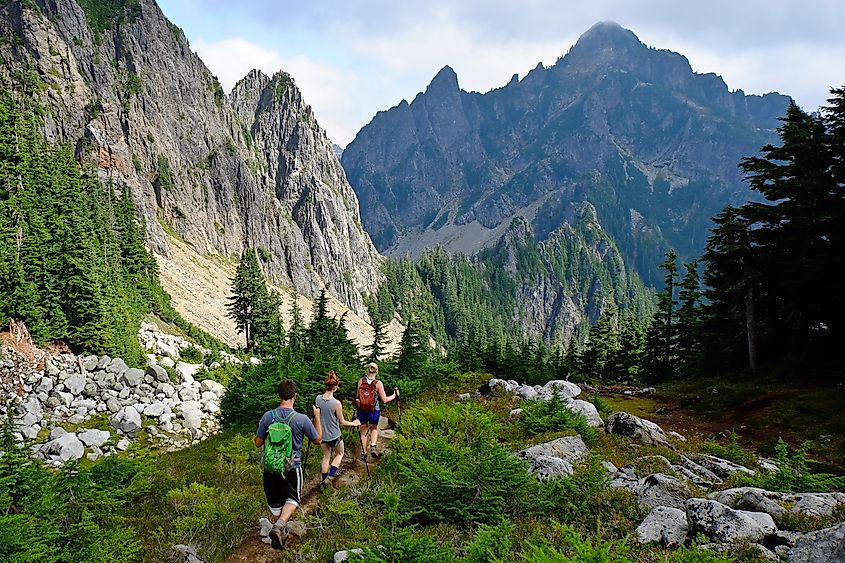 The Pacific Crest Trail is an intimidating yet alluring bucket-list mega trek for all athletic dreamers. This 4,265 kilometer/2,650 mile juggernaut brings granola-loving hikers from the border of Mexico to the border of Canada (or vice versa) via the Sierra Nevada and Cascade mountain ranges, Mojave Desert, and forever stretches of dizzying forests throughout the Western United States (i.e., California, Oregon, and Washington). Those attempting the four to six-month endeavor must plan ahead for resupplies and be prepared to face night and day climate contrasts. An alternative option that overlaps with some of the California portions and includes an epic highlight reel of the PCT is the 340-kilometer/211-mile John Muir Trail.
Abel Tasman Coast Track, New Zealand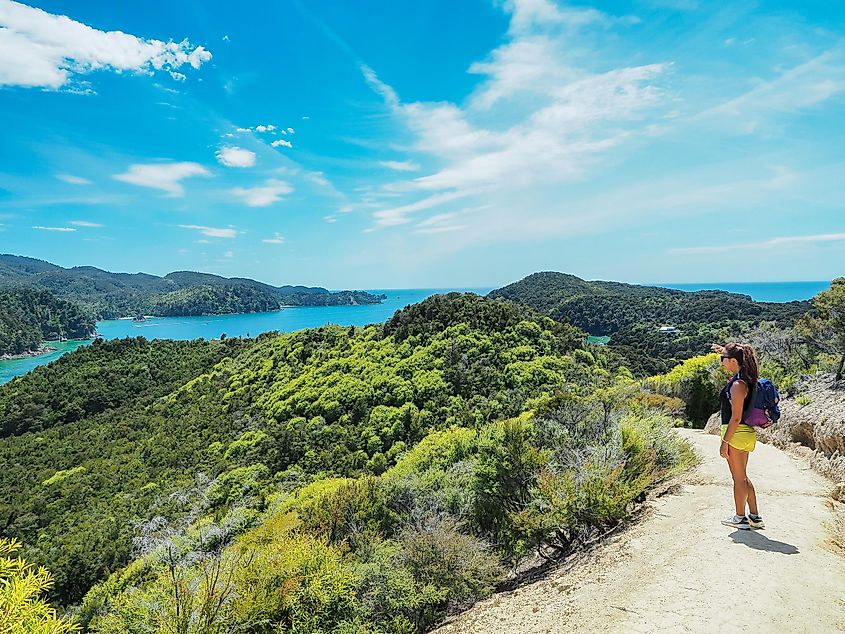 It is difficult to choose just one of New Zealand's famous Great Walks, and though the Milford Trek usually gets the vote for best of the ten eclectic adventures, I think a strong argument can be made for this easy-going coastal jaunt. The Abel Tasman Coast Track is a 51-kilometer/32-mile, modestly undulating saunter across the idyllic Abel Tasman National Park on the South island's North coast. While good fitness and outdoor comfort are always helpful, this route proves that not all the best treks must be strenuous. The trailhead is easy to get to (only a 40-minute drive from the city of Nelson). The Department of Conservation maintains reservable huts and campsites, and hikers will spend their time in a temperate climate, on, or parallel to, white sandy beaches and swimmable crystalline bays. With all that said, be ready for the sand flies – the one thing those impossibly perfect pictures won't show you. 
Tour de Mont Blanc, France/Italy/Switzerland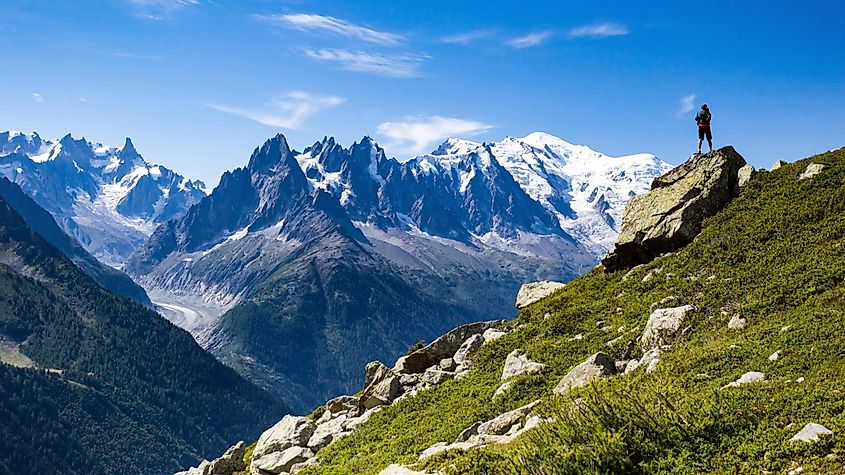 The Tour du Mont Blanc is one of the most popular and arguably the most stunning hiking trails (those things tend to correlate) in Western Europe. The 170 kilometers (106 miles) circuit commonly begins in the charming French mountain of Chamonix (though one can start and finish wherever one likes – that's the benefit of a loop!), and passes through several sister Italian and Swiss communities as it circumnavigates the highest peak in the Alps, Mont Blanc (4,807meters/15,771 feet). The TMB is a bit of a Yin-Yang experience. On the one hand, hikers can fulfill their every European indulgence by sipping wine and nibbling scrumptious chocolate and baked goods while listening to the clattering of alpine meadow cowbells and trying to absorb the intensely-beautiful panoramic views. But in order to earn those moments, this multicultural footpath chucks in nearly 10,000 meters/32,000 feet of elevation gain (plus, don't underestimate those long descents) across eleven potentially capricious mountain passes.  
Grand Canyon Rim-to-Rim, United States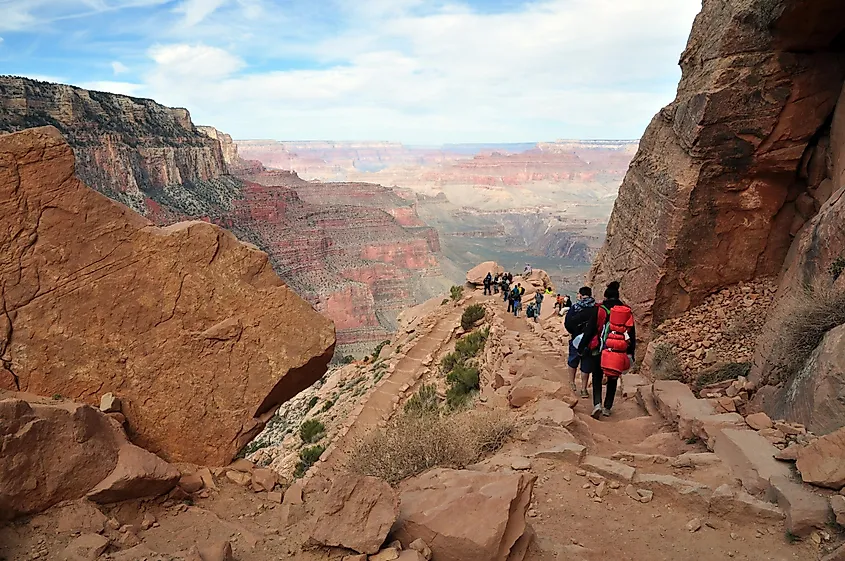 Just visiting the Grand Canyon forges a lifelong memory for most people. But pulling over to take pictures from an epic viewpoint lacks the intimacy that a deeper exploration (literally) can provide. Why not hike down to the Colorado River and up the other side? Only 1% of the 5 million annual visitors dare to do so. Such a journey brings supremely fit steadily through time with each switchback and distinct layer of strata. But beware, the Rim-to-Rim trek is deceiving. Not many treks begin with a long downhill. Make sure to save some energy for the daunting and equally persistent trudge back up, especially if you plan to do it all in one day. The total distance is approximately 38 kilometers/24 miles, but the elevation profile depends on the direction. Going from the North Kaibab trailhead to Bright Angel Campground involves 1,756 meters/5,761 feet of elevation loss, followed by 1,355 meters/4,380 feet of gain. Some kooky ultramarathoners even elect to do the Rim-to-Rim-to-Rim in a single push to cut out the transportation logistics. 
Jordan Trail, Jordan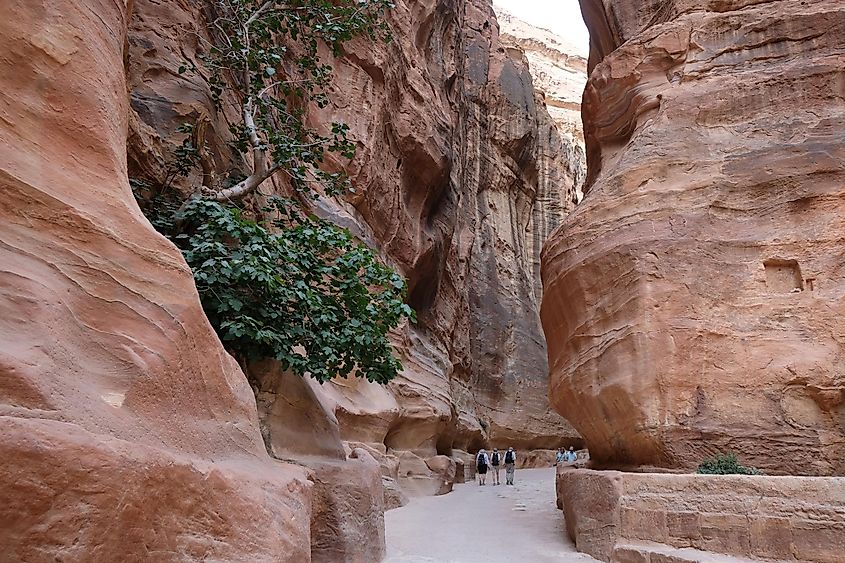 Hiking tourism isn't all about bagging peaks and cruising picture-perfect coastlines – the desert deserves some love too. Established in 2015, the Jordan Trail is the youngest entry on this list and is, therefore, simply begging to be explored. This 600-kilometer/373-mile, point-to-point trail spans the entire length of Western Jordan, from Um Qais to the Red Sea (if walking North to South). Navigation and culture-savvy travelers can tackle the whole thing. Mid-distance hikers can sample one of the eight sections of the trail, each of which takes between four to six days to complete and showcases ancient architecture, Bedouin culture, and fascinatingly barren landscapes (though there are surprisingly green sections too). The standout highlight is surely the 2,300-year-old, perfectly-chiseled out of pink sandstone, Indiana Jones-connoting, UNESCO World Heritage Site known as Petra. 
Volcán Barú Sunrise Hike, Panamá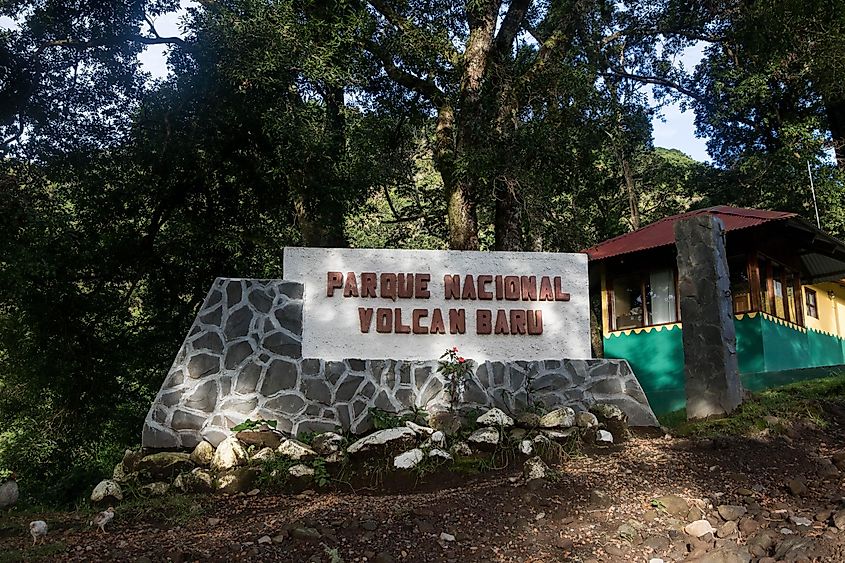 Volcán Barú (or Volcán de Chiriquí) is the highest point in Panamá, topping out at 3,474 meters/11,397 feet. From here, you can (sometimes) see both the Pacific Ocean and the Caribbean Sea with the naked eye. But there is a catch. Since cloud cover often dominates the dormant stratovolcano's peak, the most likely time of day to glimpse this extraordinary view is at sunrise, which means hiking through the night. Since the average elapsed summit time is five to six hours, hardy hikers must leave the town of Boquette at midnight, prepared to face the relentless and rugged ascent through the jungle in the dark. Winds atop Volcán Barú can be both frigid and aggressive, so pack appropriate layers while you await that glorious and warming early-morning glow. 
Everest Base Camp, Nepal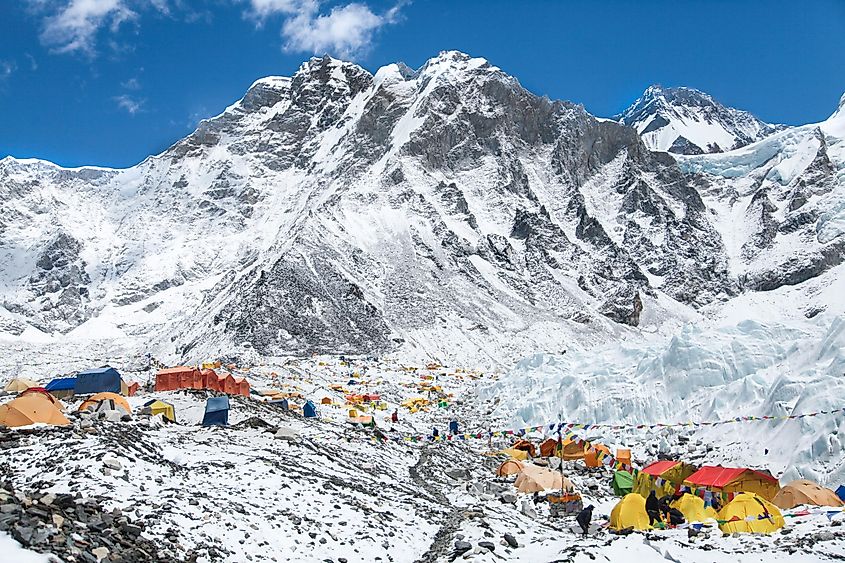 The world's highest mountain burns somewhere in the soul of all intrepid travelers. Given the extreme physical and financial investment that a Mount Everest (8,849 meters/29,032 feet) summit push demands, not everyone will be able to join the history books. Thankfully, the drawn-out journey to the foot of the great peak is epic, challenging, and astonishingly scenic. Do not be fooled by the term "base camp." The official start of Mount Everest is substantially higher than the aforementioned Mont Blanc and most other mountains not located in the Himalayas. As such, a standard itinerary lasts fifteen or more days, leaving behind the rambunctious streets of Kathmandu for progressively higher teahouse communities steeped in Buddhist stupas, Tibetan prayer flags, roaring rivers, swing bridges, pack mules, porters, friendly locals, and fellow enthusiastic adventurers. 
Wapta Traverse, Canada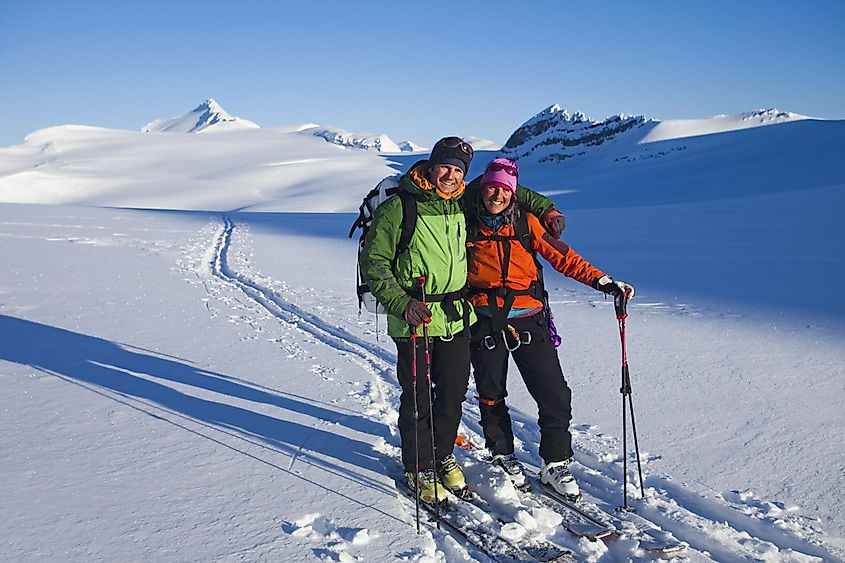 As a Canadian, and an avid hiker, I'm biased toward the extraordinary network of trails in my own backyard. So sorry, not sorry, for the additional entry! Millions of people flock to Alberta's Banff National Park each year to drink in the Rocky Mountain scenery, hit the slopes, dip a toe in the gorgeous glacial lakes, maybe catch a glimpse of a grizzly bear or moose, and of course, go for a hike. There are endless options throughout the expansive park for a variety of skill levels. But for those seeking an advanced challenge with even more advanced views, join a guided team for the Wapta Traverse. This trying, mountain-scaling, crevasse-riddled glacier-crossing foray begins at Wapta Lake, just off the Trans Canada Highway, crosses the Waputik and Wapta Icefields, and descends to the cloudy-blue Peyto Lake and the Icefields Parkway (easily one of the most beautiful drives in the country). Along the way, there are four mountain huts that are maintained by the Alpine Club of Canada. These make for great places to hunker down for a night or simply warm up by the wood stove before heading back out into the ice and snow.
There are so many variables to choose from when locking down a top-tier hike. Mountain passes, pristine coastlines, deep dives into the forest, and even isolated desert regions all present a certain calling for world-traveling trekkers. Heading off to a foreign country or taking days, weeks, and even months to explore the wilderness of one's own backyard can be the undertaking of a lifetime. If your legs are as strong as your burning wanderlust, then perhaps some of these eleven hikes will soon welcome your bootprints.