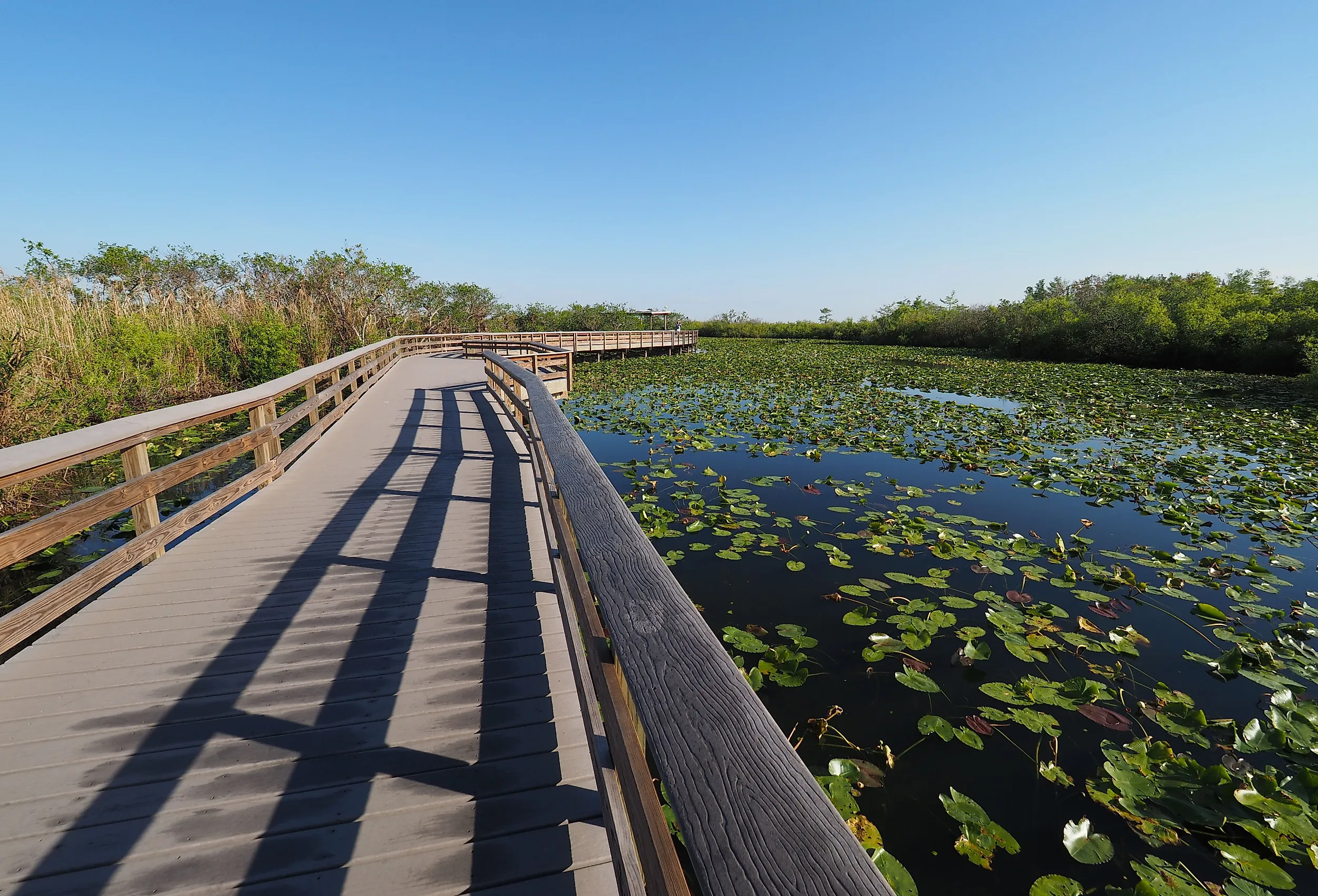 9 Best Hikes In Florida's Emerald Coast
Florida's Emerald Coast is the area of the Florida Panhandle that runs along the Gulf Coast of Mexico, known for its sparkling emerald waters, stretching about 160 kilometers through five counties. It is no secret that the area is a major tourist destination, especially popular for its charming beach towns and breathtaking ocean views. 
The beaches are a must-see along the Emerald Coast, but the outdoor adventure does not end along the shores. The state is home to several state parks and exhilarating hiking and biking trails, offering scenic views of the surrounding area, access to lakes and rivers, and overnight stays at rustic campgrounds. 
Florida National Scenic Trail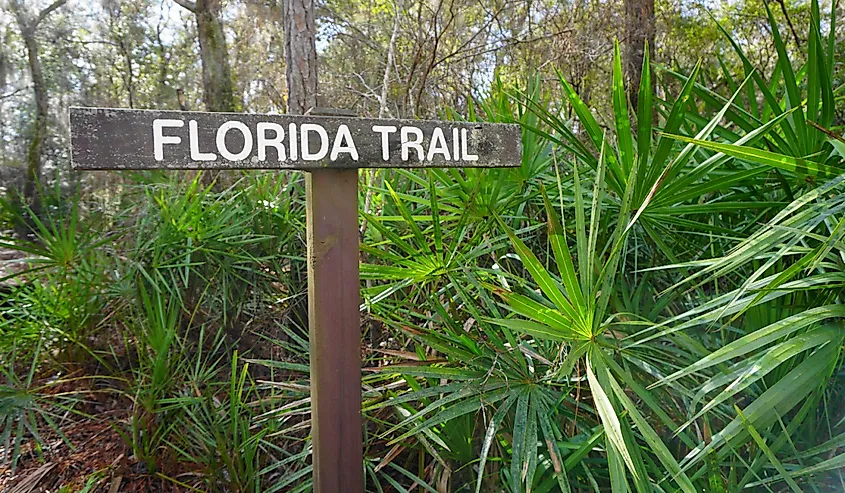 One of eleven National Scenic Trails in the United States, the Florida National Scenic Trail runs 1,500 miles, stretching from Big Cypress National Preserve to Fort Pickens at Gulf Islands National Seashore. It is one of the most beautiful hiking trails in the world, and offers opportunities for long-distance hiking, though there are several segments of the trail ideal for day trips. The trail goes through a diverse geological terrain, including beaches, pinelands, prairies, and cypress. Travelers can also bike or horseback ride through the trail, as well as camp, picnic, and even swim or paddle in the waterways along the way. 
There is also a unique opportunity for plants and wildlife viewing, so be sure to grab a pair of binoculars and keep your eyes peeled for gopher tortoises, red-tail hawks, and bald eagles. Considered moderately difficult, the trail is best suited for those well-versed in the world of hiking.
Everglades National Park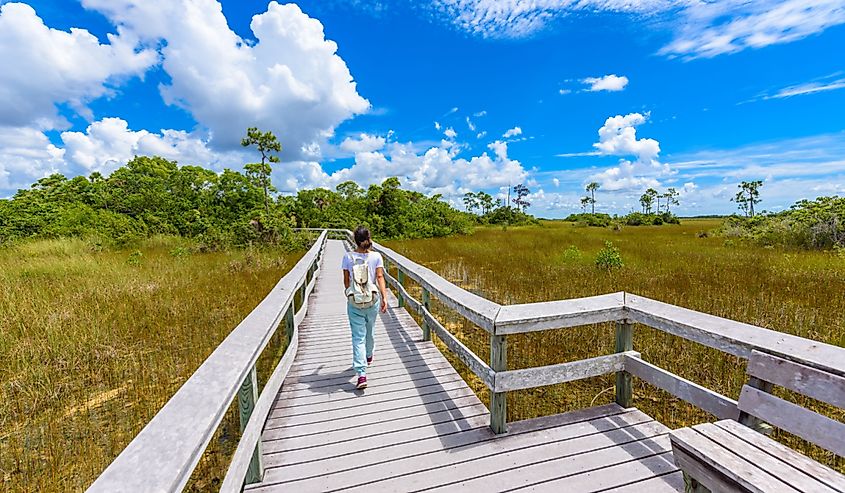 The largest tropical wilderness in the United States, Everglades National Park covers 1,508,976 acres of land in the southern portion of Florida. The area is a World Heritage Site, an International Biosphere Reserve, and a Wetland of International Importance. With an incredibly diverse collection of ecosystems, Everglades National Park is also a habitat for several endangered species, such as the manatee, American crocodile, and the Florida panther. 
There is a plethora of hiking areas and trails scattered throughout the park, such as Corkscrew Swamp Sanctuary, home to the largest abundance of old-growth cypress trees in the world, as well as a 2.1-mile-long boardwalk that leads into the enchanting wilderness. The Sandfly Island hiking trail runs along the Gulf Coast, covering 0.9 miles and generally taking around 40 minutes to complete. The Sandfly Island trail is located on the island, only accessible via boat, offering a more secluded hiking escape.
Topsail Hill Preserve State Park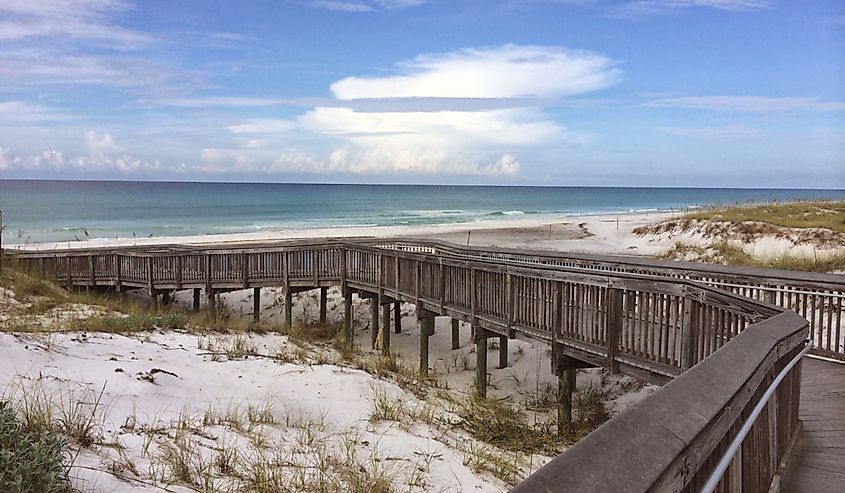 One of the best Florida state parks to go camping, Topsail Hill Preserve State Park earns its name from the sail-like dunes that rise from the crashing emerald waves. The picturesque landscape also includes old-growth pine forests, sandy scrubland, and wetlands, which house 13 at-risk species. Geo-caching, fishing, and paddling are all popular in the area, but it is especially a hiker's paradise. Popular trails include Topsail Hill Morris Lake Trail, a 7.4-kilometer loop that is generally considered to be easy and takes about one hour and 20 minutes, and Topsail Hill Deer Track Trail, a 1.8-kilometer trail that only takes about 20 minutes to complete. The area houses 156 RV sites, 22 tent sites, and 32 cabins for rent, ideal for a longer hiking trip in the charming state of Florida.
St. Andrews State Park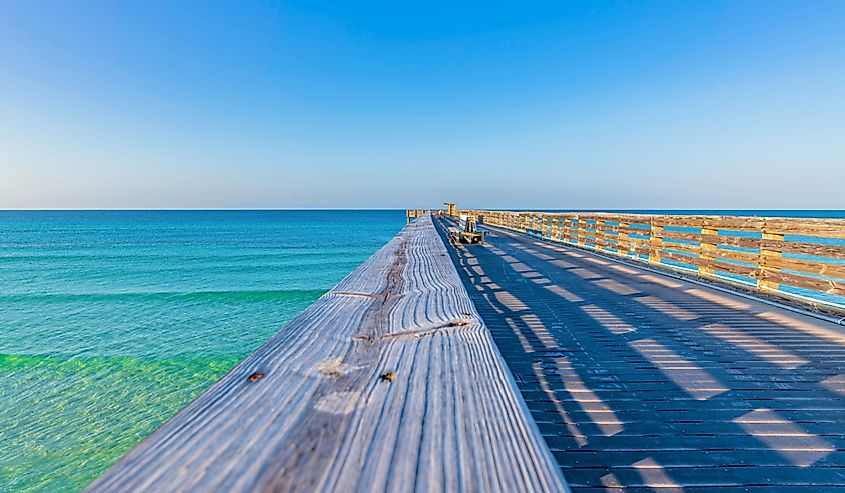 Home to some of the most relaxing beaches on Florida's Panhandle, St. Andrews State Park sits between the Gulf of Mexico and St. Andrews Bay, perfect for swimming, snorkeling, and surfing. The towering pines and raised dunes make for the perfect hiking location, and visitors can even stay overnight and sleep under the stars on one of the campgrounds. The area is just 3 miles from Panama City, so it boasts easy access to the hustle and bustle of the city as well. There are three hikes and trails ideal for an adventurous trip:
Gator Lake Trail: a 0.8-kilometer out-and-back trail that takes only nine minutes to complete, offering an excellent opportunity for wildlife observation.
Heron Pond Trail: a 1.1-kilometer loop trail that takes only 12 minutes to complete and offers an escape from the busy city life.
St. Andrews State Park Loop: a 0.8-kilometer loop trail that takes nine minutes to complete and runs alongside campsites.
Tarkiln Bayou Preserve State Park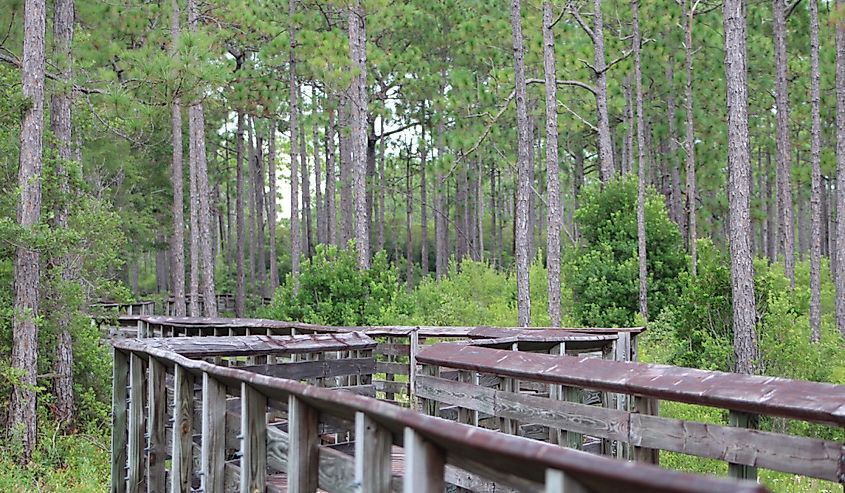 Tarkiln Bayou Preserve State Park is a 4,290-acre preserve, consisting of wet-prairie landscapes that surround a coastal bayou. There are over 100 types of rare and endangered plants and animals within the preserve, such as the alligator snapping turtle, sweet pitcher plant, and Chapman's butterwort. The boardwalk offers visitors a chance to safely view the wildlife and landscape, while there are a few trails ideal for a day hike in the area. There are three marked trails in Tarkiln Bayou Preserve State Park:
Tarkiln Bayou Trail: a 2.1-kilometer out-and-back trail that takes about 25 minutes to complete and is a popular option for birding, fishing, and relaxed hiking.
Perdido Bay Trail: diverges from the Tarkiln Bayou Trail after a tenth of a mile and runs 9.5 kilometers with an expected length of one hour and 45 minutes. It offers breathtaking views of the surrounding landscape and moments of solitude surrounded by the enchanting soundscape of wildlife. 
Wet Prairie Trail: a 3.9-kilometer loop trail that takes about 40 minutes, running along the low coastal area and offering a chance to spot unique aquatic species. 
Camp Helen State Park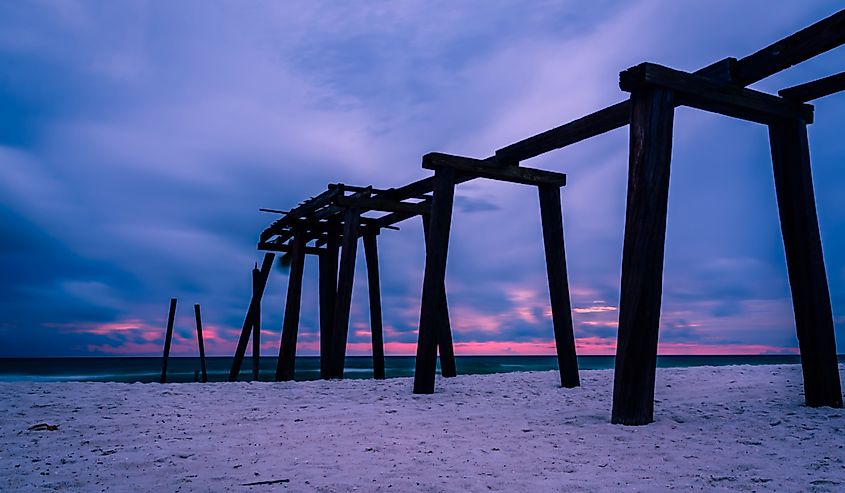 Camp Helen State Park is a 180-acre state park and historic site, bordered by the Gulf of Mexico and by Lake Powell. The area offers a unique landscape, encompassing pristine beaches, winding trails, oak forests, gorgeous dunes, and the largest coastal dune lake in Florida. It is no surprise that fishing, swimming, and beachcombing are popular in the area with so much water to enjoy, but there is also ample opportunity for hiking with three gorgeous trails.
The North Trail: a 3.1-kilometer out-and-back trail that takes about 35 minutes to complete. It is paved, ideal for comfortable walking, and it is open year-round for day access.
The Oak Canopy Trail: 1.8-kilometer loop trail that takes about 20 minutes to complete, offering views of the beach and surrounding wildlife. The trail falls below a brush of oak trees, providing shade and the stunning sounds of songbirds.
Beach via Oak Canopy Trail: a 1.9-kilometer loop trail that winds through the dunes and main parking lot, making it somewhat challenging, though the breathtaking shoreline makes it all worth it.
Henderson Beach State Park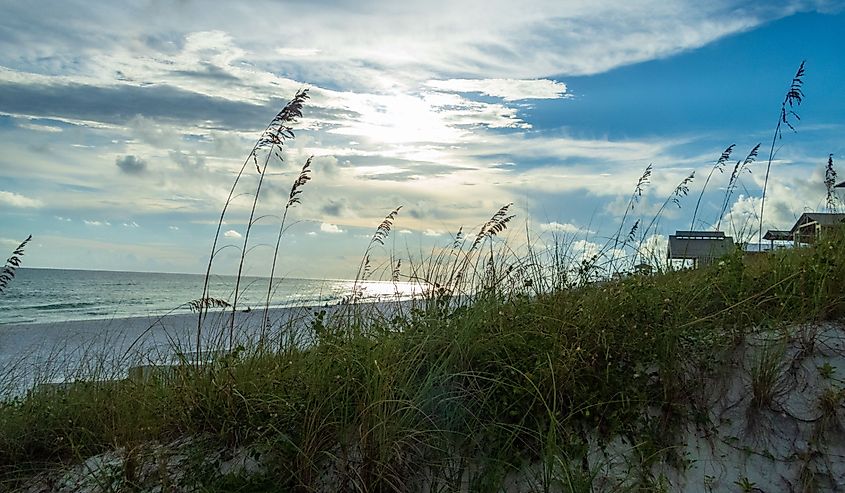 Located in Destin, Henderson Beach State Park is most well known for its tranquil emerald green waters and 30-foot dunes scattered along the shoreline, ideal for a beach trip spent swimming, sunbathing, and wandering the coast. While walking on the dunes is prohibited as it may damage them and therefore the plants and animals in the area, there is a .75-mile hiking trail that traverses along the ecosystem, as well as through the forested area, featuring windswept oaks, canopies of shade, scenic overlooks, and comfortable benches. There are 60 campsites in the area, perfect for visitors who choose to extend their stay to add more to the itinerary, whether it be an extra hike or a day at the beach!
Jonathan Dickinson State Park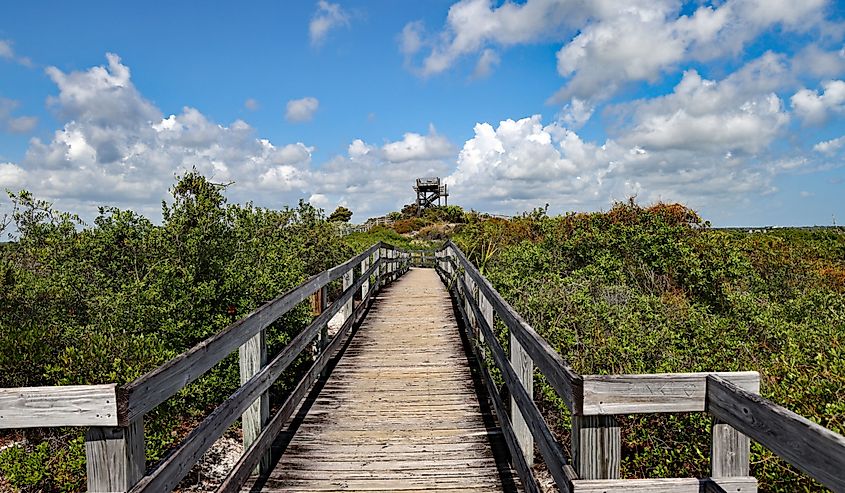 Situated along the glistening Loxahatchee River, Jonathan Dickinson State Park is home to coastal sand hills intermixed with scrub forests for a unique environment and landscape. It is home to several interesting historical tales, such as a World War II training camp, the shipwrecked Quaker merchant of Jonatahn Dickinson, and the story of Trapper Nelson. Boating, canoeing, and kayaking are all popular on the river, while mountain biking, horseback riding, and hiking are all options on the shore.
There are eight trails from which to choose, each with different lengths and interests. Hobe Mountain Trail is short and sweet, offering panoramic views of the surrounding area from an observation tower. On the other hand, Kitching Creek Loop is 11.3 kilometers and takes about two hours to complete, traversing deep into the woods featuring the pine flatwoods and cypress drainages.
Ponce de Leon Springs State Park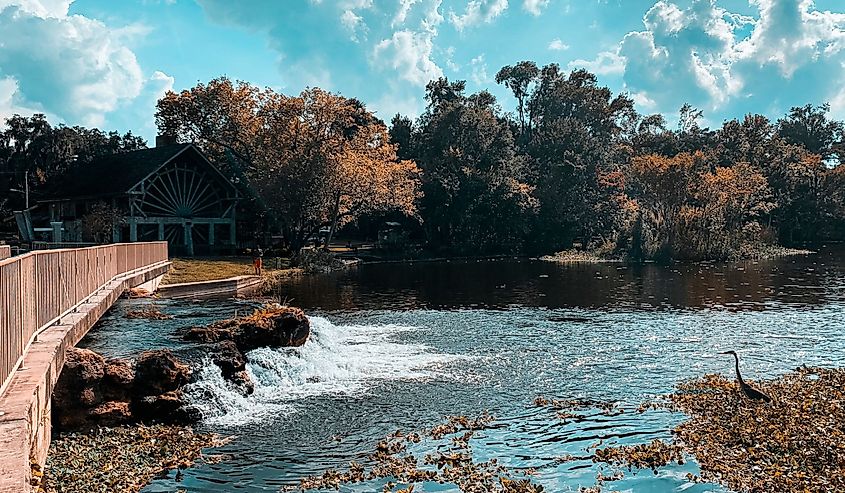 Home to stunning natural springs that remain 68 degrees Fahrenheit year-round, Ponce de Leon Springs State Park offers a relaxing escape. Limestone walls surround the clear blue pool, while a canopy of ancient cypress provides shade and comfort, leading the way to the natural springs. The water can become crowded in the summer, but the Spring Run Nature Trail offers a more secluded wander into the woods. The Monkey Island Trail is also a great choice for novice hikers, a short walk leading to the picturesque Monkey Island, once home to wild monkeys. The Wild Persimmon Trail offers insight into the wildlife and plants of the area, running 4.5 miles through the habitat of deer, wild turkeys, bobcats, and Florida black bears. 
Enjoy a Hike on the Emerald Coast!
The Emerald Coast boasts endless beauty, home to gorgeous beachfront and charming small towns, but the state parks are especially bountiful, offering access to every outdoor adventurist's dream. Hiking, mountain biking, and camping are just the beginning of the excitement that these state parks have to offer, with options ranging from novice treks to paths more suited to mountaineers and backpackers with a call to adventure.