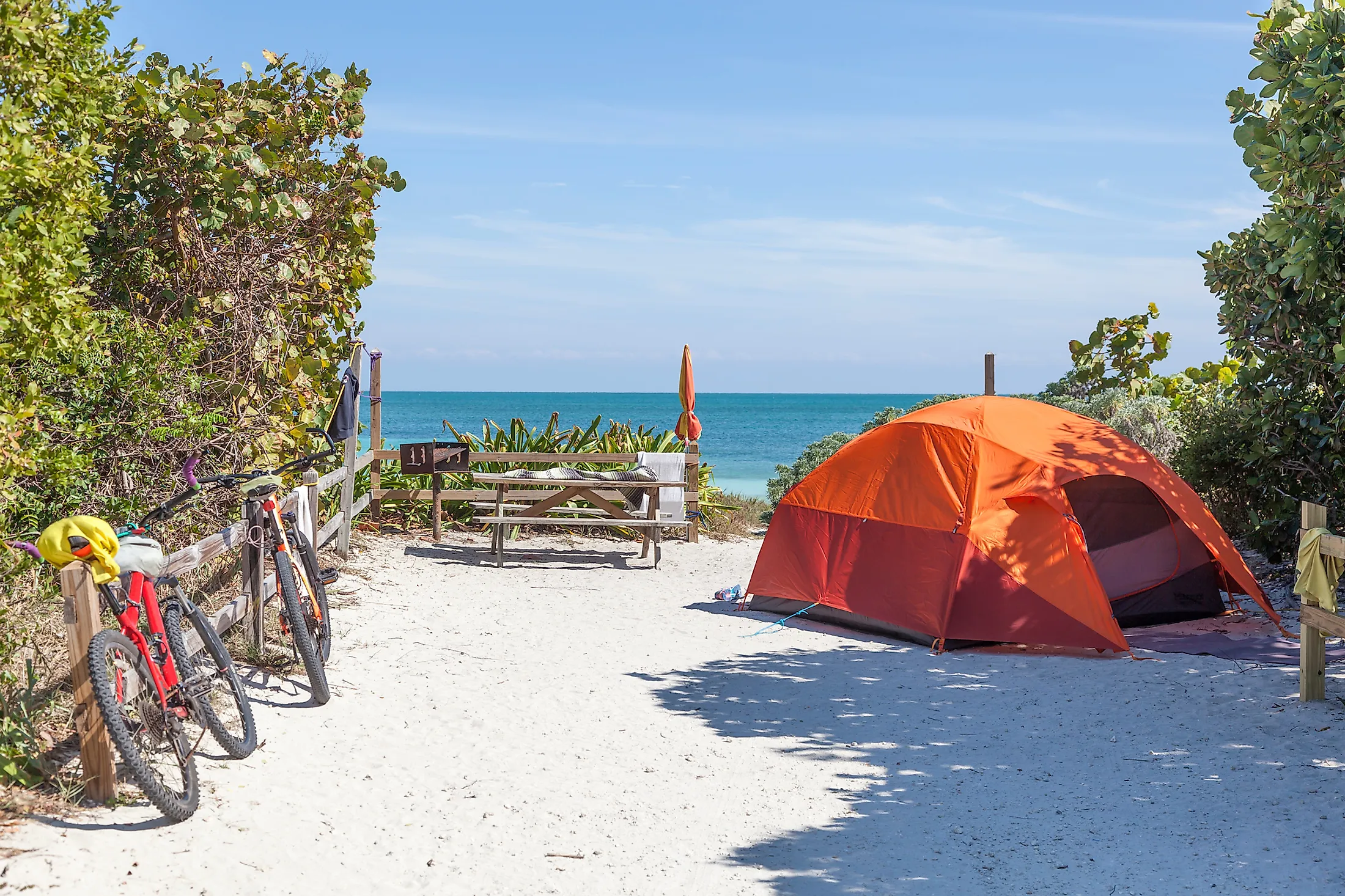 4 Best Florida State Parks To Go Camping
The Sunshine State has 175 state parks – all of which are open 365 days a year. With such a pleasant weather baseline (save for the occasional hurricane) and a beautiful mosaic of landscapes (including such highlights as 100 miles of cumulative beaches and 2,000 miles of trails), it is no wonder that Florida was the first four-time winner of the gold medal for the nation's best state park system. Stopping by one of these amazing places is always a good idea (as is evidenced by the 32 million annual visitors), and by doing so you are supporting this vital network and its corresponding conservation efforts, but spending a night or two is the best way to get the full local park experience. While many sites feature campgrounds, the following are four of the best-equipped and most appealing state parks to go camping. 
Anastasia State Park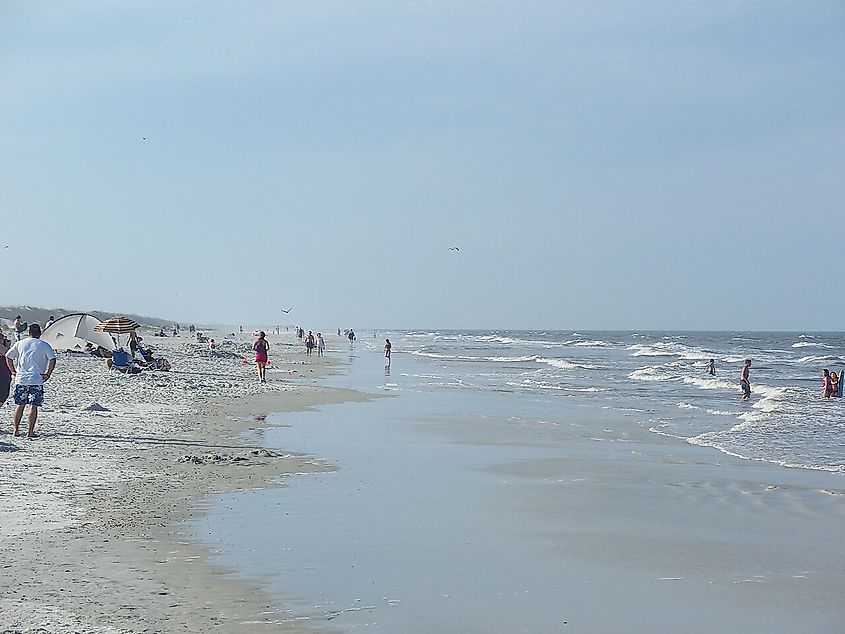 It's tough to beat camping on (or at least, very near to) the beach. St. Augustine's 1,600-acre Anastasia State Park has a whopping four miles of white sand beaches lined with dunes, tidal marshes, and the bright blue waters of the Atlantic Ocean. There are 139 campsites spread across the sheltered maritime hammock that welcome both RVs and tents. All sites are equipped with water and electricity, as well as a picnic table, in-ground grill, and a fire ring. Certain sites are paved, with modified picnic tables and grills for increased accessibility. There is even a Bedtime Story Camper Lending Library to help young campers feel at home. During the day, Anastasia State Park is a popular spot for bird watching (part of The Great Florida Birding and Wildlife Trail), swimming, surfing, boating, fishing, paddling, cycling (rentals available on site) –  you name it. 
Jonathan Dickinson State Park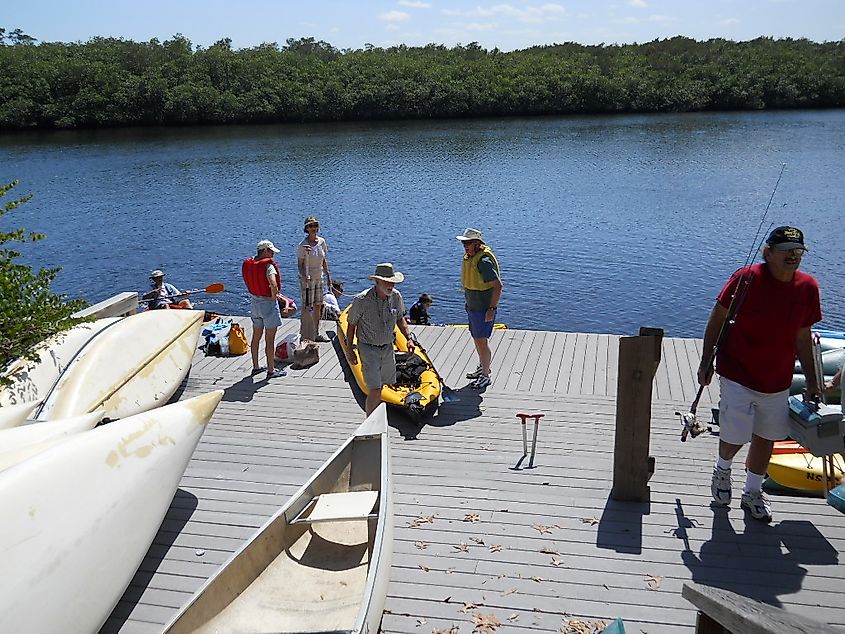 Dropping from the Northeast to the Southeast, Jonathan Dickinson State Park combines an array of distinct, and in some cases rare, environments with several notable historical features (including a World War II camp and Trapper Nelson's pioneer homestead) and is well-equipped for campers of all kinds. Located just South of Hobe Sound, between the Indian River (to the East) and the Northern shore of the Loxahatchee River (to the West), which is one of that state's two National Wild & Scenic Rivers, this 10,500-acre park has two family and pet-friendly, fully-serviced campgrounds. The Pine Grove Campground has 90 sites, while the River Campground has 54. Both areas have large public washrooms that include hot showers, and washer/dryers. In addition, there is a five-site campground for those with horses, and two primitive campsites for those hiking the Florida Trail, or for anyone looking to get away from the action and connect with nature (these camps can be reached with either a five or nine mile hike). And finally, there are three primitive group campsites intended for youth groups of up to 30 members (including the adult supervisors). 
Topsail Hill Preserve State Park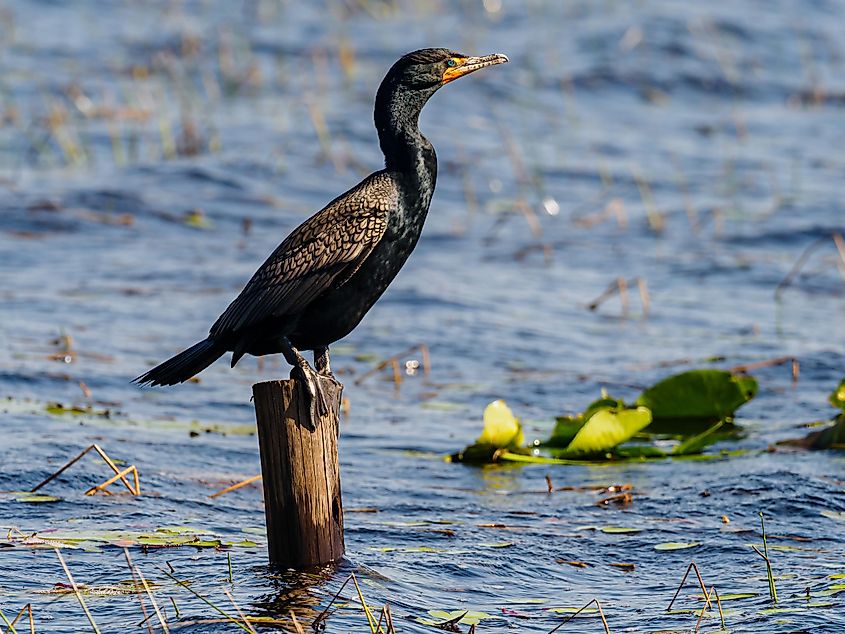 Another excellent spot for beach camping can be found over on the Florida Panhandle. Topsail Hill Preserve State Park sits just East of Destin, between Choctawhatchee Bay/Hogtown Bayou (to the North) and the vast Gulf of Mexico (to the South). It is named after the wild white quartz dunes that rise like the sails of a ship to shelter peaceful and secluded beaches and harbor rare freshwater dune lakes that give a home to a slew of aquatic wildlife. Along with enjoying the 3-mile natural coast, this park is a bird-watching and hiking mecca that is ready to support a large variety of campers. There are 156 RV sites and 22 tent sites, all of which have power and other amenities, 32 cabins/bungalows for rent, and there are even luxury camping (or "glamping") options available for those who want to experience a bit of the old-fashioned tent life but with modern comforts.  
Lake Kissimmee State Park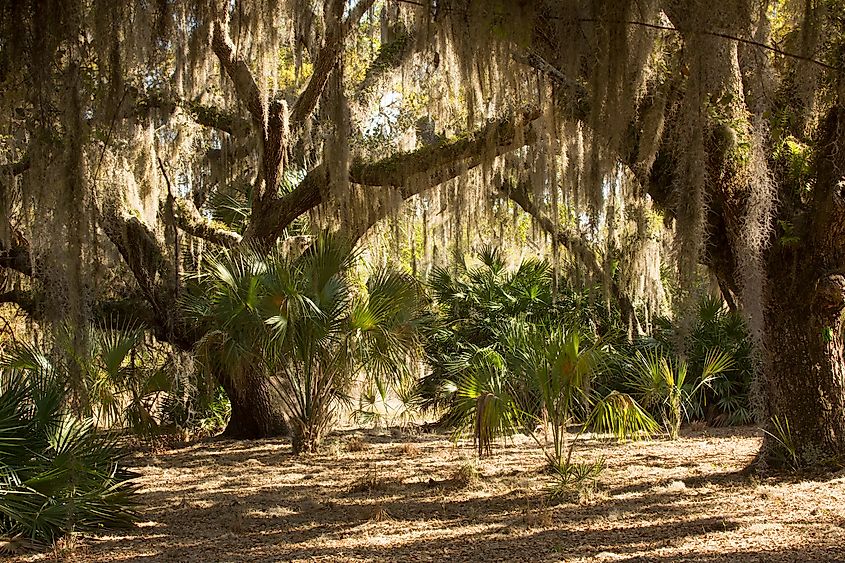 Smack dab in the middle of the state, roughly 70 miles South of Orlando and 80 miles East of Tampa, Lake Kissimmee State Park brings campers into the remote reaches of cow country, for an old-timey, authentic outdoor experience. This 5,930-acre park is surrounded by lakes Kissimmee, Tiger, and Rosalie – opening up the full spectrum of water activities – but also has six miles of equestrian trails and 13 miles of hiking trails. Another big hit is the living-history demonstration that takes place out of the 1876-era rancher camp. In terms of regular camping options, there are 60 standard serviced sites, equestrian and primitive sites (located on the trail network and require all gear to be backpacked in), two youth-group primitive sites, and luxury pioneer tents for those wanting to splurge on the glamping approach. The mix of environments ensures a steady supply of wholesome activities during the day, and in the evening, campers can gather under the starry canopy to enjoy the benefits of a light-pollution-free country setting. 
Falling asleep to the sounds of rolling waves, or winding down with a clear view of the cosmos is an increasingly rare experience that needs to be sought out by most people. Florida makes it easy to escape into nature, and rub elbows with fellow fun-loving explorers by maintaining and constantly expanding one of the nation's premier state park systems. With 175 sites to visit, it would take a dedicated Floridian a full life to appreciate them all, but everyone has to start somewhere – so why not flock to these four pristine camping-friendly parks?