Important Wetland Habitats From Around The World
A wetland is a distinct ecosystem that is characterized by the fact that it tends to be inundated with water, either on a permanent or seasonal basis.
The Ramsar list tracks the world's most internationally significant wetlands.
The locations of wetlands can vary widely from marshes and ponds, to edges of lakes and oceans, to low lying areas that flood often.
A wetland is a distinct ecosystem that is characterized by the fact that it tends to be inundated with water, either on a permanent or seasonal basis. It's also a place where oxygen-free processes are common, mainly due to the lack of oxygen in these watery areas. The biggest difference between a wetland and any other body of water is the presence of aquatic plants and vegetation, which are often evolved to deal with the specific water-soaked soil and conditions that are prevalent in a wetlands area. These natural environments play a number of important roles, acting as water purifiers, water storage, and important ecological support to plants and animals, to name a few of their functions.  
The locations of wetlands can vary widely from marshes and ponds, to edges of lakes and oceans, to low lying areas that flood often. In today's world wetlands, like many other natural ecosystems, are threatened by human activity, global warming, and the changes both are bringing with them. This is particularly bad in the case of wetlands because they are some of the most biologically diverse areas and they serve as breeding grounds for many species. This list will run down 10 of the world's most important wetlands, according to the Ramsar list of wetlands of international importance. 
10. Chott Melrhir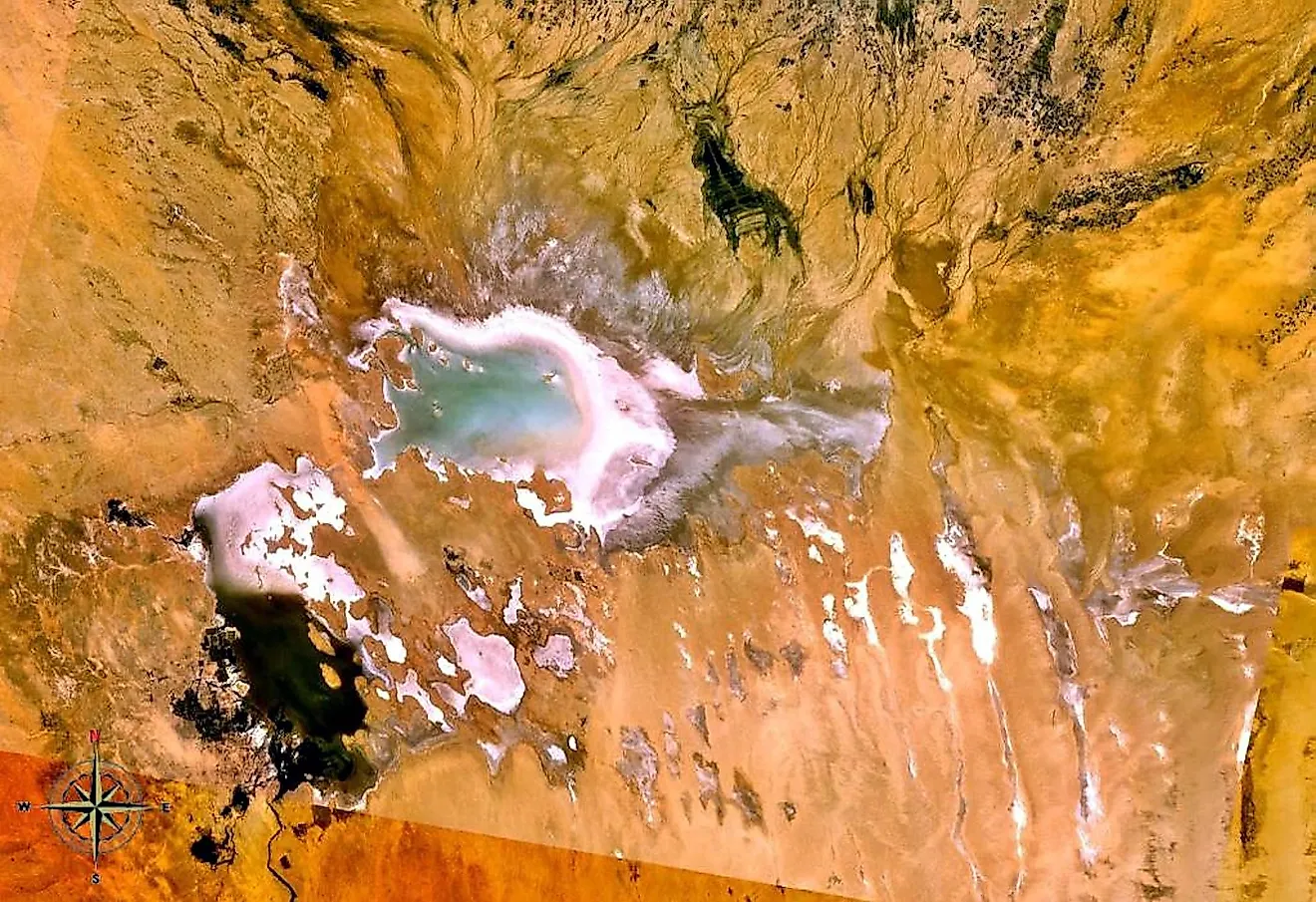 Chott Melrhir begins the list. It is an endorheic salt lake in northeastern Algeria, meaning it doesn't allow for any outflow of water to other bodies of water like lakes or oceans. It is one of a set of depressions that extend outwards from the Gulf of Gabès into the Sahara. The lake has a massive area of 2600 square miles making it the largest lake in the country. It also is located almost entirely below the sea level, and its size varies seasonally.
9. Tumba-Ngiri-Maindombe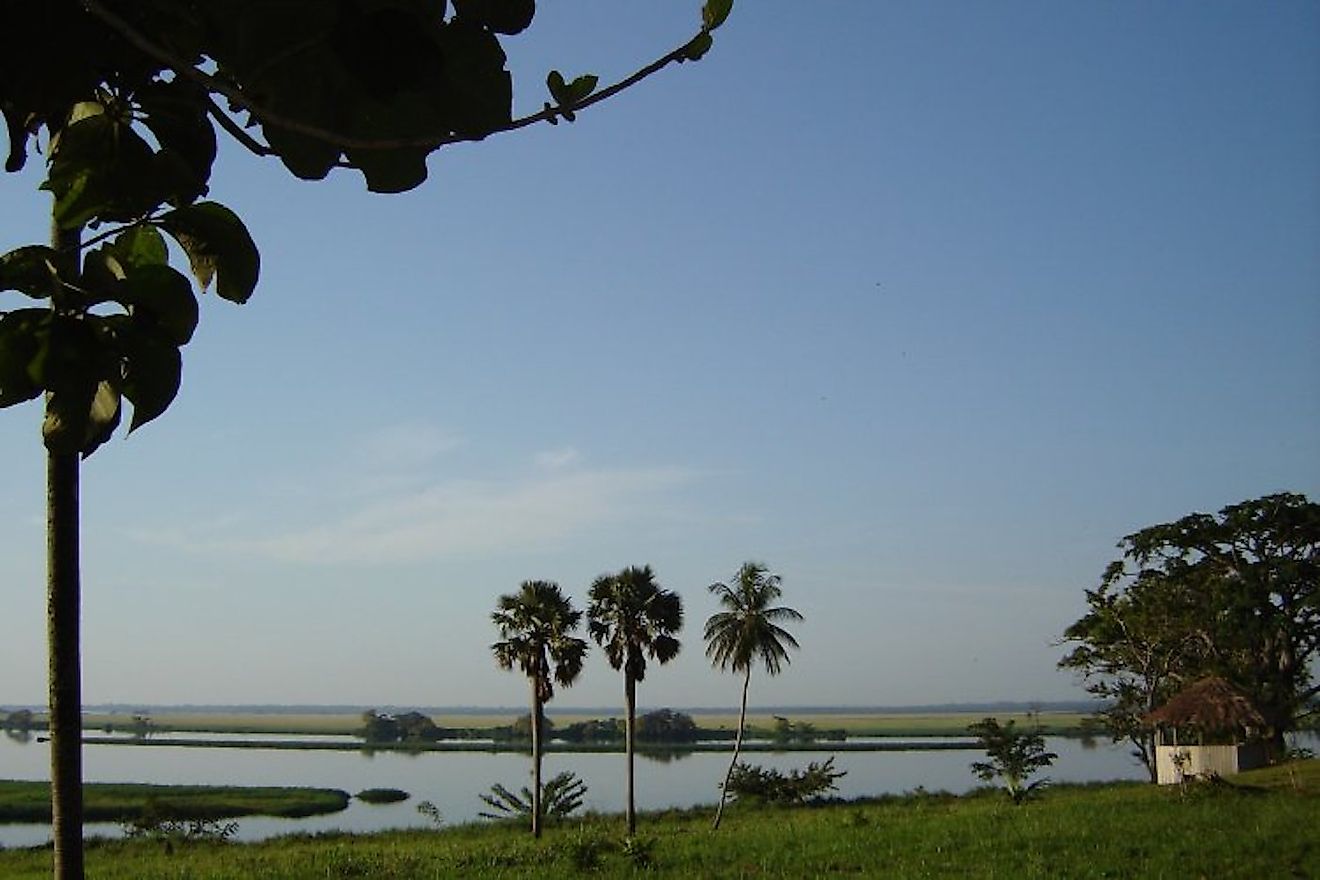 Tumba-Nigiri-Maindombe is the largest wetland of international importance in the world as recognized by the Ramsar Convention. It encompasses an area of 25,365 square miles around the region of Lake Tumba in the western Congo Basin of the Democratic Republic of the Congo. This marks it as more than double the size of Belgium. This large arena has significant environmental and economic value but it is threatened by a rapidly growing population and weak governance that may be causing damage to it. 
8. Lake Bardawil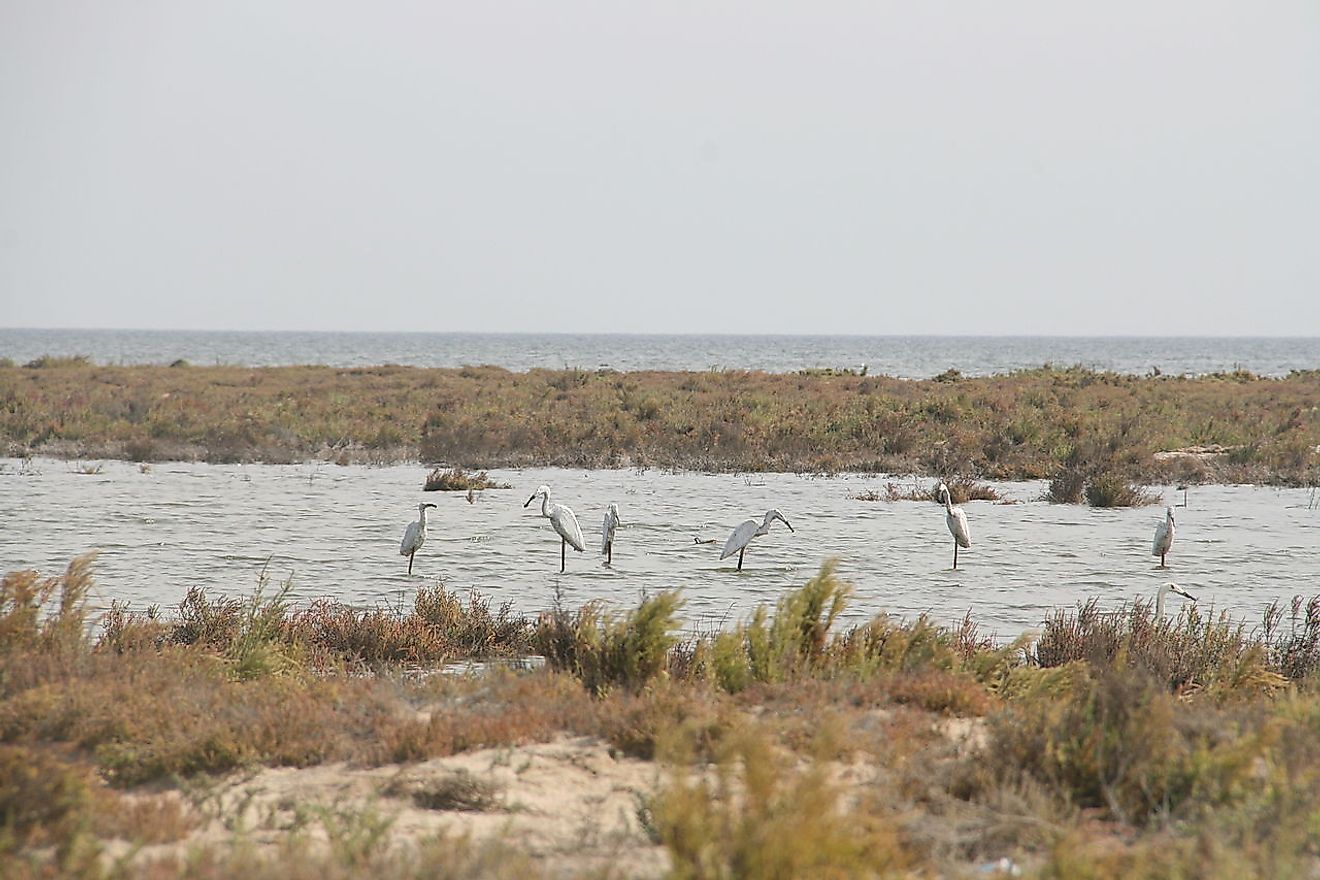 Lake Bardawil is a large and very salt-filled lagoon, located near the protected area of Zaranik - a place that is known for its diverse insect and bird populations. Both of these locales are situated in Egypt along the north coast of the Sinai Peninsula. The lake is 19 miles long and 8.7 miles wide and is considered to be one of the three major lakes of the Sinai Peninsula. Over time it is on expected to decrease in size as the sands move.    
7. Mana Pools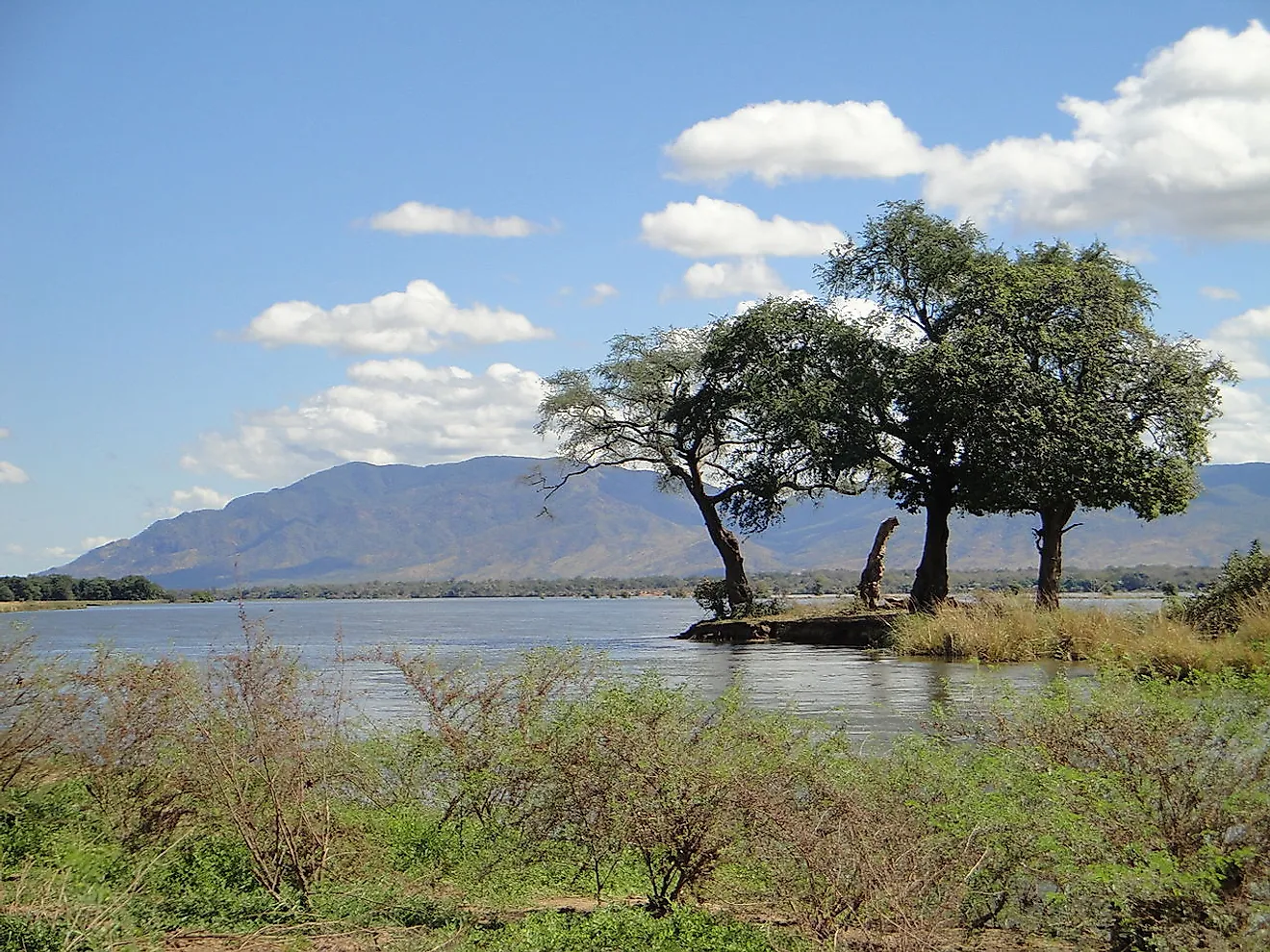 This wetland is located in Northern Zimbabwe and has a national park and wildlife conservation area measuring over 200,000 hectares around it. The mana pools are a region of the lower Zambezi river filled with flood plains that turn into a massive range of lakes after each rainy season. As these lakes dry up and naturally recede, large animals are compelled to wander around searching for water, making the location one of Africa's most well-known animal viewing parks.  
6. Tanguar Haor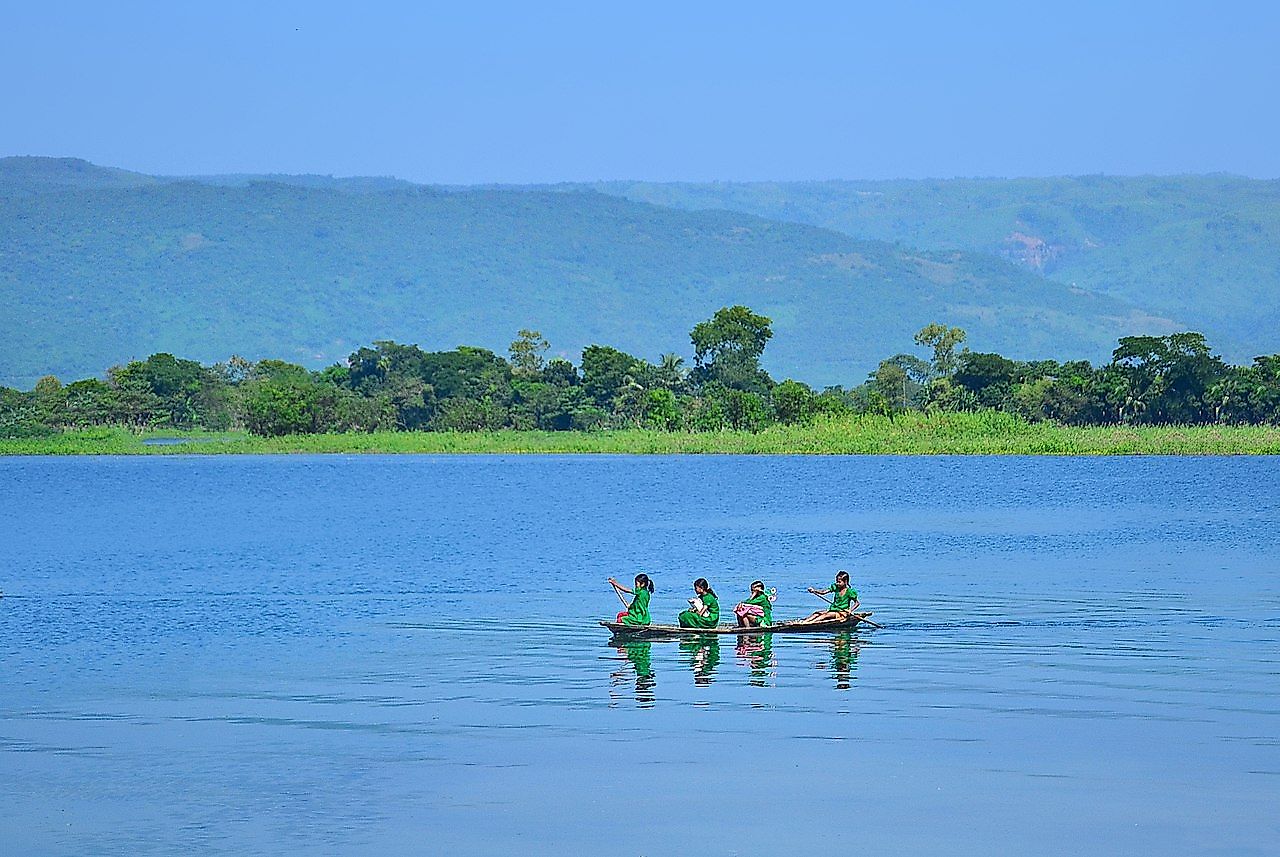 This unique wetland ecosystem, Tanguar Haor, is situated in the Dharmapasha and Tahirpur areas of the Sunamganj District of Bangladesh. It is an area of national and international importance and attention. The 39 square mile area it encompasses contains 46 villages, with approximately 2802 hectares made up entirely of wetland. It is a source of economic support for more than 40,000 people and has been noted by the Government of Bangladesh to be an Ecologically Critical Area. It is currently in critical condition due to the overuse of its natural resources. 
5. Mai Po Marshes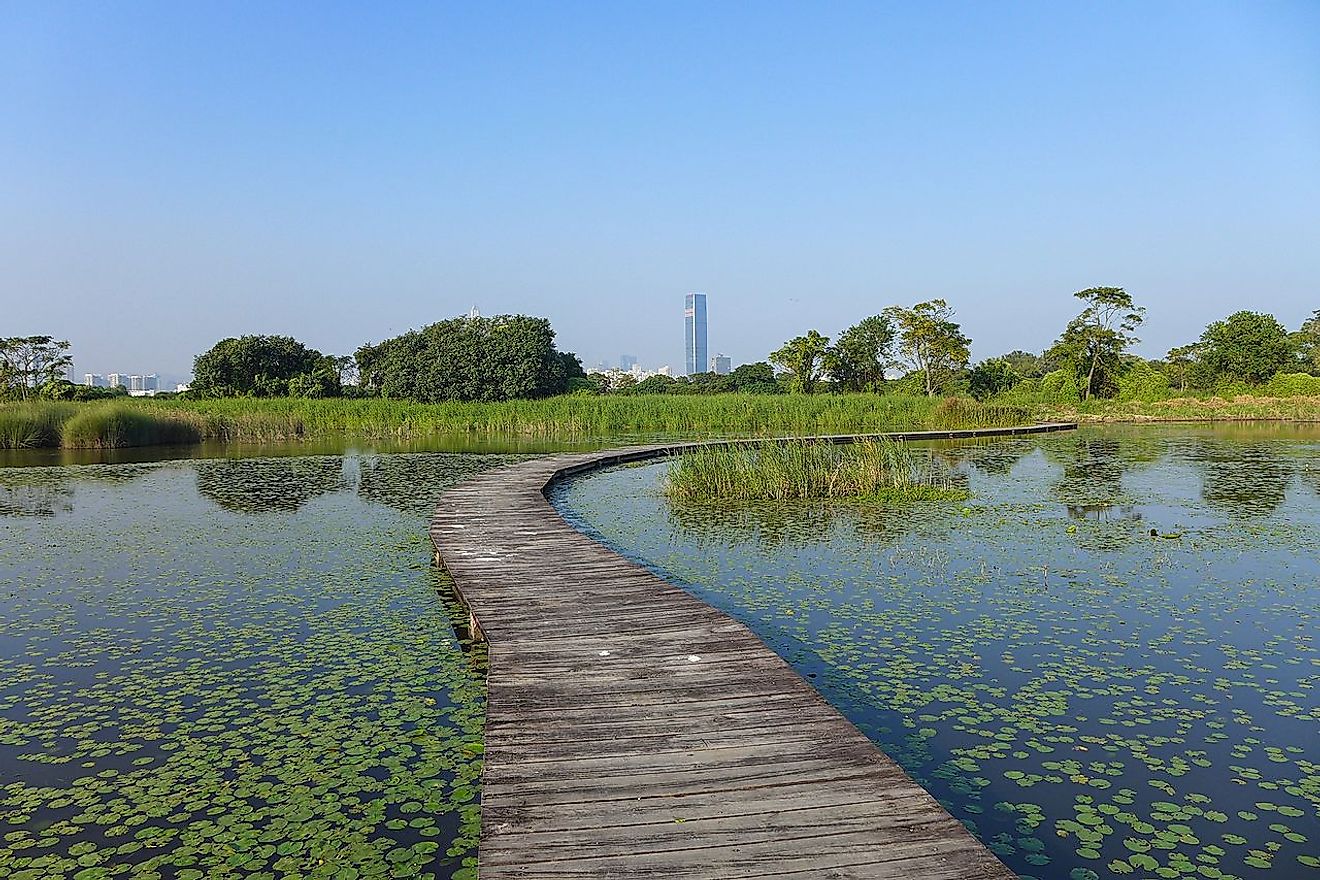 The Mai Po Marshes are a nature reserve located in San Tin, near Yuen Long, in Hong Kong. It is also a small part of Deep Bay, an internationally significant wetland that is also an estuary, meaning that it is a partially enclosed body of water that has a river flowing into it with a free connection to the sea. The ecosystem these wetlands supports are home to a significant number of wetland birds who mainly arrive in winter and during spring and autumn migrations. 
4. Lake Urmia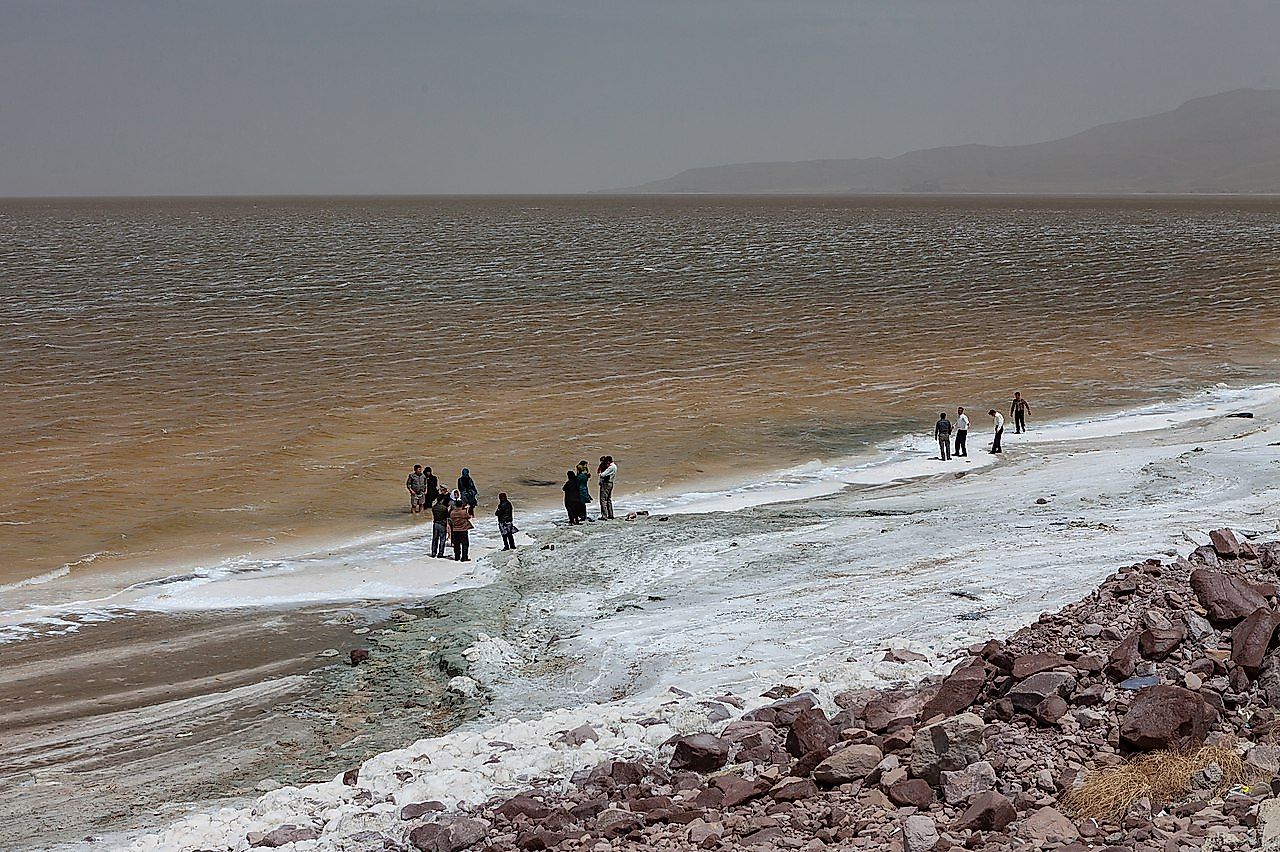 Lake Urmia is another endorheic salt lake, located in Iran. Specifically, it is found between the provinces of East and West Azerbaijan and west of the southern portion of the Caspian Sea. It was once the largest lake in the Middle East, with an estimated surface area of 2000 square miles but due to drought has significantly shrunk in size. As of 2019, however, it is slowly filling up once again as a result of increased precipitation and the actions of the Lake Urmia Restoration Program. 
3. Vanhankaupunginselkä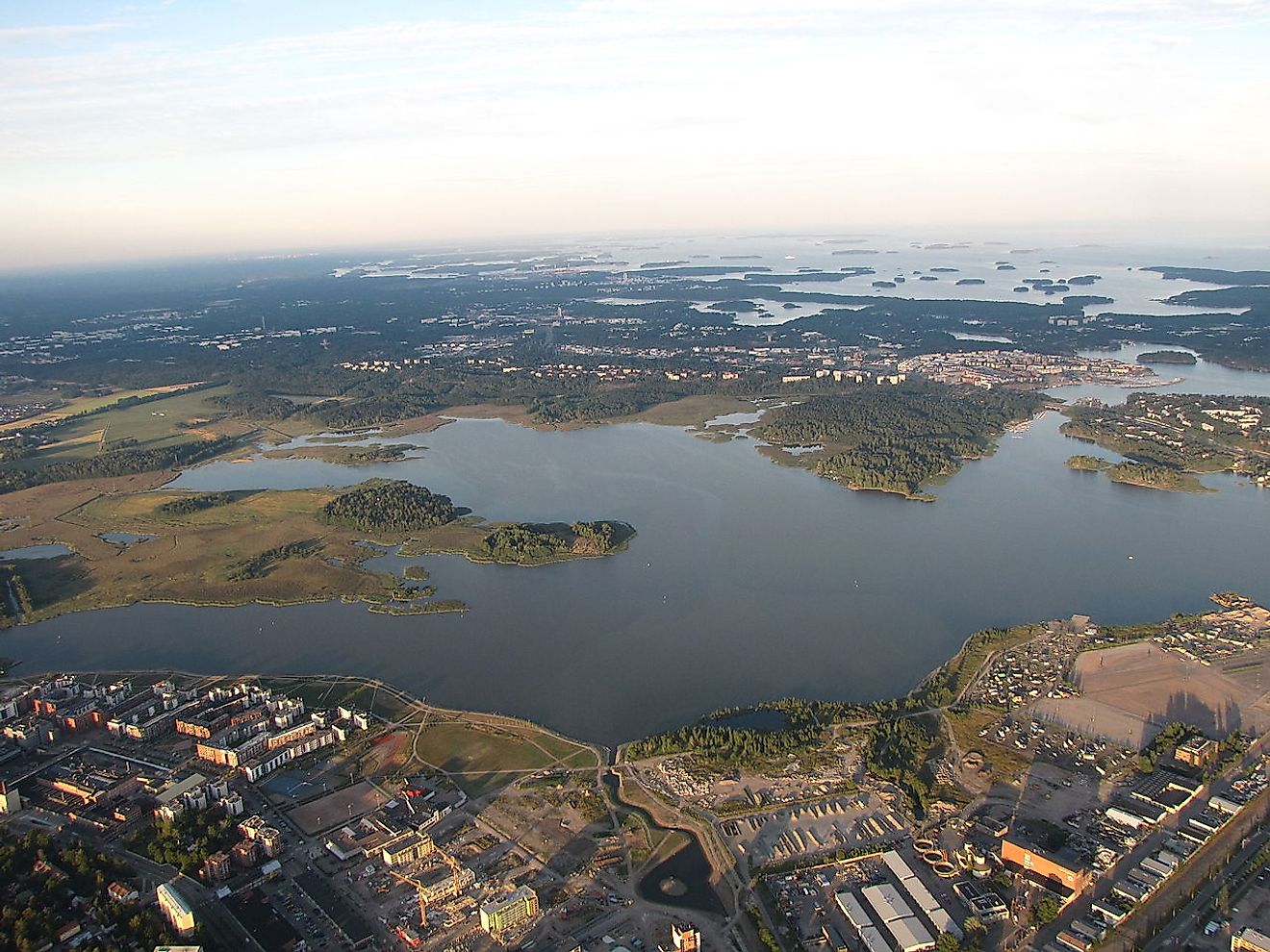 Vanhankaupunginselkä is a bay area that combined with portions of the adjoining Viikki district constitutes a natural conservation zone. It is found near downtown Helsinki in the southern part of Finland. In addition to being on the Ramsar list, it is also part of the European Union's Natura 2000 program and BirdLife International's Important Bird Area list. Maps and pictures of the area seem to show that it is either land or water but in reality, it is largely a marshy pit that makes it impassable by foot and even by boat.   
2. Ammersee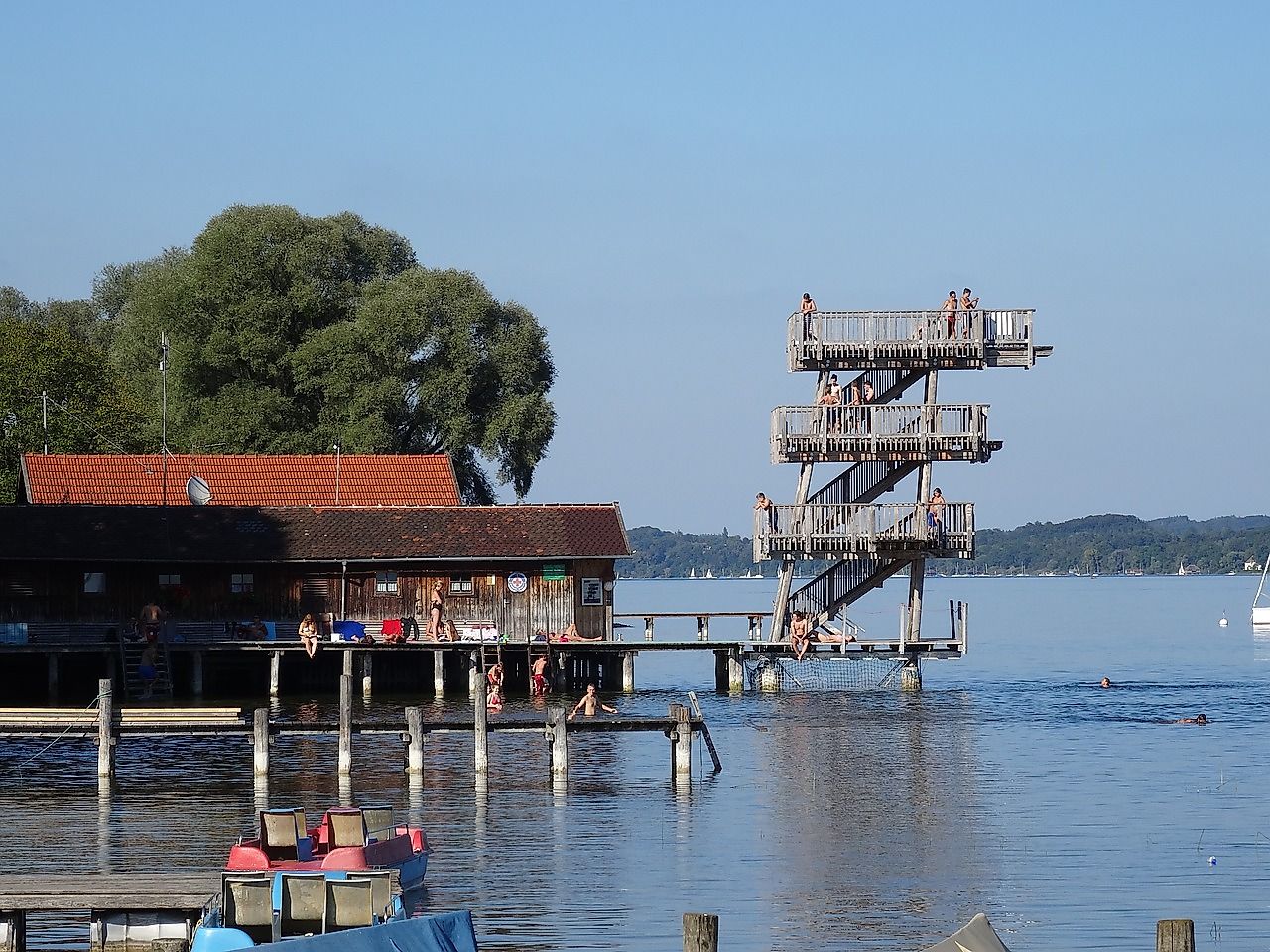 Ammersee, known in English as Lake Ammer, is a Zungenbecken lake found in the Upper Bavaria region of Germany. A Zungenbecken lake, also called a tongue basin, is part of a series of ice age geological landforms and is formed in the hollow left behind by ice masses. This german lake has a surface area of 18 square miles, making it the sixth-largest lake in the country. The body of water sits at an elevation of 1749 feet and has a total depth of 266 feet.   
1. Kandalaksha Gulf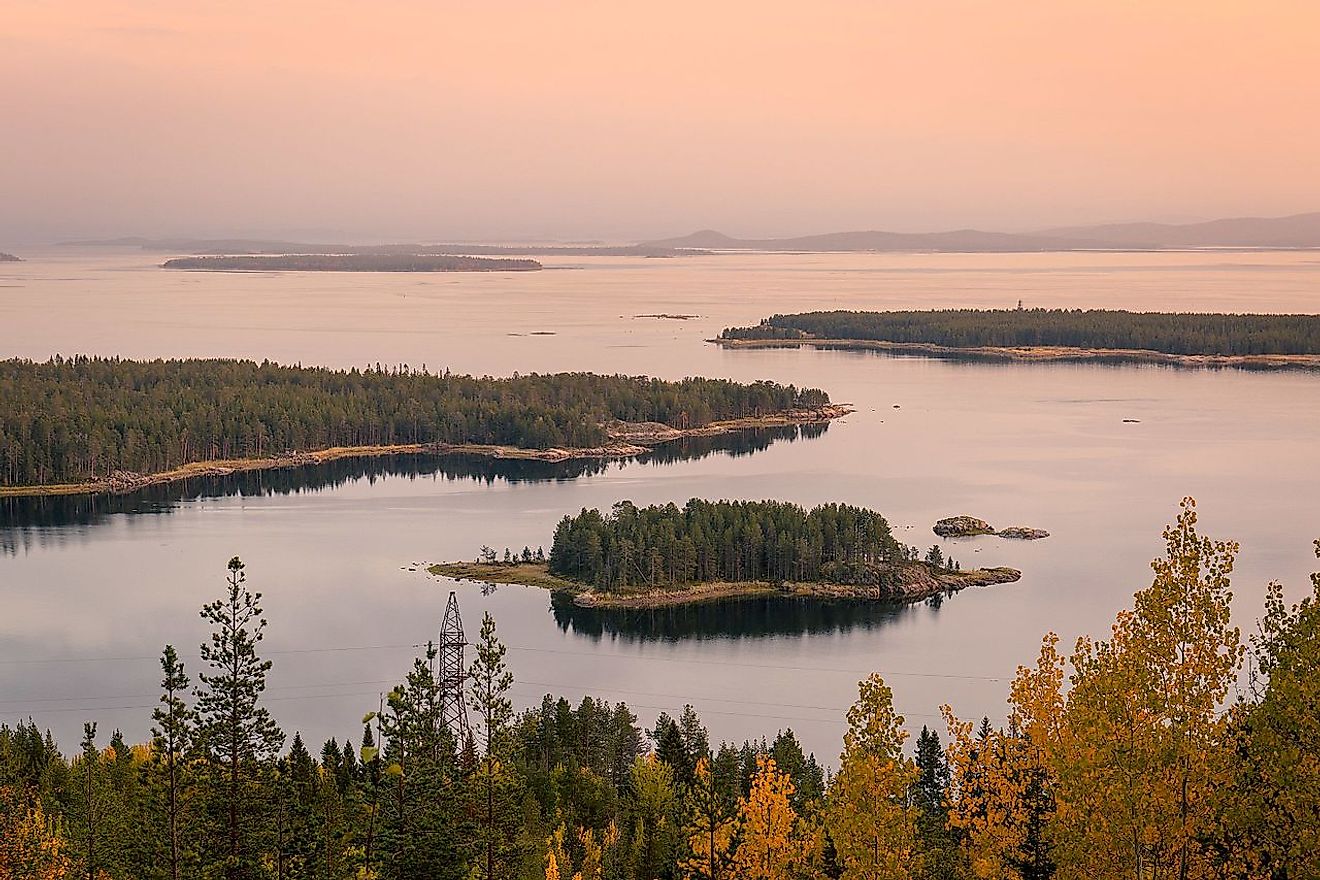 The Kandalaksha Gulf is situated in the northwestern area of Russia. It acts as a corner of the White sea and is one of four large bays and gulfs in the area. The Kola Peninsula is found north of this gulf with the aptly named city of Kandalaksha found at the northern tip of the gulf. The important part of the Gulf is its upper reaches which are named as a wetland of international importance for its usefulness as a breeding ground for migratory waterbirds.