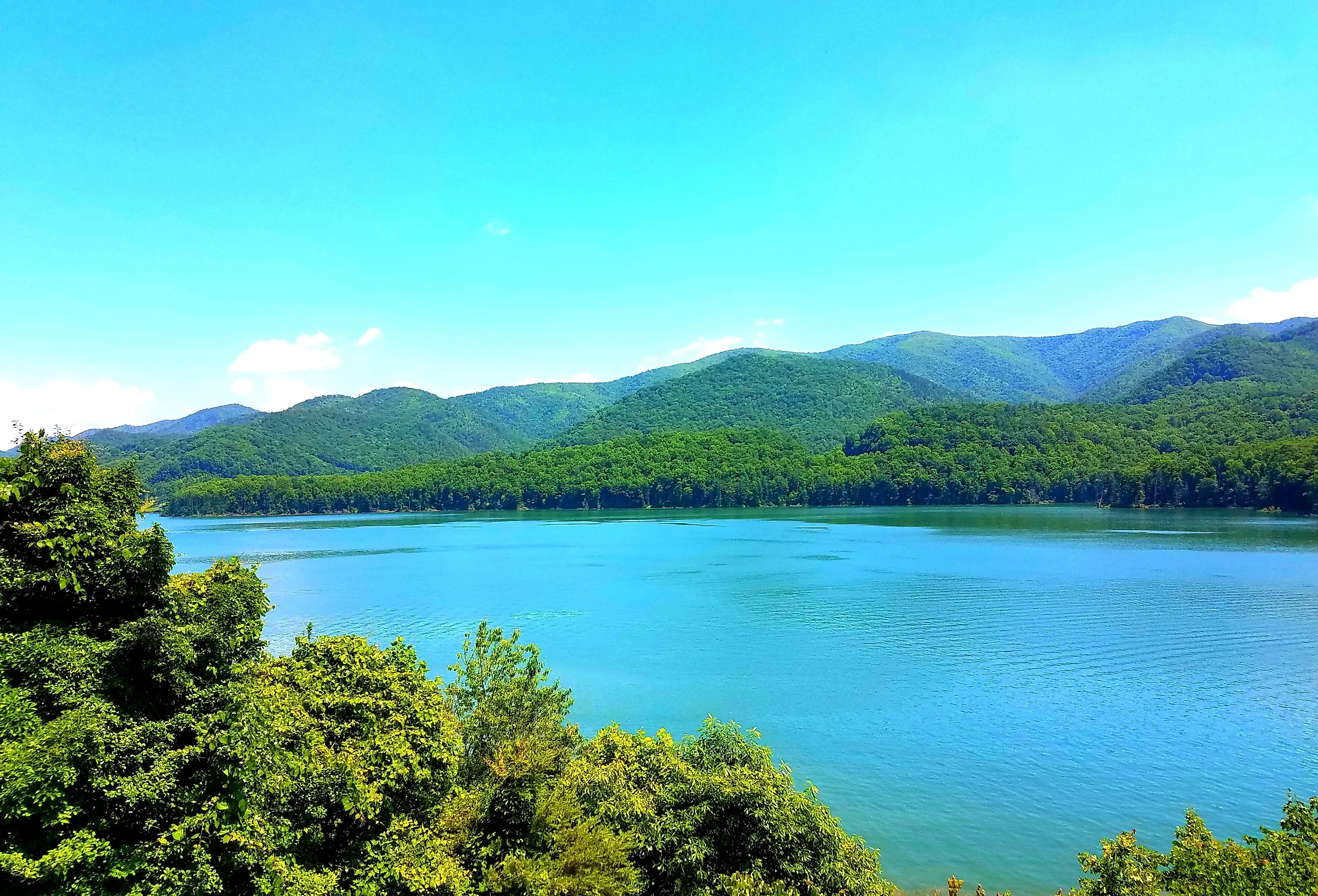 7 Most Beautiful Lakes In Tennessee
Tennessee is a popular hub for music lovers, with the unforgettable city of Nashville, alongside its rich cultural history and enchanting natural beauty. While the east portion of the state houses the Appalachian Mountains, the west sits within the Gulf Coastal Plain. Outdoor adventurists enjoy an endless selection of national and state parks, scenic trails and recreation areas, bustling cities, and charming small towns. Though Tennessee is a landlocked state, bordered by Kentucky, Virginia, North Carolina, Georgia, Alabama, Mississippi, Arkansas, and Missouri, it boasts an abundance of flowing and tranquil lakes. They are often bordered by lush forests and calm beaches, hosting year-round excitement and fun.
Norris Lake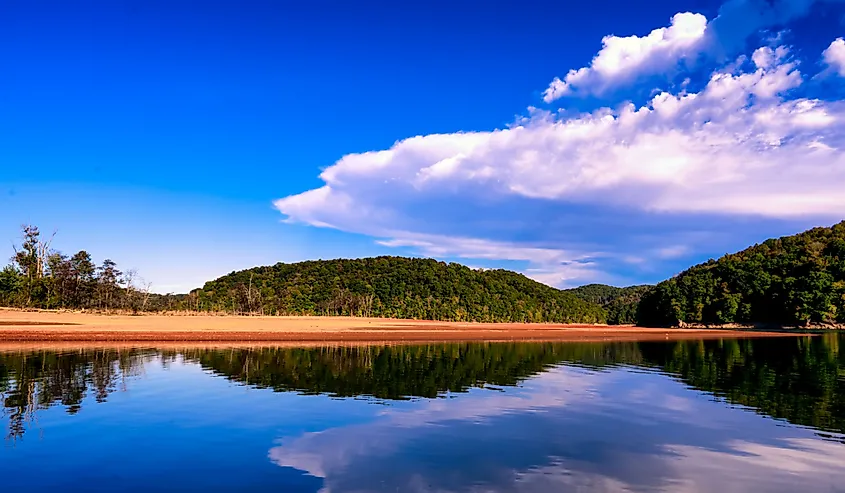 Nestled below the Cumberland Mountains, Norris Lake, also known as Norris Reservoir, boasts 800 miles of shoreline. The lake itself runs about 73 miles up the Clinch River and 56 miles up the Powell River, with a maximum depth of 210 feet, making it the largest lake on a tributary of the Tennessee River.
Though Norris Lake was originally created by the installation of the Norris Dam in 1936 to prevent flooding and also store water and farm hydroelectric power, the lake has become a hub for tourists and locals alike. It is the ideal spot for all types of fun in the sun, from fishing and watersports to camping and beach-going.
Norris Lake has 22 marinas where you can rent boats, grab a bite to eat, and check out souvenir shops to hold onto the memories you make. It is just 25 miles north of the city of Knoxville, though there are numerous small and charming towns surrounding the body of water, including Andersonville, Jacksboro, and LaFollette. 
Watauga Lake
Watauga Lake is one of the most beautiful lakes in Tennessee and was also created by the construction of a dam, as the Watauga Dam was built on the Watauga River. The lake sits within the Appalachian Mountains and the Cherokee National Forest, featuring a stunning mountainous backdrop. The lake's surface covers 10.05 square miles of Johnson County and Carter County, is 16.2 miles long and 305 feet at its deepest, and is accessible only via mountain roads. 
Since it is a more secluded spot, Watauga Lake is a quiet, cozy place to visit, with a 104.9-mile shoreline, seasonal marinas, and a variety of different restaurants from which to choose. Enjoy picnicking, fishing, camping, and boating in the area. Mountain City, Elizabethton, Damascus, and Johnson City are all nearby, hosting plenty of activities, events, and attractions.
Old Hickory Lake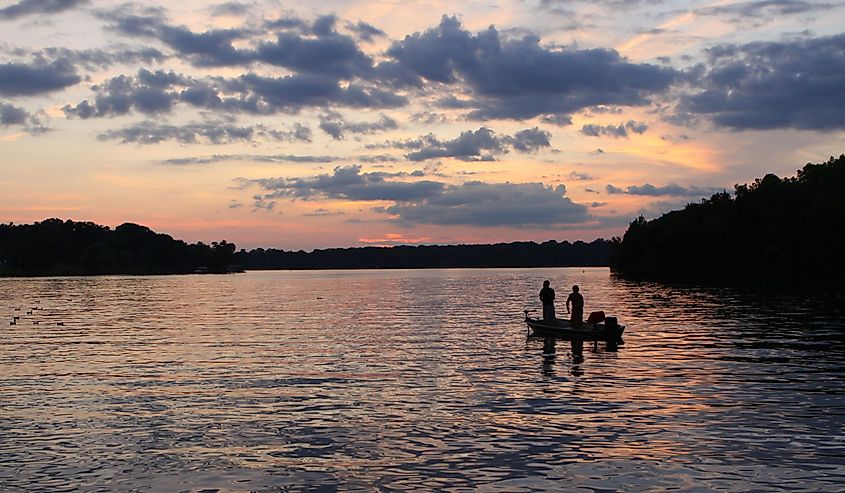 Old Hickory Lake is a man-made reservoir created by the Old Hickory Lock and Dam, which sits on the Cumberland River, containing 22,500 acres and extending 97.3 river miles. There are eight marinas on the lake, 41 boat access sites, two campgrounds, and the beautiful Old Hickory Lake Arboretum, which houses over 60 species of shrubs and trees.
Old Hickory Lake is just outside of Nashville, ideal for a quick getaway from the city and indulging in outdoor recreation activities. The city of Hendersonville sits on the north shore, alongside the towns of Old Hickory, Carthage, and Gallatin. Enjoy the attractions the city or small towns have to offer, alongside the beauty of the lake. Hunting, fishing, camping, and water skiing are all popular in the area.
Reelfoot Lake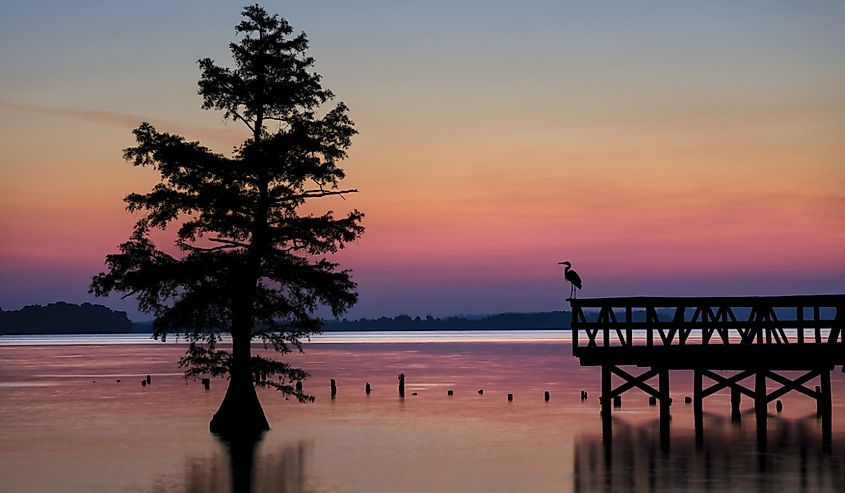 Reelfoot Lake is a natural body of water created following a series of earthquakes in 1811 through 1812 that affected the flow of the Mississippi River. The lake now acts as the boundary between Lake and Obion counties. It is 20 miles long and seven miles wide and covers 15,500 acres, though the maximum depth is 18 feet. The lake is essentially a flooded forest, featuring towering Cypress trees and an abundance of wildlife.
It houses Reelfoot Lake State Park, ideal for hiking, biking, fishing, birdwatching, and many more outdoor activities. Reelfoot Lake and the state park are near Tiptonville, a charming waterfront town near the border of Missouri and Kentucky. South of Reelfoot Lake, you will find Lake Isom, which is a National Wildlife Refuge and a peaceful spot for kayaking, fishing, and hiking.
Watts Bar Lake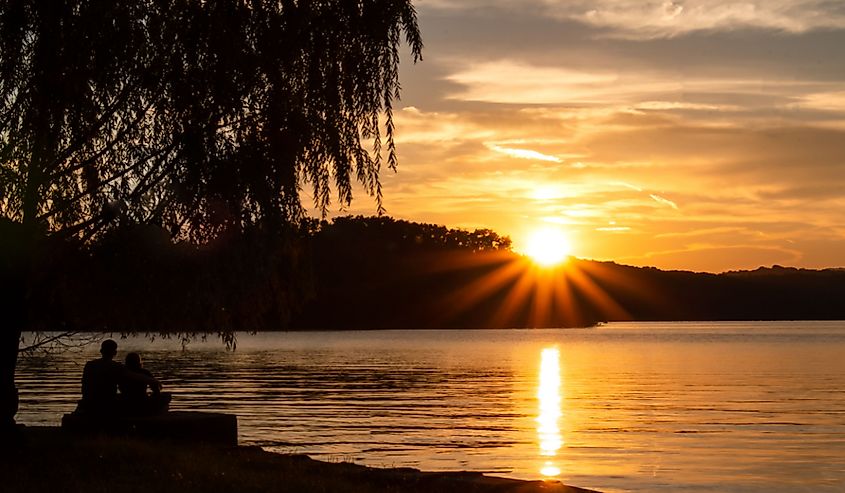 Watts Bar Lake sits on the Tennessee River, created by the Watts Bar Dam. It boasts 771 miles of shoreline and 39,000 acres of water surface, as well as a maximum depth of 70 feet. It connects to minor tributaries such as Poplar Creek, Caney Creek, and White's Creek, and also houses small islands, including Thief Neck Island, Long Island, and Sand Island.
Watts Bar Lake sits between the cities of Chattanooga and Knoxville, so there is plenty of appeal for city-goers and outdoor enthusiasts alike. Roane County is directly on the lake, making it the ideal spot for camping, fishing, and water views. Sailing, jet skiing, tubing, and water skiing are all popular water activities in the area.
Chickamauga Lake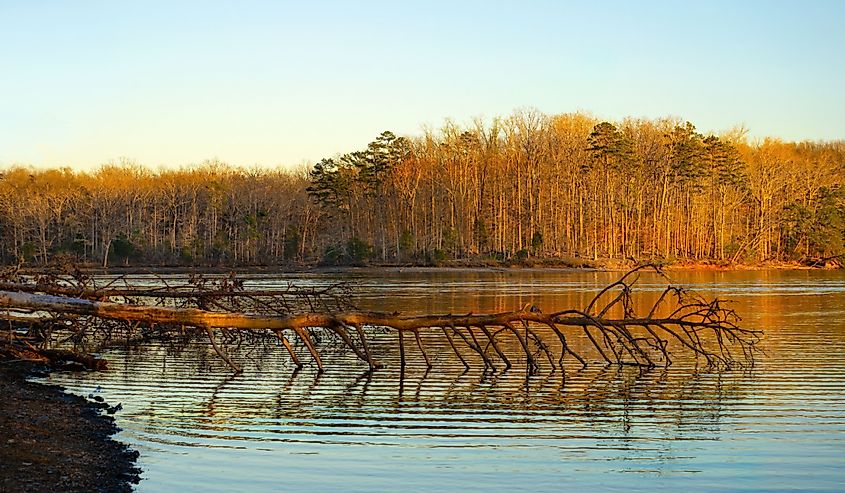 Created in 1940 with the installation of the Chickamauga Dam on the Tennessee River, Chickamauga Lake is 58.9 miles long with 810 miles of shoreline, bordering Rhea County, Meigs County, and Hamilton County. The lake earns its name from the Chickamauga Cherokees who once inhabited the area. 
Chickamauga Lake is just north of Chattanooga, featuring beautiful views of the city's skyline and access to all of its appeal. There are numerous marinas, restaurants, and resorts lining the shore, ideal for a relaxing and refueling vacation. If you have an interest in fishing, you will find fish such as catfish, walleye, largemouth bass, redear sunfish, striped bass, bluegill, and smallmouth bass. 
Douglas Lake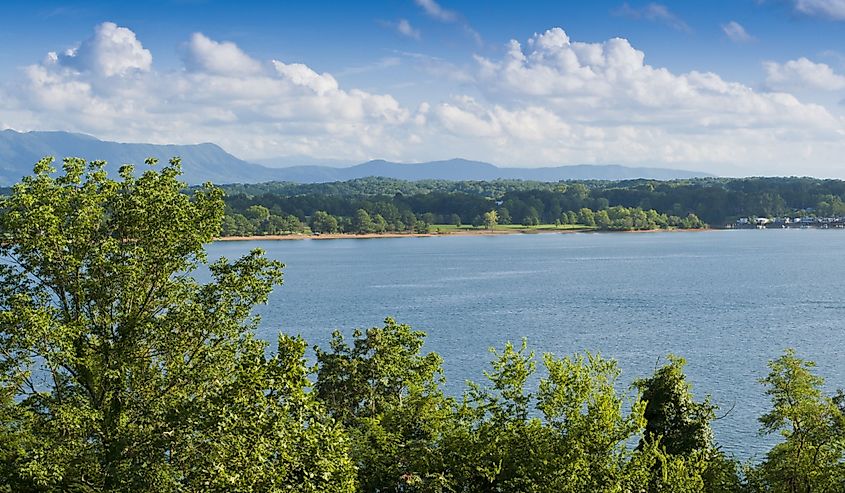 Created by the Douglas Dam of the French Broad River, Douglas Lake sits at the foothills of the Great Smoky Mountains. The lake has about 28,000 acres of surface area and 513 miles of shoreline, attracting over 1.7 million visitors each year. Douglas Lake sits near Pigeon Forge and Gatlinburg, which each offer small-town appeal and activities.
Birdwatching is a popular activity around the lake, especially in fall, as shore birds, wading birds, and other waterfowl migrate. Fishing is also a top choice for visitors and locals alike, as the lake is highly ranked for bass and crappie fishing. You can also take part in hiking, biking, and horseback riding around the shoreline, hop in the water for a swim, or take a ride along the white water rapids.
All A-boat Tennessee Lakes
No matter which of these Tennessee lakes piques your interest, you will discover plenty of excitement and fun on the water. Plus, the nearby small towns and cities boast their own adventures, from unique downtown areas to outdoor recreation. Whether it is a summer vacation or weekend getaway, boat, paddle, swim, or fish along these beautiful Tennessee lakes. From peaceful moments in tranquil waters to exciting day trips on a jet ski, there is something for everyone in these isolated bodies of water.