The 10 Longest Rivers in Tennessee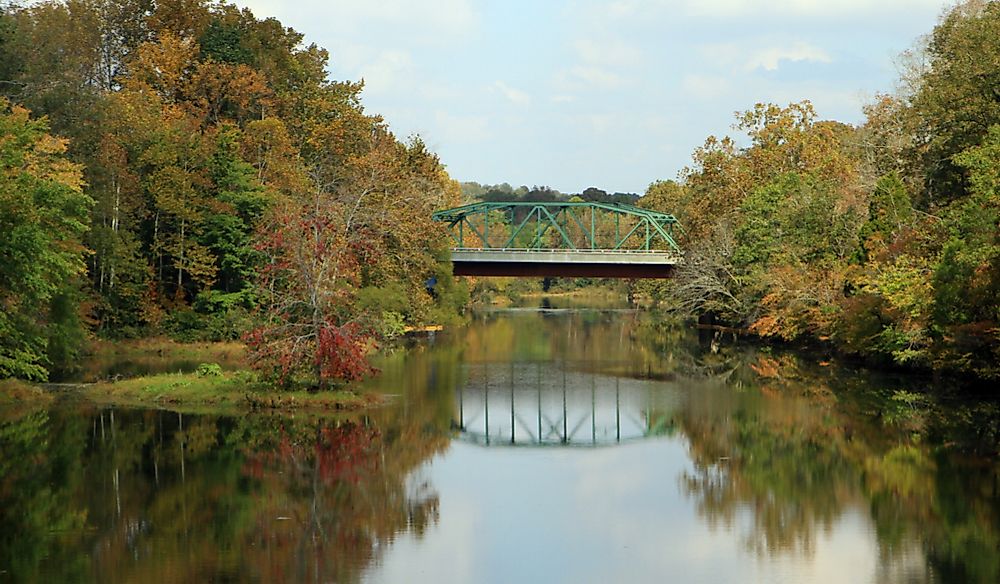 Tennessee is the sixteenth most populous and the 36th most extensive state of the United States. It was initially part of North Carolina and the Southwest Territory before it was admitted to the Union as the 16th state. Tennessee was the last state to secede from the Union and join the Confederacy, but it was the first state to be readmitted after the American Civil War. About 2.2% of the state is covered by water including lakes, rivers, and reservoirs. The rivers of Tennessee not only provide water for industrial and domestic use but also provide water to irrigate vast acres of land. The following are the longest rivers in the state.
The Longest Rivers In Tennessee
Mississippi River
The Mississippi is the largest river in the United States by discharge and the second longest after the Missouri River. It covers 2,320 miles and discharges over 593,000 cubic feet per second. The Mississippi River drains Lake Itasca in Minnesota and discharges at the Gulf of Mexico. It drains 32 American states and two Canadian provinces between the Appalachian and the Rocky Mountains. The Mississippi River flows through the cities of Minneapolis, Davenport, St Louis, Memphis, Baton Rouge, and New Orleans.
Cumberland River
The Cumberland River is 688 miles long. It flows from the Confluence of Martins Fork and Clover Fork in Baxter, Kentucky, to the Ohio River in Livingston County, Kentucky. The Cumberland drains 18,000 square miles of north-central Tennessee and southern Kentucky. Its major tributaries include the Red, Stones, Caney, and Obey Rivers. Much of the river flows through rural areas, but major cities along its course include Clarksville and Nashville in Tennessee.
Tennessee River
The Tennessee River flows 652 miles from the confluence of Holston and French Broad River at Knoxville, Tennessee to the Ohio River in Paducah, Kentucky. It is the largest tributary of the Ohio River. The Tennessee River has been dammed severally to provide water irrigation and household use. In the 20th century, the Tennessee Valley Authority and the U.S. Army Corps of Engineers built several channels and waterways to allow navigation of the river.
Clinch River
The Clinch River flows for 300 miles from the Buckhorn Mountains in Tazewell, Virginia to the Tennessee River. The river flows through the Great Appalachian Valley where several tributaries join it before draining into the Tennessee River. The Norris and Melton Hill are the two largest dams on the river.
River Pollution in Tennessee
The Tennessee Department of Environment and Conservation estimates that 30% of rivers cannot support a healthy population of fish while 40% cannot provide water fit enough for human consumption. The primary sources of pollution are waste from cities and towns, the changing landscape of the state including the expansion of agricultural land, and household waste. The destruction of water catchment areas through deforestation has also led to the drop in the water quantity while global warming has accelerated evaporation.
The 10 Longest Rivers in Tennessee
| Rank | River | Length |
| --- | --- | --- |
| 1 | Mississippi River | 2,320 miles (3,730 km) |
| 2 | Cumberland River | 688 miles (1,107 km) |
| 3 | Tennessee River | 652 miles (1,049 km) |
| 4 | Clinch River | 300 miles (480 km) |
| 5 | Duck River | 284 miles (457 km) |
| 6 | Hatchie River | 238 miles (383 km) |
| 7 | French Broad River | 213 miles (343 km) |
| 8 | Elk River | 195 miles (314 km) |
| 9 | Hiwassee River | 147 miles (237 km) |
| 10 | Caney Fork | 143 miles (230 km) |