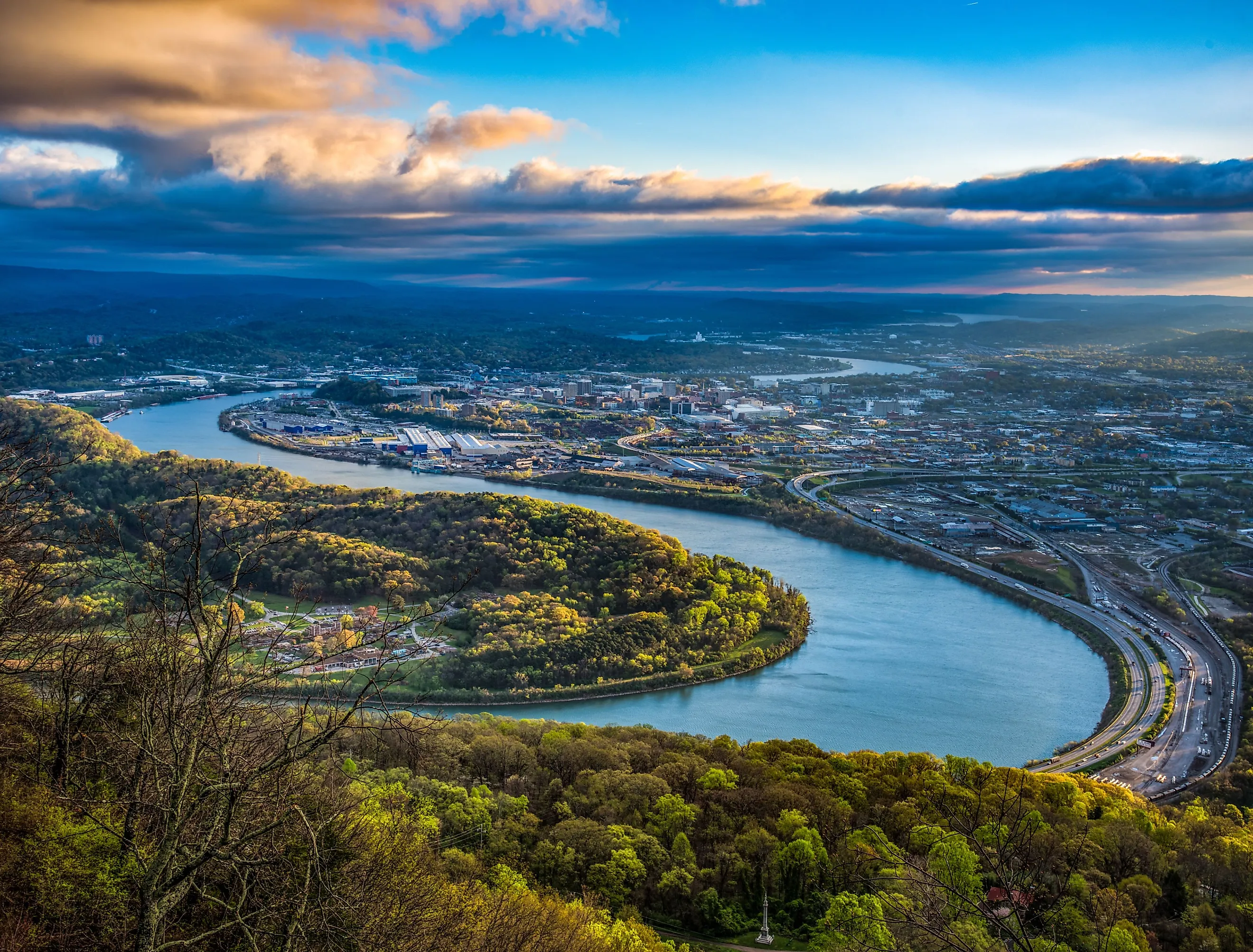 9 Charming Waterfront Towns In Tennessee
Although the US State of Tennessee is landlocked, within it, there are beautiful waterways, rivers, and streams, making for a most charming and alluring atmosphere. Indeed visitors to "The Volunteer State" will find plenty of gorgeous towns, all with a unique link to the various bodies of water across the landscape. Take a trip to Tennessee and see why some of its waterfront communities are the best places to discover in America. This article looks at the nine charming waterfront towns in Tennessee.
Waverly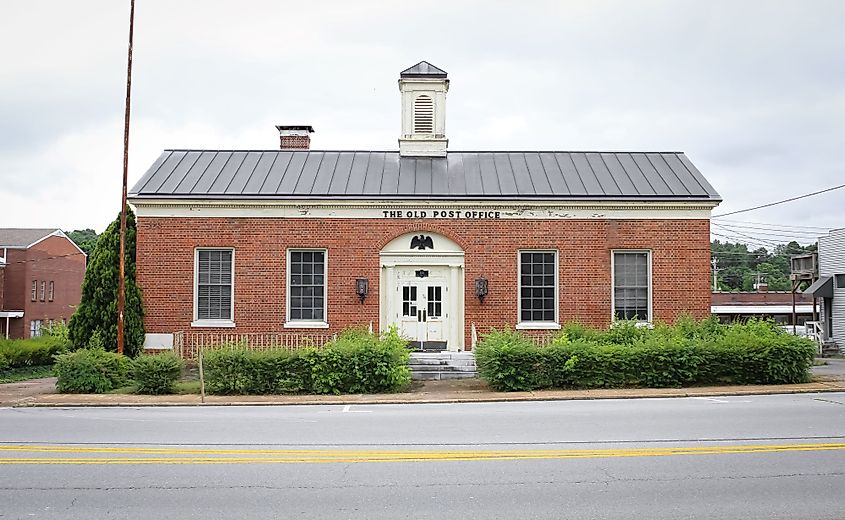 Situated along the Tennessee River, the town of Waverly was founded in 1838 and is home to a modest population of just under 5,000 residents. Visitors can expect to find a place full of fascinating history, and indeed during the Civil War, Waverly was one of the Confederacy's major centers. In 1864, the surrounding area of town was the site of the Battle of Johnsonville, one of the last significant victories for the South. Today tourists can view the Johnson State Historic Park and learn more about the conflict and Tennessee's role in the Confederate States or spend an informative afternoon at the Humphrey's County Museum and Civil War Fort.
Just a short 80-minute drive to the State capital, Nashville, Waverly also has relaxing opportunities to enjoy the outdoors. At the nearby Buffalo River, one can enjoy canoeing and hiking, while a casual stroll alongside the banks of the Tennessee River is always a delightful outing. And, of course, with charming shops, restaurants, and a friendly community spirit, Waverly shows why the small-town USA has some of the best atmospheres.
Kingston Springs
The town of Kingston Springs is a great day trip for those in the Nashville area. In a 30-minute drive, visitors will arrive at this charming town of less than 3,000 inhabitants, where beautiful, forested surroundings frame the quaint community. Situated along the banks of the Harpeth River (a major tributary of the Cumberland River), outdoor lovers will have plenty to enjoy in Kingston Springs.
Go canoeing, kayaking, cycling, or jogging along the water's edge, or simply gaze at the wondrous greenery that makes this waterway such a visual delight. Spanning a length of about 10 square miles, the portion of the Harpeth River in Kingston Springs is indeed a scenic wonder. And back in town, visitors will surely not want to miss the warm hospitality, tasty local eateries, or cute novelty shops that make this town an excellent way to spend an afternoon or even a few days.
Copperhill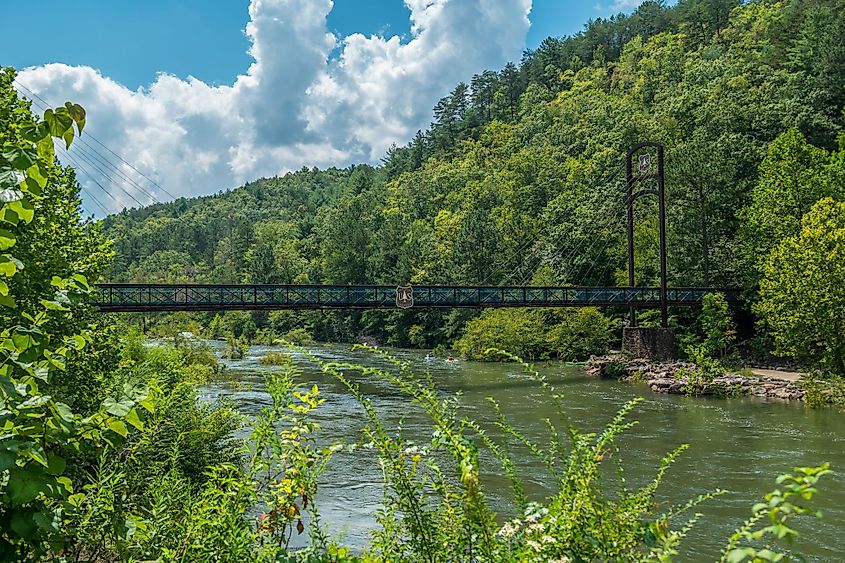 The small town of Copperhill was founded in 1890 and today is home to a very small population of just over 300 people. Despite its size, this once important center of copper and acid production remains a charming community, with beautiful nature all around. Located near the Ocoee River, adventurous tourists can enjoy hiking, mountain biking, and even whitewater rafting at the River and its banks.
Copperhill is also located near the Gee Creek Wilderness area (part of the Cherokee National Forest), where memorable encounters with various mountain wildlife are made. With its quaint small-town feeling, rustic natural setting, and great outdoor activities, Copperhill is a truly great Tennessee water town.
Dover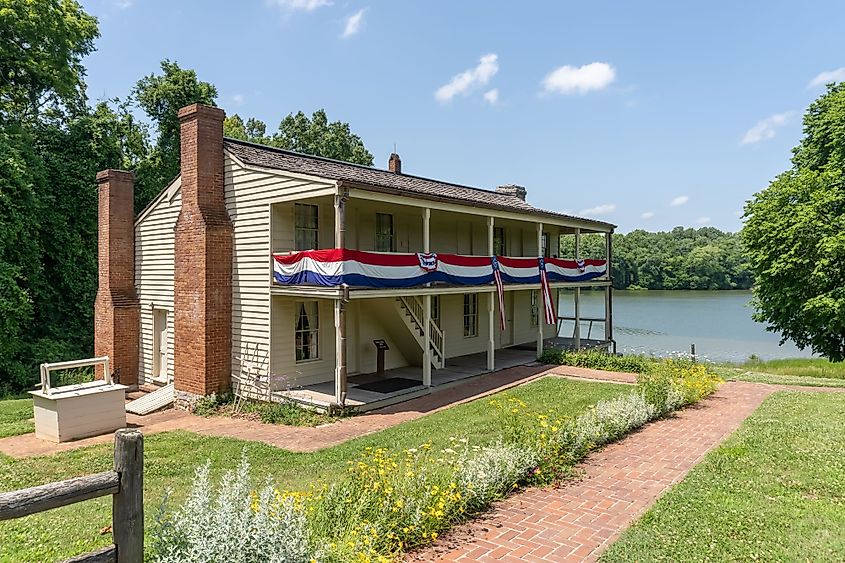 Just 82 miles from Nashville, the 1,500-resident town of Dover is situated right along the Cumberland River. Here history and outdoor lovers can both be satisfied, and a day trip to town may just be the most memorable excursion for anyone in the capital region. Home of Fort Donelson and its National Battlefield historic site, visitors can explore the location of one of the Civil War's early battles in 1862. With preserved cannon artillery on display, alongside the lovingly restored Fort area, history aficionados and other visitors alike will have a unique and hands-on experience with this crucial period in America's past.
Meanwhile, at the Cross Creeks National Wildlife Refuge, tourists can marvel at aquatic plants, waterfowl, and stunning views of the river. One must spend a relaxing day at the Land Between the Lakes recreation area, which is an ideal way to unwind, enjoy the outdoor scenery, and contemplate the simpler things in life.
Ashland City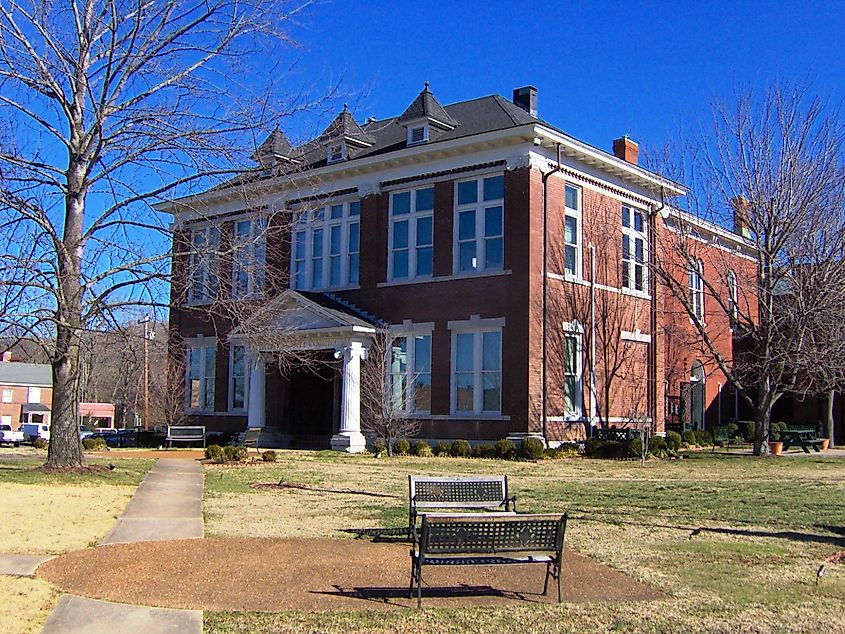 Formally established in 1856, Ashland City is another great day trip for Nashville residents. Ashland City is located near the confluence of the Cumberland and Harpeth Rivers, respectively, and is a perfect place for camping. Visitors can enjoy some of Tennessee's most beautiful natural scenery at the Cheatham Lake recreational area, where hiking, swimming, fishing, and of course, camping opportunities are available.
Meanwhile, at Sydney's Bluff, a prominent rock formation, tourists can try their hand at rock climbing or simply marvel at the stunning views of the rivers. And when the outdoor adventures are done, the quaint town center of Ashland City is always ready to offer its guests tasty restaurant options, cute shopping outlets, and plenty of Southern charm.
Tiptonville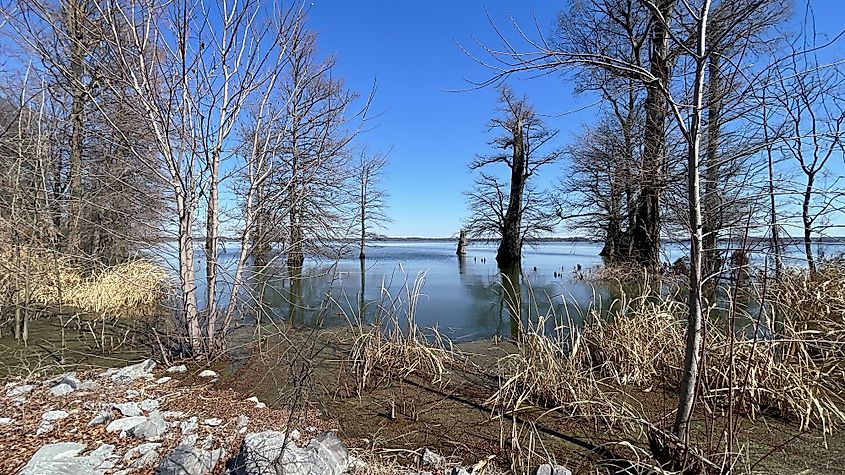 Located right near the border of Missouri and Kentucky, the town of Tiptonville has long been a popular destination for wildlife aficionados. Indeed this small community with just under 4,000 residents finds itself at the confluence of the mighty Mississippi River and the humble Reelfoot Lake, where time spent outdoors is always an adventure.
Stop at the Reelfoot Lake State Park for great hiking, biking, fishing, and wildlife viewing opportunities, or head straight to the Lake Isom National Wildlife Refuge. Here a variety of waterfowl, deer, and even amphibians and reptiles can be seen in a serene and natural setting.
Clifton
Right along the Tennessee River and the northern border with Alabama, Clifton is a charming little town that maintains its distinct 19th-century history. Founded as a river port town in 1840, Clifton is both a modern example of a small town USA and a proud preserver of its unique historical heritage. Here visitors can visit its historic districts, stroll through its charming downtown and 19th-century edifices, or just spend some relaxing time along the waterfront. Moreover, getting to know the locals, browsing through quaint shops, or enjoying a hot and tasty Southern meal, also make time spent in Clifton a memorable experience.
Surgoinsville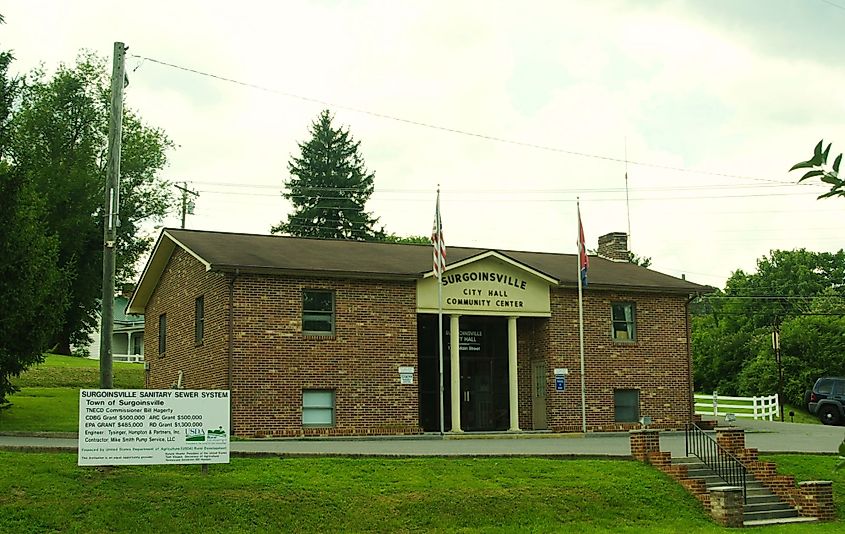 Surgoinsville was founded in 1815 by French Huguenot missionaries and today remains a quiet and charming community of just under 2,000 residents. Situated along eastern Tennessee's Holston River, the town is a 90-minute drive from the city of Knoxville and offers its visitors a calm and welcoming atmosphere.
Enjoy quiet walks along the water's edge, go biking, jogging, or canoeing, or simply tour some of Surgoinsville's historic buildings; this small community is a wonderful place for a day trip. On the way out, the historic Fudge Farm is a must-visit. This farmhouse built in 1812 is a typical example of Colonial architecture and gives tourists a further glimpse into life in the early days of the United States.
Linden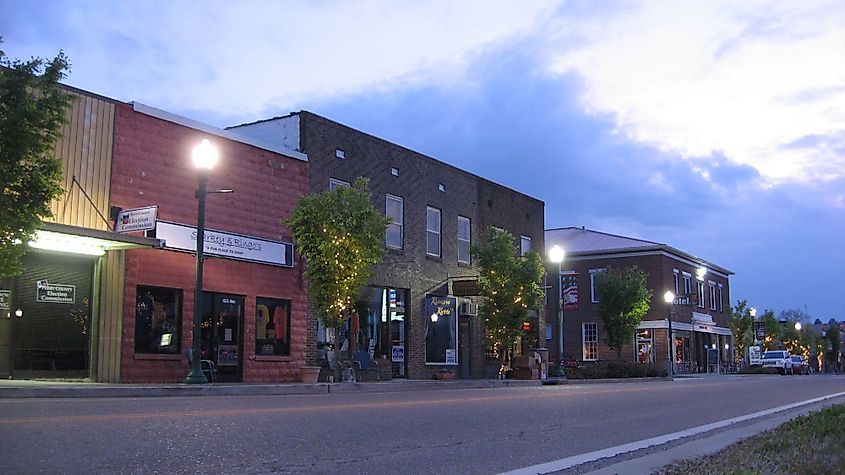 The seat of Perry County, Linden, is known for its hot summer months and mild winters. Situated along the 200 km long Buffalo River, this town of just under 1,000 residents was formally incorporated in 1850, making it one of Tennessee's oldest communities. 
Visit buildings such as the historic Perry County Courthouse (1925), spend time at the Mousetail Landing State Park for great camping, fishing, and boating spots, or just stroll through Main Street for charming views. In Linden, a tasty Southern meal is also always on hand, and visitors can experience some genuine small-town hospitality just 90 minutes from Nashville.
Tennessee is a charming Southern state with beautiful small towns and a plethora of unique history. Although the State is landlocked, within its borders are several beautiful waterways, like the Tennessee and Cumberland Rivers, where visitors can spend time. Those who find themselves in the small towns near these waters will have a memorable, relaxing, and beautiful holiday.