Tennessee is recognized for its vibrant music scene, mouthwatering cuisine, and gracious southern hospitality. It also happens to have some of the country's most magnificent natural settings. This state is a haven for all kinds of outdoor enthusiasts with its undulating Appalachian highlands and sparkling Tennessee River. This article goes further into Tennessee's top nine awe-inspiring cities, highlighting the unique geographic characteristics that make each of them a must-see for anybody looking to experience the state's unmatched natural beauty. 
Gatlinburg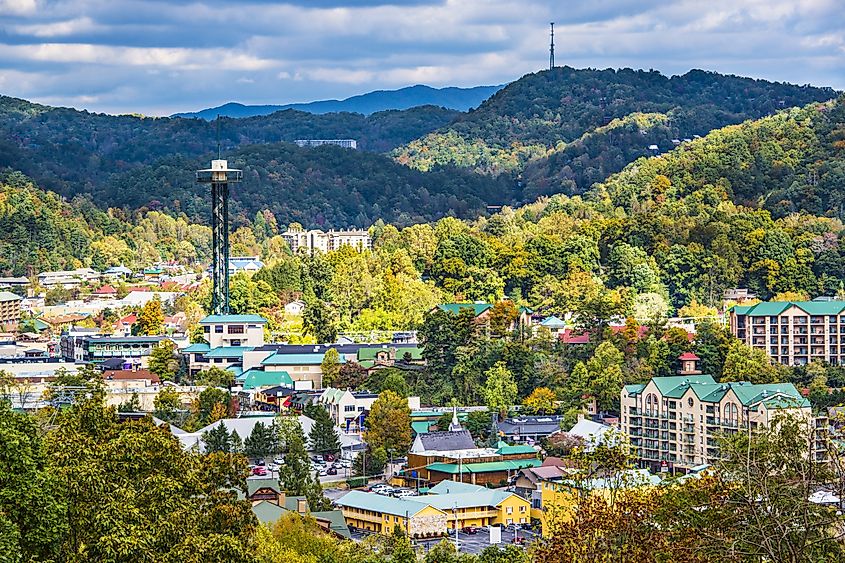 The enchanting hamlet of Gatlinburg, which offers a variety of outdoor pursuits, is hidden away in the magnificent Great Smoky Mountains. The crown gem of this park is the Great Smoky Mountains National Park, which includes astonishing 800 miles of hiking trails and magnificent waterfalls. Enjoy whitewater rafting on the Pigeon River or fly through the forest canopy by using zip lines. Gatlinburg's downtown area has a charm that is perfect for unwinding after a busy day. Every nook of Gatlinburg is a tribute to the enduring fascination of the natural world, from the soaring peaks to the serene streams. Visitors can escape the rush of city life and re-establish a connection with nature in this exquisite setting. Gatlinburg is the ideal vacation spot for people seeking adventure, excitement, and a taste of the great outdoors thanks to its wide variety of outdoor activities. Gatlinburg has something to offer everyone, whether they are experienced hikers or newbie outdoor enthusiasts, guaranteeing an amazing experience.
Chattanooga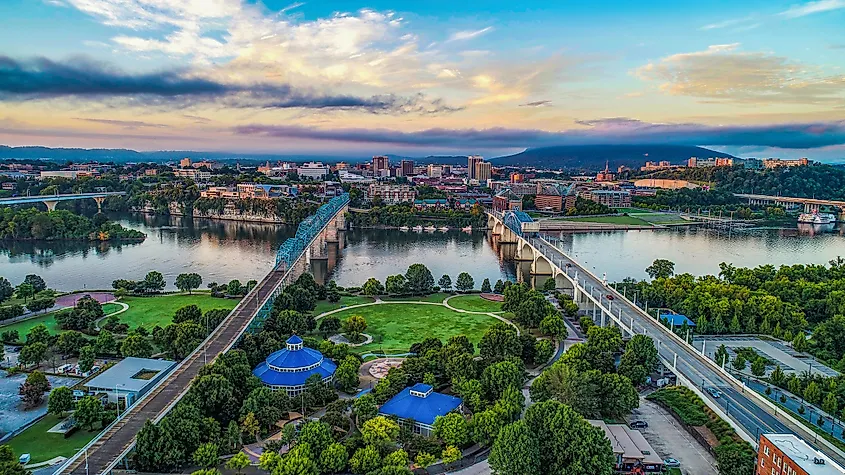 The bustling metropolis of Chattanooga is nestled along the gorgeous Tennessee River banks. This vibrant metropolitan area combines the pleasures of the outdoors with contemporary living. Exploring the city's many parks, including the breathtaking Coolidge Park and Tennessee Riverpark, which both give breathtaking views of the meandering river and the majestic mountain range surrounding it, provides visitors with an unparalleled experience. Incredible Lookout Mountain, a magnificent natural wonder with miles of hiking trails, remarkable rock formations, and stunning panoramic vistas that display the entire city in all its grandeur, is one of the city's main attractions.
Knoxville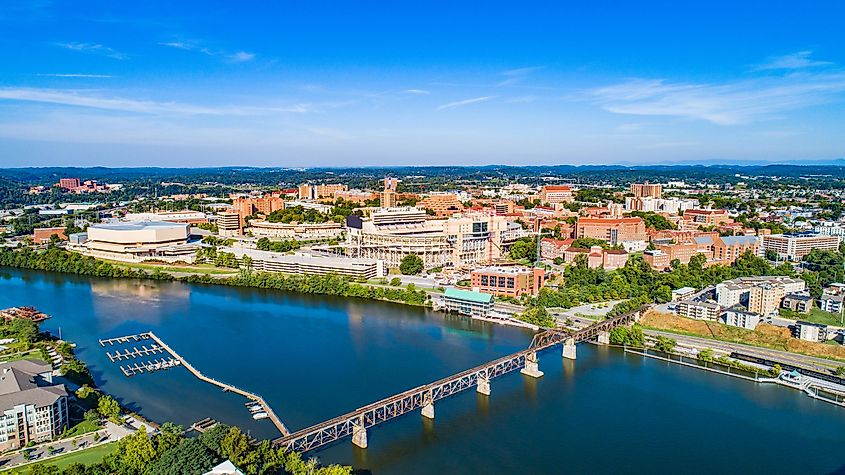 Knoxville, a city rich in history and beautiful scenery. Even discriminating traveler can discover many in here. This delightful location, nestled in the lush foothills of the magnificent Great Smoky Mountains, boasts several plush parks, such as the Ijams Nature Center and Knoxville Botanical Garden - a diamond in the rough for outdoor enthusiasts. The Tennessee River runs right through Knoxville, providing adventurous visitors with ample opportunities for fishing, paddleboarding, and kayaking. The city's quaint downtown area, filled with historic buildings and unmatched southern hospitality, exudes charm and panache. It tempts you to explore every corner and cranny. So why not pack your bags and travel to Knoxville to discover the many wonders that this wonderful city has to offer for yourself?
Memphis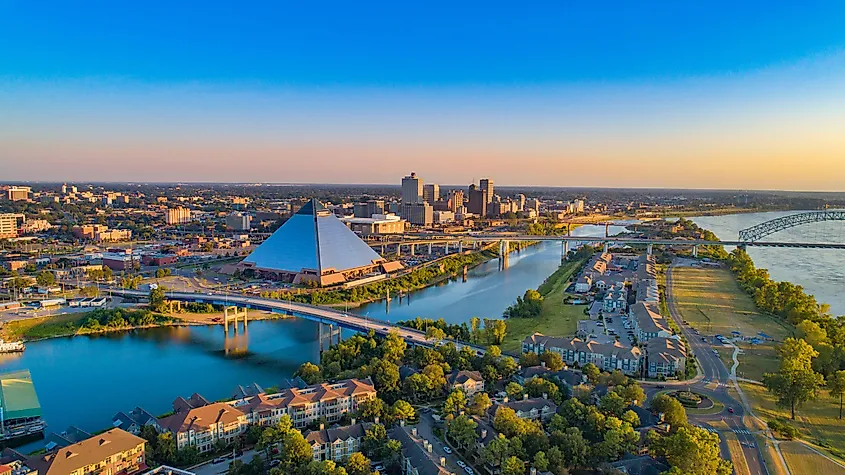 Memphis, an urban hub that has distinguished itself in music, cuisine, and the practice of southern hospitality, locates along the banks of the great Mississippi River. Delving deeper into the city, tourists are able to bask in the picturesque splendor of its numerous lush parks, such as Tom Lee Park and Mud Island River Park, where one may indulge in panoramic views of the skyline and the coursing river. Memphis now has the expansive Shelby Farms Park to add to its repertory. This perfect example of urban ecotourism offers a variety of outdoor activities for lovers of all kinds including those who prefer hiking, biking, and horseback riding. The city's many attractions extend an open invitation to anyone looking to get a real sense of southern history and culture while also taking in the lush natural beauty that surrounds it.
Franklin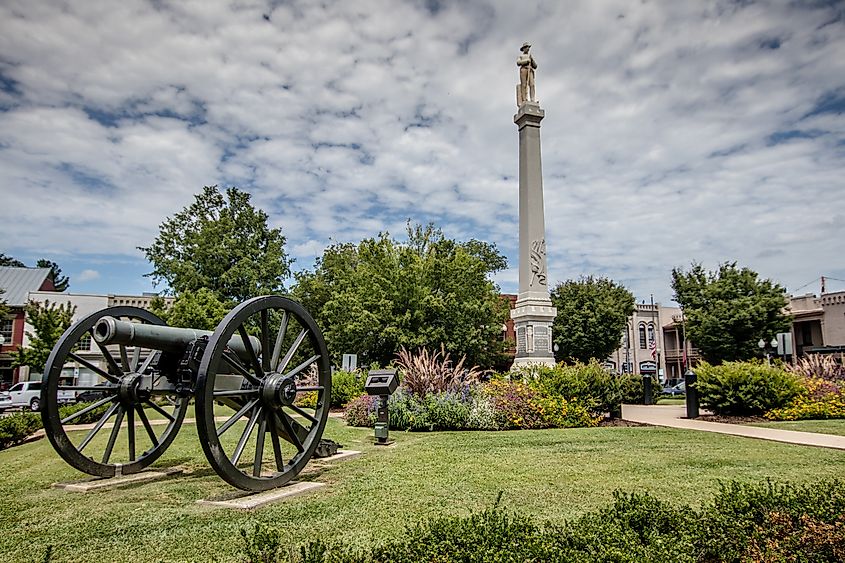 Situated south of the vibrant city of Nashville, Franklin is an enchanting town renowned for its affluent history and aesthetically pleasing downtown area. Distinguished travelers can immerse themselves in the city's plethora of historical sites, such as the Carnton Plantation and the Lotz House Museum, or enjoy a walk down the bustling Main Street, admiring the myriads of opulent shops and restaurants. These sites embody the essence of the town's historical roots, providing an exquisite glimpse into the past. Franklin is the abode of the magnificent Natchez Trace Parkway, providing visitors with unparalleled scenic views of the surrounding countryside. The Parkway is a haven for nature enthusiasts, offering stunning vistas of the lush countryside. In essence, Franklin is a town that showcases the perfect blend of natural beauty, rich history, and modern-day charm.
Johnson City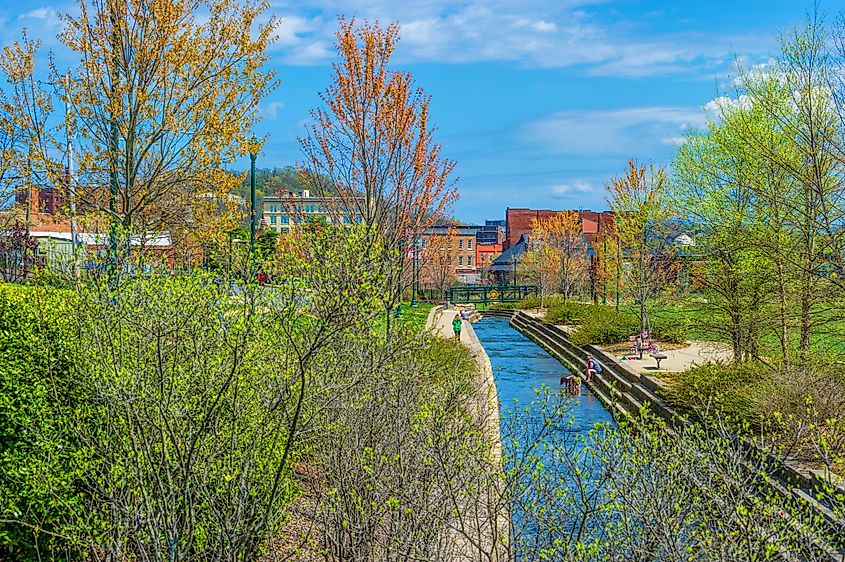 Nestled in the heart of the Appalachian Mountains lies Johnson City, a municipality that boasts an abundance of natural splendor and outdoor recreational opportunities. One can embark on a journey to explore the nearby Cherokee National Forest, which spans across an extensive 650,000 acres of immaculate wilderness and awe-inspiring mountainous panoramas. The Watauga River, located within the confines of the city, presents a plethora of exciting activities, ranging from kayaking to fishing to tubing. In addition, the city exudes a charming ambiance, courtesy of its quaint downtown area and affable locals. With its characteristic southern hospitality and unadulterated allure, Johnson City emerges as a city replete with irresistible magnetism. 
Murfreesboro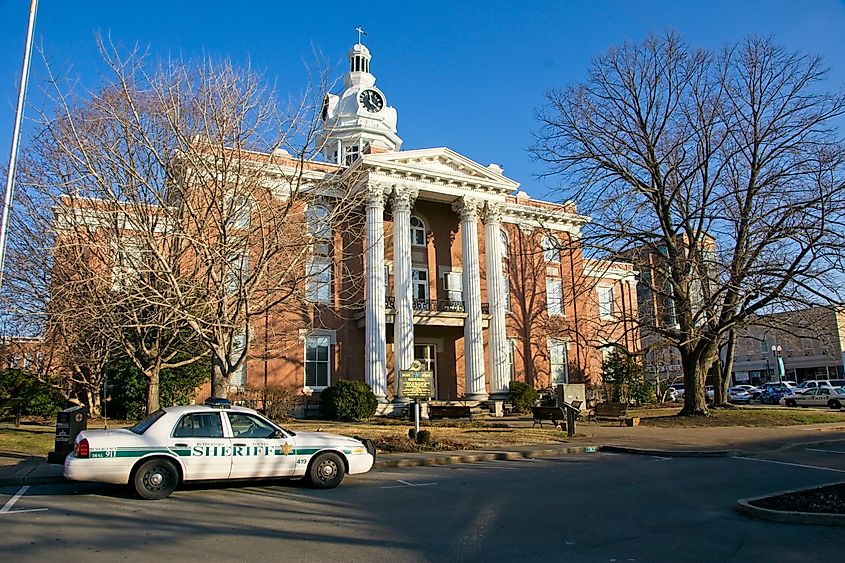 The intriguing city of Murfreesboro is famous for its plenty of historic attractions and magnificent natural beauty. It locates in Middle Tennessee. By visiting the Stones River National Battlefield, a vast natural reserve with a variety of hiking paths, stunning landmarks, and an intriguing museum, visitors may immerse themselves in the local culture. The Barfield Crescent Park which spreads across a whopping 430 acres of pure wilderness and has stunning fishing ponds, energizing hiking routes, and an exhilarating disc golf course, is a must-see destination. The charming downtown area of Murfreesboro has a friendly atmosphere that makes it the perfect place for visitors to explore Tennessee's rich history and lush surroundings.
Pigeon Forge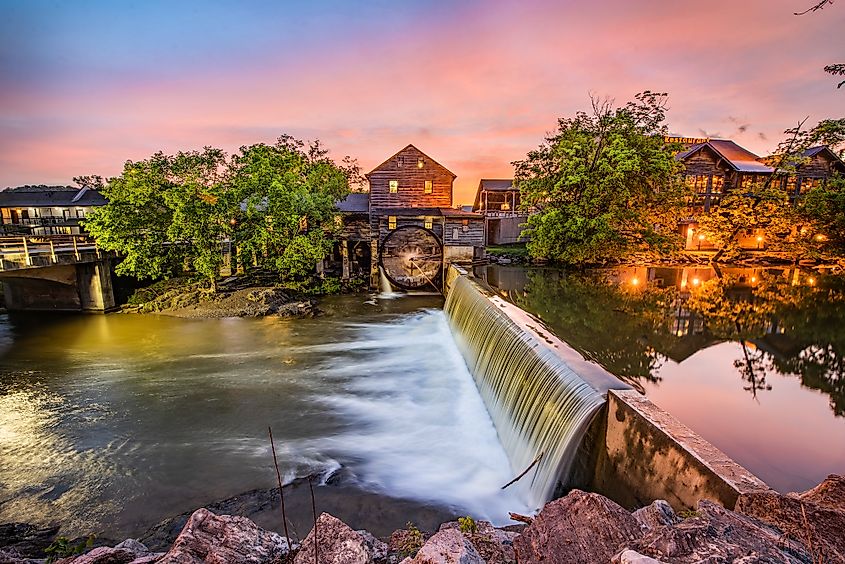 The picturesque city of Pigeon Forge which locates outside of the busy town of Gatlinburg. This is the home to numerous family-friendly attractions and spectacular natural beauty. Adventuresome guests can go through the magnificent Great Smoky Mountains National Park or take the Dollywood Express for a picturesque excursion that offers breathtaking panoramic views of the area's mountain range. The Titanic Museum is a popular location for history buffs, offering an immersive experience packed with interactive displays and actual items from the illustrious ship. With its perfect blending of natural wonder and entertainment, this city has plenty to offer for everyone. 
Cookeville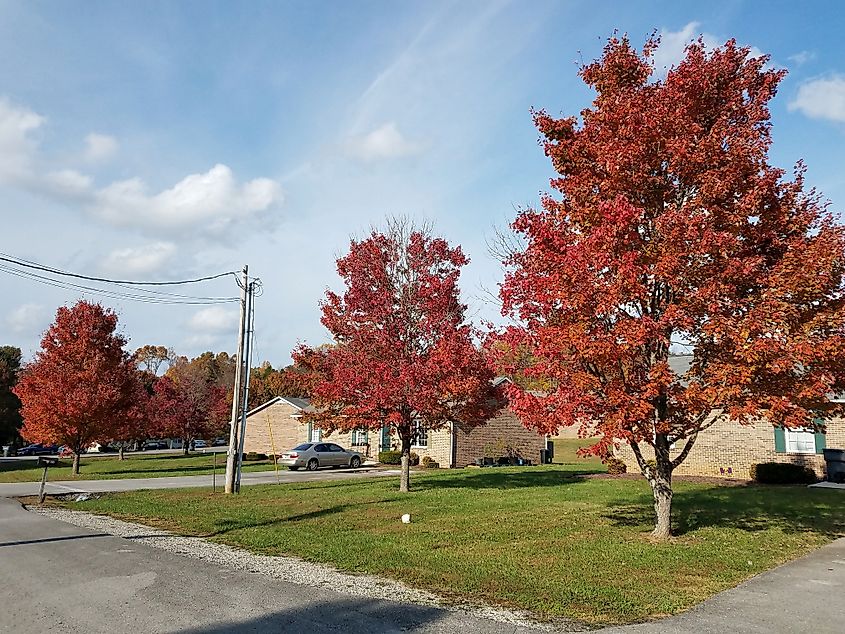 Nestled in the Upper Cumberland region of Tennessee, lies Cookeville, a town renowned for its exquisite natural attractions and outdoor activities. Tourists can relish the awe-inspiring Burgess Falls State Park, which showcases spellbinding cascades and hiking paths. Moreover, one can amble down the WestSide Cultural District, an iconic historic avenue, to marvel at various art galleries and boutiques. Delving deeper into Cookeville's treasures, one can explore the Cumberland Caverns, guided tours of subterranean caves and rock formations. The town's picturesque downtown area, coupled with its warm and hospitable residents, makes it a splendid destination to relish the natural beauty of Tennessee.
Conclusion
Tennessee is a wonderland that guarantees to enchant and captivate you. Tennessee appeals to all tastes and interests with its wide variety of natural landscapes and cultural history. Pack your luggage, hit the road, and go on a once-in-a-lifetime adventure to witness for yourself why Tennessee has nine of the most beautiful cities.