Immediately noticeable due to their colorful presence, umbrella-shaped bells, and flexible tentacles, jellyfish can be found in seas all over the world. They are also one of the oldest multi-organ animals, inhabiting our planet for 500 million years.
There are various species of jellyfish but one of the most interesting ones is the immortal jellyfish, and as its notorious name suggests, the turritopsis dohrnii is an immortal species with no maximum lifespan. However, even the immortal species need to eat and in the following paragraphs, we will uncover what is on their menu and how they eat.
Do You Want Fries With That Plankton?
Jellyfish only have one single opening, and all food processing happens through that opening. Their regenerative abilities have little do to with their nutrition. The nutrition of immortal jellyfish consists of plankton, fish eggs, larvae, and a lot of other tiny sea creatures. However, they do not actively seek out their food, they just capture whatever plankton type food floats around them with their tentacles.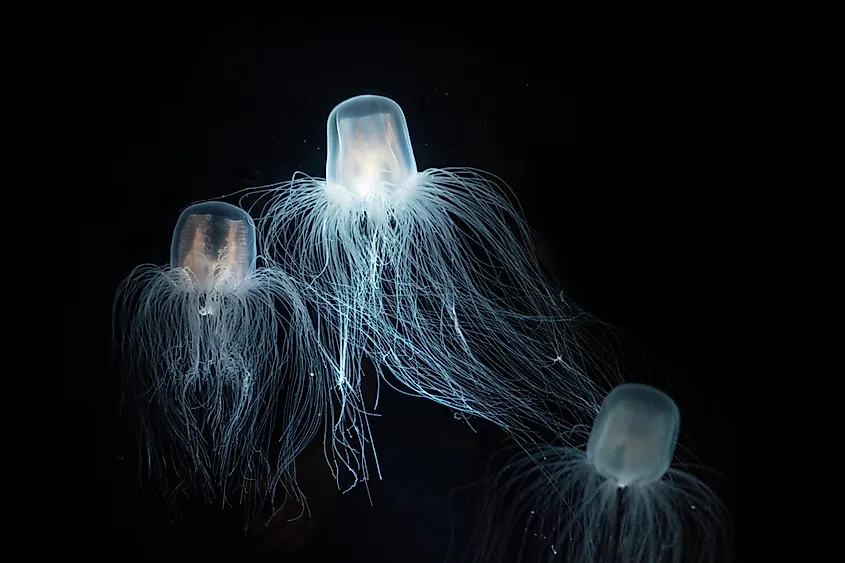 These same tentacles can release deadly amounts of toxic venom that kills their prey before it is digested. Because jellyfish do not have a brain, and a heart, the whole process of feeding is a lot more passive when compared to other animals. Whatever enters their intestines is digested and the rest goes out through their mouth. Some larger jellyfish can also prey on animals such as crab and fish, and even other jellyfish species.
Where Do They Come From?
Immortal jellyfish are believed to come from the Pacific, but they are now found in warm tropical regions in oceans all over the world. However, some of these places are not easily reachable only with the help of ocean currents. That is why many scientists suspect that the reason for the widespread of this species is the ballast water discharges by long-distance cargo ships. The jellyfish attach themselves to the hulls or enter via ballast water inside the ship and spread all over the globe.
Are Immortal Jellyfish Really Immortal?
Turritopsis dohrnii are not technically immortal, but they do not die either. The simplest explanation is regeneration, but it is the process closest to the concept of immortality in our animal kingdom. When the immortal jellyfish encounters danger or any event that threatens its life (starvation, temperature change), it transforms back to the polyp stage.
The two stages in the life of the jellyfish are polyp and medusa. It is a unique mechanism called transdifferentiation that allows this particular jellyfish to "cheat" death and stay alive. The new body is genetically identical to the previous jellyfish but it is still a new body. Think about a butterfly that can change back to a caterpillar and pupate for an indefinite number of times. Because of their abilities, turritopsis dohrnii has inspired marine biologists to research them to help the humankind with renewing dead or damaged tissue.