The United Nations Educational, Scientific and Cultural Organization (UNESCO) World Heritage Convention has designated 24 World Heritage Sites throughout the United States (and the unincorporated territory of Puerto Rico). Eleven of these are important cultural sites, twelve are invaluable natural treasures, and one (i.e. Papahānaumokuākea) is categorized as "mixed." In addition to international reverence, many of these areas and monuments benefit from local protections, under the banner of national or state parks, historic landmarks, or treaties. Each of these is truly a site to behold and contemplate, but the following 15 stand out a little extra for their raw and architectural beauty.
Olympic National Park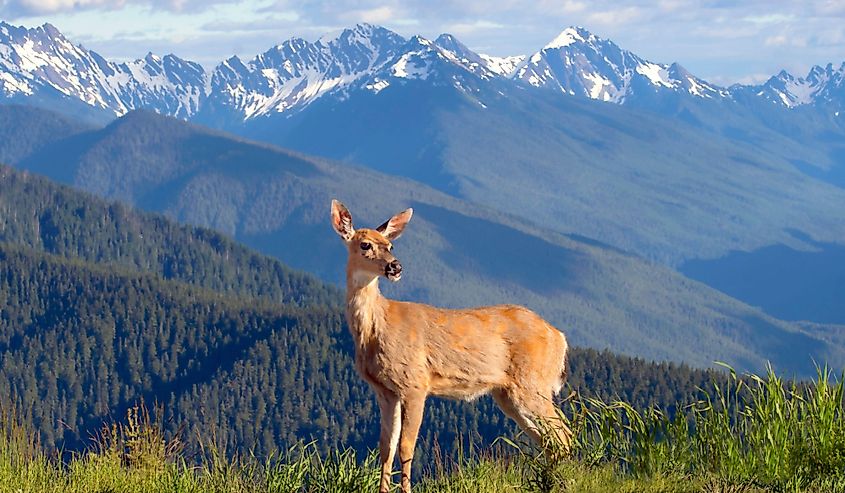 The highly-recognizable Mount Olympus signals one's arrival at Olympic National Park, in Northwestern Washington. This World Heritage Site and International Biosphere Reserve gathers together alpine meadows, old growth, temperate rainforests, rugged Pacific Ocean coastline, and snow-capped/glacier-strewn peaks. This region protects scores of unique wildlife, including the endangered Northern spotted owl, the marbled murrelet, and bull trout. Olympic National Park also covers about 60 miles of undeveloped coastline, which is the largest stretch in the lower 48 states.
Hawai'i Volcanoes National Park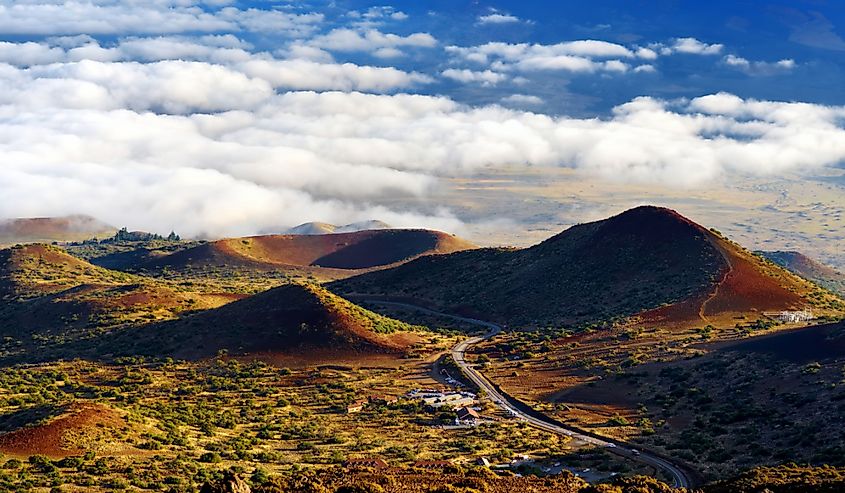 Hawai'i Volcanoes National Park is also both a UNESCO World Heritage Site and International Biosphere Reserve. It is home to two of the world's most active volcanoes: Kīlauea and Mauna Loa, both of which are on the island of Hawai'i. Kīlauea has erupted dozens of times since 1952, with almost continuous activity between 1983 and 2018. For ten full years between 2008 and 2018, the summit of this shield volcano contained a lava pond, which gave off an intense gas plume. This pond once again formed in the Halema'uma'u crater after an eruption that lasted between December 2020 and May 2021 and fed yet another eruption that began in September 2021 and is still persisting today.
Mesa Verde National Park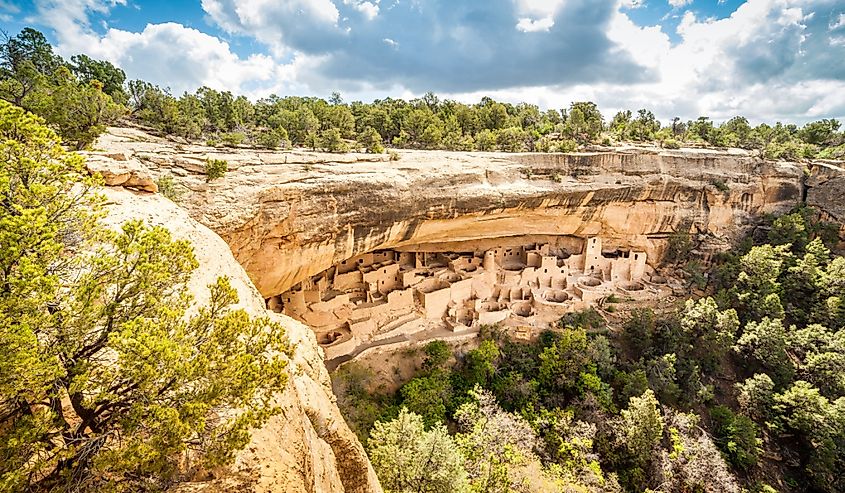 Mesa Verde National Park protects the ancient structures and cultural heritage of the Ancestral Pueblo (Anasazi) people. For over 700 years (roughly from 550 to 1300 CE) this Indigenous group built their homes throughout the cliffs and plateaus of Mesa Verde, in modern-day Southwest Colorado. There are about 600 cliff dwellings and another 4,100 archaeological sites throughout the park, with new discoveries still regularly occurring. Self-guided and guided tours are available to explore these fascinating pueblos and to learn about the history and ancestry of the Anasazi, as well as the backstory of the modern Pueblo people.
Grand Canyon National Park
The longest and one of the deepest canyons in the United States is a must-see for everyone's bucket list. The incredulous girth of the Grand Canyon, located in Northern Arizona, seduces one's gaze into endless scanning, never sure what to settle on, or how to take it all in. Snapping pictures from the upper rim is a great start, but to get the full Grand Canyon immersion, consider hiking down to the Colorado River for a greater appreciation of the overwhelming magnitude of both the eroded rock and geological eons.
Yosemite National Park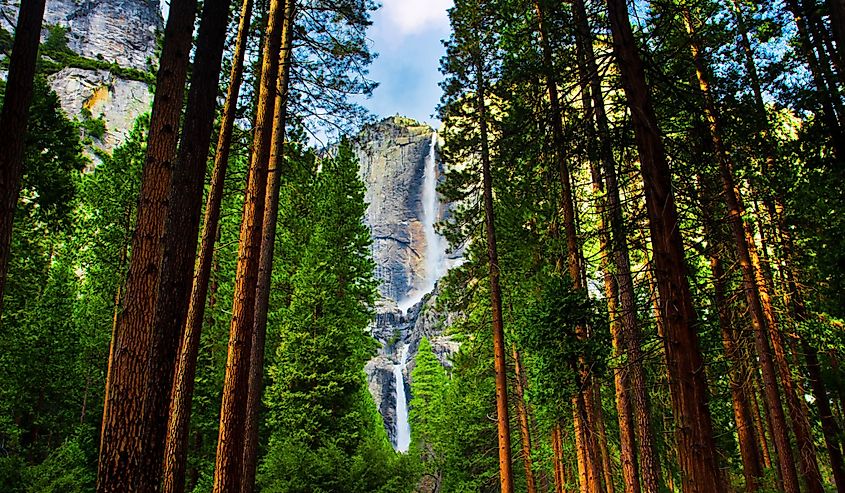 Yosemite National Park established in 1890 in order to encapsulate one of the most striking valleys is now one of the most recognizable landscapes in the world. In this Central California park, the 4,000-foot-deep glacially-carved phenomenon showcases iconic features such as El Capitan, a massive, sheer granite face that beckons the world's best rock climbers. There is also Half Dome, another impressive face for big-wall climbers, as well as an awe-inspiring, sweat-inducing hike up its backside. There are loads of impressive waterfalls, such as Yosemite Falls (the highest waterfall in North America), flowing over the steep cliffs and adding that pleasing auditory ambiance. Approximately 4 million visitors roll through Yosemite National Park each year to catch a glimpse of Yosemite's magnificence and to frolic throughout this natural playground.
Redwoods National and State Parks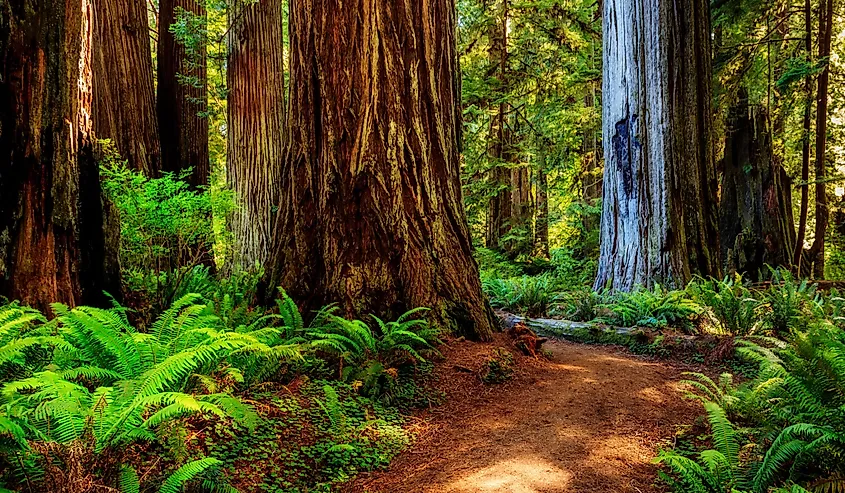 California has gone to great lengths to preserve and highlight its arboreal treasures. Redwoods National and State Parks (in conjunction with Muir Woods National Monument) is a combination of sites spread along the Northwest coast of California. These magnificent forests represent about half of the world's old-growth redwoods and have sprouted some of the tallest trees on earth, including the outright champion, the Hyperion Tree, which stands at a whopping 380 feet. On top of the area's prize attractions, these parks (which along with being a World Heritage Site are also an International Biosphere Reserve) protect oak woodlands, a valuable stretch of untouched coastline, free-flowing riverways, and peaceful prairies, as well as the wildlife that depends on these specific ecosystems.
Yellowstone National Park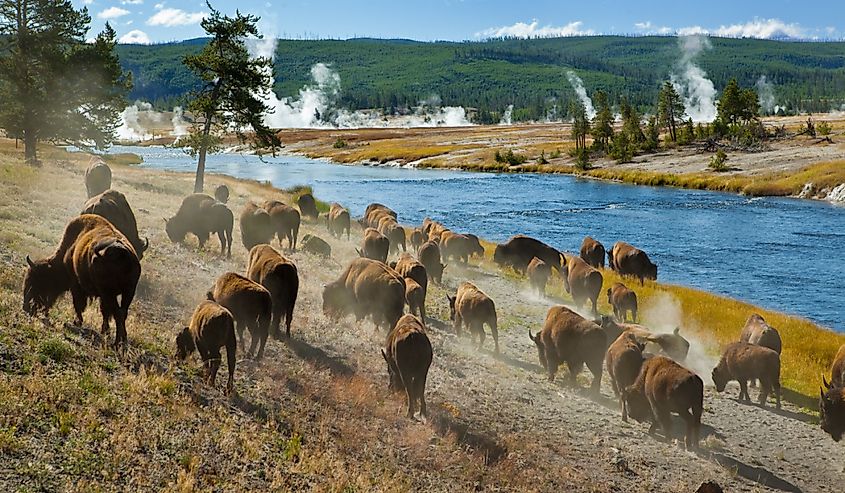 Yellowstone is not only the oldest national park in the United States but also in the world. Founded on March 1st, 1872, this historic initiative continues to ensure the protection of 2.2 million acres across parts of Wyoming, Idaho, and Montana. Within this boundary, the over 4 million annual visitors can find close to 500 geysers (i.e. nearly half of the planet's active geysers) and other geothermal features, including the famous and dependable Old Faithful, and the highly photogenic Grand Prismatic Spring. Such a large, intact ecosystem also provides a safe haven, and dependable viewing opportunities for legendary mountain mammals such as bears, bison, elk, and even wolves.
Everglades National Park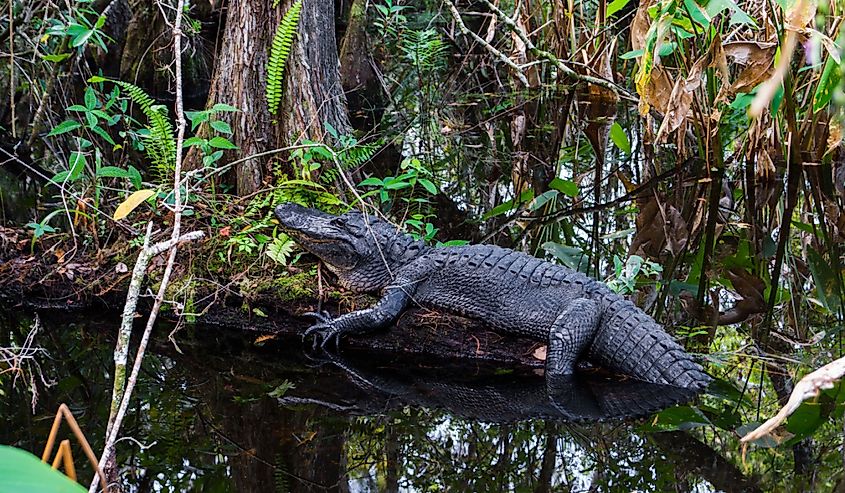 Several agencies recognize the importance of the largest subtropical wilderness in the country, located in Southern Florida. Not only is Everglades National Park a World Heritage Site, but also an International Biosphere Reserve, a Wetland of International Importance, and it receives special protection as guaranteed by the Cartagena Treaty. This immersive ecosystem is home to such wondrous creatures as the manatee, the American crocodile, the rarely-sighted Florida panther, and recently throwing a wrench into the natural food chain is the invasive and overpopulated Burmese python. The best way to escape the crowds, catch a cooling breeze, and experience the heart of the Everglades is with an airboat tour.
Taos Pueblo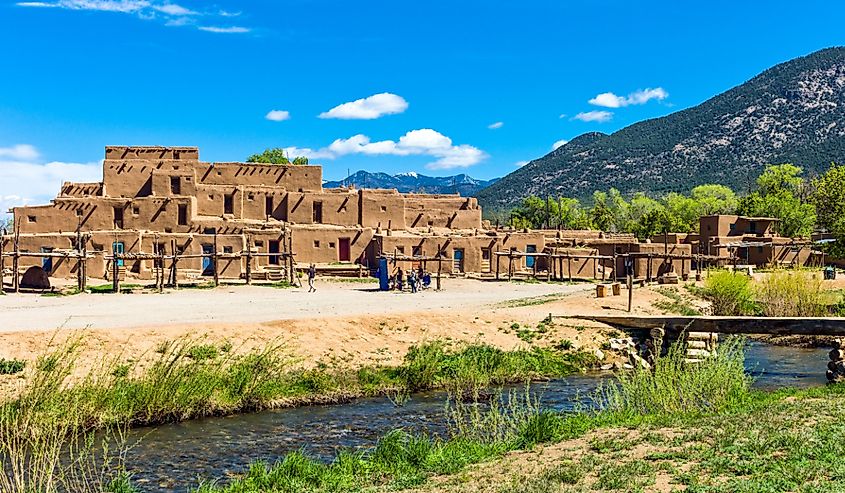 Taos Pueblo is both a UNESCO World Heritage Site and a National Historic Landmark. These Native American, multi-story, pre-Hispanic adobe buildings, situated on the outskirts of Taos, New Mexico, within the Sangre de Cristo Mountains, have been continuously utilized for over 1,000 years. Today, visitors are welcome to view the life and practices of the Pueblo (or Red Willow) community that thrives within the ancient perimeter wall, as well as purchase authentic art pieces. The sacred ruins of the original site, known as Cornfield Taos, are east of the living monument.
Great Smoky Mountains National Park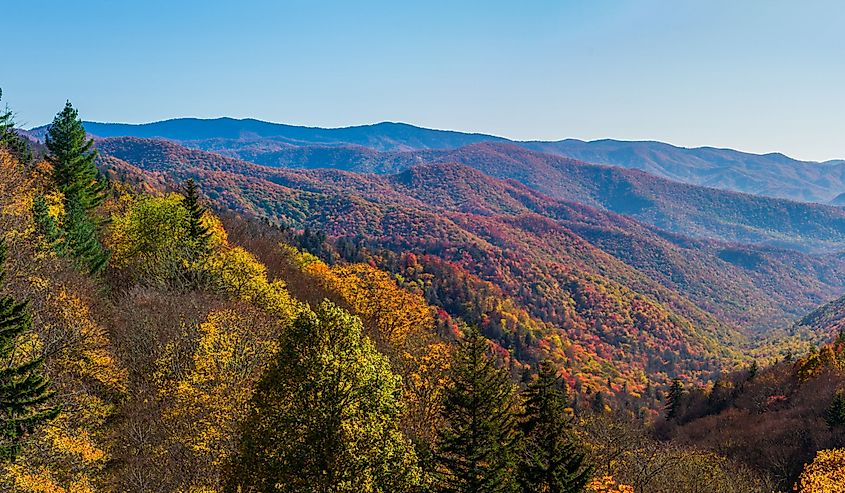 Great Smoky Mountains National Park is a massive, mostly untouched, temperate zone rich in tree species (130 naturally occurring). The rolling, colorful, Blue Ridge Mountains, which are an extension of the famous Appalachian Range, is the centerpiece of this protected zone that spans part of the state boundary between eastern Tennessee and western North Carolina. Hiking through the lush, ambient forests, with constant captivating views, is a big part of what draws more annual visitors here than any other national park in the United States.
Statue of Liberty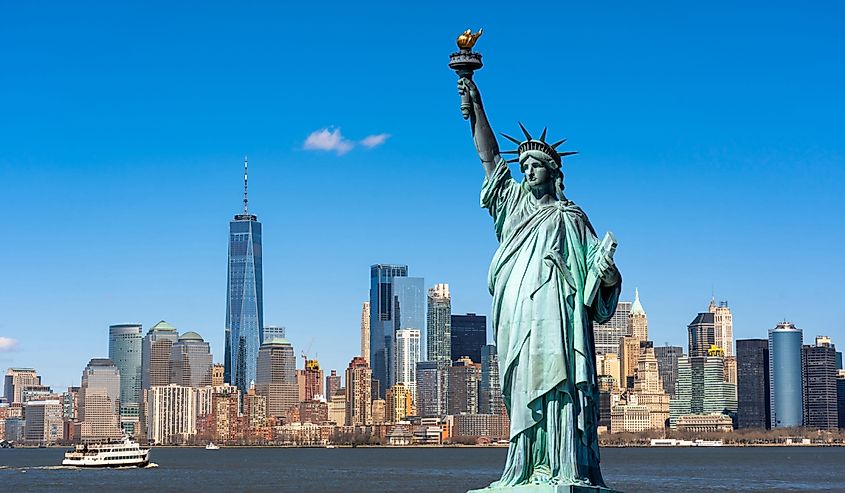 France gifted this iconic American symbol for the 100th birthday of old Red, White, and Blue. The Statue of Liberty raises her beacon high into the air at the entrance of New York Harbour, sparking hope for millions of immigrants who have arrived there by boat over the years. Lady Liberty, standing at an impressive 305 feet tall, is also a source of pride among all existing Yankees, demonstrating the "better angels" of American ideals, as well as the international synergy that helped thrust the precocious nation into a global superpower.
Kluane / Wrangell-St. Elias / Glacier Bay / Tatshenshini-Alsek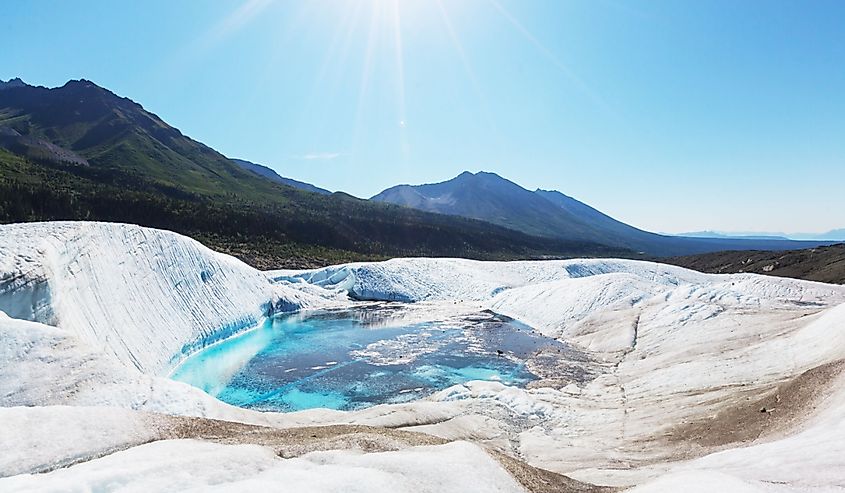 This colossal agglomeration of parks across parts of Alaska, the Yukon Territory, and British Columbia protects 37,989 square miles of marine, coastal, and inland wilderness. Kluane National Park and Reserve (Yukon), Wrangell-St. Elias National Park and Preserve (Alaska), Glacier Bay National Park and Preserve (Alaska), and Tatshenshini-Alsek (British Columbia) demonstrate nothing short of a pantheistic splendor that ranges from vast tundra to foreboding mountains to the world's largest non-polar icefield, with bears, caribou, moose, and more all roaming amidst the almost entirely undeveloped region.
La Fortaleza and San Juan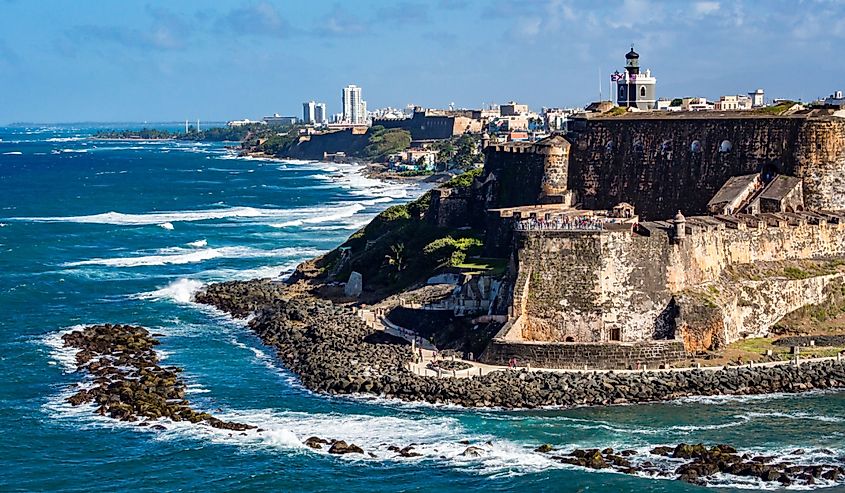 The impressive fortifications of La Fortaleza, Castillo San Felipe del Morro, Castillo San Cristóbal, and San Juan de la Cruz (El Cañuelo), and the majority of the original San Juan City Wall all represent European-style architecture utilized over hundreds of years. Between the 16th and 20th centuries, various military projects occurred to protect the Caribbean port city of San Juan, Puerto Rico, as well as its strategic bay. These sites are of particular interest today, not only for their unique craftsmanship and intense history, but because they demonstrate the transfer of technology across continents, and the adaptation to varied geographical conditions.
Mammoth Cave National Park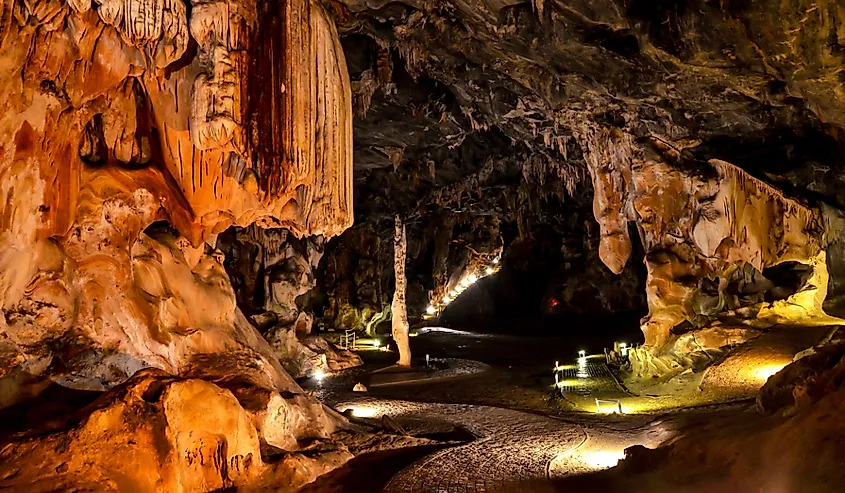 Kentucky's Mammoth Cave National Park displays the largest cave system in the world. With over 285 miles of mapped passages and at least another 80 miles beyond the defined boundary, this is truly a place for subterranean enthusiasts to adore. However, the dimensions and limestone formations are not the only things worth protecting; this national park/world heritage site is home to over 130 species of flora and fauna, making it the most biodiverse cave on the planet.
Waterton Glacier International Peace Park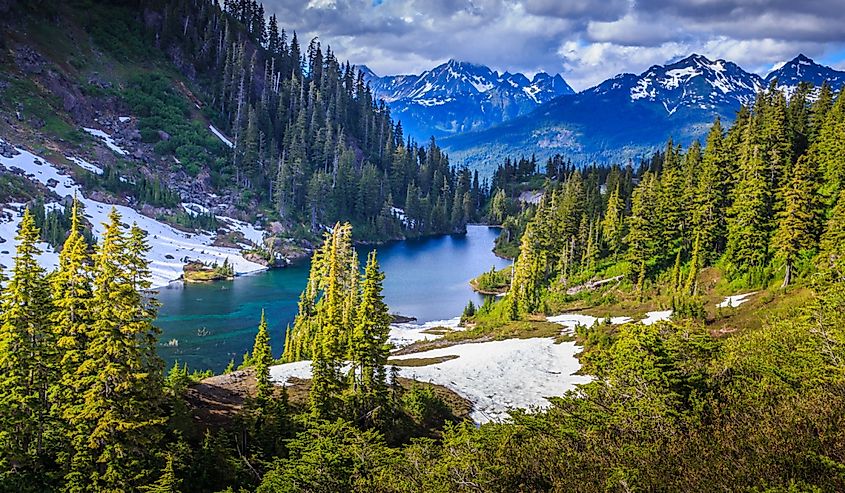 The world's first International Peace Park (formed in 1932) combines the Northern Rocky Mountain beauty of Alberta, Canada's Waterton Lakes National Park, and Montana's Glacier National Park. This area is popular amongst summer tourists for its visual alpine allure, including fields of colorful wildflowers and crisp glacial lakes, as well as its helpful infrastructure, such as the world-famous Going-to-the-Sun Road and well-blazed trails. This revolutionary agreement between nations provides an important refuge for the many quintessential mountain mammals and benevolent prairie forests that know no political borders. Waterton-Glacier is a sanctuary for threatened or endangered species such as the grizzly bear, gray wolf, lynx, bald eagle, and peregrine falcon. 
The mix of vital wilderness, diverse cultures, and eclectic history embedded in the United States is nothing short of staggering.  Thankfully, with the combined efforts of the federal, state, and international governing bodies, this substantial string of UNESCO World Heritage Sites will continue to evolve naturally, for subsequent generations of people, plants, and animals to enjoy. So whether you are visiting from afar or simply plugging away at the American dream, be sure to set aside some time to visit one of these fifteen stunning sites.