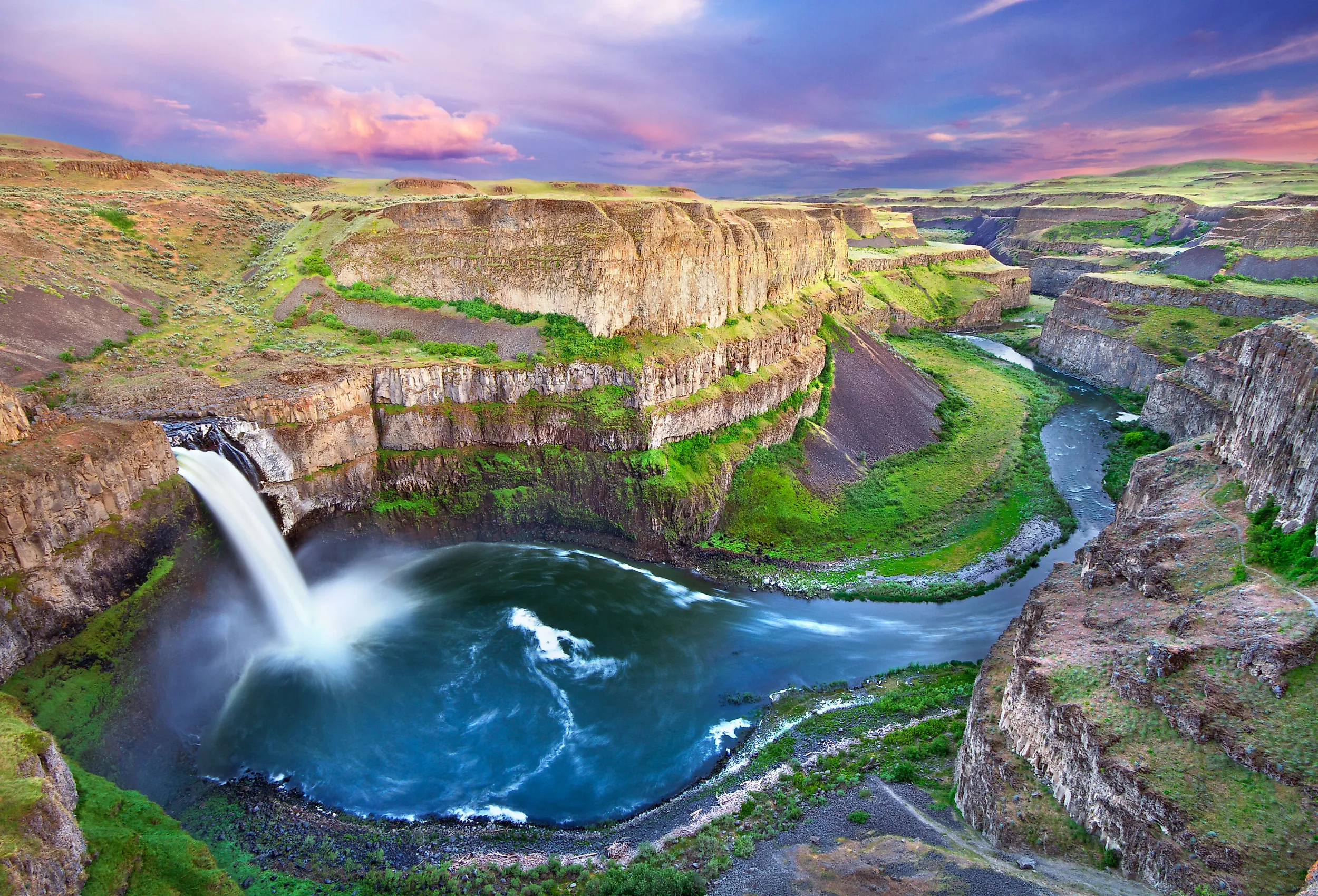 The 10 Most Picturesque Waterfalls in the US
From thunderous cascades in the Rocky Mountains to delicate thread-like chutes in lush forests, the United States is home to some of the most stunning waterfalls in the world. These natural wonders formed through erosion over time, with rivers cutting through rock beds to create dynamic and powerful waterfalls. With the mesmerizing sights they bring, these falls have also had a significant role in our environment and society—providing both food sources for wildlife and human recreational activities. So while there are plenty of majestic falls across America, these are ten of the most camera-worthy in the nation. Whether high above sea level or tucked away below ground level, these powerful treasures will take an onlooker's breath away.
Vernal Falls, California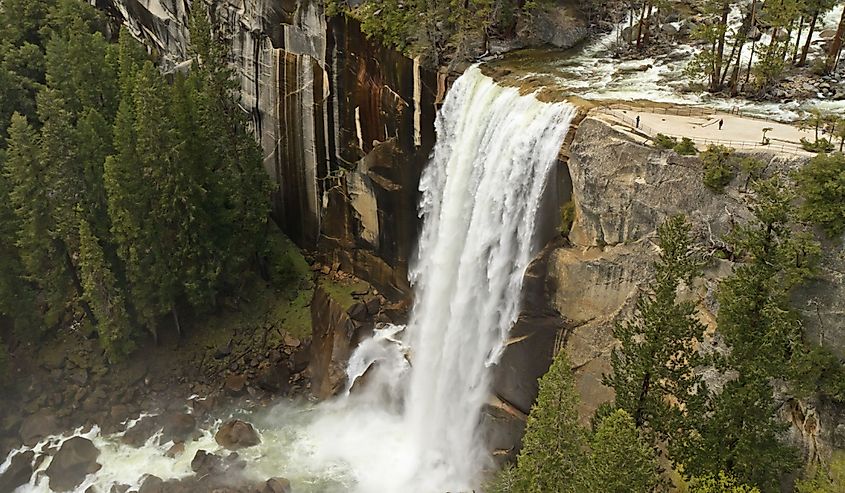 Vernal Falls is a massive waterfall located in Yosemite Valley, California. At 317 feet tall, it ranks among the most iconic and majestic waterfalls in Yosemite National Park. The falls comprise two sections, with one wide main drop known as the Lower Fall and a second vertical section with cascading water over a slanted cliff edge known as the Upper Falls. The Vernal Falls flow typically ranges from 500 to 1,200 cubic feet per second, depending on the region's seasonal snow and rainfall. Visitors can reach the falls by taking a moderate hike along the Mist Trail, an iconic three-mile path that winds through the canyon past multitudes of picturesque fauna and flora. Vernal Falls has become an icon of California's nature and beauty across time, transcending generations with its immense drama and natural power, which visitors will continue to witness for centuries.
Palouse Falls, Washington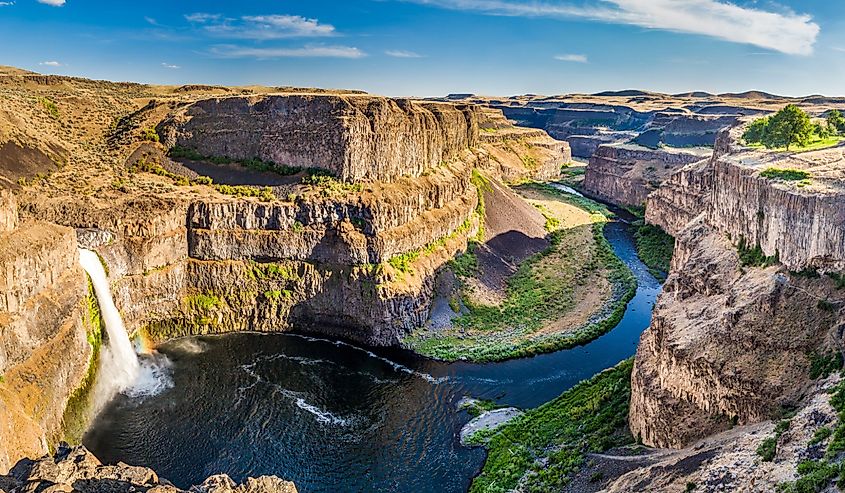 Palouse Falls is a waterfall in southeastern Washington, situated on the Palouse River, and is the official state waterfall of Washington. The falls are 198 feet high, making them one of the highest waterfalls in the region. They are accessible by following a short trail from Palouse Falls State Park, which offers camping and other recreational activities. The riverbed changes seasonally, and when water levels are low, multiple cascades form which leads to an impressive display of white water at certain times of the year. The beauty of Palouse Falls has drawn visitors for centuries, with some travelers referring to it as the "Niagara of the West" due to its size. Situated amongst native grasses and shrubs in a wildfire-altered landscape, Palouse Falls is not only beautiful but also historically significant, as its land was once home to Native American tribes like the Nez Perce, who used it for fishing, hunting, and trading.
Havasu Falls, Arizona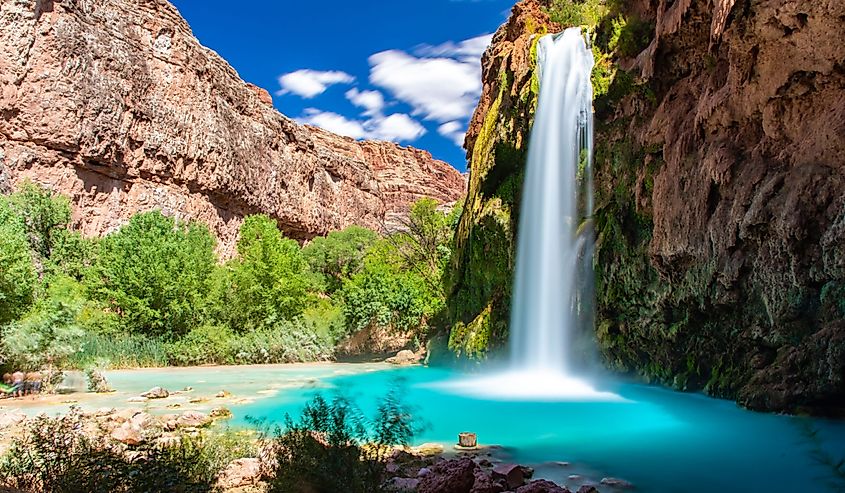 Havasu Falls, located on the Havasupai Reservation in Arizona, is a stunning oasis in the Grand Canyon that features a spectacular waterfall created by an underground fault system. The aquamarine pool of water at its base makes it especially appealing to visitors. The origin of its name comes from the Indigenous tribe living there, who call it Havasu (which means blue-green) plus pai (which means people). The falls plunge almost 100 feet into a brilliant blue-green pool. Visitors can swim, relax and enjoy the sun in one of the most beautiful places on earth. Numerous native wildlife species live in and around Havasu Falls, including mule deer, bobcats, and lizards. Havasu Falls is accessible only via a 10-mile hike or helicopter ride and offers campsites right next to its namesake falls. Although it is not easy to get there, those who make their way experience a serene and breathtaking view that is not available anywhere else in the world.
Multnomah Falls, Oregon
Multnomah Falls is a stunning and picturesque waterfall in Oregon. It is the tallest waterfall in the state, with a total height of 620 feet. The falls plunge from its origins on Multnomah Creek into the Columbia River Gorge below. Multnomah Falls boasts two distinct drops over basalt cliffs; an upper fall that reaches 542 feet and lower falls stretching to 69 feet. The spectacular beauty of Multnomah Falls has long attracted tourists, photographers, and sightseers alike. Depictions of the roaring cascade are often used in merchandise to represent Oregon's Columbia River Gorge area. In addition to its beauty, visitors can explore historic trails built in 1914 by the famous lumber baron Simon Benson. Tourists also enjoy the Benson Footbridge, which crosses over 105 feet above the base of lower Multnomah Falls and Benson Lake between the two tiers of the falls. In all, visiting Multnomah Falls is an experience that combines breathtaking scenery with a remarkable history. It is truly one of Oregon's most extraordinary natural gifts to behold.
Yellowstone Upper and Lower Falls, Wyoming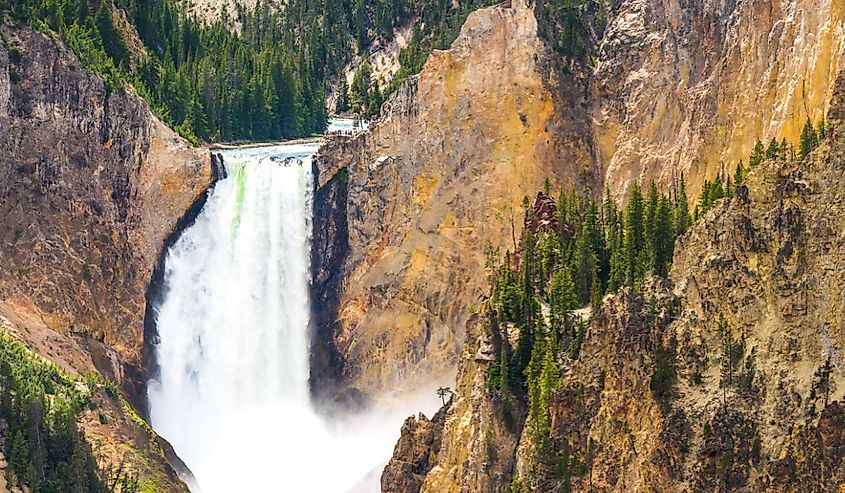 Yellowstone Upper and Lower Falls are two of the most spectacular waterfalls in Wyoming, located within the boundaries of Yellowstone National Park. The Upper Falls stands at 109 feet, while the Lower Falls drops an impressive 308 feet. The Yellowstone River creates two cascades, and one can appreciate its breathtaking beauty from multiple points along the Grand Canyon of Yellowstone. In addition, both falls offer stunning views of the canyon below, filled with towering cliffs. A popular attraction is Uncle Tom's Point, which provides terrific vistas over both falls, particularly during sunrise or sunset when the orange hues emanating off the limestone rock formations create a brilliant display. Overall, these natural wonders offer a truly awe-inspiring experience for all visitors to Yellowstone National Park.
Bridal Veil Falls, Alaska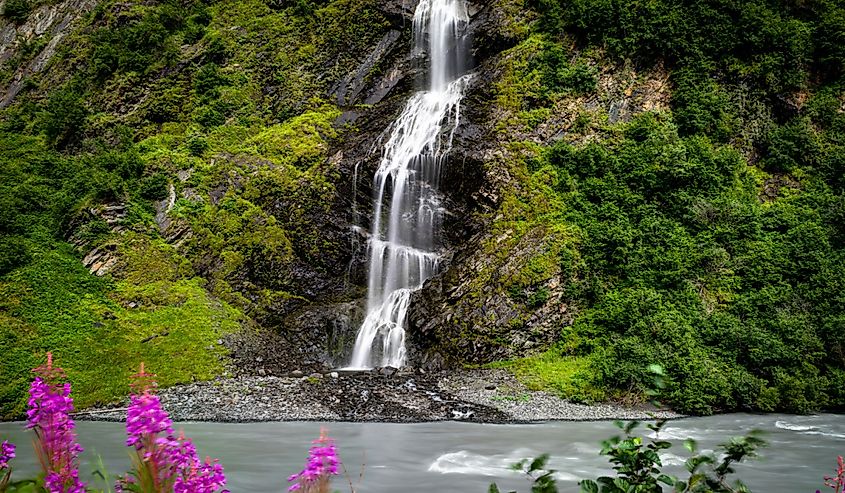 Bridal Veil Falls is a waterfall located in the Alaska Chugach National Forest. Bridal Veil stands over 600 feet tall and is a hot spot for ice climbing; it is one of the largest waterfalls in the state. It rises above a deep-cut gorge cut by the Lowe River as it flows down from glacier-capped peaks. The river, fed by melting snow, creates impressive amounts of water surging through the two tiers of Bridal Veil Falls. The falls are named "Bridal Veil" after an incredible optical illusion that occurs when conditions are perfect; its mist reflects rainbow prisms throughout the face of the rock wall behind it, resembling a veil draped down from wedding headgear. Due to its captivating beauty and proximity to Anchorage, Bridal Veil Falls has become one of Alaska's most popular tourist attractions; visitors come year-round for viewings and to hike along its trails. In the winter, it freezes over for an impressive tower of ice.
Niagara Falls, New York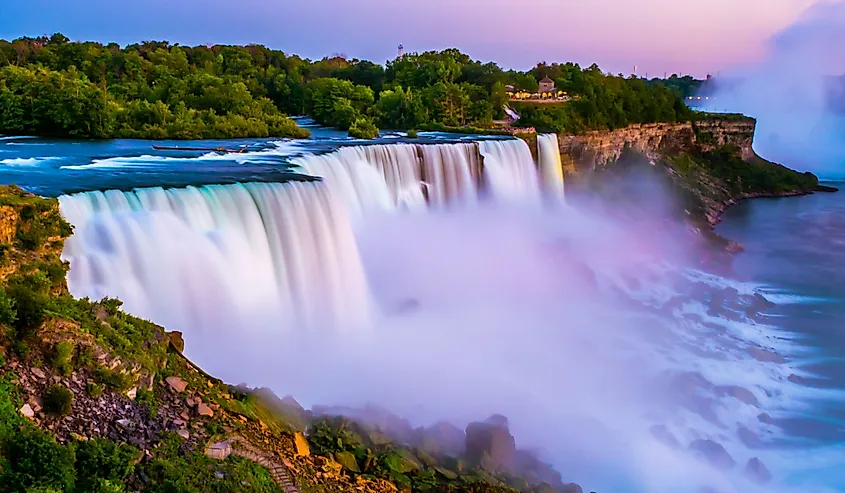 Niagara Falls is a set of three waterfalls located along the US-Canada border, straddling the state of New York and the province of Ontario. Horseshoe Falls, the Canadian Falls, is the largest and most jaw-dropping of these waterfalls, which plunges 188 feet over the Niagara Gorge. Its width measures more than 2,000 feet in width at its peak flow. The American Falls is also an impressive 110 feet tall and 850 feet wide. The power of Niagara Falls is its most prominent feature with over 6 million cubic feet flowing over the crestline every minute. This flow has allowed it to become an essential source of hydroelectricity in both countries. Powered by the massive energy yielded from falling waters, the falls have generated electricity and provided local communities with a reliable renewable energy source since 1961.
Niagara Falls also serves as a tourism destination. It has attracted tourists worldwide since its discovery by French priest Father Hennepin in 1678. Every year, millions of visitors flock to the falls to witness its natural beauty and participate in recreational activities like boat rides and sightseeing tours. The unique geological formation of Niagara Falls has made it one of the most beautiful natural wonders in North America. Its distinct horseshoe shape and majestic height make for an awe-inspiring view that continues to captivate guests from around the globe.
Cumberland Falls, Kentucky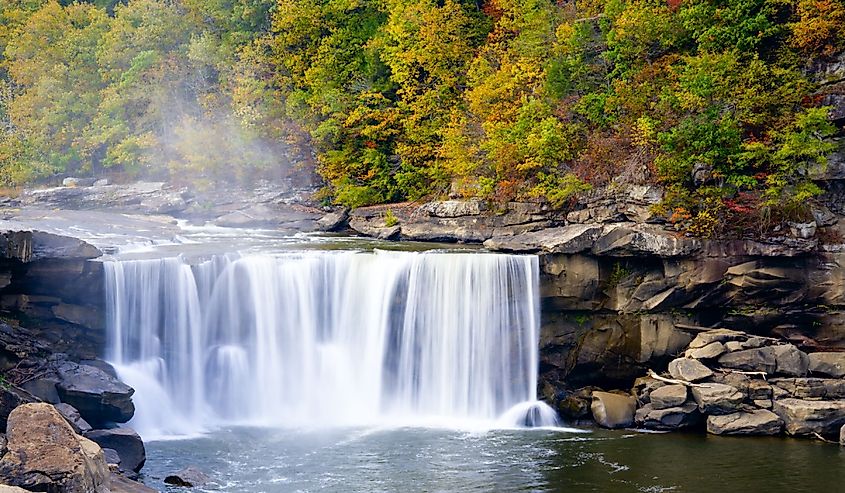 Cumberland Falls, located in southeastern Kentucky, is a natural attraction renowned for its impressive beauty and world-class hiking trails. The site is home to the only moonbow in the Western Hemisphere, visible most nights when there is ample cloud coverage and a bright full moon in the night sky. In addition to the waterfall itself, Cumberland Falls feature various recreational activities such as camping, fishing, hunting, and rock climbing. The area's rich biodiversity and wildlife conservation efforts are essential to observe when visitors approach the falls. Numerous species of fish and birds in nearby streams, ponds, rivers, and lakes inhabit the surrounding terrain. Furthermore, Cumberland Falls State Park is a protected habitat for threatened or endangered species. From its awe-inspiring vistas to its wide array of activities for all ages, Cumberland Falls provides tourists with an unforgettable experience that many will remember forever.
Ruby Falls, Tennessee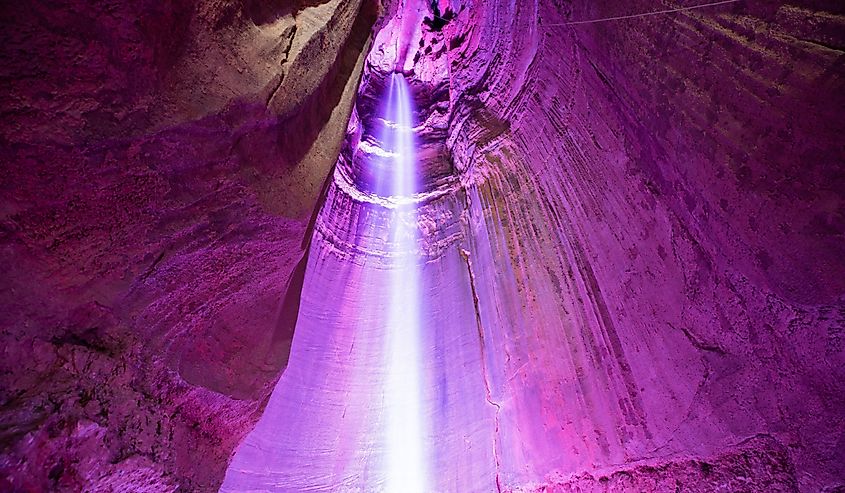 Ruby Falls is a 145-foot waterfall situated inside Lookout Mountain. Founded by Leo Lambert and named after his wife Ruby in 1928, the falls are accessed via an elevator descending 260 feet below ground level to the cave entrance. Entering the cave provides visitors with an opportunity to witness millions of years of erosion through unique limestone rock formations found within. Ruby Falls is a desirable tourist hotspot near Chattanooga, Tennessee, known for its stunning beauty and extensive recreational activities such as boat rides into the cave, guided tours, and zip lining across the top of the waterfall. In addition, its proximity to downtown Chattanooga makes it a popular destination for locals and tourists looking for a day out in nature to take in its geological wonders. Hailed as one of the must-see attractions in Tennessee, Ruby Falls continues to captivate visitors from around the world who marvel at its timeless beauty.
Whiteoak Canyon Waterfalls, Virginia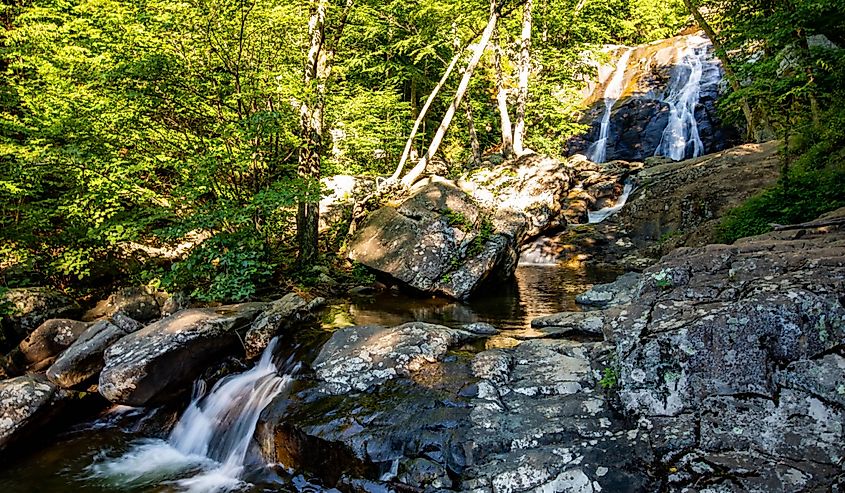 Whiteoak Canyon Waterfalls, located in Luray, Virginia, is a popular tourist destination due to its cascading waterfalls and remote forest settings. The area consists of several distinct waterfalls ranging from 35 to 86 feet in height. Many of the falls are visible from the main trails, and all have a variety of exciting swimming holes. The area is part of the Shenandoah National Park and is home to a diverse selection of plant life and wildlife. It also offers excellent hiking opportunities for those seeking to explore the natural environment. For many visitors, Whiteoak Canyon Waterfalls is an opportunity to experience nature up close, with amazing views of the forest canopy above and the incredible sounds of rushing water below. Whiteoak Canyon Waterfalls has become especially popular over recent years due to its easy accessibility by car or foot and its many activities. Visitors can enjoy guided hikes, camping, rock climbing, fishing, picnicking, photography, and more at this scenic destination. Multiple trails traverse through the woods, allowing hikers to view several spectacular waterfalls while taking in the surrounding scenery.
Waterfalls hold a special position in the environment, providing both sustenances to wildlife and myth-inspiring locations to humans. From the gentle flows of rivers to the thunderous cascades of mountains, the United States is home to some of the most beautiful waterfalls in the world. Filled with magnificent displays of nature's power and beauty, these ten waterfalls will captivate your senses, no matter which one you decide to explore. So go ahead and let their radiance transport you on an unforgettable journey.