Nashville is the home of country music and is sometimes called the music city of the United States. Nashville is the capital of Tennessee, and it is located on the Cumberland River in Davidson County. It has a population of about 654,610 according to 2015 census and a total area of 527.9 square miles. Apart from being a music city, Nashville is a home to many tourist attraction sites ranging from museums to state parks to beautiful architectural design of downtown Nashville. The culture of the city is embedded in the architecture of the buildings and has been evolving around the Vanderbilt University community which has further influenced its development.
10. Radnor Lake State Park
Radnor Lake State Park is a 1,332-acre conservancy located in Oak Hill on the outskirts of Nashville city. The efforts to conserve Radnor lake environment began in 1914 by Louisville and Nashville railroad company but it was officially purchased by the state government in 1973 and immediately made a Class II State Natural Area. It is a beautiful park with more than six miles of trail roads for viewing of wildlife and photography. Camping in Radnor Lake State Park is restricted including human activities like fishing in the lake or sports hunting. The Conservancy has unique species of birds of prey (owls), mammals (otter), reptiles, amphibians, and plants.
9. Downtown Nashville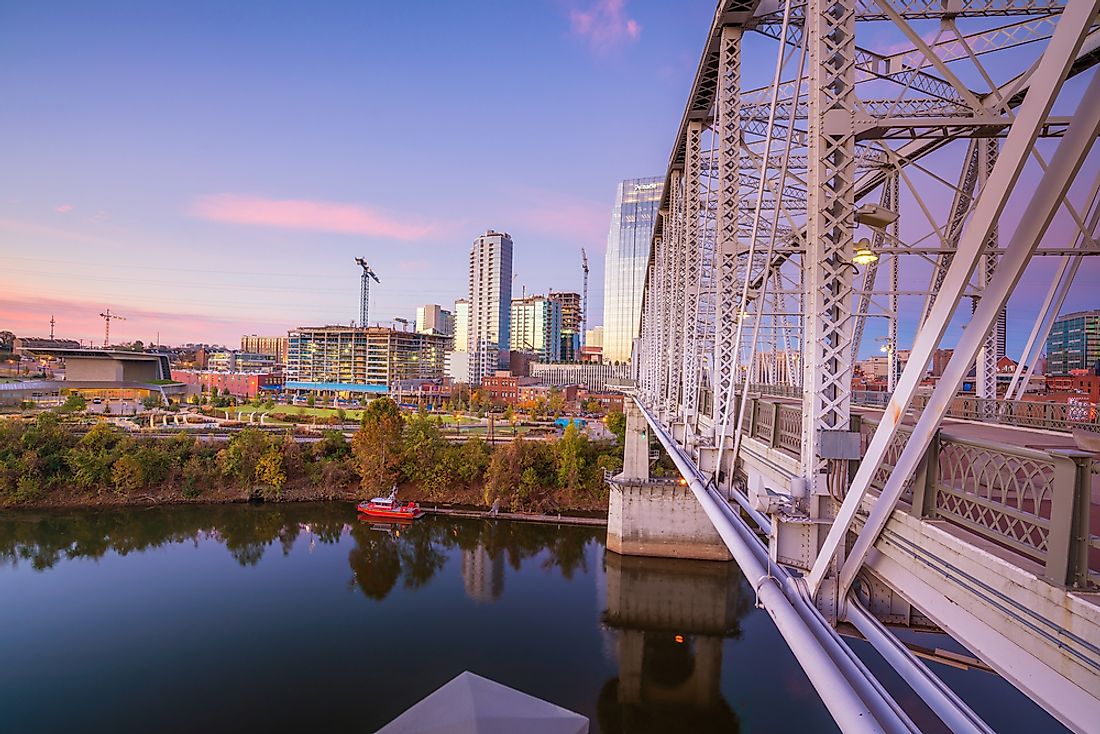 Downtown Nashville is an architectural center. The Country Music Hall of Fame and Museum is complete with live performances and musical exhibitions which make Nashville an entertainment destination. The towering AT&T building is visible from a distance making Nashville a true architectural center. There are other numerous entertainment centers, art centers, sports centers and museums all within downtown that visitors can go for sightseeing and other activities.
8. Shop the Flea Market
The Flea Market is a trade fair organized by the market to provide the space to vendors who want to sell or barter merchandise. The bazaar is held periodically which may either be weekly, monthly or even annually depending on the location. The merchandise on sale during the trade fair include antiques, used items, collectibles, and cheap goods but pirated movies and music, and illegal brands of electronics, clothes, and accessories are restricted from being sold in the flea market. The Nashville Flea market is among the top ten flea market in the US receiving between 800 and 1200 dealers and vendors from over 30 states, who offer their merchandise to the public every month. This iconic event has been operational for half a century attracting about 0.5 million visitors annually.
7. Printer's Alley
Printer's Alley is a famous passageway with numerous clubs located between Third and Fourth Avenues. The alley in early 20th Century began as a publishing district with ten printing shops and two major newspapers. The night clubs in Printer's Alley were established back in the 1940s when the sale of liquor for on-site consumption was restricted. Currently, there are several major clubs such as Jimmy Hyde's Carousel Club which is a home to many jazz and country musicians in Nashville.
6. Jack Daniel's Distillery
Jack Daniel's Distillery is a proud home of Tennessee Whiskey which is located in Lynchburg, Tennessee at a beautiful Stillhouse Hollow. The Stillhouse hollow contains spring water flowing from the bottom of limestone caves which is essential in whiskey distillation because it does not contain iron. The distillery hosts a large number of visitors every day with tours organized several times in a day. The tours are conducted by tour guides, and the visitors have an option to take a bus during the tour to save time. Special premium whiskey tasting sessions can also be organized on request by the visitors.
5. Walking Tour
Nashville City Tours are arranged for visitors who want to have a taste of the city's diversity ranging from music history to food. The Walk Eat Nashville tour is organised from Thursday through Saturday for lovers of food and those who want to meet with chefs behind the scenes. Visitors who would like to learn the country music legends, Music City Legends Tour delivers exactly that in a more interesting way. People who are 21 years and above looking to have a party should not miss the Music City Pub Crawl which gives a tour of around six bars in a night. The walking tours are open to both locals and visitors to Nashville but the number of people per visit is usually restricted.
4. Shop Hillsboro Village
Hillsborough Village is a four-block radius neighborhood located 3 miles from Nashville downtown and contains a collection of shops. The village was established in the 1920s as a streetcar suburb, but currently, it holds boutiques, used bookstore, restaurants, and art galleries. The restaurants in Hillsborough Village have unique food and entertainment sessions that stretch the evening and make the stay enjoyable. The boutiques found in Hillsboro Village only sell vintage clothes which are from renowned brands only. The Belcourt Theatre opened in 1925 is the center of entertainment providing unique classical movies.
3. Ryman Auditorium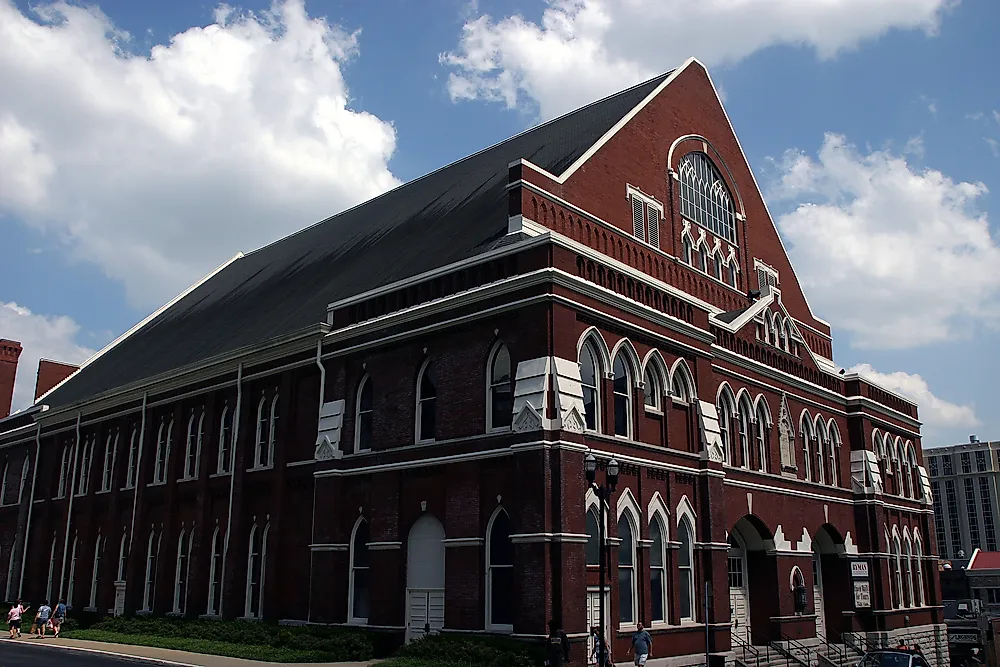 Ryman Auditorium is a large performance venue with the capacity of 2,362 seats located in Nashville City. Ryman Auditorium is a historic building which was officially opened in 1897 for use by Union Gospel Church and in 1943 to 1974 it was changed to Grand Ole Pry. Currently, Ryman Auditorium is owned and managed by Gaylord Entertainment Company and is listed as a national historic place. It is historically respected because of its role in hosting most country music performances a role it still holds to date.
2. Museums
Nashville has a rich history especially connected to country music heritage that has been part and parcel of the city. Country Music Hall of Fame and Museum located in SoBro district has a large collection of country video clips and recorded music and also live performances. Bicentennial Capitol Mall State Park is a beautiful park embodying the representations of the counties in Tennessee, rivers, and history of Tennessee. Belle Meade Plantation is a representation of the history of slavery and has a 150-year-old house. There are other museums within Nashville which include Belmont Mansion, Checkwood Botanical Garden and Museum of Art, and Battle of Franklin Trust among others.
1. Bar hopping (honky-tonking)
Bar hopping is the tradition loved by the natives of Nashville and visitors. It involves moving from one club to another for a drink but not necessarily. The fun in bar hopping or pub crawl is covering as many clubs in a night as possible. It is the culture that makes Nashville City an excellent destination for bachelor parties and birthday parties.