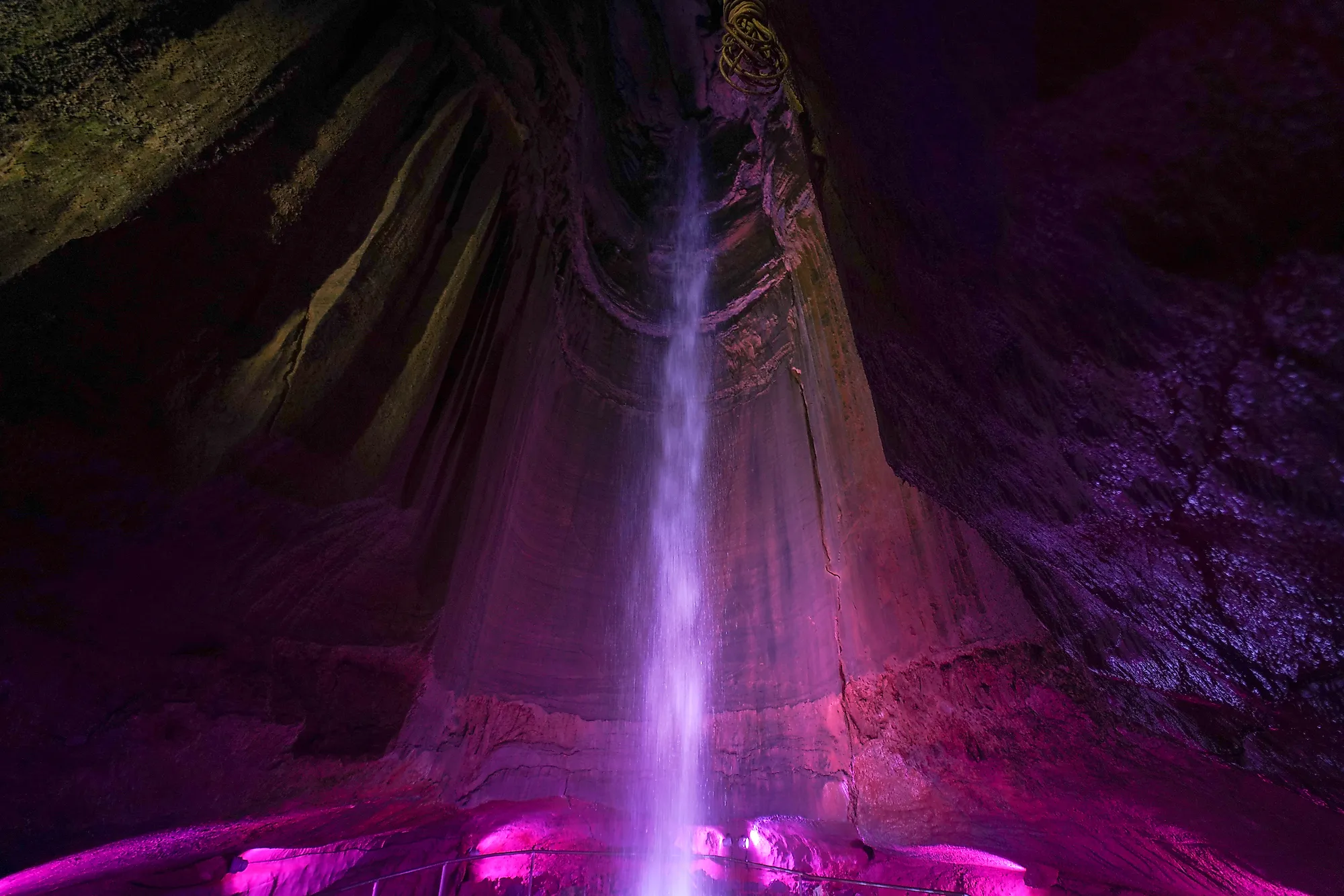 Ruby Falls is a 145 ft waterfall, located more than 1,120 ft beneath the surface of Tennessee's Lookout Mountain. The site is located just a few minutes south of Chattanooga, and a few minutes north of the Georgia border. The falls were discovered in 1928 by Leo Lambert, who named them after his wife, Ruby, and opened them up as a public attraction two years later. The subterranean spectacle, which sparkles amidst the stalagmites and stalactites, has been a popular destination ever since, drawing in tourists with its inimitable beauty. Because these falls are underground, sheltered from the elements, Ruby Falls is a rain-or-shine attraction.
Visiting The Ruby Falls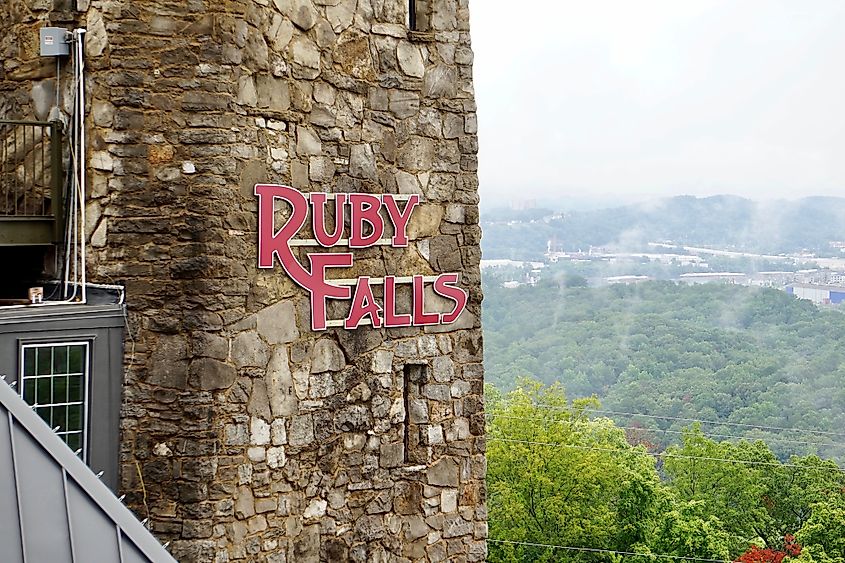 Ruby Falls attracts thousands upon thousands of visitors every year, and it's easy to understand why. Not only are the falls enchantingly beautiful, but they're also conveniently accessible to the public. Located roughly within a ten minutes' drive southwest of central Chattanooga, all it takes to experience the magic of the falls from the city is a vehicle and an open afternoon. That said, the falls are also easily accessible from Knoxville, Nashville, and even cities like Atlanta, Georgia and Huntsville, Alabama, making this a worthwhile destination for a sizable portion of the American South's population. 
Attractions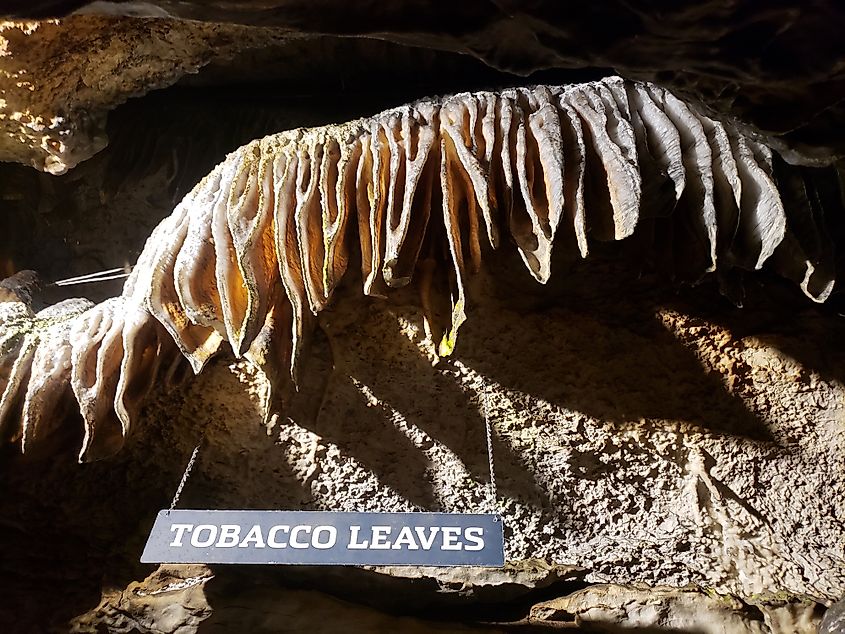 The real appeal of Ruby Falls, and that of its mountain home, is its awe-inspiring natural beauty.The cave's elevator will take you down into one of the deepest commercial caves in the world. From there, visitors have the chance to glimpse a towering underground waterfall, some 30 million years in the making. Dozens of breathtaking rock formations dating back to ancient times can be found within the caverns as well. After a descent deep into the Earth, it will be back up to the surface, where an engaging visitor center and plenty of fun atop the mountain await.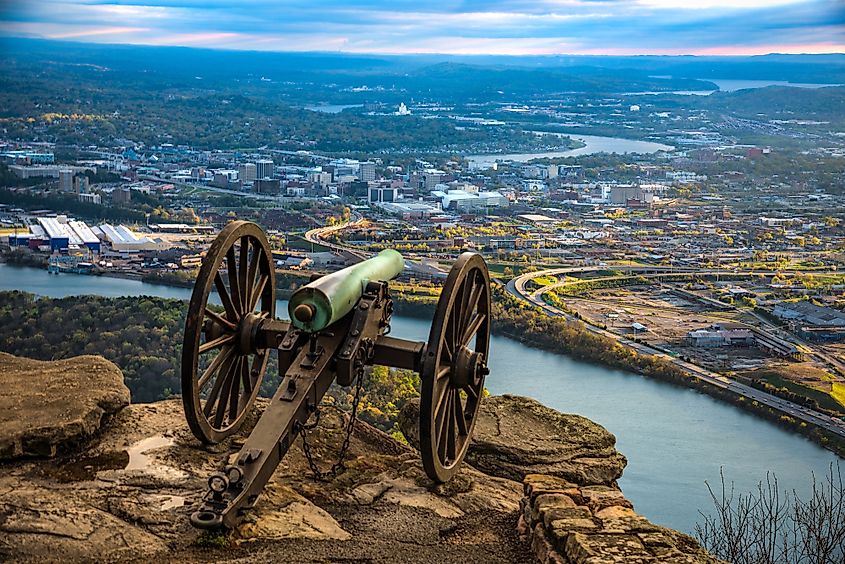 Given that Ruby Falls had no natural entrance until it was excavated by Leo Lambert and his team in the 20th Century, it is pretty much devoid of plant and animal life. At one point, in 1963, a trio of catfish were released into the pool at the bottom of the falls. Unfortunately, the fish died less than two weeks later, unable to handle the high mineral contents of the water. Still, while the falls might disappoint zoologists, they're a geologist's dream. Within them, one is surrounded by dozens of spectacular rock formations, each of which is many millions of years old.
Tourist Safety 
Located deep in a sprawling, subterranean maze, it should come as no surprise that Ruby Falls has plenty of hazards. Indeed, slips, leg injuries, and getting lost all make the list of things visitors need to remain cognizant of. That said, the diligence and experience of the falls' tour guides render it perfectly safe for cautious, responsible visitors. So long as you follow your guide's instructions and play by the rules, you'll be in good shape. It is, however, worth noting that, while the falls' waters are technically safe to drink, their high magnesium concentrations make them into a natural laxative. Therefore, if you drink the water, don't complain to us, because you've been warned beforehand