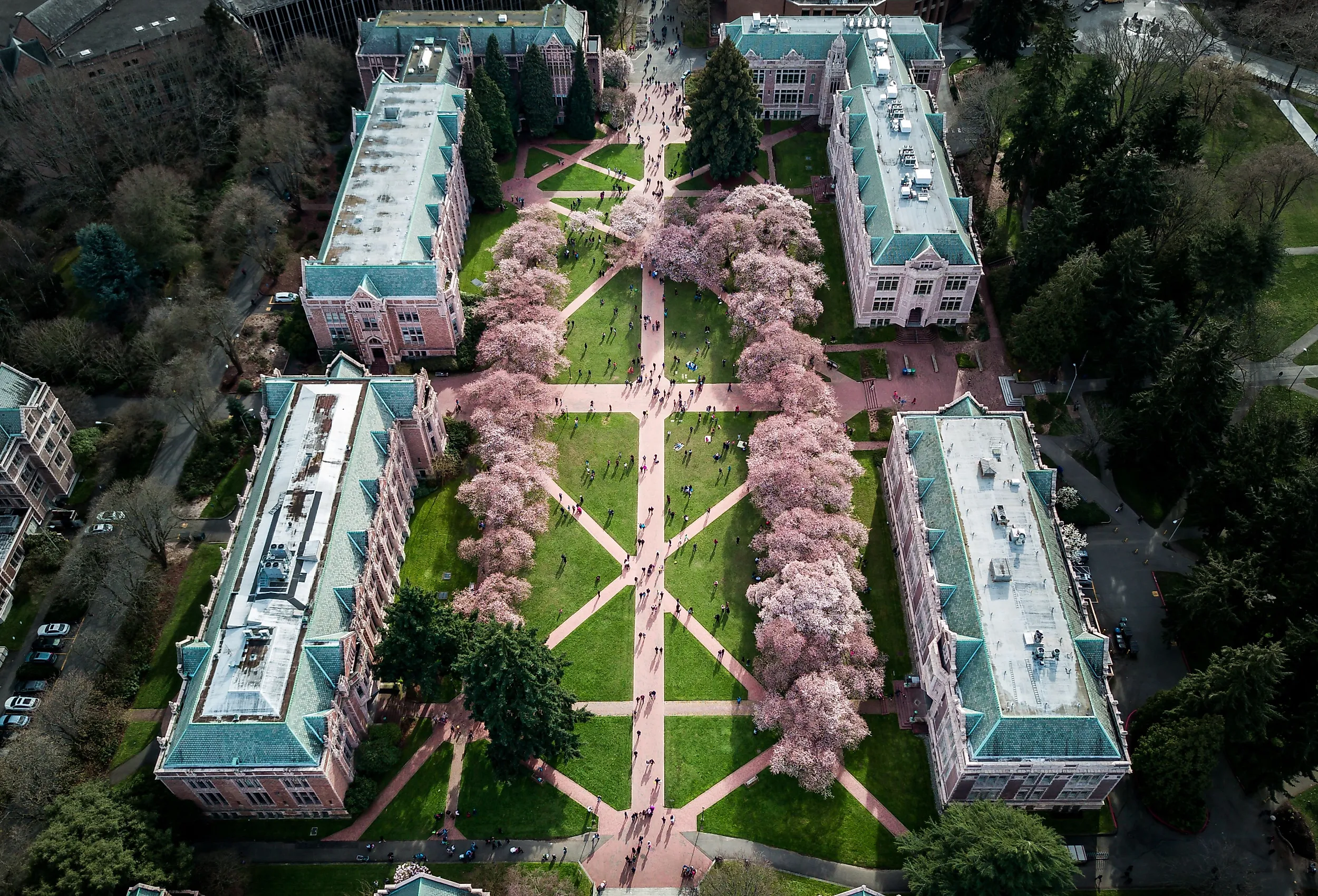 Best College Towns In Washington
Home to many world-class higher educational institutions, the United States is a favored destination for scores of international students. However, selecting the best college or university depends not only just the institute's academic proficiency but also on its geographical location. In fact, the locale that a student chooses to study has a profound impact on them as it significantly influences the experiences that they would have in their college life and, to some extent, their career choice. Washington, the 18th largest and 13th most populous US State, located in the Pacific Northwest region, houses several notable college towns which offer a variety of facilities and experiences that appeal to both students and residents alike.
Pullman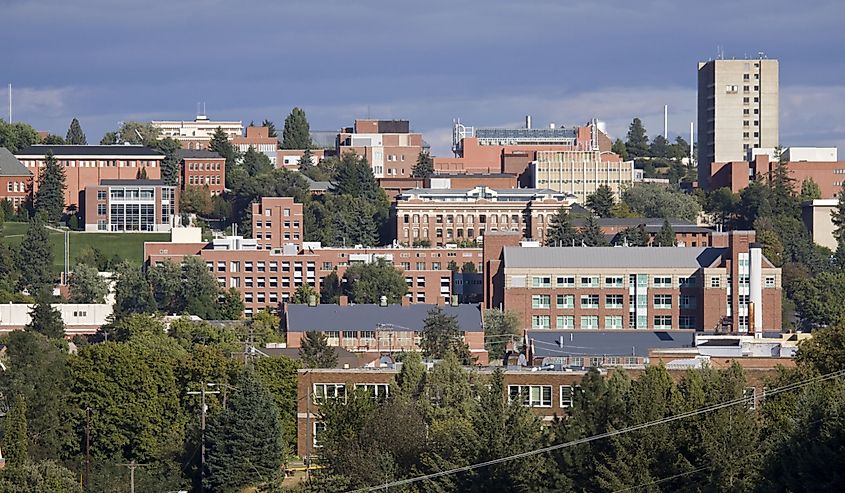 Whitman County's biggest city Pullman is situated within the fertile rolling hills of Pacific Northwest's Palouse region in the southeastern portion of the state. Named after George Mortimer Pullman, an American industrialist, the city houses the flagship campus of Washington State University, one of the Western United States' oldest land-grant universities. With a total enrollment of 28,581 students, the university is considered the state's second-largest higher education institution, offering over 200 fields of study via its 12 colleges and a graduate school. Located within the rolling topography of the Palouse region, the university's Pullman campus is intimately connected to the entire area and plays a dominant role as the largest employer in both the city and Whitman County.
Due to its scenic natural environment, family-friendly lifestyle, affordability, the quality of Pullman High School, and above all, the presence of Washington State University, Pullman has been selected as the "Best Place to Raise Kids" in the entire state. Students are also attracted by the quality of delicious cuisines available in some of the city's famous restaurants, like South Fork Public House, Black Cypress, and Oasis Teriyaki and Pho. In addition, Pullman houses the WSU Museum of Art, Charles R. Conner Museum of Natural History, Sunnyside Park, and the Bill Chipman Palouse Trail. Moreover, the city hosts the annual National Lentil Festival every August, attracting thousands of merrymakers to enjoy live music, handicrafts, sporting events, and many lentil-themed cuisines.
Walla Walla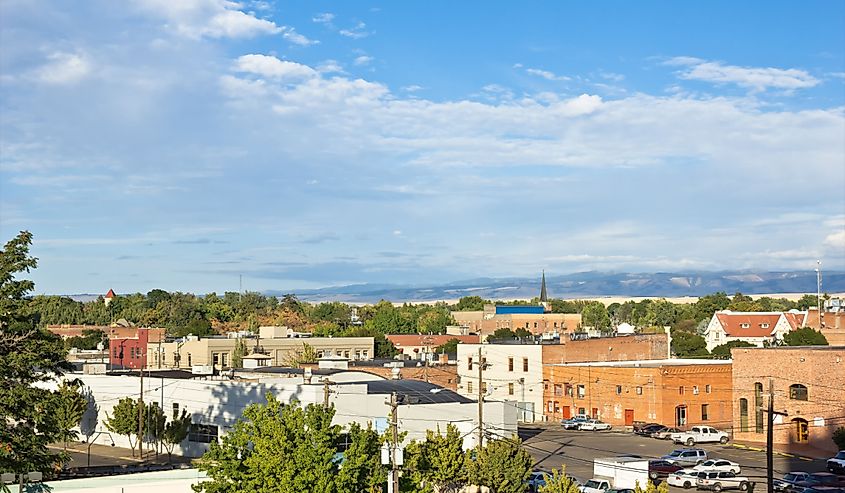 The biggest city and county seat of Walla Walla County, Walla Walla, is situated in the Walla Walla Valley in southeastern Washington, approximately four and a half hours from Seattle. Encircled by luxuriant vineyards and beautiful countryside, the city is served by Whitman College, Walla Walla Community College, and Walla Walla University. Downtown Walla Walla contains an array of vintage shops, bookstores, restaurants, and cafes. Moreover, the city is a haven for wine connoisseurs who love to visit the several local wineries and tasting rooms scattered throughout the town.
Besides being an oenophile's paradise, Walla Walla is rich in history and houses many significant landmarks like the Whitman Mission National Historic Site, Fort Walla Walla Museum, Marcus Whitman Hotel, etc. Cultural enthusiasts can enjoy the Walla Walla Chamber Music Festival, Walla Walla Symphony, and a summer Shakespeare festival at the GESA Powerhouse Theatre.
Bellingham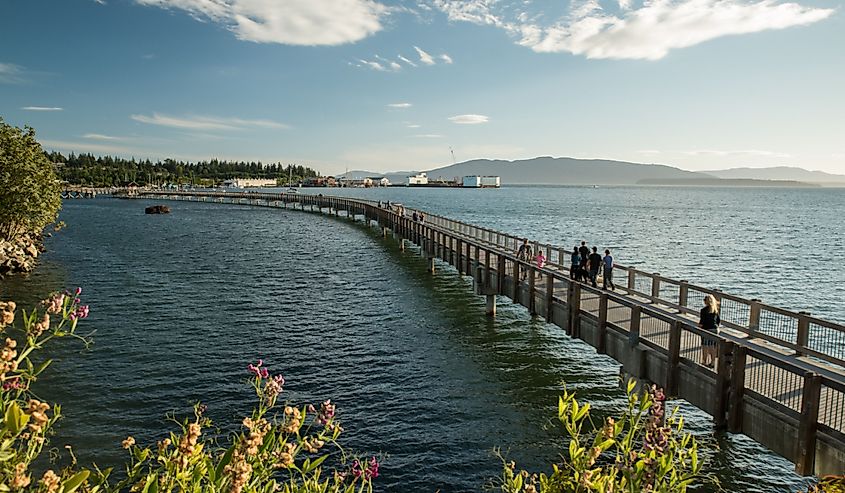 Placed about 21 miles south of the Canada-United States border and between Vancouver and Seattle, Bellingham, overlooking Bellingham Bay and several San Juan Islands, is the county seat and most populous city of Whatcom County. This colorful city houses the main campuses of Western Washington University, Whatcom Community College, and Bellingham Technical College. Established on February 24, 1893, as the New Whatcom Normal School, Western Washington University is the northernmost university in the contiguous United States. Besides offering many undergraduate and postgraduate academic degrees, the 215-acre Bellingham campus of the university is home to the 38-acre Sehome Arboretum and a collection of various noteworthy outdoor and indoor public art sculptures.
Outdoor lovers can enjoy the scenic walking trails and a series of waterfalls in Whatcom Falls Park, skiing activities at the Mount Baker Ski Area, mountain biking at Galbraith Mountain, spectacular cliffside views at Bellingham Chuckanut Drive, and many recreational activities at Larrabee State Park, Lake Padden, Lake Samish, and Lake Whatcom. Downtown Bellingham features numerous live music venues, a thriving arts community, special shops, galleries, and locally-owned dining spaces. Residents and tourists can also actively participate in the Bellingham Bay Marathon, Bellingham Highland Games & Scottish Festival, LinuxFest Northwest, Bellingham Farmers Market, and the Bellingham Festival of Music.
Spokane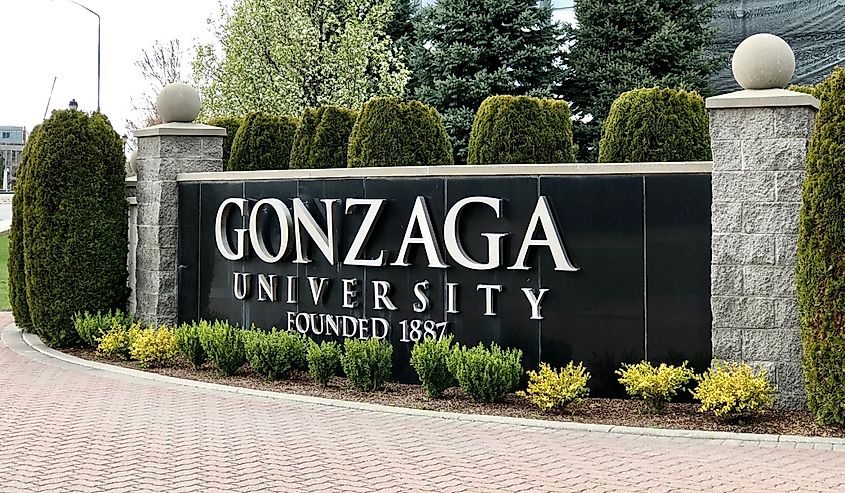 Nicknamed "Lilac City," Spokane, the economic and cultural center of the Spokane Metropolitan Statistical Area is located adjacent to the Selkirk Mountains along the banks of the Spokane River. This thriving city is home to several renowned higher education institutions, including Gonzaga University, Whitworth University, Spokane Community College, and Spokane Falls Community College. Even though the main campuses of state-supported universities are not located within the city limits, the University District, just across the Spokane River, houses the satellite campus of Eastern Washington University, the WSU Health Sciences Spokane campus, and an international branch campus of the Mukogawa Women's University.
With several stunning riverfront parks, energetic downtown, and closeness to dozens of lakes and mountains, Spokane has something for everyone. The city has numerous museums, including the Northwest Museum of Arts and Culture, Mobius Science Center and Kid's Museum, Jundt Art Museum, the Bing Crosby Memorabilia Room, etc. Locals and visitors alike can also enjoy the many annual festivals, such as the Lilac Bloomsday Run, Spokane Hoopfest, Spokane International Film Festival, Spokane County Interstate Fair, etc., that are held in the city at different times of the year.
Ellensburg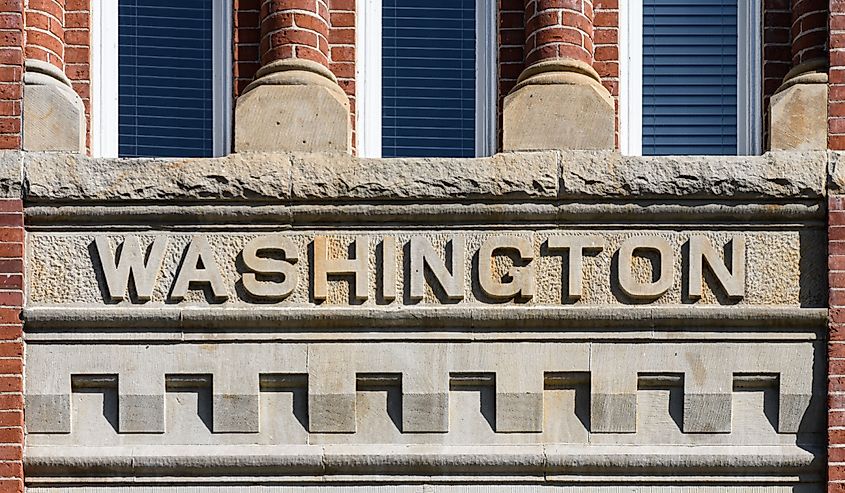 Initially named "Ellensburgh" after the spouse of John Alden Shoudy, the town's founder, Ellensburg, the county seat of Kittitas County, is located along the Yakima River at the heart of Washington. Ringed by rolling hills and expansive agricultural areas, Ellensburg is home to the principal campus of Central Washington University. Established in 1891 as Washington State Normal School, Central Washington University comprises four broad divisions: President's Division, Operations Division, Business and Financial Affairs Division, and Academic and Student Life Division. There are four colleges within the university's Academic and Student Life Division.
One of Washington's foremost historic districts, the historic downtown of Ellensburg features a selection of locally-owned shops, restaurants, old-school architecture, and various performing and visual art spaces. Several local art museums and galleries, like the Clymer Museum and Gallery, Kittitas County Historical Museum, Goodey Gallery, etc., are located in the city. One can also experience the city's many festivals and community events, such as the Ellensburg Farmers Market, Winterhop Brewfest, Ellensburg Rodeo, Dachshunds on Parade, and Buskers in the Burg. The adjacent Yakima River Canyon is a haven for adventure enthusiasts offering an array of recreational activities like fishing, hiking, and bird watching.
Seattle
Being the most populous city in both Washington and the Pacific Northwest region, the seaport city of Seattle might not instantly come to one's mind when one thinks of the college towns in Washington. Nevertheless, the state's chief city and one of the nation's largest and most affluent urban centers is home to many reputed higher educational institutions, including the University of Washington, Seattle University, Seattle Pacific University, North Seattle College, South Seattle College, Seattle Central College, and City University of Seattle. Founded as Territorial University on November 4, 1861, the University of Washington is one of the Pacific Coast's oldest universities. This public research university receives more federal research and development funding compared to any other public institution. Its programs in neurology and neurosurgery have earned special merits, helping the university to consistently rank among the leading medical research institutions in the country.
Well-known for its iconic Space Needle, Pike Place Market, and vibrant tech scenes, Seattle also serves as a regional center for performing arts. One can get a taste of the city's colorful culture by exploring the Burke Museum of Natural History and Culture, Henry Art Gallery, Seattle Asian Art Museum, Northwest African American Museum, etc. Seattle also offers countless outdoor recreation opportunities, including visiting different parks like Myrtle Edwards Park, Gas Works Park, Discovery Park, Lake Union Park, Klondike Gold Rush National Historical Park, etc., and witnessing the entire area's spectacular natural beauty.
Tacoma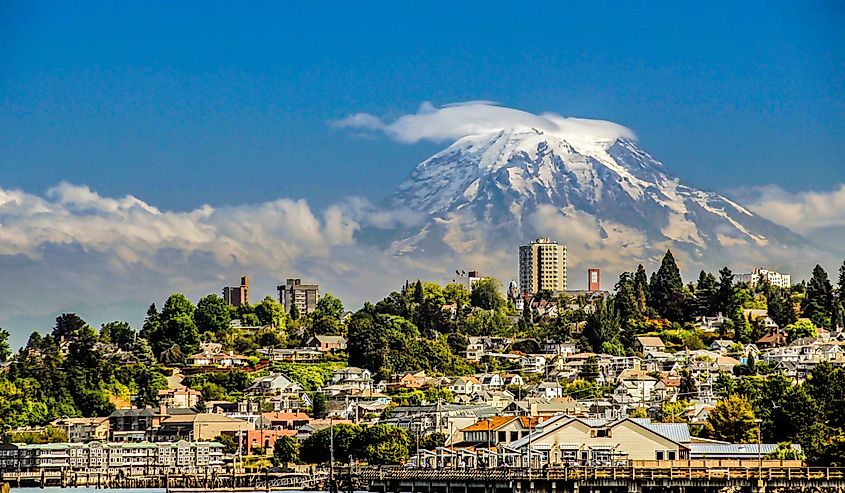 Nicknamed the "City of Destiny," Tacoma, located 32 miles southwest of Seattle, is the state's third-largest and the Puget Sound area's second-largest city. This bustling port city is home to many reputed higher learning centers, including the main campuses of the University of Puget Sound, Tacoma Community College, and Bates Technical College, as well as satellite campuses of the University of Washington, Evergreen State College, City University of Seattle, and Corban University. Parkland, the city's unincorporated suburb, is home to the Pacific Lutheran University.
Tacoma is well known for its perfect amalgamation of historic architecture, alluring waterfront, and flourishing art scenes. Several prominent museums, like the Museum of Glass, Tacoma Art Museum, America's Car Museum, and Washington State History Museum, are located in the city. Visitors can also participate in the Tacoma Farmers' Market, Tacoma Film Festival, and the annual Daffodil Parade. The outdoorsy types enjoy many recreations at the city's 50 parks and open spaces, including Point Defiance Park, Wright Park, Jefferson Park, Frost Park, etc.
Kirkland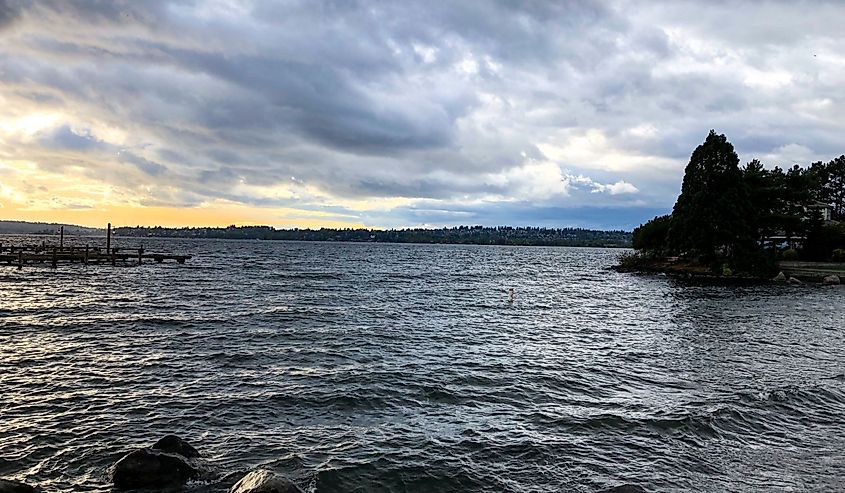 The state's 12th-largest city, Kirkland, is located along the sparkling shores of Lake Washington in King County, just a short 15-minute drive east of Seattle. The city is home to the principal campuses of Northwest University and Lake Washington Technical College. On the northwestern side, Kirkland is bordered by the Kenmore campus of Bastyr University. The city's lively, pedestrian-friendly downtown boasts an eclectic mix of locally-owned coffee shops, boutiques, award-winning restaurants, an outdoor sculpture gallery, and the Kirkland Performance Center. Travelers from neighboring cities visit Kirkland to unwind during summers at the city's many waterfront and neighborhood parks, such as Juanita Beach Park, Saint Edward State Park, Marina Park, etc.
Bellevue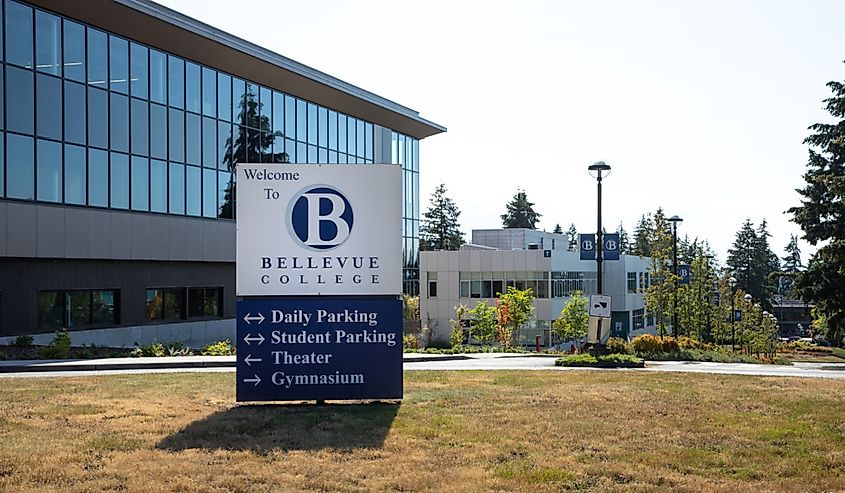 Seattle Metropolitan Area's third-largest city, Bellevue, is located in King County's Eastside region between Lake Washington to the west and Lake Sammamish to the east. The city is home to Bellevue College, the state's third-largest higher education institution and the largest among the 34 institutions that form the Washington Community and Technical Colleges System. This public college offers various academic programs besides specialized education degrees and support programs for students with disabilities.  
With 10,200 residents, 1,300 businesses, and 45,000 employees, Downtown Bellevue is currently Washington's second-largest city center. The city houses many sites of interest, including the Bellevue Arts Museum, KidsQuest Children's Museum, Meydenbauer Center, Bellevue Botanical Garden, and a small baseball stadium named Bannerwood Park.
Cheney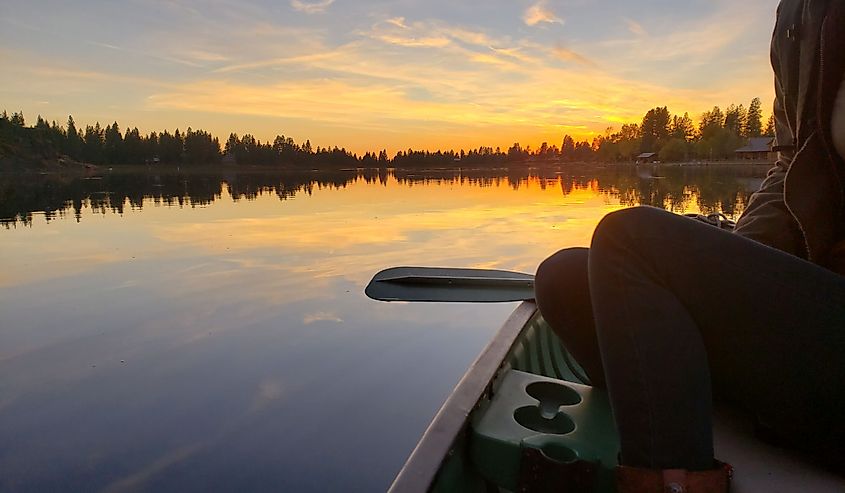 A perfect blend of small-town charm and big-city life, this small city is situated in Spokane County, just 17 miles southwest of Spokane. Named after the American businessman Benjamin Pierce Cheney, the city is home to the main campus of Eastern Washington University. Established in 1882, Eastern Washington University is academically divided into four colleges and offers more than 100 fields of study, 7 graduate certificates, 10 postgraduate degrees, 55 graduate programs of study, and an applied doctoral program in physical therapy.
The Historic Downtown of Cheney comprises an eclectic mix of government offices as well as retail and service businesses. Moreover, the downtown has gradually evolved into a traditional "university district," hosting a farmers' market, several community festivals like the Cheney Rodeo Days, and businesses that cater to students and faculties. Besides being home to the Cheney Historical Museum, the downtown area is a gateway to different trails like the Fish Lake Trail and the Columbia Plateau Trail.  
Conclusion
From the buzzing streets of the state's biggest and most populous city Seattle to the peaceful small-town atmosphere of Cheney, the Evergreen State hosts a myriad of college towns, each having its own distinctive 'vibe.' Besides students, college towns are also ideal places for the general population to settle, as these college towns have reasonably priced residential properties compared to non-college communities and host various annual cultural events where the residents can actively participate. So, whether you are a prospective scholar, a curious traveler, or someone searching for a scenic locale to finally settle, these alluring college towns of the Evergreen State will surely fascinate you.