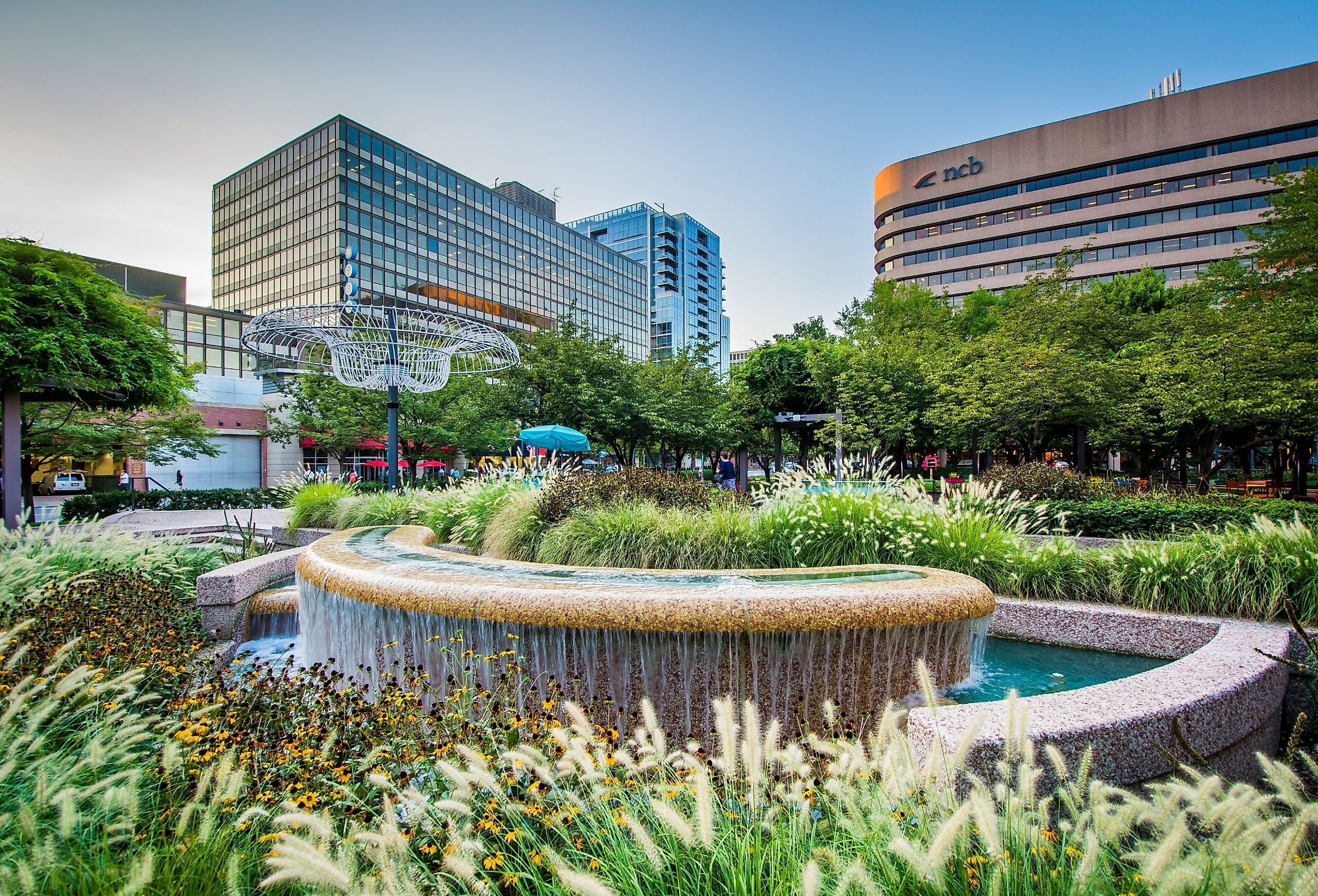 Best College Towns In Virginia
Virginia has many universities, colleges, and community colleges. Many of these were established by America's founding fathers. College towns blend progressive learning with local traditions. Museums, coffee shops, outdoor recreation, art galleries, and historical landmarks provide students with a strong sense of community. Whether a bustling city or a quiet countryside, college towns are cultural mosaics with something for everyone. Freshen up on note-taking as we take a trip through Virginia's best college towns!
Blacksburg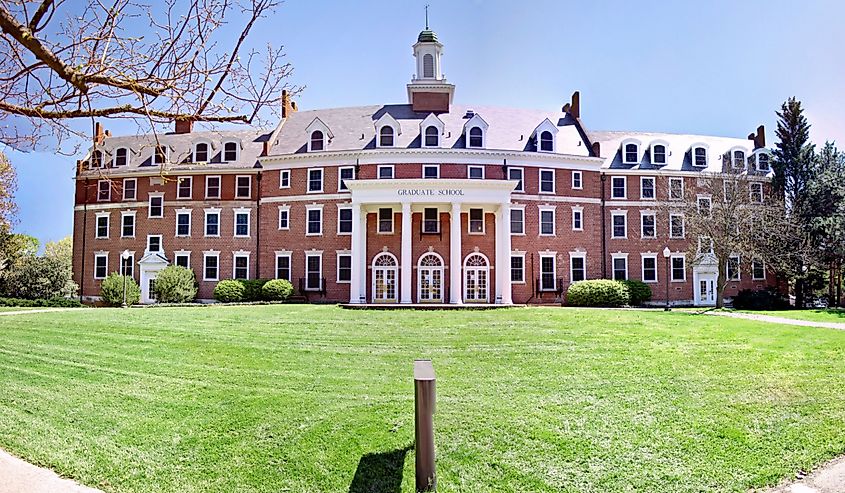 The town of Blacksburg is located in southern Virginia and is home to the prestigious Virginia Tech University. Offering students opportunities to earn a multitude of degrees, the university also partners with communities to research real-world concerns and dilemmas.
Off-campus, the town of Blacksburg offers students quiet places to study outside in parks and engage in physical activity on the Huckleberry Trail with a run, walk, or bike ride. For an overnight getaway, nearby campgrounds offer private hideaways on farms, in cabins, as well as plenty of open areas for tents for outdoor exploration.
Downtown Blacksburg provides coffee shops, casual dining, bakeries, and bars for dining and beverages. Main Street is pedestrian friendly, with restaurants offering live music regularly. Comedy shows, happy hours, and community gatherings are available for night owls.
For a break during the day, local museums, art galleries, and wineries are a perfect escape from classes and studies. With history, art, and outdoor exploration, Blacksburg is a boisterous college town offering students quiet places to expand their minds.
Charlottesville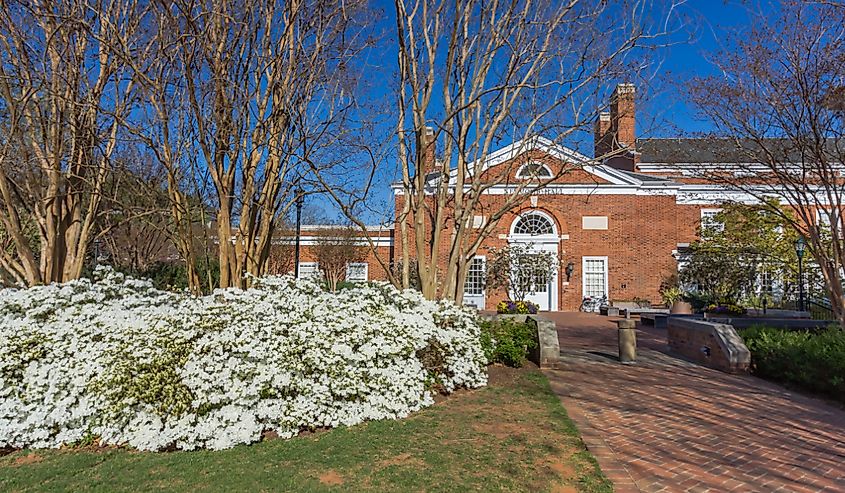 Nestled in the foothills of the Blue Ridge Mountains, Charlottesville is bursting with American history, southern charm, and stunning architecture. The neoclassical architecture of the University of Virginia is the brainchild of Thomas Jefferson and is listed (along with his home, Monticello) as a World Heritage Site. The university offers degrees in the arts and sciences, referring to students as first, second, third, and fourth years. These class titles represent Jefferson's belief that one never stops learning.
Between study sessions and classes, hungry students can visit Downtown Mall. With over thirty restaurants, such as Sal's Caffé Italia & Pizza and Red Pump Kitchen, eateries offer delicious casual meals for lunch and dinner. For late-night snackers, Lucky's Blue Bar and Rapture offer burgers and southern fare.
In addition to art walks, history walks, and ghost tours, the Thomas Jefferson Hot Air Balloon Company invites patrons to fly above Charlottesville. Master pilot and storyteller, J.R. Wingfield provide historical stories while viewing Virginia's countryside from the sky. With ties to America's history along with modern activities, Charlottesville provides many options for entertainment between studies.
Harrisonburg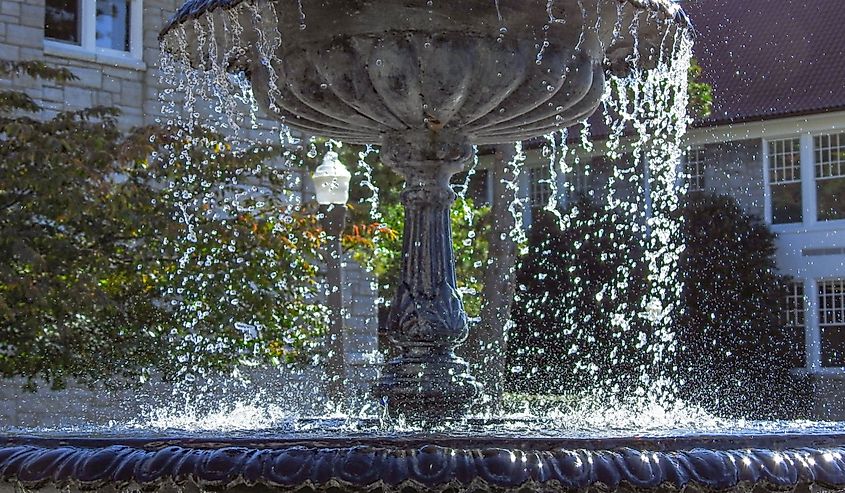 Between the Blue Ridge and Allegheny Mountain ranges lies Harrisonburg, a short walk from James Madison University. A bustling downtown with locally owned restaurants, students flock to Downtown Harrisonburg to replenish their strength. 
On Saturday mornings, a visit to the local merchants at the farmer's market offers fresh produce. In addition to eateries and shopping, Down Town Harrisonburg offers an independent theatre, concerts, trivia nights, poetry readings, and festivals.
For outdoor exploration, University Recreation offers camping and adventure gear along with hosting student trips throughout the year. Freshmen are encouraged to participate in a Madison Orientation Adventure Trip in the Shenandoah Valley before move-in.
The campus is a few miles from George Washington National Forest, Shenandoah National Park, and Massanutten Ski Resort. The outdoor wonderland is home to hiking, mountain biking, canoeing, kayaking, skiing, and snowboarding. Harrisonburg offers students higher education set among a beautiful landscape with opportunities to unwind in nature. 
Hampton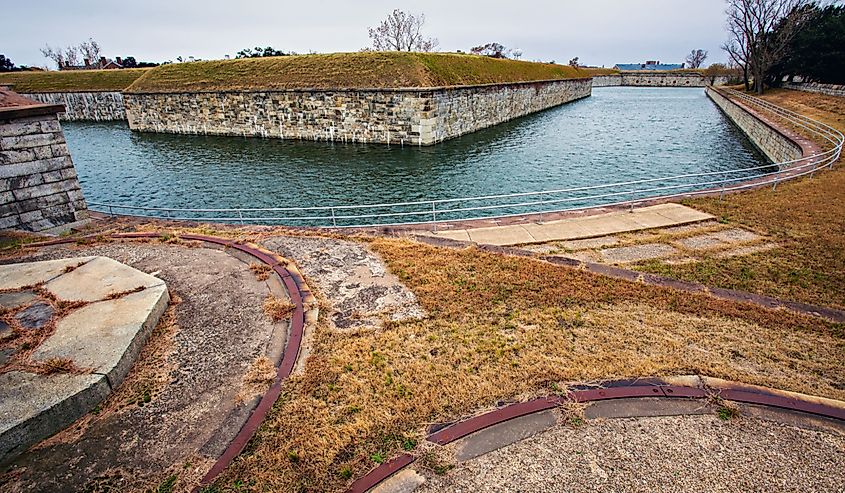 Located at the mouth of the Chesapeake Bay lies Hampton, a city home to a unique blend of people reflecting the town's history. The city continues to attract visitors for its beaches, water recreation, and education.
Hampton University is a progressive institution for higher education. Rich in history and tradition, the university provides a range of degree programs while surrounded by historical landmarks, museums, parks, and outdoor recreation. With a wealth of history, Hampton is also home to fresh coastal fare. From craft breweries to a multitude of restaurants, local dining is a culinary adventure.
For a day in the sun, Hampton offers students many sandy beaches along the bay's shore to relax and unwind. Buckroe Park offers picnic shelters, an observation pier, and a nautical-themed playground. Grandview Nature Preserve and Factory Point provide a serene place to observe migratory birds while searching for treasures in the sand. Outlook Beach is open from sunrise to sunset, offering a refreshing swim with a panoramic view of the Chesapeake Bay.
In addition to university sports, the Athletic Hall of Fame, located in the Boo Williams Sportsplex, welcomes sports enthusiasts to appreciate the achievements of Virginia's athletes and coaches. Surrounded by history and outdoor beauty, students of Hampton University are invited to exceed their dreams academically and recreationally.
Fredricksburg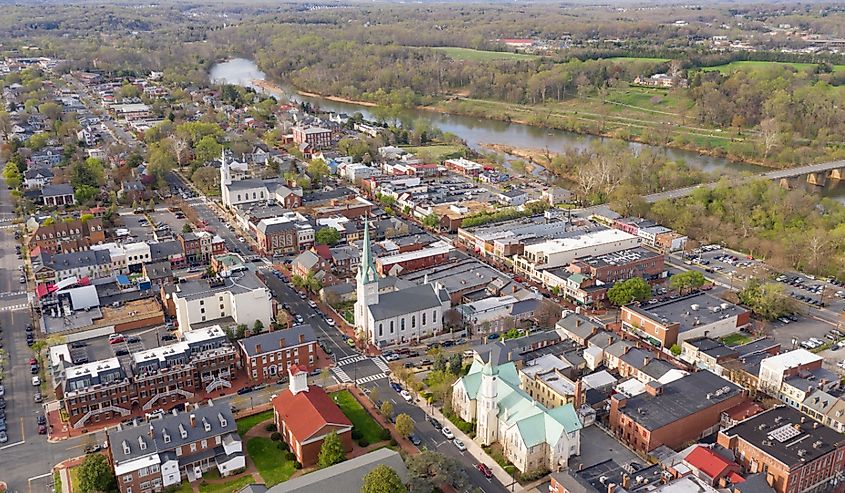 Halfway between Washington D.C. and Richmond, Fredricksburg is centrally located for a cultural adventure. Fredericksburg is a hub for creativity, full of art galleries, workshops, and performing arts venues. Pottery classes, local performances, and art appreciation await students looking to explore a creative outlet.
Students attending the liberal arts and science institution of the University of Mary Washinton have many off-campus activities to choose from in Fredericksburg. Live music events, broadway shows, scavenger hunts, and running races engage students in the arts and physical activity.
For a Saturday stroll, the Fredericksburg Farmers Market at Hurkamp Park is an outdoor market with locally grown and baked goods sold by farmers and bakers.  The historic park has a fountain, brick sidewalks, and benches for a leisurely day outdoors.
In addition to Hurkamp Park is Riverfront Park, with views of the Rappahannock River. The park includes open space and an interactive water feature. Located across the street from a public parking garage, the park offers Free Wi-Fi and solar-powered lights along with security cameras making this park a safe place to relax or study.
Dining options are endless within 40 blocks of downtown Fredericksburg. Venues for brunch, lunch, dinner, and dessert, are available for early risers and late-night snackers. With parks, galleries, and eateries, Fredericksburg offers students a plethora of locations to eat, rest, and spark creative learning.
Williamsburg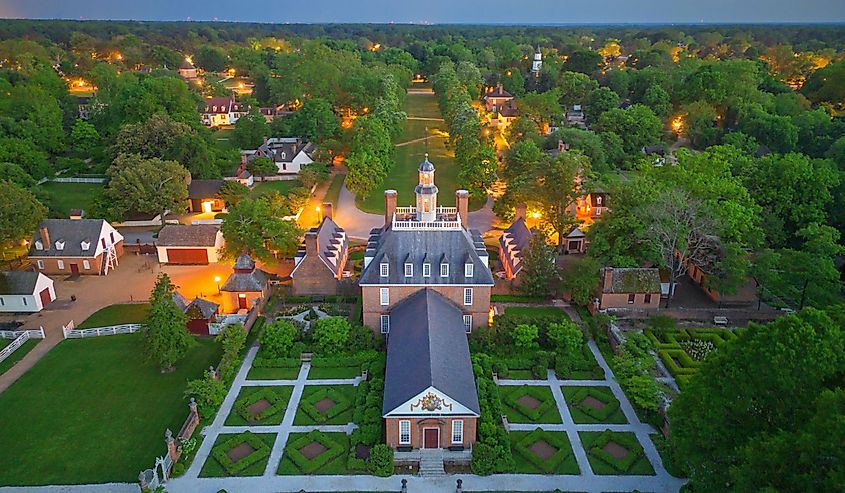 Williamsburg is famous for its colonial history. The town is also rich with luxurious spas, restaurants, amusement parks, and forests to take in the peace of surrounding nature. Students at local Willam & Mary College will be immersed in history and local culture through personalized education in the liberal arts and sciences.
On campus, the college is home to a vibrant community. Off-campus, students looking for a good cup of coffee patron Column 15. The shop was opened by two William & Mary graduates and offers patrons a welcoming environment to enjoy a variety of beverages including hot chocolate, ice cream, teas, and of course, specialty coffee. Delectable paninis, bagels, and baked goods are also offered to reduce the effects of hunger.
For local fare, Casa Pearl offers a casual ambiance to dine on oysters from the Chesapeake Bay and Latin-inspired tacos. For a quiet outdoor experience, students visiting Waller Mill Park can walk along trails through the serene forest to spy birds such as warblers, woodpeckers, and osprey.
Weekend adventures in Williamsburg are abundant: Busch Gardens, Go Kart Plus, and Water Country USA offer thrilling rides through roller coasters, race tracks, and water slides. At Pirate's Cove Adventure Golf, students can putt through courses including mountain caves, footbridges, and cascading waterfalls.
In addition to thrilling adventure, Colonial Williamsburg offers students opportunities to delve into local history with living museums and ghost tours. Students attending William & Mary College have opportunities to be immersed in iconic landmarks, thrilling amusement parks, and local culture. Williamsburg provides students with unique experiences while dining on local delicacies.
Arlington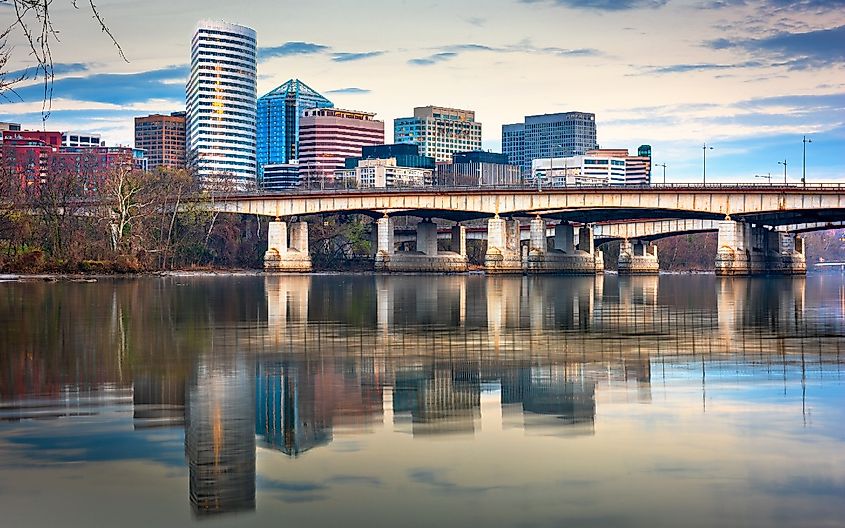 The city of Arlington has many recreational amenities to offer students. Community parks, libraries, and proximity to the nation's capital provide students with endless possibilities outside of classes. Arlington consists of multiple higher educational facilities, including Marymount University, a private college with Catholic roots. Once a small female-only campus, Marymount University has grown with undergraduate and graduate degrees. 
Students living on and off campus have many options for entertainment when not engaged in class or research. Programs offering visual, performing, and public arts education engage students creatively throughout the city. This includes the Arlington Art Truck, which offers themed interactive art projects from April to October. 
For students looking for physical activity, local parks offer courts and trails for a friendly game, stroll, or run. Students visiting The Arlington Mill Community Center can challenge classmates to a game of pool or foosball in the game room. Students can also strengthen muscles in the gym on the center's fitness equipment. Local Ballston Quarter offers students numerous shopping and dining possibilities. Local fare includes globally inspired dishes taking students on a trip around the world with menus including sushi, Korean BBQ, burgers, and noodles. 
For a change in scenery, students can bundle up and head to the top floor of Ballston Commons Mall for ice skating. The Iceplex is the official home of the NHL Washington Capitals and offers freestyle skating year around. Arlington is a city alive with opportunities for physical activity and artistic expression. Students will thrive with endless possibilities for entertainment and relaxation.
Ashland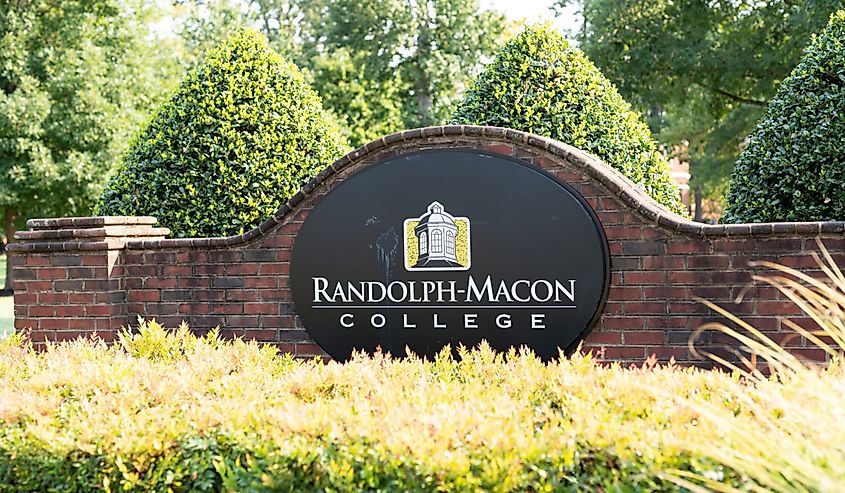 Ashland is a small town with deep roots. Known by locals as the "Center of the Universe" due to the town's central location in Virginia, Ashland is ideal for students of Randolph-Macon College. Ashland is easily reachable by train with Amtrak. Students can learn about the town's history with trains at the Ashland/Hanover Visitor Center, a historic landmark and museum with train memorabilia. 
The Center of the Universe Brewing Company offers a tasting room and beer garden while Huddle Up Sports Bar & Grille is the perfect place to watch a game with snacks. Andy's Restaurant hosts a friendly atmosphere offering beverages, food, and live music. Students with a craving for pie can visit Ashland's Pot Pie Company for homemade sweet and savory pies along with salads, soups, and sandwiches. For an off-campus theatric experience, Ashland Theatre, a historic performing arts venue, offers film views, live performances, and live music.
When the stress of exams becomes overwhelming, Reawaken Spa is the perfect place to relax. Students can unwind with a Swedish massage, hot stone massage, reflexology, or therapeutic massage. Downtown Ashland proudly supports the college. Many local businesses display R-MC flags and offer discounts to faculty, students, and their families. With the support from the town combined with the convenience of local dining and travel, Ashland is a true college town in the heart of Virginia.
College towns in Virginia offer many opportunities for exploration with proximity to mountains and national parks. Off-campus ice skating and the arts offer students opportunities to engage physically and artistically. Colleges located in cities provide students with the hustle of big-city life between classes and studies. Local restaurants, coffee shops, and bakeries supply students with the nourishment needed to tackle classes and assignments.  Virginia colleges provide students with versatile opportunities to succeed, and each of these would make an excellent choice for academic pursuits!