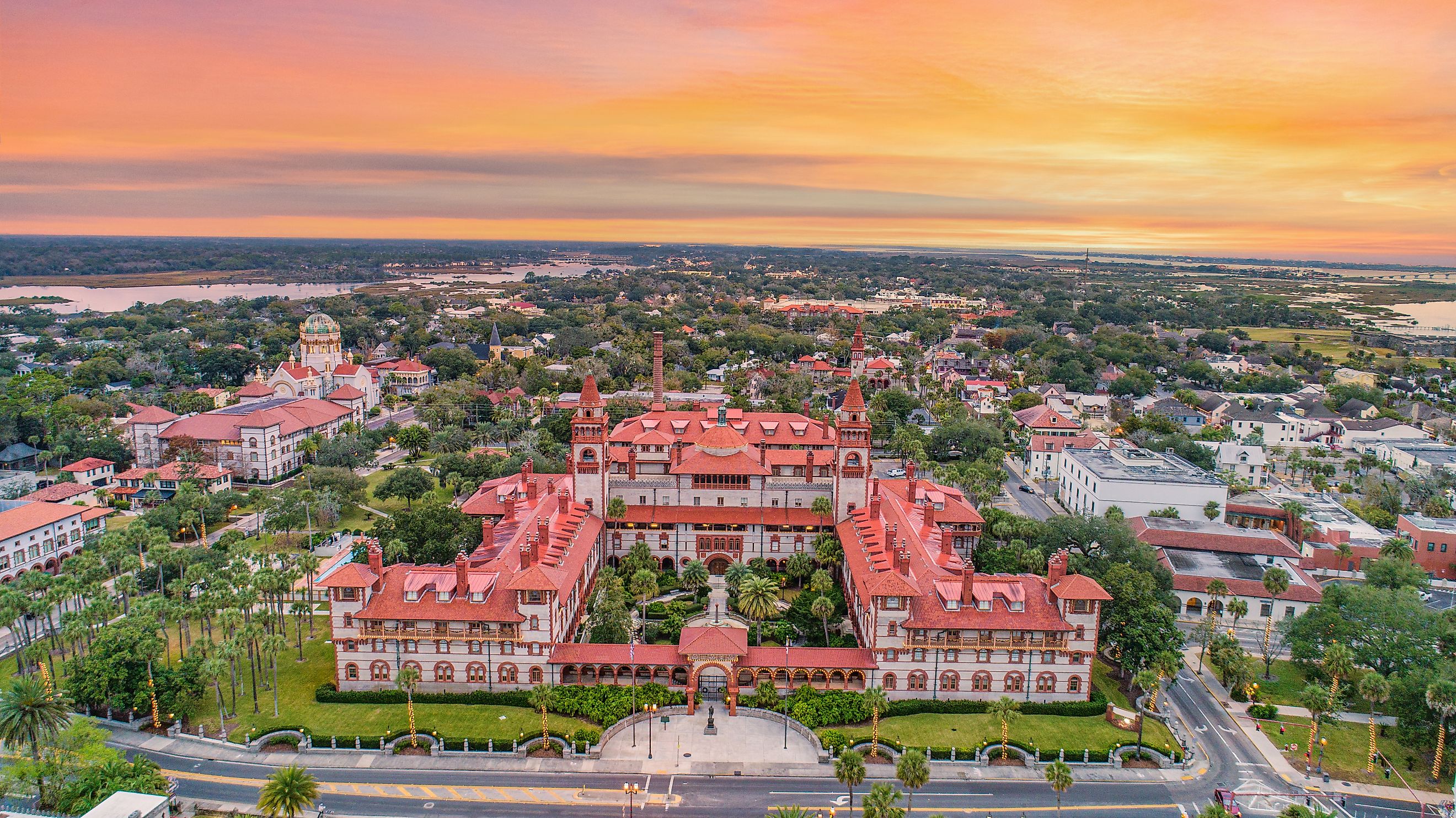 Best College Towns in the Southern United States
The South of the US excels in academia through its small college towns and sizable cities. Choose any for the next five years of life with a positive, youthful vibe and the security to stay after graduation in the same southern hospitality and many beach towns. Find plentiful recreational opportunities within a hand's reach of local and state parks. The beaches, lakes, and rivers are great for studying along the banks and are ready-made summer hotspots. Enjoy the diverse culture through daytime attractions and the active nightlife along the safe streets. The lively campuses come with a cheerful ambiance, an academic environment, a supportive atmosphere, and great grounds to enjoy the sunny outdoors.
Ames, Iowa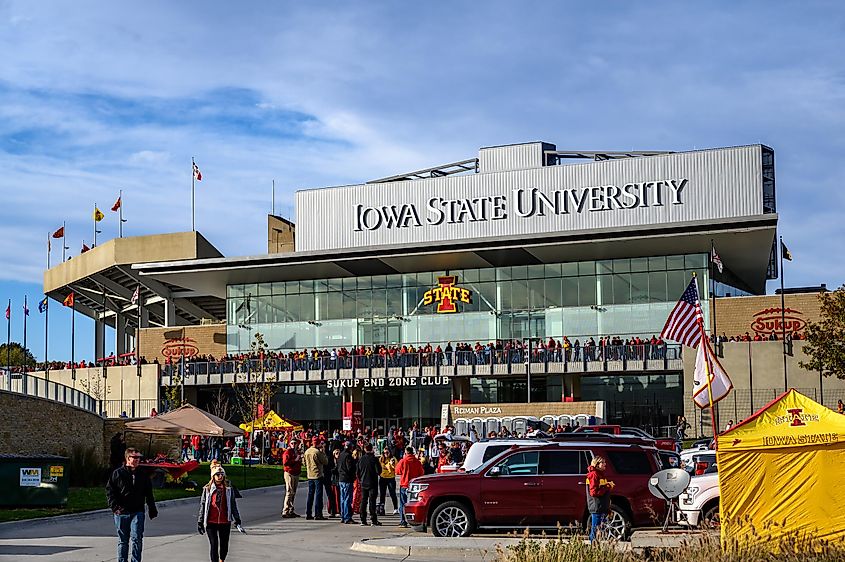 The stunning small city is home to the sprawling campus of Iowa State University, which is sheer enough in size to make its own city. The grounds pack a real punch with the beautiful Reiman Gardens, which are lovely for warm-weather strolls and picnics and double as a local aquatics center. Choose Ames for the next five years of college, and you will always have something new to look forward to, like the incredible dining and second-to-none nightlife in the state. Seek nature through several local and state parks, and choose Perfect Games on a rainy day that will keep you coming back for bowling, laser tag, and a huge arcade with friends and when family visits.
The five-star hotels lend a business travel environment, with tourists adding diversity to the city's culture. Stroll along the streets with food and fun hotspots, including The Great Plains Sauce and Dough Company, for the best pizza place in the state, serving flatbreads for nearly half a century. Enjoy a vast craft beer scene at places like the Alluvial Brewing Company for a great evening with live music. Enjoy culture through galleries and venues, like Stephens Auditorium on campus, with a wide variety of performances, from opera to Broadway, comedians, and family entertainment.
Athens, Georgia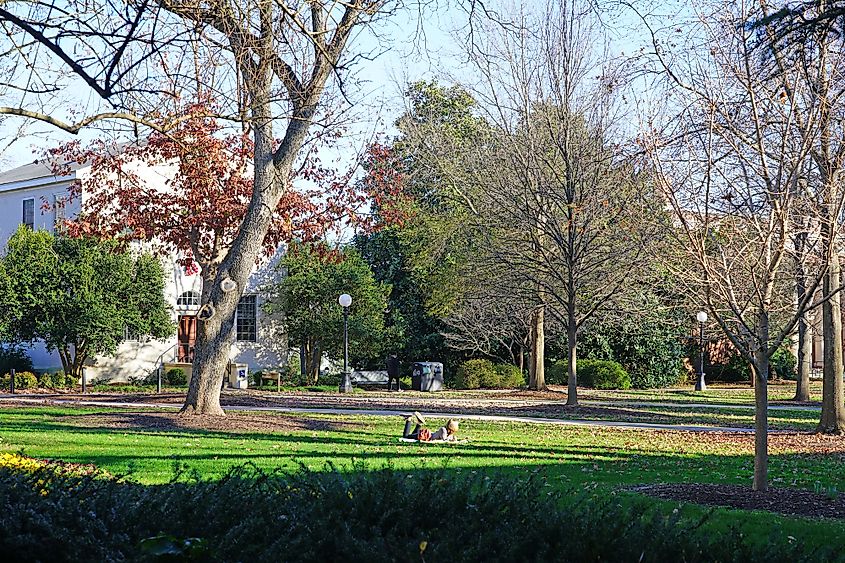 Athens is a bustling city full of your favorite pursuits and excellent academia at the bustling University of Georgia. Feel at home away from home instantly while pursuing your bright future amid a great deal of school pride that lends itself to a thirst for knowledge and high achievement. Join in the city's plentiful cultural events throughout the year, including live music and festivals that attract diversity from across the state to mingle and make new friends.
Venture nature-side through miles of wilderness with a variety of trails for relaxing strolls and hikes to really stretch your muscles. Explore the many lakes for paddling, studying along the banks, and the ultimate summer day trip with friends. Athens takes "college town" to a whole other level, built around the University of Georgia, which is central to the city's growth and development. Enjoy thriving arts and music downtown with Athens' pride, REM and the B-52s, who both started at the 40 Watt Club, a performance venue with a storied past.
Auburn, Alabama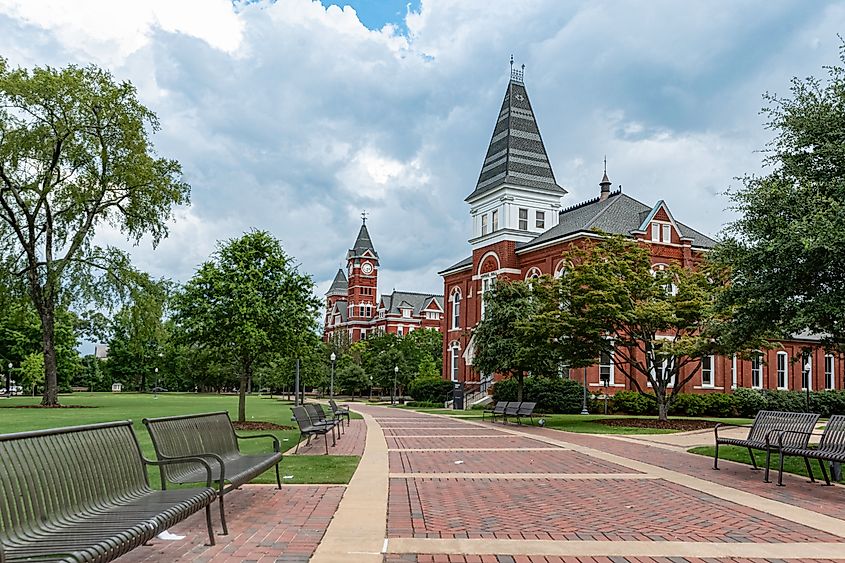 "The Loveliest Village on the Plains," Auburn, is a fascinating place to attend college. As one of the state's fastest-growing cities, you will have plenty of opportunities for part-time work and peace of mind after graduation to land a desired job. Enjoy security along the streets with a college-town vibe and friendly Southern hospitality that is nationally recognized. Auburn is also among the top ten places to live in the country, according to US News, while Niche ranked it as the best in Alabama.
Find rich cultural pursuits around the city, with a family-friendly atmosphere extending into museums, theater companies, and dance schools. The outdoorsy have a great choice of sixteen parks, like the Donald E. Davis Arboretum for serene strolls and the lovely 700-acre Chewacla State Park in the Appalachian foothills if you want to extend your hike. Attend Auburn University, in the center of everything, with highly ranked academia and a top employer with about a quarter of the city's workforce. Watch the NCAA Division I Auburn Tigers win football games as fiercely as they drive Auburn's culture and economy alongside other 100,000 spectators during the fall season.
Berkeley, California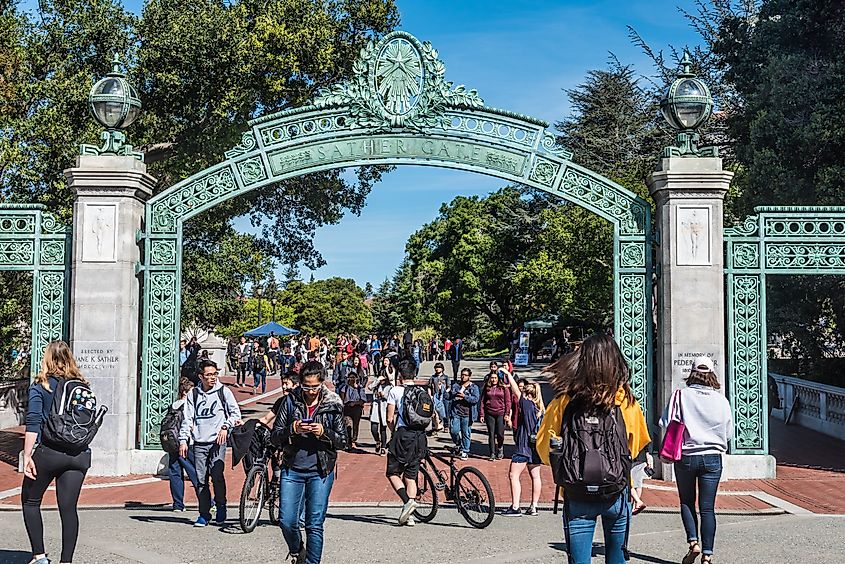 Berkeley is among the most popular places to attend college in Northern California and one of the state's highest-rated. It offers an envied college experience and life in a cozy, student-friendly atmosphere in the San Francisco metro area. Enjoy easy access to nature, city life, and hot pursuits in town that make Berkley easy on the eyes and easy to love. The Beat Generation and rock musicians of the 1970s inspired the rich culture of the day along the lively streets and with the best nightlife. With countless cute cafes, you can grab your morning coffee, study with friends after school, and relax on the weekends in a different setting and atmosphere.
Choose Berkeley's oldest school in the University of California system, UC Berkeley, right in the heart of town, and enjoy a variety of cultural experiences around campus. Find plentiful restaurants and evening entertainment, including venues and even underground poetry reading at night. Take a day trip or spend a weekend in San Francisco, just across the bay's bridge. You will always be happy to return, taking pride in your meantime home with strong political activism among the student population and roots back in the 1960s civil rights movement.
Blacksburg, Virginia
Blacksburg, an idyllic place to live in Virginia, according to a number of sources, is also a highly sought-after destination for a college experience. The city was named the "Best College Town in the South" by Southern Living, while Businessweek recognized Blacksburg as the "Best Place in the US to Raise Kids." Find yourself surrounded by natural beauty for the next five or fifty years, with enviable places like the Blue Ridge and Allegheny Mountains for outdoor adventures. The city is full of historical vestiges to discover on a stroll through its storied past, including spots on the National Register of Historic Places.
The "Creative Village" moniker reflects endless cultural engagements and artistic flair, including venues like the historic Lyric Theatre and the Moss Arts Center for the Arts. You will never be bored or lonely here, with Virginia Tech having one of the highest student-resident ratios in the whole country, where nearly two-thirds of the population is undergrad. The city adapts to the demand with a young feel, an assortment of local businesses, and reasonable prices through shops, restaurants, and other attractions. Virginia Tech's galleries, theater, and recreational facilities are open for public use.
Charlottesville, Virginia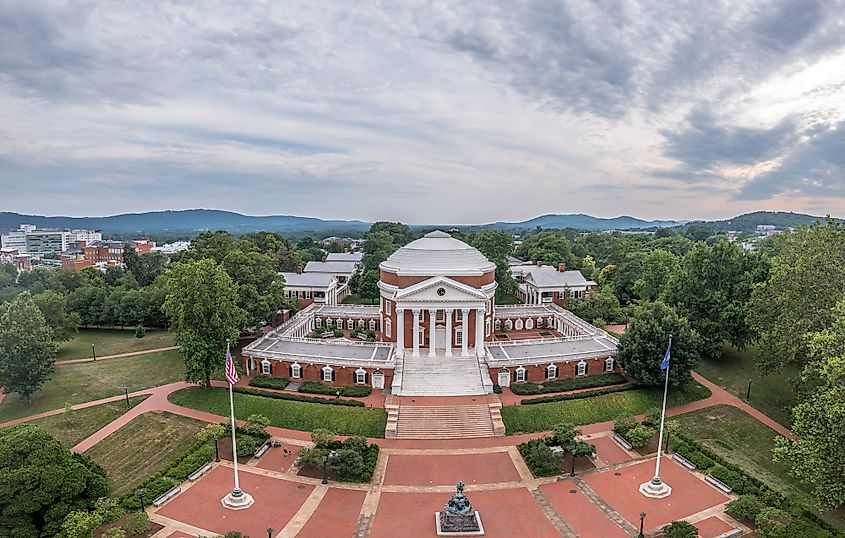 This highly sought-after city for an idyllic college experience offers exceptional schooling, a studious environment, and excellent after-class pursuits. With a rich history of academia, Charlottesville's prestigious University of Virginia is a world-class institution to attain higher education. The active downtown has fabulous shopping, bars, and a vast array of restaurants. Enjoy lively nightlife, six farmers' markets in the area, and over 40 wineries, as well as the Downtown Mall's over 150 shops and an open-air performance pavilion. The popular Dairy Market is a favorite hangout for foodies, while arts and culture fans keep entertained at beautiful galleries, venues, and yearly festivals like an arts and crafts festival, the Foxfield Races, and the Heritage Harvest Festival.
Charlottesville is also home to a historical society, annual film festivals, and a chamber music festival. The coveted Blue Ridge Parkway offers a refreshing escape throughout the year, particularly under the fall foliage. Embark on your own weekend adventure along the famous Appalachian Trail to explore various natural sights after a long week of classes. Home to three former US presidents and Dave Matthews, a musician, Charlottesville is also one of the original eight "Public Ivies." Find the university and Monticello, Thomas Jefferson's plantation manor, both UNESCO World Heritage Sites, just a few miles from downtown. Charlottesville was even recently named one of National Geographic's 10 World Wonders!
Huntsville, Alabama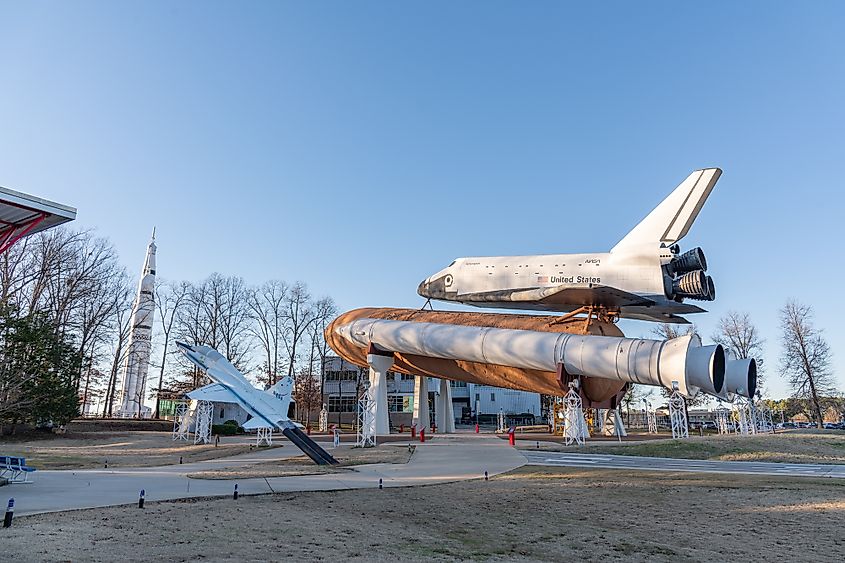 Go to school in Rocket City, Alabama, and you will have NASA as your next-door neighbor with top research and other opportunities galore. Huntsville is a unique mix of a small-town environment with the academic and training advantages of city hubs. Enjoy living locally at a low cost with lots of charming pursuits free of charge or at student-friendly prices. Natural beauty is innate to Huntsville, set optimally along the Tennessee River Valley with mountains and the river itself. Attend the University of Alabama in Huntsville and have a ready-made weekend or summertime escape at your fingertips with swimming, fishing, and refreshing hikes. There is also the interpretive Burritt Museum, set like a 19th-century farm, and the one and only NCAA ice hockey team in the South calling Huntsville home.
Stock up for your home from the vast collection of antiques at Railroad Station Antiques Mall, and grab a big Mason of house-made Piper & Leaf tea from locally grown fruits and herbs at Lowe Mill, the country's largest privately owned arts facility. Enjoy dreamy hikes through the beautiful Monte Sano State Park and recharge at Chef James Boyce's fine dining restaurants in town, like Cotton Row, Commerce Kitchen, or Pane e Vino Pizzeria, with an inspired twist on flavors from the past. Tex-Mex at Little Rosie's Taqueria will quickly become your favorite sit-down spot, or line up for El Cazador 2 or the Blue Birds "Taco Bus." Wash it all down or have a desert at Sam and Greg's with beer and house-made gelato, a summertime go-to.
Manhattan, Kansas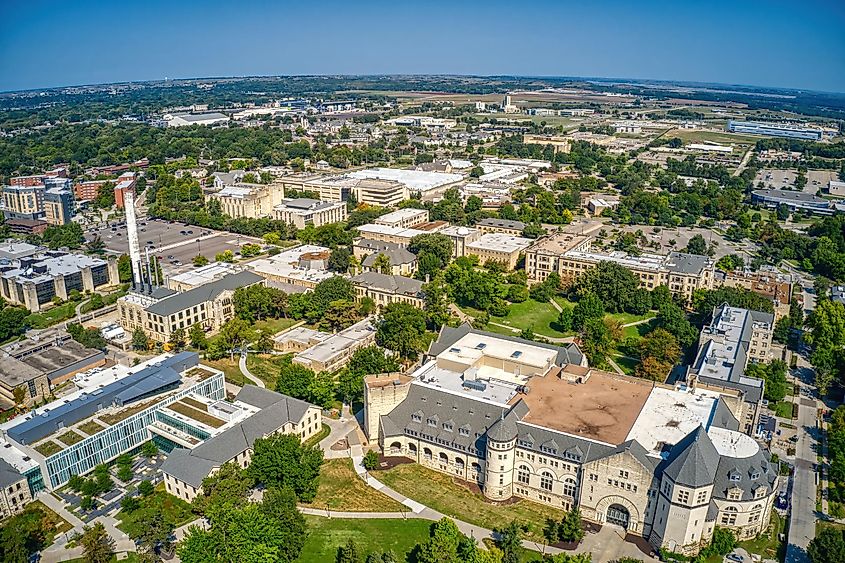 This Kansas town with the cutest moniker of "The Little Apple" will surprise you with an urban feel under its complacent small town charm. Enjoy the lively atmosphere created by the student body at Kansas State University. You will never be bored after class, and you can bring your visiting family along to the cultural center in Aggieville, the Sunset Zoo, or play a round at Colbert Hills Golf Course, one of the state's best.
Your parents will be equally happy for you to attain a higher education in this small Kansas hub, a highly affordable place to live with low crime and a secure economy. Find a part-time job and enjoy peace of mind for the future in one of the "Best Small Communities for a Business and Career," according to Forbes. Think even further ahead; Manhattan was named one of the ten best places to retire young by both CNN and Money magazines.
San Marcos, Texas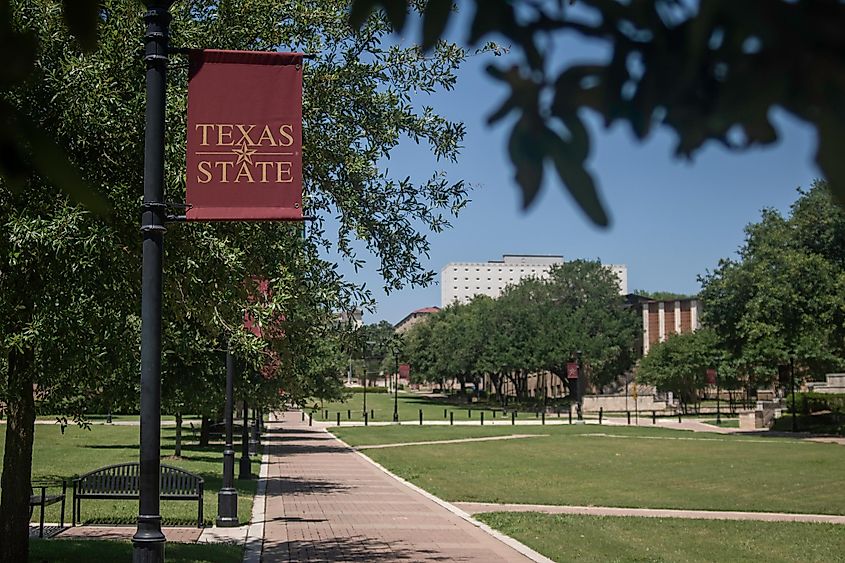 San Marco, the marvelous, or "San Marvelous," sits enviably with many rivers and springs flowing through this college town. These lend themselves to the ultimate outdoor hotspots, like parks and preserves that allow for a real recreational experience of hiking, biking, kayaking, swimming, tubing, fishing, and canoeing. Head downtown San Marcos for all your dining and entertainment needs into the night, like the famed Texas Music Theater.
The upper area of the San Marcos River gushing straight through the campus of Texas State University is a popular place to study by the waters in the fresh air in between classes, with as many visitors on the weekends. You will never be bored in San Marcos, named by Business Insider as one of the "10 Most Exciting Small Cities in America," while Business Week recognized it as one of the "Best Places to Raise Your Kids."
Santa Cruz, California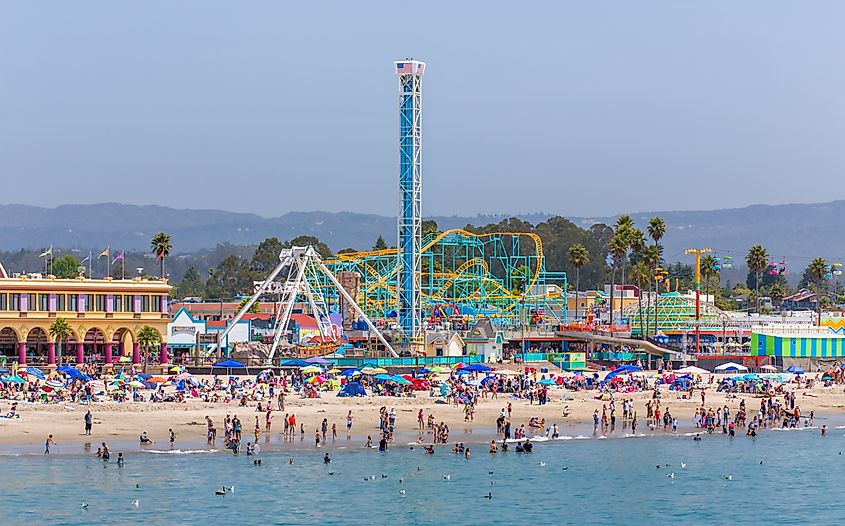 Santa Cruz is a really enviable town to call home for five years of college, as verified by its significant student population. It is a real piece of eye candy, with a glorious coastline and a moderate climate to enjoy the hottest pursuits. Choose from the University of California or Santa Cruz for the best college experience, and stay after for those scenic strolls and relaxation after work along the coastline at sunset, as well as an ultimate summertime getaway in your own backyard.
The resort town nicknamed "Surf City" doubles in population with tourists, which lends cultural diversity to one of the best places to surf in the world. Stretch your back along the beach and hike away the stress through several state parks around town, not counting the dozens of parks and open spaces within city limits for a daily refresher. Pacific Avenue shows the real spirit of town and will become your favorite hangout place for strolls, shopping, and mingling along the lively music-filled fare. Join in popular events for all tastes like the Santa Cruz Film Festival, First Friday, and the Santa Cruz Farmers Market.
St. Augustine, Florida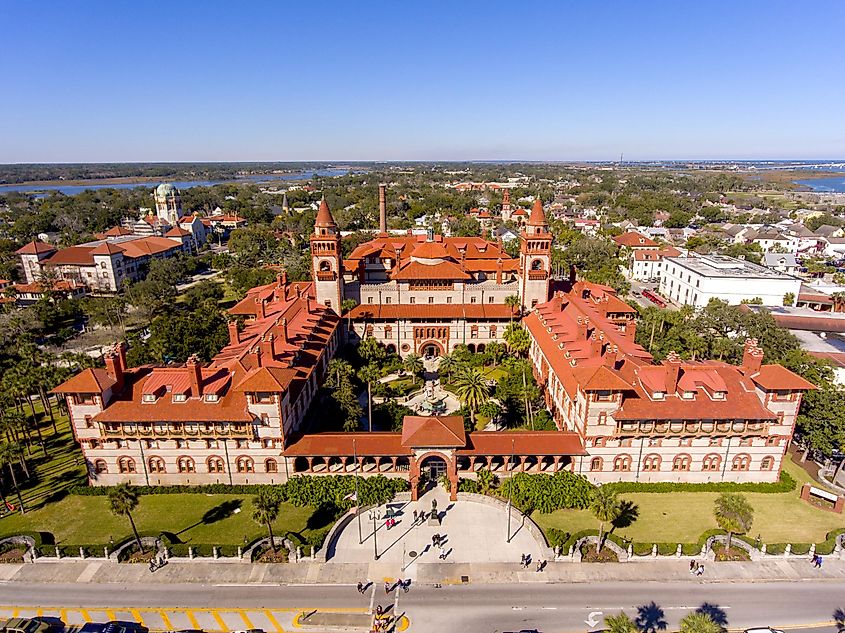 Just imagine your best college years in this, one of the "hottest" places to visit in Florida, and its oldest city, the charming St. Augustine. You will be in the heart of cultural heritage, where everything began, with museums, historic homes, statues, and memorials. Flagler College, a private college, is a gorgeous piece of Spanish architecture with a studious environment of countless reading nooks and a perfect student-faculty ratio of 16 to 1. Enjoy class time in the outdoors along the nearby beach and bay, part of the highly sought-after coastal environmental science program.
Wander shoreside with the views in between other classes and stroll through the Old City with the walkable St. George Street for shopping and snacking at each step. Start your morning or grab a midday pastry from the popular Bunnery Bakery and Café or Schmagel's Bagels. The Burrito Works Taco Shop will become your favorite place for a quick, filling bite, while The Floridian offers a sit-down service with dishes from local ingredients tagged as "innovative Southern fare for omnivores, herbivores, and locavores." Tour the fort of Castillo de San Marcos and grab an icy snack from Hyppo Gourmet Ice Pops, popular every day under the persistent sun.
Terre Haute, Indiana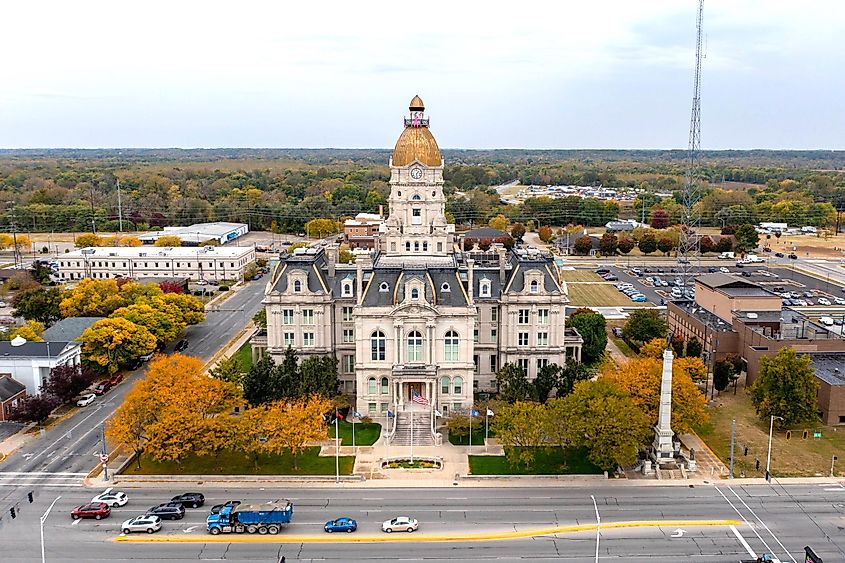 Choose this exquisite town with the French meaning of "highland," and you will land amid 1,000 acres of greenspace dedicated to parks and recreation. As one of the "Tree Cities" in the US, Terre Haute is a dreamy getaway destination with diverse cultures along the streets and family-friendly pursuits for everyone's tastes. From disc golf courses, playgrounds, and pools to a butterfly garden and an arboretum, you will never be bored around town after school.
Stretch your muscles along the scenically famous National Road Heritage Trail for walking, running, biking, or rollerblading, or stroll through the downtown, revitalized with arts, through the corridor with the Swope Art Museum and two art galleries. Stay acculturated at the recently renovated historic Indiana Theater with concerts, film screenings, and other performances to diversify each evening. Oh, and don't forget to pursue your desired education at Indiana State, Rose-Hulman Institute of Technology, Saint Mary-of-the-Woods College, or Virginia Tech Community College.
Tuscaloosa, Alabama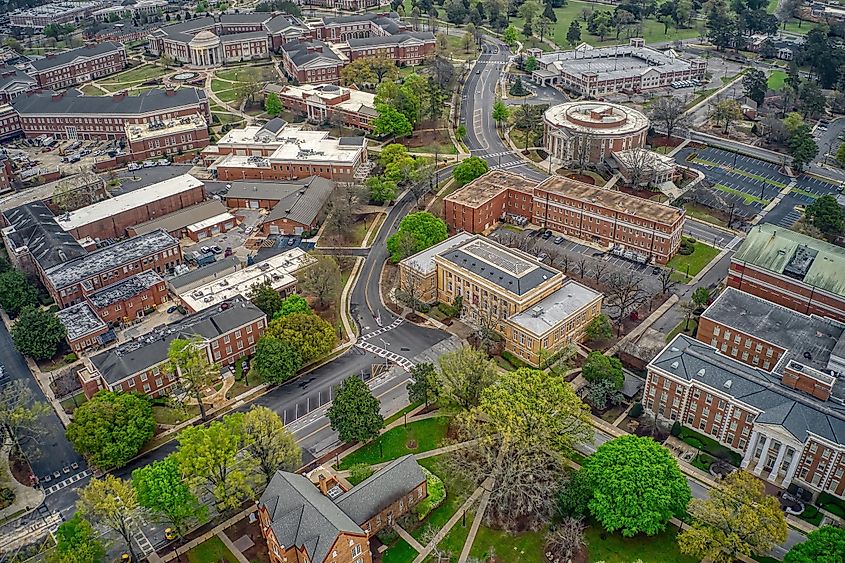 The legendary T Town of the Crimson Tide lives and breathes football, from the Bryant-Denny Stadium, home of the famous football team, to tailgating and friendly "Roll Tide" at every turn. Relocate for school and keep up your hobbies with the state's baseball, gymnastics, and basketball. Enjoy the arduous studies in your field at Alabama State and some serious downtime pursuits for the best college experience. Head into the surrounding nature, like the beautiful Lake Tuscaloosa or the Black Warrior River, a ready-made summer's day go-to with many hiking trails around.
The cultured city of many museums, like the Tuscaloosa Museum of Natural History and the Tuscaloosa Museum of Art, is also home to The Strip, with music, shopping, and delicious foods. Tuscaloosa feels made for foodies, with burgers at Rama Jama's, burritos from Pepito's, and Swen's Chinese food. Waysider offers a good old-fashioned Southern brunch with biscuits and gravy. Invite your family for a wonderful sit-down Italian fare at DePalma's Italian Cafe, or introduce them to the real Alabama barbecue at Dreamland, Archibald & Woodrow's, Jim N Nicks, Full Moon, Moe's BBQ, or Dickeys. 
Choose a small town to live on a budget and grab a part-time job for extra moolah to spend on shopping, taking your friends or family out, or those city weekend trips. Discover your desired place to call home with universities that look after your future and a choice of after-class pursuits that suit your personal interests. The quaint campuses with a lively atmosphere lend a studious environment with a supportive atmosphere and great grounds to enjoy the sunny outdoors.
You will instantly fall in love with these towns, a-buzz with students, and abrim with local hotspots and cozy nooks that will become your favorite go-to's. Each unique town throughout the southern portion of the country offers a charming southern lifestyle for the best college experience for students and life thereafter, maintaining the reputation of a college town to behold.