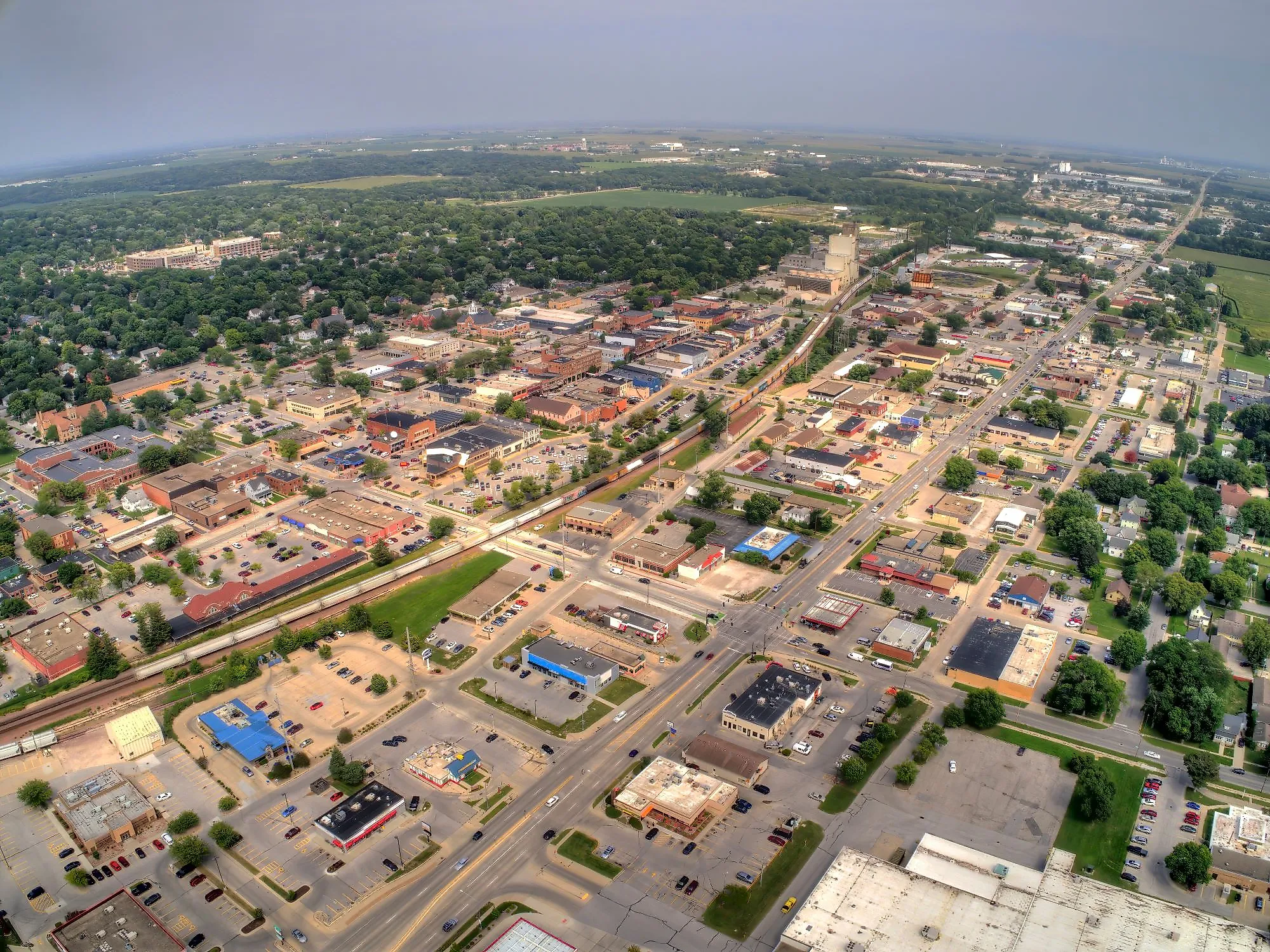 Ames is a moderate-sized city situated along the western end of Story County at the center of the US State of Iowa. Ames has a heart of a much bigger metropolis beating beneath its small-town charm. With a population of over 65,000 inhabitants, Ames provides more typical advantages of larger metro areas in terms of culture, recreation, education, commerce, and entertainment. Being home to Iowa State University, Ames provides access to high-quality education from kindergarten to graduate school. 
Geography And Climate Of Ames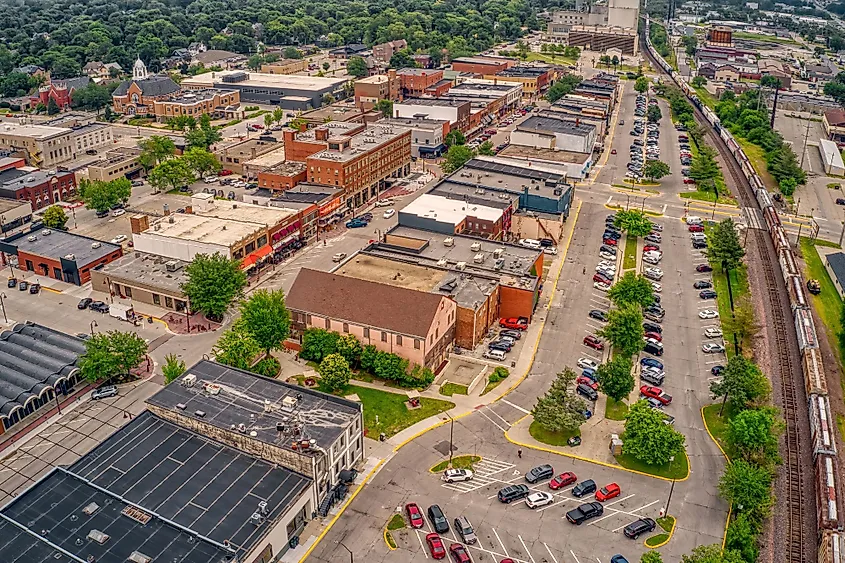 Ames is situated close to the meeting point of Interstate 35 and U.S. Route 30, approximately 48 km north of Des Moines - the state capital. The city is also traversed by U.S. Route 69, which is a minor route. The Union Pacific Railroad's cross-country route and two tiny streams (the South Skunk River and Ioway Creek) also pass through Ames. The city is surrounded by Boone from the west, Luther from the southwest, Kelley and Huxley from the south, Cambridge from the southeast, Nevada (city) from the east, and Gilbert from the north. Ames covers a total area of 72.32 sq. km, of which 71.43 sq. km is occupied by land, and 0.89 sq. km is covered by water.  
According to the Köppen climate classification, Ames experiences a humid continental climate characterized by warm-humid summers and dry-cold winters. The average yearly temperature is 9.1°C, with July and January recording the highest (23°C) and lowest (-6.8°C) average temperatures, respectively. On average, Ames gets 881.4 mm of precipitation yearly, with June and January reporting the highest (127mm) and lowest (17.8mm) numbers, respectively. The rainy period lasts from February to December, while the snow period lasts from November to March. 
History Of Ames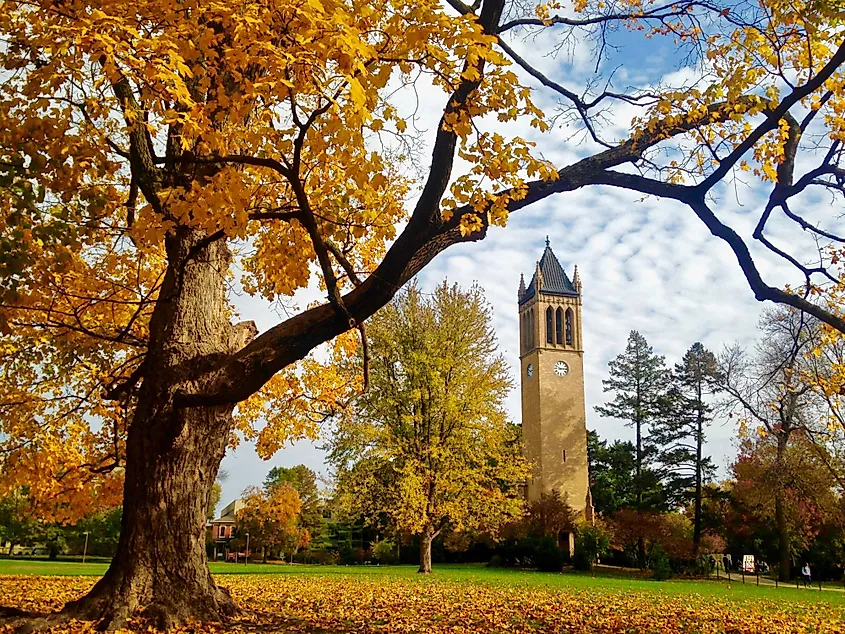 The artifacts of the Middle Archaic Period (6,000-500 B.C.) provide the earliest documentation of Ames's human activity. However, evidence from the Middle Woodland Period is more frequent. The Ballard families, who moved to a grove northeast of Huxley in 1848, were the first European Americans to settle in Story County. Before 1853, the American government sold John Jennings 200 acres of land near where the Moose Lodge is now. Around Ames, the bottom area was swampy and challenging to reach in the middle of the 1800s. 
Nevertheless, Cynthia O. Duff acquired the land from the U.S. government, and on November 26, 1864, she gave it to railroad tycoon John Insley Blair. The town was established in 1865 and given the name College Farm before being renamed for Massachusetts legislator and railroad financier Oakes Ames the following year. More people moved to the area after the railroad arrived in 1864, and Iowa State University established its headquarters here.
The Population And Economy Of Ames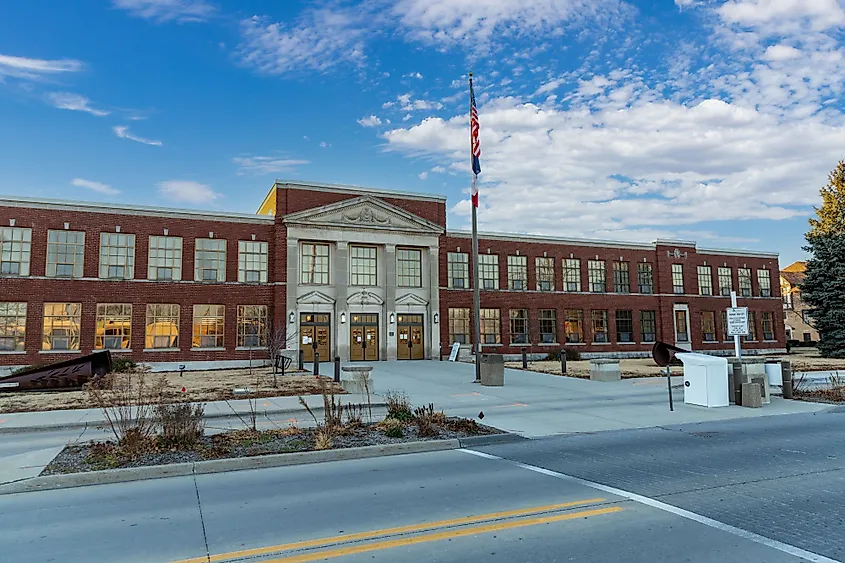 As per the latest US Census, Ames has a population of 66,427 residents, where 46.4% are females and 53.6% are males. The city's racial makeup is 78.1% white (non-Hispanic/Latino), 11.4% Asian, 3.9% Hispanic or Latino, and 3% African-American or Black. The remaining are distributed among American Indians, Alaska Natives (AI/AN), and other mixed races. English is spoken by 84.7% of the population. The rest speak Asian and Pacific Islander languages (9.1%), Indo-European languages (3.4%), Spanish (1.9%), and other foreign languages (0.9%). Only 23.3% of the population in Ames are naturalized US citizens. Veterans make up 3.7% of Ames' population, of which 91.5% are males, and 8.5% are females.
As per the same Census, the employment rate in Ames is 59.3%, with a poverty rate of 26.6%. The homeownership rate is 41.2%, where the median gross rent cost is $944 per month, with a median household income of $50,783. According to Sperling's BestPlaces, the unemployment rate in Ames is 2.7%. The job market in Ames has grown by 2.3% over the past few years. Compared to the US average of 33.5%, future job growth in Ames is expected to be 34% during the next ten years.
Attractions In Ames
Reiman Gardens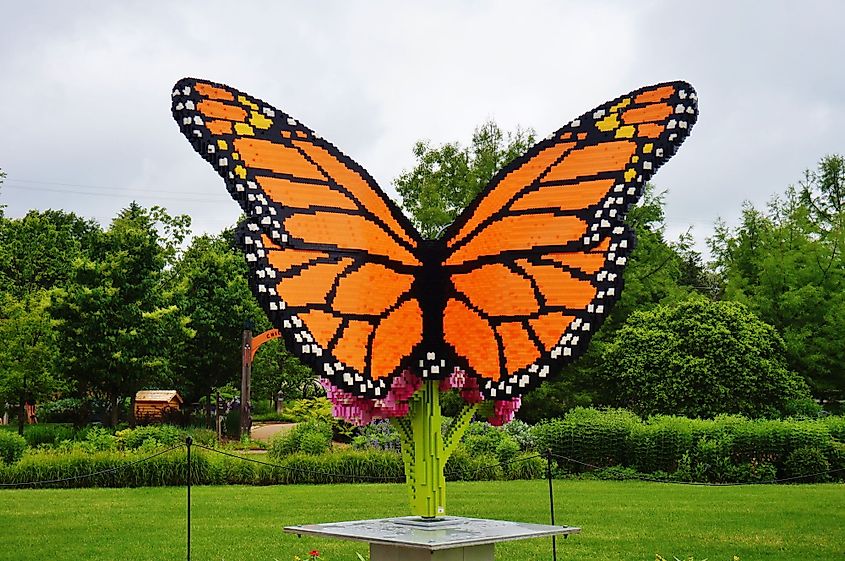 The magnificent 17-acre botanical garden of the university is located at the south end of the Iowa State Center. The expansive conservatory complex within has tropical plants and frequently changed seasonal exhibits. The Christina Reiman Butterfly Wing is a gorgeous indoor tropical garden that houses butterflies from six different continents, including amazing emergence examples. There are numerous additional features outside, such as a maze garden, a herb garden, a children's garden with an Iowa theme, and a rose garden with 2,000 plants.
Brunnier Art Museum
Henry J. and Ann Brunnier founded the Brunnier Art Museum in 1975, located inside the Iowa State Center of Iowa State University. ISU has four campus art museums and the greatest public art collection of any university in the United States. The Brunnier Museum is home to a sizable and constantly evolving collection of paintings, sculptures, fabrics, prints, silver artifacts, furniture, and decorative art pieces. Free entry is offered, and there's a suggested donation.
Ames History Museum
The Ames History Museum is situated on 416 Douglas Avenue, about one block off Main Street. Its primary goal is to engage a broad audience and offer special opportunities for learning about Ames's history.
Picnics, outdoor dining, shopping, and other enjoyable activities are all readily available in Ames. With so many open spaces, museums, parks, exhibitions, and restaurants, it is understandable why people are attracted to this beautiful city.