Jump To
America has its share of beach towns. After all, the US has the long stretches of the Pacific and Atlantic Coasts, the surprisingly sandy shorelines around the Great Lakes, and a plethora of islands, peninsulas, bays, and gulfs on which these wonderful communities could develop. Amongst the sea of possible candidates to highlight, these are twelve of the most charming that deserve a summertime or perhaps even a cozy off-season visit.
Key West, Florida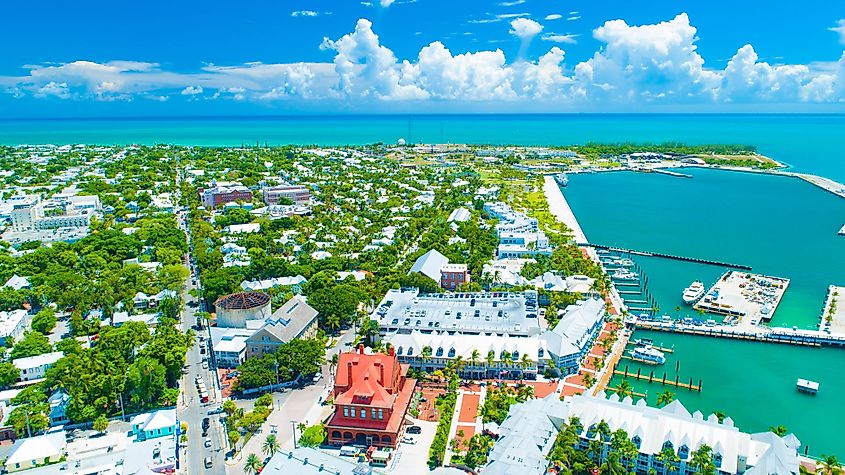 Key West is situated far off the coast of mainland Florida. This tropical island paradise welcomes visitors and offers a variety of recreational activities, including swimming, boating, kayaking, diving, snorkeling, etc. One must visit Fort Jefferson and the Dry Tortugas National Park. One can also simply kick back on the beaches, relax by the pool, post up on the colorful and inviting Duval Street, or stroll through the Key West Historic District (i.e., the old town) for a glimpse into the past.
Saugatuck, Michigan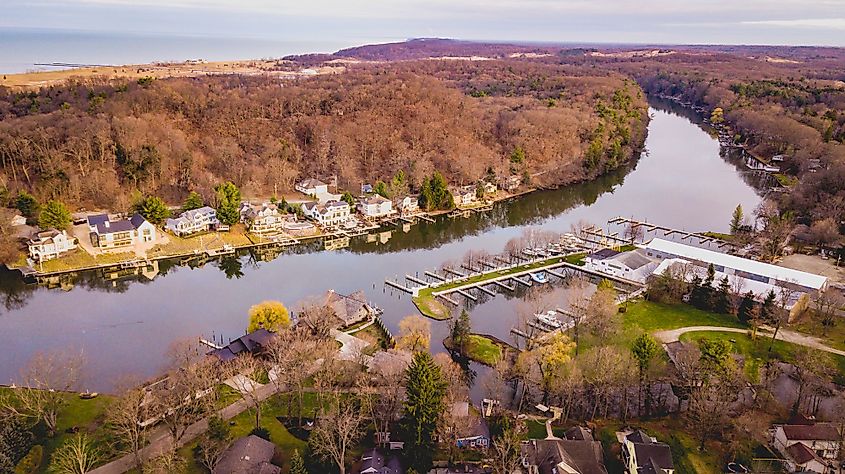 On Michigan's southwestern shore is the small city of Saugatuck. But given its minuscule population of 1,000 residents and ample waterfront wonder, it is much better classified as a classic beach town. Here, the idyllic Oval Beach is the focal point for fair-weather vacationers. It is harbored by grass-covered sand dunes and the Kalamazoo River, en route between Kalamazoo Lake (which is also in the heart of town) and Lake Michigan. And after sufficient lounging, there are plenty of trails to explore and a pretty town to peruse.
Ocean Springs, Mississippi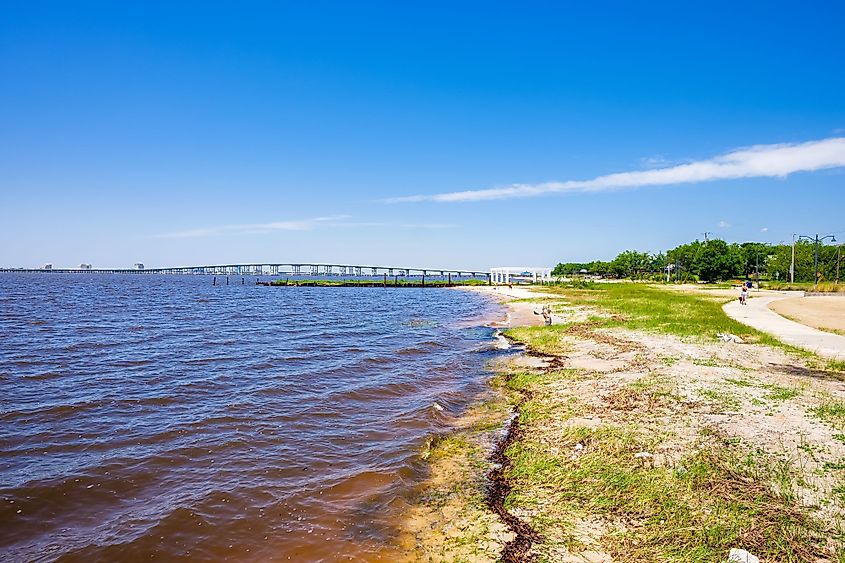 Ocean Springs is situated in Southeastern Mississippi, on the shore of Biloxi Bay, which opens into the vast Gulf of Mexico. Just on the town's eastern outskirts is the Davis Bayous Area Gulf Islands National Shoreline - a lovely spot for camping, hiking, launching a boat, or cruising the boardwalks. But a great beach town just isn't complete without a cool downtown. There are hundreds of independent shops congregated here, a full spectrum of places to eat (from summertime beach grub to fine dining), and Ocean Springs hosts a giant annual arts and crafts festival. 
Geneva-on-the-Lake, Ohio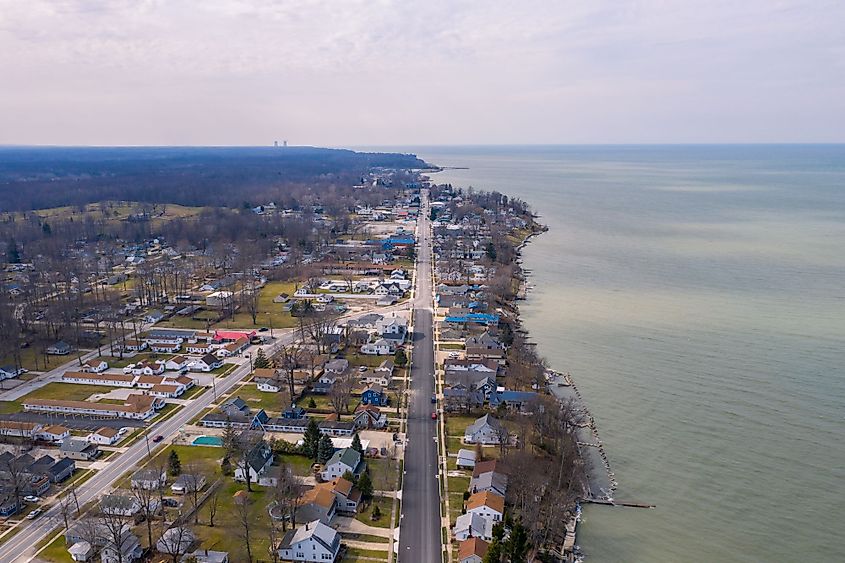 On the Ohio portion of Lake Erie, in Ashtabula County, sits the village of Geneva-on-the-Lake (GOTL). This summer resort is for beachgoers and go-getters alike. It features a state park, a marina, go-karts, cycling paths, and several eating and shopping outlets. In addition, the outdoor concerts and general out-and-about sensibilities of the community are sure to revive anyone's youthful summertime nostalgia. 
Ocracoke, North Carolina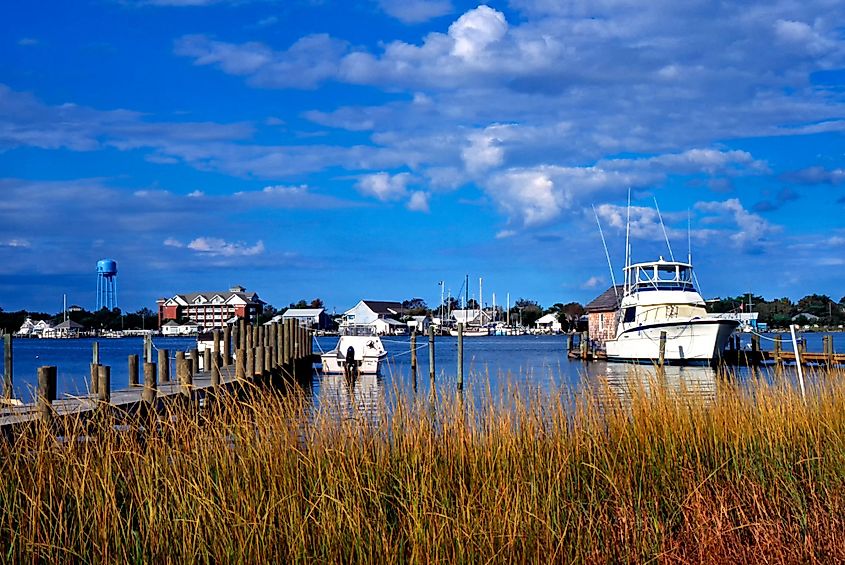 Ocracoke is an unincorporated town situated along the Outer Banks. This little spot can only be accessed by ferries. Ocracoke Island is blessed with 16 miles of uncrowded coastline. 
Grand Haven, Michigan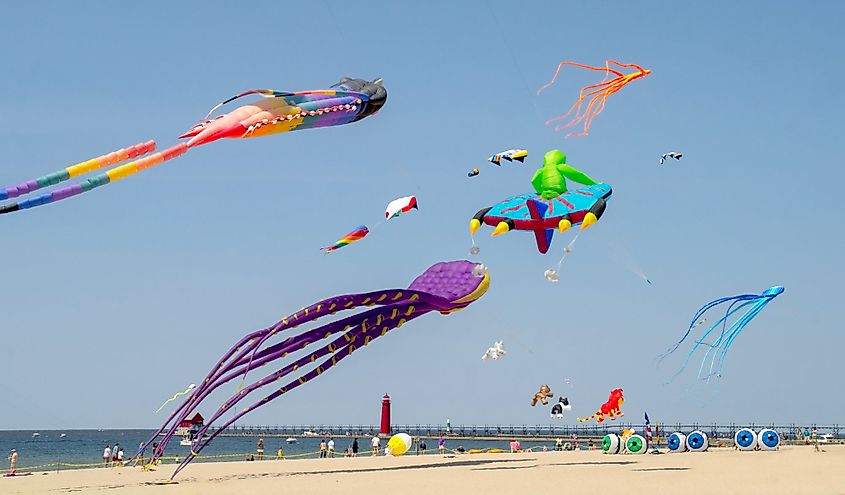 The well-known lake life getaway of Grand Haven is another must-see spot along the West coast of Michigan's Lower Peninsula. Visitors can choose between Grand Haven City Beach, Grand Haven State Park, or North Beach Park, which is just North of Grand Haven in Ferrysburg. For some sneaky alternatives during peak season, one can also make for Olive Shores Park, Buchannon Beach, Rosy Mound Natural Area, or Windsnest Park. If you stay in Grand Haven, you are never far from a natural tanning bed, a refreshing swim, a cute lighthouse, or a perfect sunset.
Haleiwa, Hawaii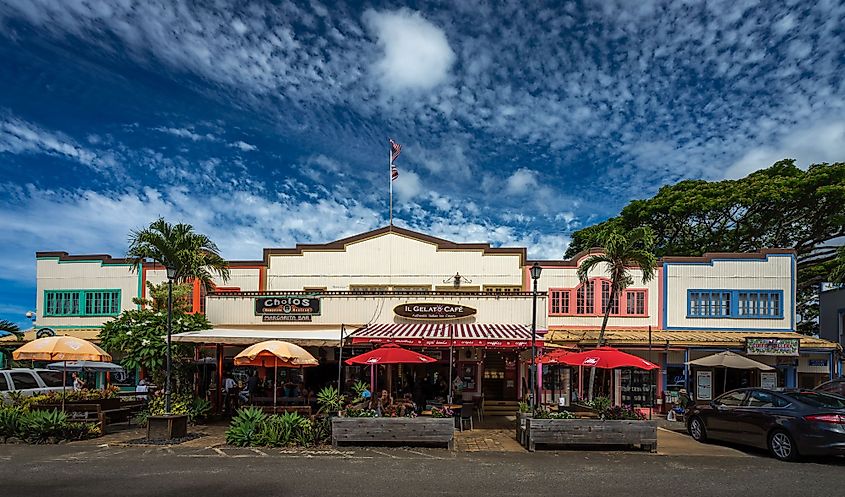 Haleiwa pronounced hah-lay-EE-wah and meaning "house of the frigate bird," is one of the surfing capitals of the world. Located on the Northern Coast of Honolulu, Hawaii, the shores of Haleiwa can see swells between 2 to 40 ft! That should keep all levels of surfers entertained. But it is not all high-octane thrills; this place preserves an old-fashioned feel that earned it the status of Historical, Cultural, and Scenic District by the State. And like many quintessential Hawaiian hangouts, Haleiwa makes for a chill spot to drink in the screensaver sunsets. 
Nantucket, Massachuesetts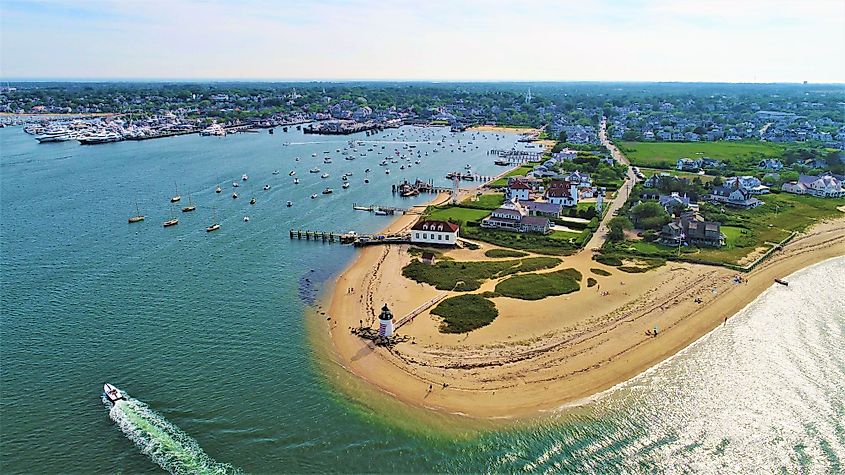 Nantucket is a maritime beach town on the cozy island of the same name, a little way off the coast of Massachusetts. This old whaling port is a beacon for relaxing yet inspiring getaways. Kick off your shoes at the acclaimed Jetties Beach, or even jump on a bike and find your own sandy spot a little further out of town. On a rainy day, be sure to visit the Whaling Museum to learn about the capricious but once thriving industry that provides generations' worth of riveting tales and whimsical shanties.
Asbury Park, New Jersey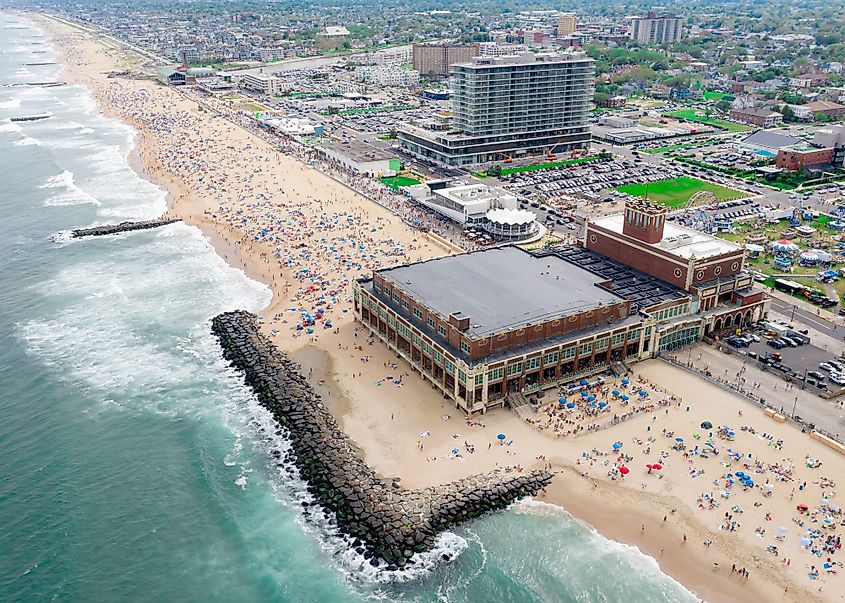 Bruce Springsteen's early work immortalized this Jersey Shore beach town, particularly the hit song, 4th of July, Asbury Park (Sandy). Asbury Park is well-known for its music scene, the Memorial Day Carnival, retro arcade games, and an all-around beautiful shoreline and charming atmosphere. The iconic boardwalk has recently been revitalized, and the beach remains one of the best in the state for catching some waves or just having some good old-fashioned fun in the sun. 
Montauk, New York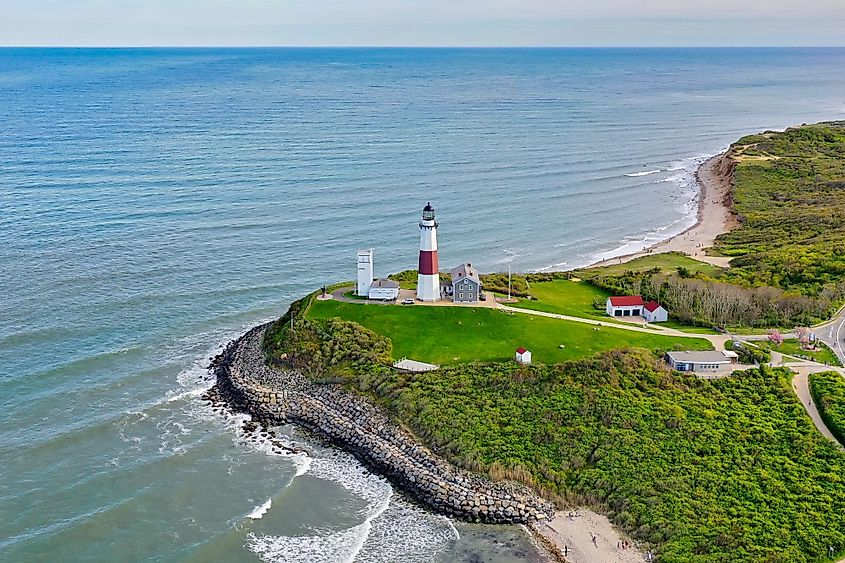 Montauk is a romantic hamlet on the Eastern tip of Long Island, New York. It is just a three-hour train ride from Manhattan, which is an ideal way to transition from big-city mindsets to beach-town mode. Upon arrival, you can peer out into the North Atlantic Ocean and go for walks along Montauk's pristine beaches. Visitors can dig their toes in along Ditch Plains Beach, Kirk Park, and/or Gin Beach, rent a boat for the day, do some fishing, or even go for a seaside horseback ride along the shore of Deep Hollow Ranch.  
Carlsbad, California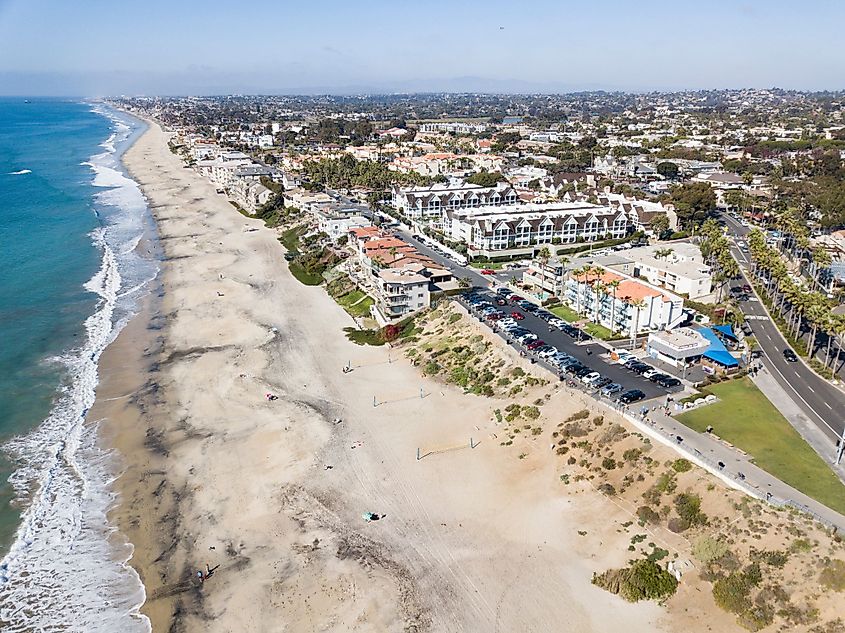 Carlsbad is a modest-sized coastal city in Southern California. But it is known as "The Village by the Sea" for its 7-mile beachfront that is bordered by picturesque ocean cliffs, as well as the walkable, smaller-town feel. The surfers and beachgoers will always have their own perfect locations to select from. Carlsbad delivers the quintessential California charm and climate but with fewer metropolitan crowds. It is still a well-known place, but the modest permanent population, combined with a balanced array of activities, makes Carlsbad a splendid and refreshing beach town. 
La Push, Washington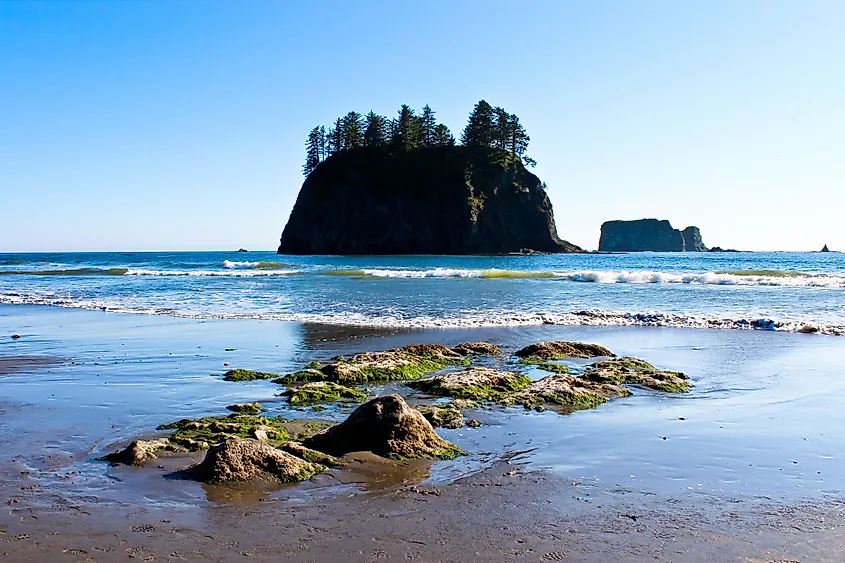 This last entry is for those looking for an atypical beach experience. Trade in the blazing sun and perfectly manicured sands for a more rugged, rainy, and rustic experience in the thick of the Pacific Northwest. La Push, Washington, is beautifully located on the Olympic Peninsula, along part of a 70-mile stretch of unspoiled coastline. This soothing and introspective atmosphere invites a different kind of beach bum - one who enjoys freely exploring character-rich shores, dense rainforest trails, or cozying up indoors with a good book and a cup of hot tea when the rains roll in. 
Depending on which portion of the US you narrow your search to (which is no easy task to begin with), the beach scene will offer intriguing variations while consistently delivering the same general charms. One thing is always certain; there is no wrong way to go. A day at the beach is always a day well spent.