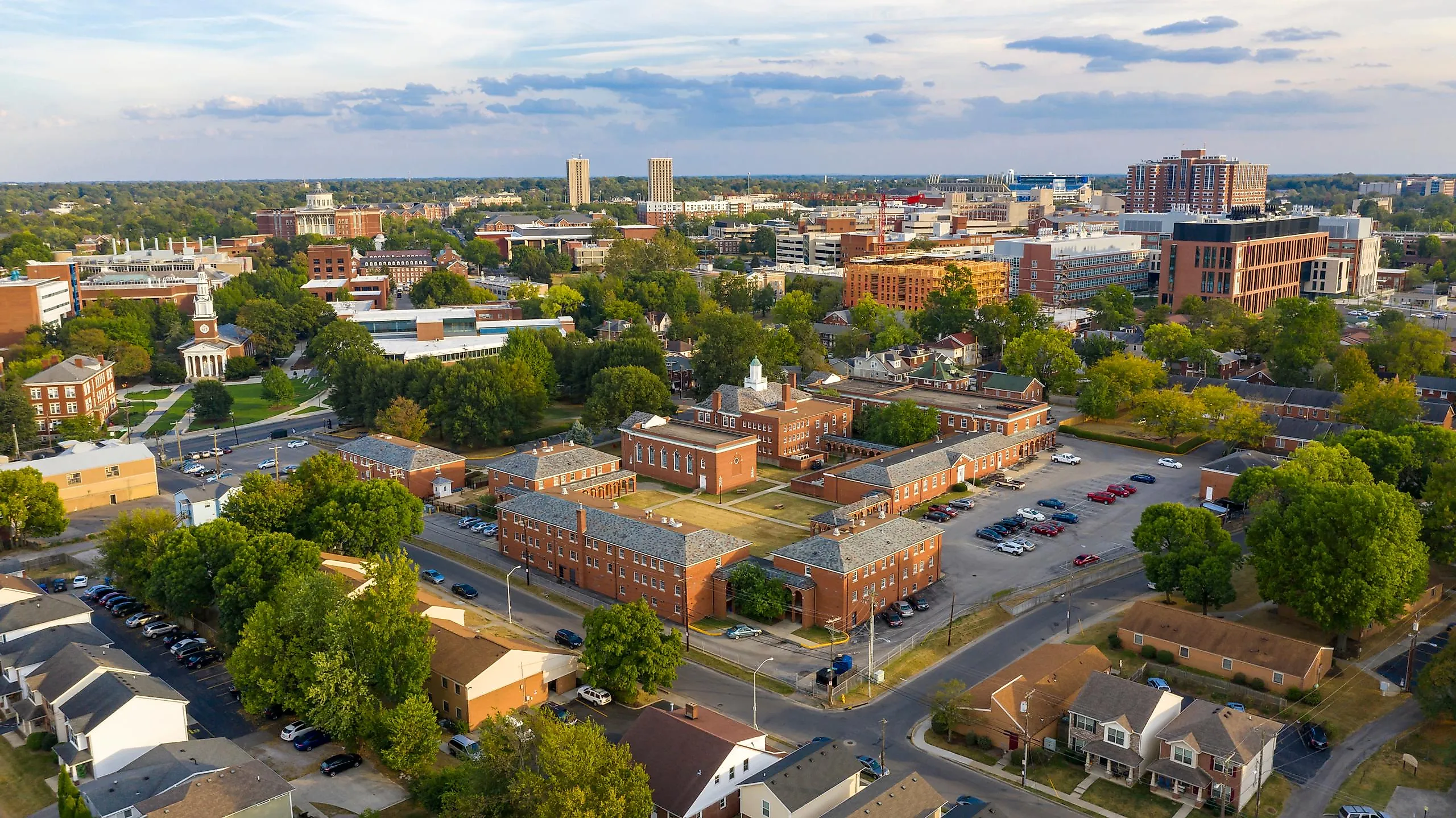 8 Most Underrated Cities In Kentucky
Kentucky, the Bluegrass State, brings to mind small towns tucked alongside winding streams, rolling hills, and tree-covered mountains. Even the state's biggest cities, Louisville and Lexington, tend to be underrated compared to other U.S. cities of similar size. The fact of the matter is that while Kentucky is indeed a rural state, it has a few major metro areas and several small cities that are well worth a closer look. You should definitely check out the great small towns and ample natural beauty of Kentucky next time you visit, but set aside time to explore one or more of the underrated cities listed here as well.
Bowling Green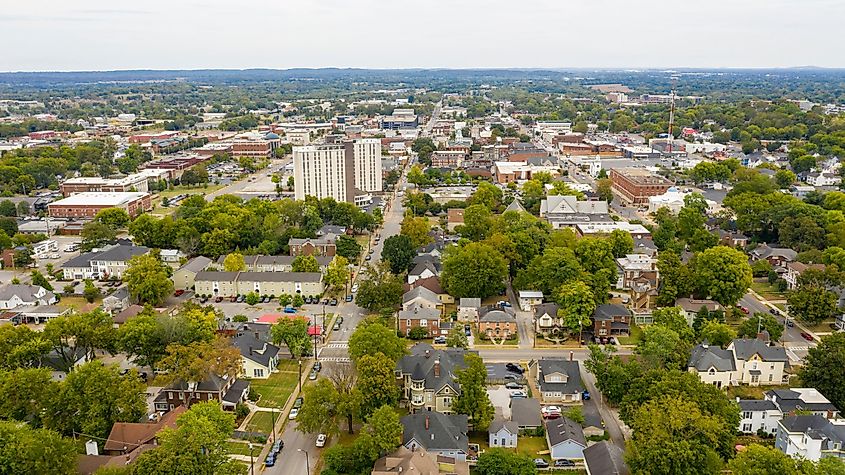 The south central Kentucky city of Bowling Green, situated between Louisville and Nashville, definitely gets overshadowed by larger cities such as those. But this city of about 75,000 has a lot going for it. Bowling Green's role as the seat of Warren County and the home of Western Kentucky University adds vibrant energy to the downtown area. The city also has several historic districts that are great for walking tours. Additionally, Bowling Green has distinctive museums, including a railroad museum, an aviation museum, and the National Corvette Museum. Visitors to the latter museum can even try to take a Corvette for a spin on the track!
Lexington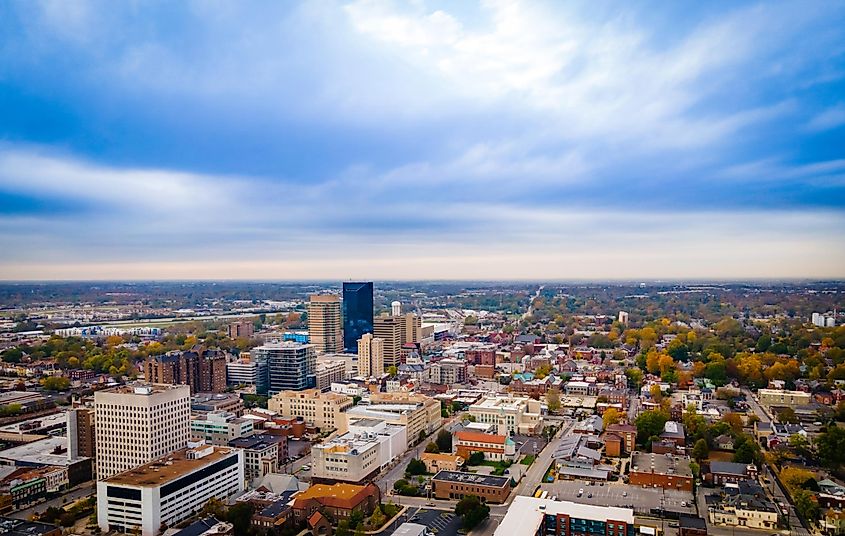 It is true that Lexington is well known as the home of the University of Kentucky and the self-proclaimed "horse capital of the world," but it often does not get its due as a vibrant city. Lexington is, in fact, Kentucky's second-largest city, with about 330,000 residents, and has the cosmopolitan feel of an even larger city. This international flair comes partly from Lexington's long history as a regional economic and educational center—it was once known as the "Athens of the West"—and in part due to the global connections of its thoroughbred horse breeding and racing operations. Visitors to Lexington can experience a taste of the world while still knowing they are in the heart of the Bluegrass State.
Louisville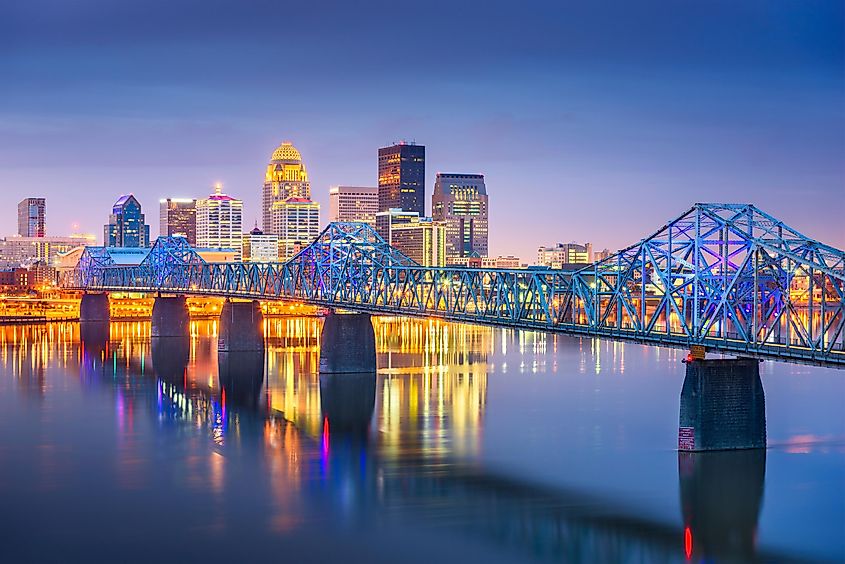 Louisville is definitely not an unknown city, but it is bigger and busier than you might expect. With 630,000 residents, Louisville is by far Kentucky's largest city and the 27th largest city in the U.S., ahead of better-known cities like Baltimore, Atlanta, and Miami. Established as a port in the late 1700s along a key section of the Ohio River, Louisville has long been Kentucky's most important commercial hub. Several large corporations call the city home, adding to the vibrancy of the downtown area. In addition, Louisville is home to Churchill Downs, the site of the annual Kentucky Derby, the most famous thoroughbred horse race in the world. 
Owensboro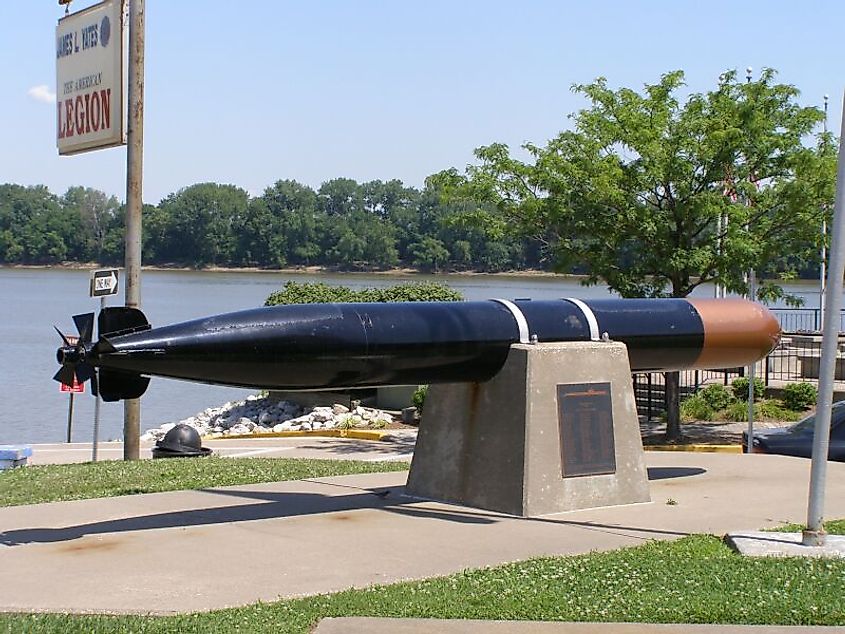 Situated on a U-shaped bend along the Ohio River in western Kentucky, Owensboro's population of just over 60,000 makes it the fourth-largest city in the state. Despite having the size and amenities of a small city, though, Owensboro retains a deep connection to its surrounding rural communities. Known as the "Bluegrass Capital of the World," Owensboro is home to the Bluegrass Music Hall of Fame and Museum and hosts more than 20 music festivals each year. Visitors to Owensboro are sure to find local live music playing at venues across the city while also enjoying its highly-regarded culinary scene. Add the scenic river views, and you have a great spot for a night out!
Covington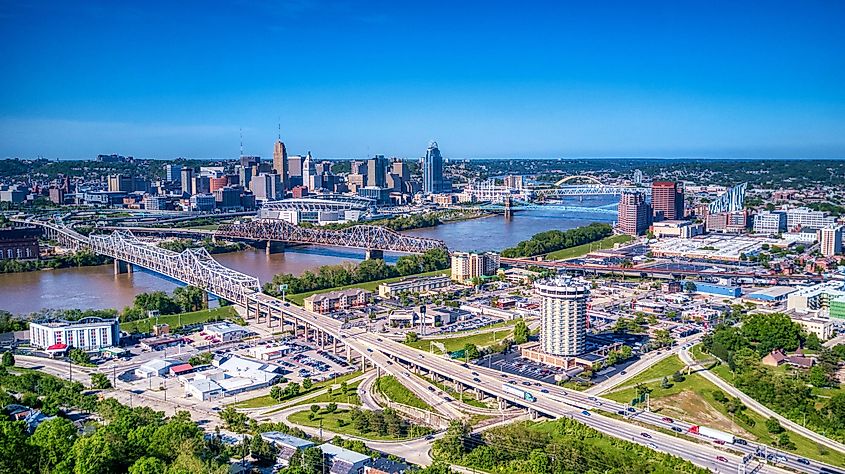 Because it sits directly across the Ohio River from Cincinnati, Covington often gets lumped in as just a continuation of its larger neighbor. But Covington, home to about 40,000 residents, also stands on its own as a travel destination. The Roebling Bridge, a suspension bridge that has connected Covington and Cincinnati since 1867, is an architectural and engineering landmark, and Covington has several historic residential neighborhoods full of nineteenth-century charm. Covington also has its own bustling commercial district, and the Northern Kentucky Convention Center is busy with year-round events. So, while the riverfront area offers stunning views of downtown Cincinnati, you will find plenty of reasons to stay put in Covington!
Elizabethtown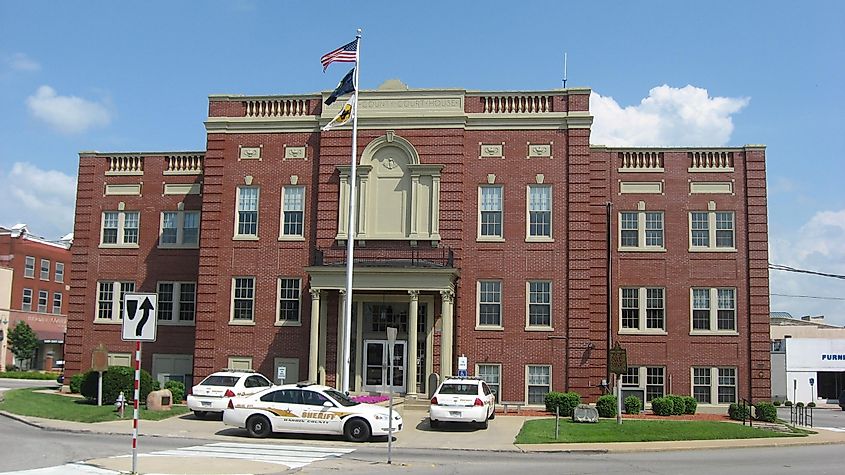 The small city of Elizabethtown is only about 40 miles south of Louisville, but it sits in a primarily rural part of central Kentucky. Serving as the seat of Hardin County, Elizabethtown's population of around 32,000 makes it stand out among the smaller communities and open fields that surround it. Elizabethtown has a classic downtown area with handsome brick buildings, some of which are adorned with murals. Visitors to the city have easy access to the surrounding countryside via numerous recreational trails and public parks. Elizabethtown also serves as a great base of operations for day trips not only to Louisville but also to Mammoth Cave National Park, only 45 miles away.
Georgetown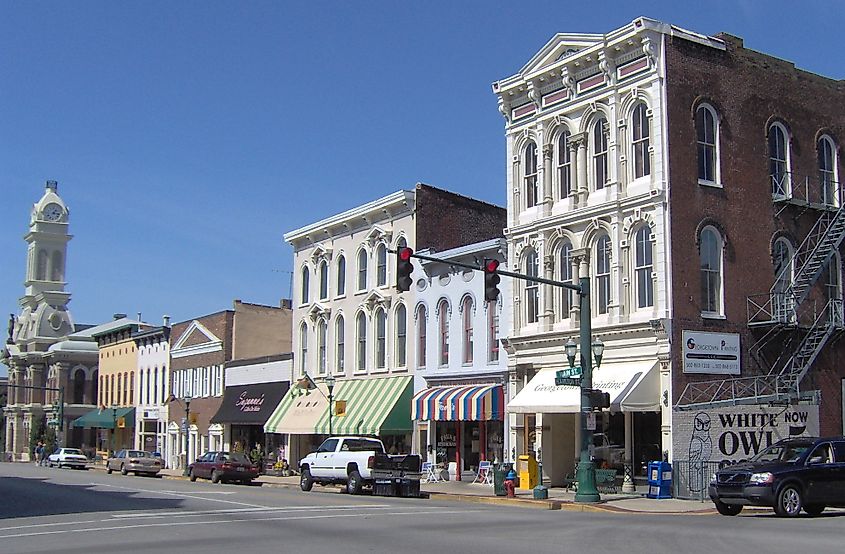 Situated less than 15 miles north of Lexington, Georgetown has a similar look and feel to its much bigger neighbor but on a more relaxed, laid-back scale. Home to about 39,000 residents and the seat of Scott County, Georgetown is, like Lexington, a key player in thoroughbred horse breeding, training, and racing. In addition to visiting some of the many horse stables in the area, visitors to Georgetown can soak in the charms of its lovely downtown area, with numerous Victorian-era buildings housing a range of boutiques and restaurants. The region is known for apple cider production, so cider tastings and orchard festivals are common in the autumn. 
Richmond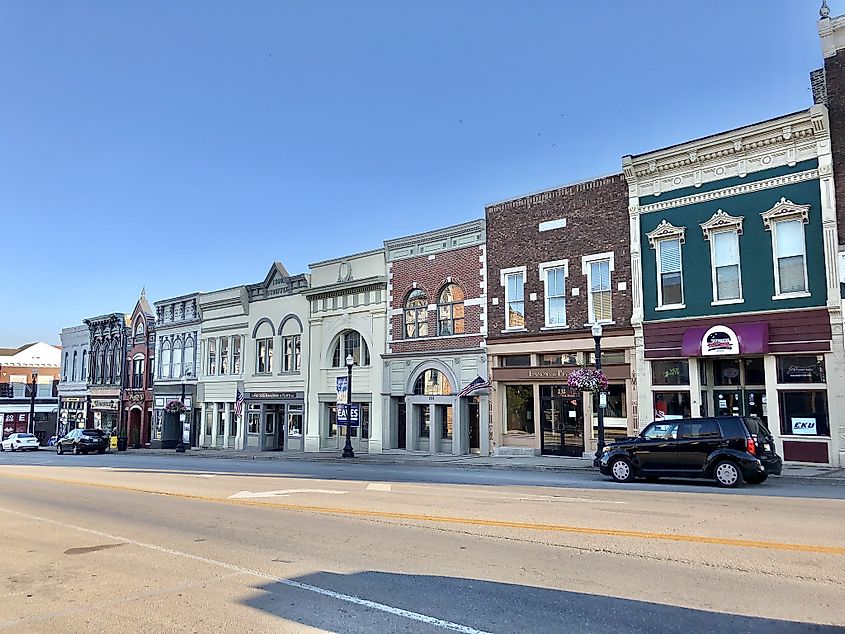 Located about 30 miles south of Lexington in the heart of Bluegrass Country, Richmond serves as the seat of Madison County and has a population of just over 35,000. Richmond's strategic location in east central Kentucky led to it becoming the site of the state's largest Civil War battle, and visitors flock to Battlefield Park and other Civil War sites in and around the city. Another popular historic site is Boonesborough State Park, which includes a replica of Daniel Boone's first Kentucky settlement. Visitors who are not history buffs will also find lots to love about Richmond, including its quaint downtown shopping area and the ample beauty of the surrounding countryside.
Kentucky is not a state full of big cities, and most residents and visitors appreciate the charms of its many small towns and rural communities. But Kentucky is also home to one of the larger cities in the U.S., Louisville, and several other mid to small-range cities. These cities are full of history, bustling with activity, and welcoming to visitors. No visit to the Bluegrass State is complete without an exploration of one or more of its underrated cities.