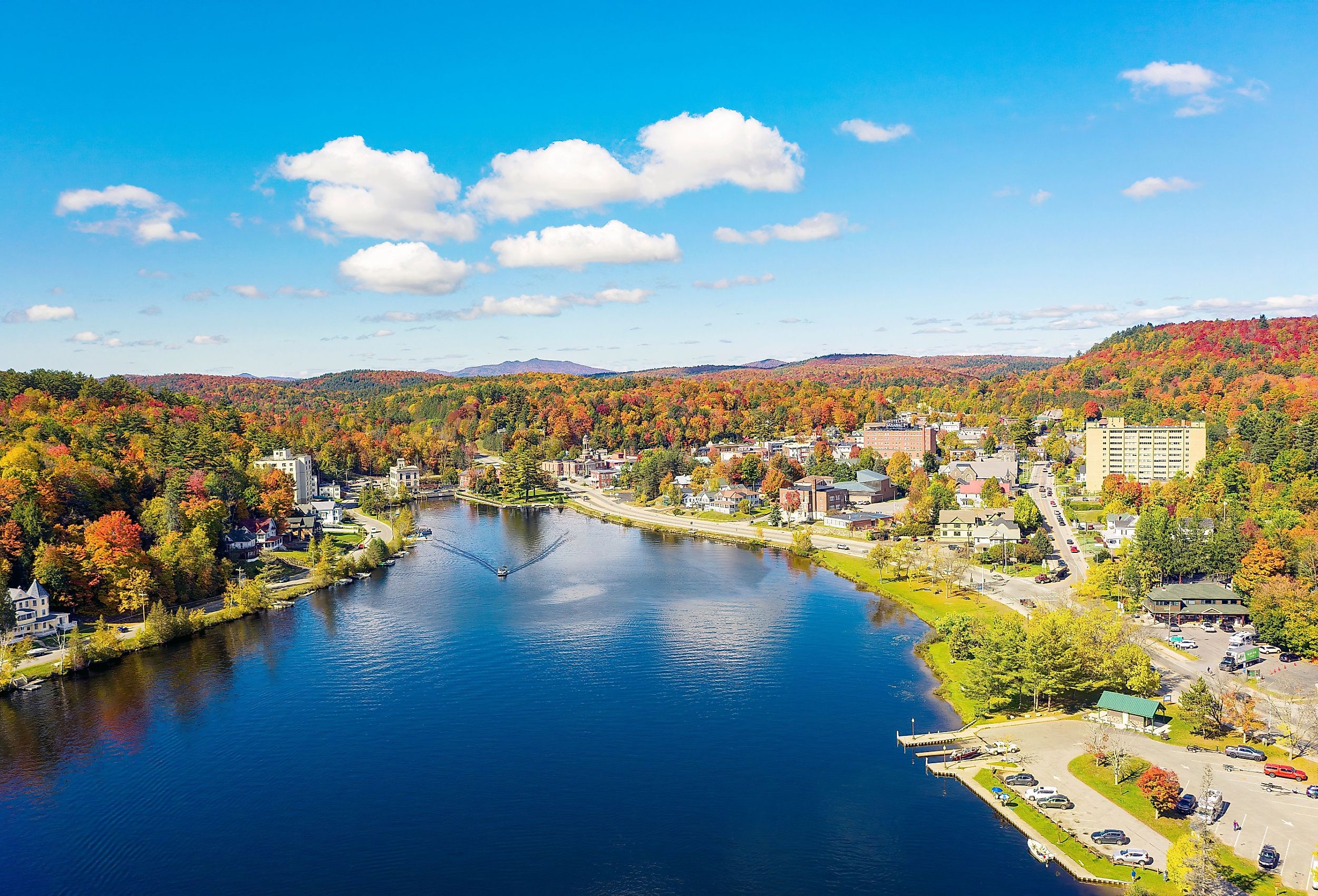 7 Small Towns In New York That Come Alive In The Fall
Although New York is primarily known as being home to the infamous New York City, the country's most populous metropolitan area, the state's charming small towns also draw crowds from all over. New York features a diverse landscape, from the Great Lakes region and Adirondack range, the beautiful Catskill Mountains to the North, and the Atlantic Ocean and Long Island to the south. The small towns that are tucked away from the busy state capital come to life during the fall months, with their breathtaking colorful foliage, apple orchards, and various harvest festivals. The following seven towns are worth considering adding to any New York autumn "must-visit" list. 
Ithaca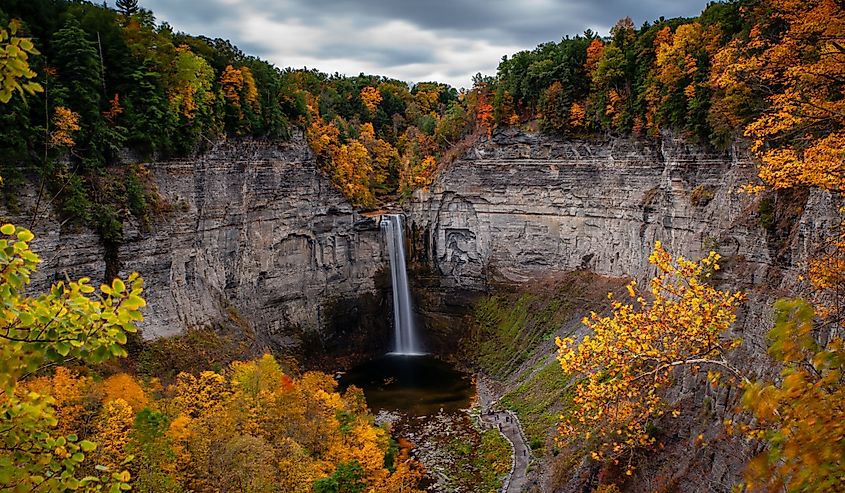 Nature and culture combine beautifully in Ithaca, a quaint town that is situated in the New York Finger Lakes region. If you visit Ithaca during autumn, there is no shortage of places to see the colors or take in the refreshingly crisp air. Visitors will not want to miss a trip to the 811-acre Buttermilk Falls State Park, where folks can hike through woodlands and along the gorge and rim, as well as explore waterfalls and Larch Meadows, a wetlands area. Ithaca hosts the New York Harvest Festival and Freedom Fair each fall, which offers a diverse musical lineup, family activities, a farmers market featuring fall produce, and arts and crafts. 
New Paltz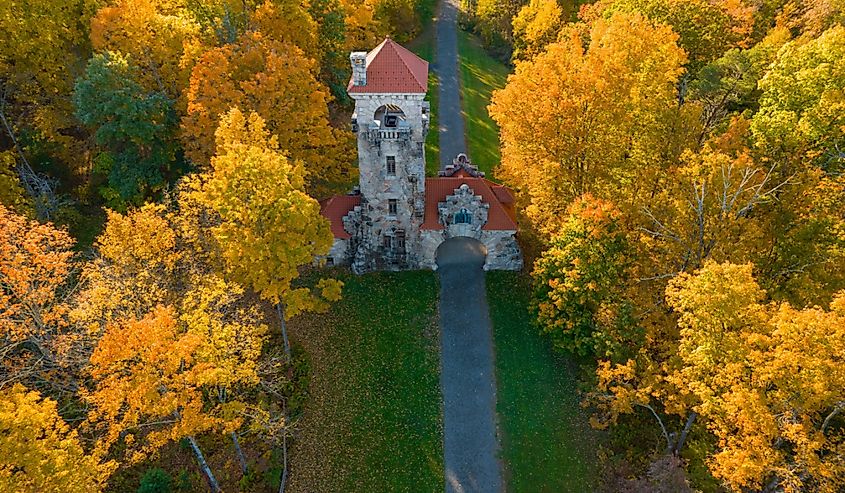 New Paltz is a charming Hudson Valley town that is known for its vibrant music and arts and crafts scene, eateries serving fresh, farm-to-table fare, a rich history, and more than its fair share of outdoor recreational opportunities. Although New Paltz is an exciting place to visit year-round, autumn is when the town shows its true colors. Visitors come to explore the Minnewaska State Park, which is nestled on the breathtaking Shawangunk Mountain Ridge and features several waterfalls, hardwood forests, and 50 miles of hiking and biking trails. Dressel Farms is the best place to load up on fall apples, pears, pumpkins, and fresh-pressed cider, as well as seasonal doughnuts!
Lake George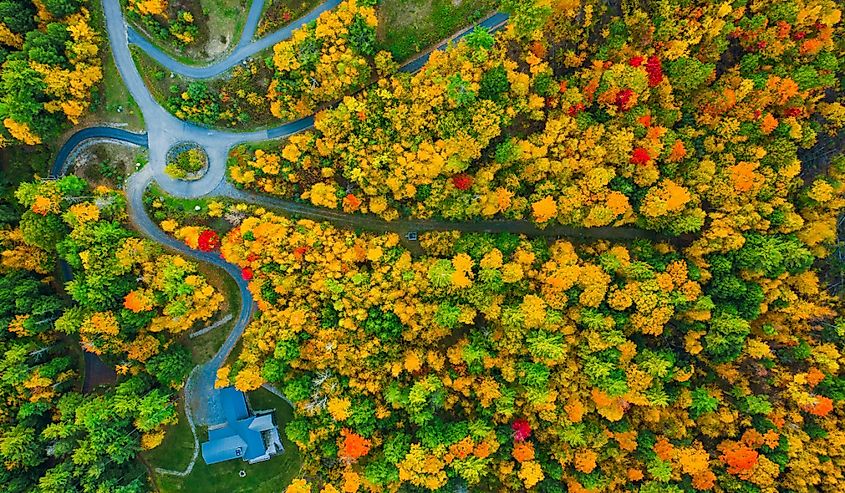 There's nothing like the Adirondack Mountains in the fall, and the sweet town of Lake George is located in the heart of this majestic range. If you want to see the beauty of Lake George in the autumn from the water, the Lake George Steamboat Company offers fall foliage cruises. The 1,436-acre Berry Pong Reserve is another scenic place to take in the changing fall colors, as it offers well-marked trails through the mountain range. There is also a blue heron rookery and plenty of native wildlife to enjoy. Indulge in all that the season has to offer at the nearby annual Apple Festival, featuring the best of Warren County farms and local businesses. 
Saranac Lake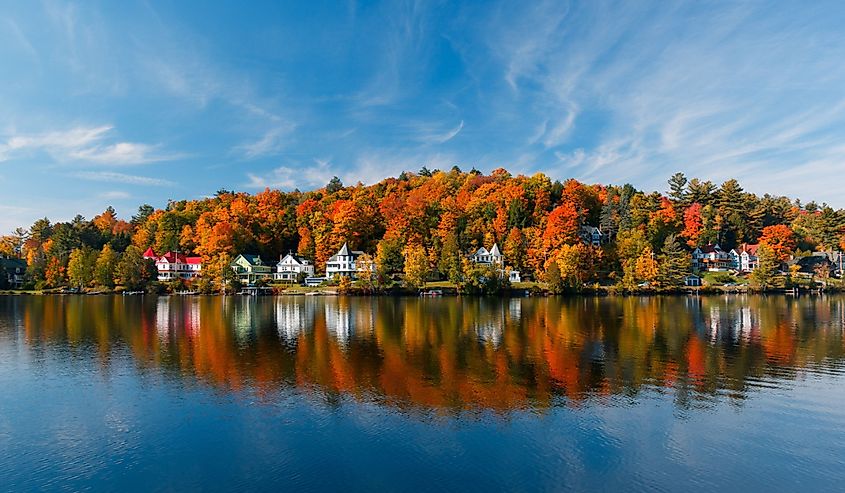 When thinking of the quintessential small New York town to spend a fall day or two in, Saranac Lake should come to mind. Another breathtaking Adirondack Mountain town, Saranac Lake offers an eclectic mix of the arts, history, culture, and outdoor recreation. To experience a one-of-a-kind fall color summit view, all you have to do is begin hiking from a nearby trailhead. The town offers a variety of hiking trails, ranging from gentle to intense, and all are surrounded by stunning natural scenery. Some trails also wind around the lake, treating explorers to a glimpse of native flora, fauna, and wildlife. The Adirondack Center for Loon Conservation is available for indoor adventures on chilly or rainy fall days. 
Hudson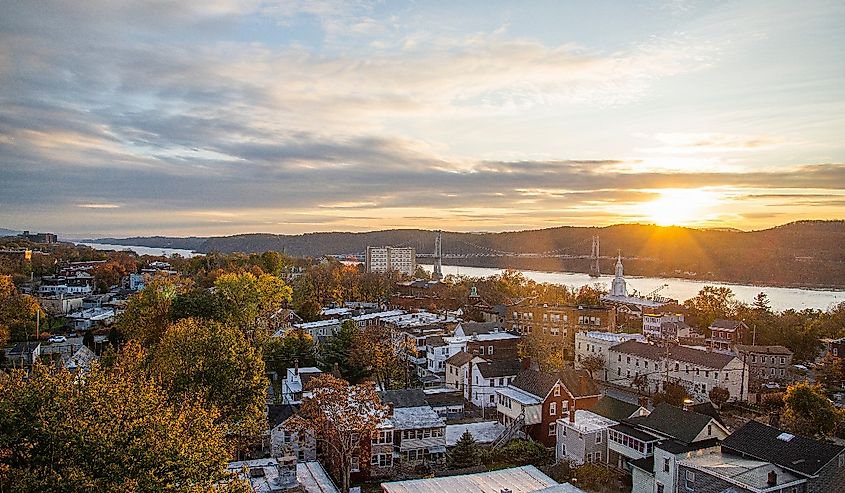 Hudson is blessed in that even though it has a charming, small-town feel, it is within easy driving distance of Albany and New York City. It also has a compact urban core, making it walkable offering all of its amenities within reach. Situated on the Hudson River, the aptly named town of Hudson makes for a scenic fall day trip from the big city, particularly when its hills come alive with colorful bursts of crimson, gold, and orange. With its waterfront paths and boat docks, Riverfront Park is the perfect place to explore autumn foliage on both land and water. Pack a picnic and take a relaxing day trip to get the most out of the fall scene.
Lewiston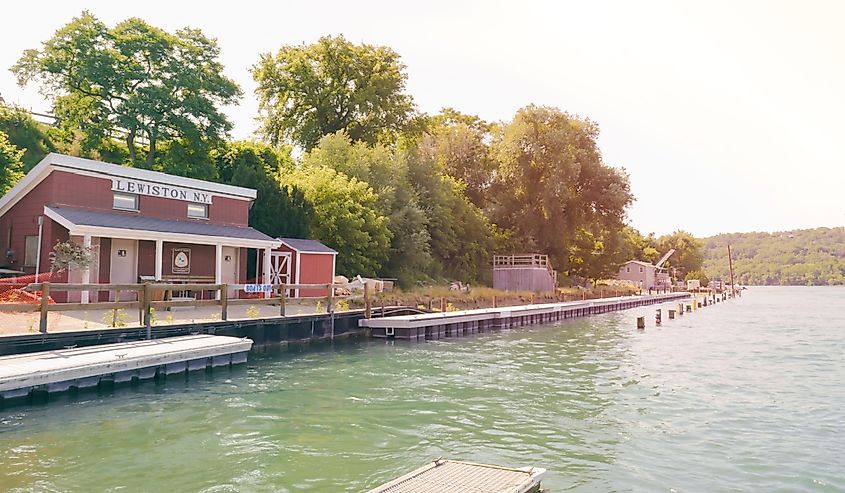 Natural beauty, culture, and a rich history all combine to put Lewiston at the top of the "must-visit" place for fall. This quaint town is known for being home to the first significant battle in the War of 1812 and the final stop on the Underground Railroad. When it comes to outdoor recreation, Lewiston was blessed with a location on both the Niagara Gorge and the Niagara River. Autumn visitors can take in the vibrant fall colors with a hike through Niagara Falls State Park, which features 400 acres of lush terrain filled with waterfalls, gardens, protected wildlife, and multiple hiking trails, ranging from easy to difficult. 
Westfield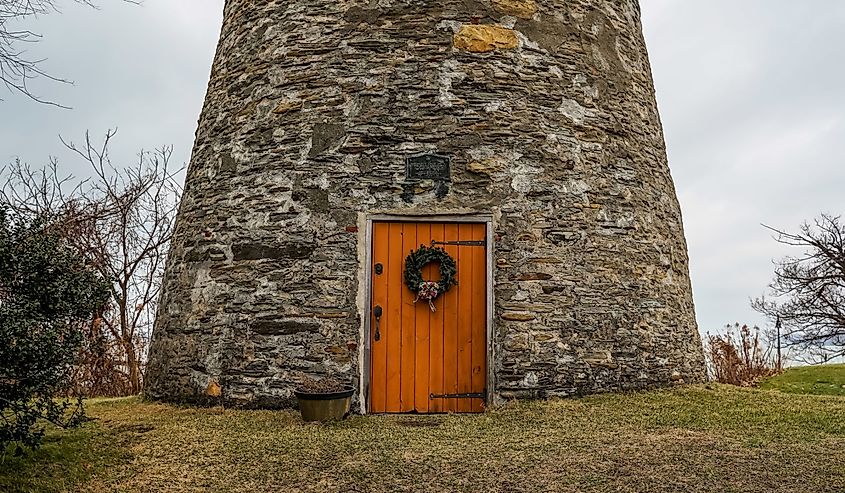 Westfield is located on the western shores of Lake Erie on the Seaway Trail, giving the small town a charming nautical appeal year-round. The first stop for many Westfield visitors is Barcelona Lighthouse State Park, which is home to the first natural gas lighthouse. Westfield is an outdoor enthusiast's paradise, with a wide range of opportunities for fishing, bird watching, camping, boating, hiking, and biking. Waterfront Ottaway Park offers a scenic view of both Lake Erie and the autumnal colors, which visitors can witness from trails of picnic areas. Travelers are also treated to the Autumn Craft Fair each September, so plan accordingly!
Conclusion
There are so many road-trip-worthy small towns in New York that the only challenge may be picking just one or two to spend an autumn day in! Whether you are craving the excitement of mountain hiking trails and waterfalls, or a more serene shoreline walk or picnic, visitors will find it in any one of this state's quaint towns. Museums, historic sites, fall festivals, and local attractions are also yours to enjoy all while being surrounded by that beautiful fall air we all know and love.