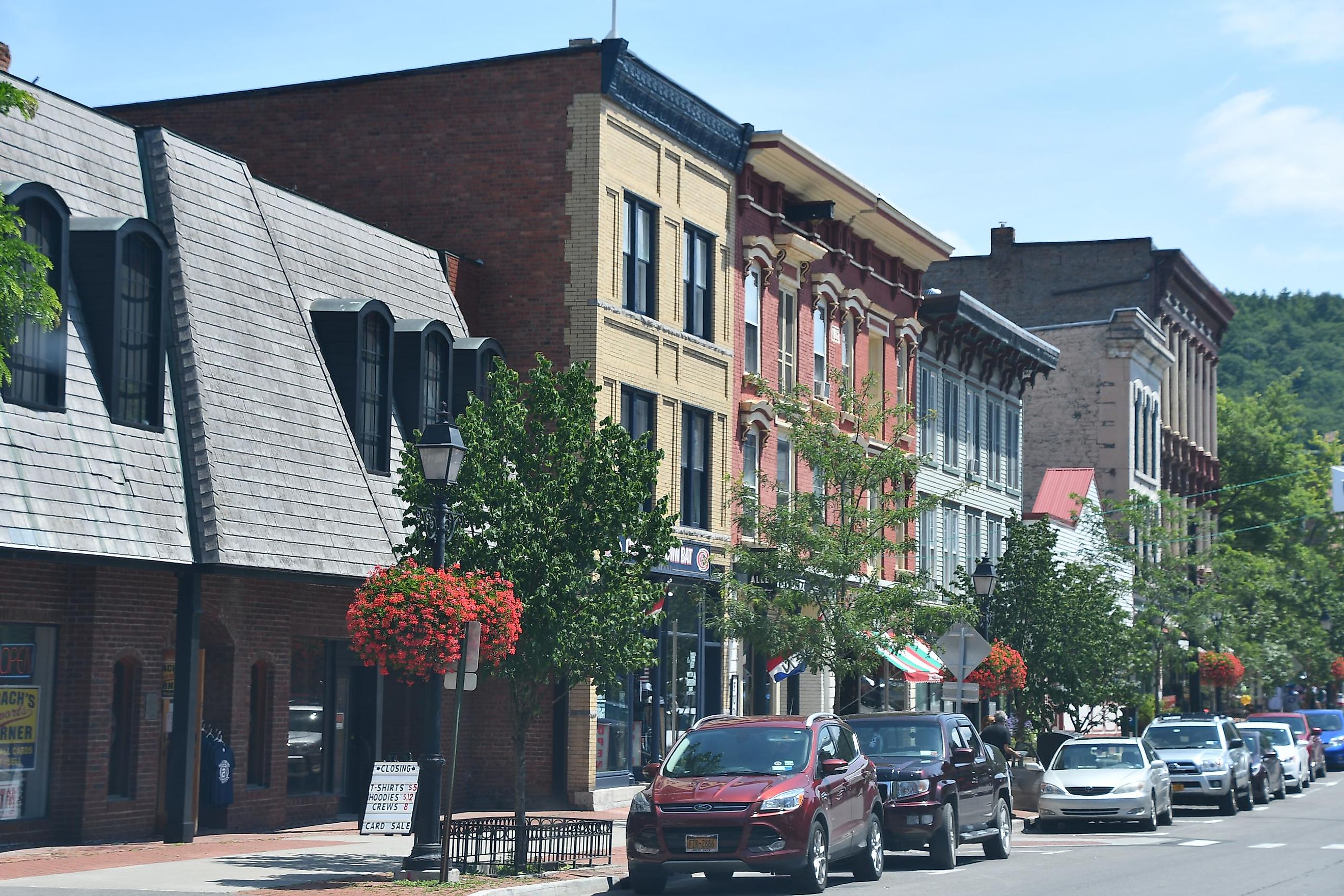 These Small Towns in Upstate New York Come Alive in Fall
Falling leaves that crunch as you walk, sunlit golden foliage overhead, and the smell of crisp evening air, autumn in Upstate New York is unlike any other place in the world. From hay rides, corn mazes, pumpkin carving tutorials, fresh apple cider, and a slew of fall festivities, the towns of the Upstate New York Region will not let you down if you are looking for a fantastic and unique fall experience. Popular autumn events that attract domestic and international visitors include the Adirondack Balloon Festival, the Punkin' Chunkin' Festival, and the Flaming Leaves Festival.
For those who have spent some time in Upstate New York during other seasons, visiting during the fall season in this region is an entirely different experience. As the slowly lengthening nights give way to dew-drop mornings, the small towns of Upstate New York come to life with harvest festivities held across the entire region. But, with so many towns to choose from, how do you know which to visit? To make this decision easier for you, we have compiled some of our favorite Upstate New York towns that exude charm, fun, and autumnal levity and offer the chance to explore some manner of fall foliage.
Lake Placid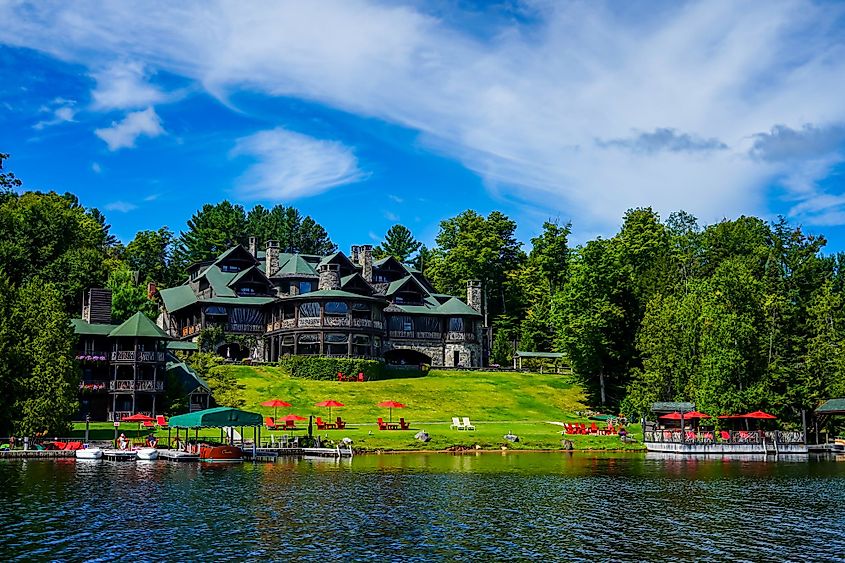 Even though the modern zeitgeist places Lake Placid, New York, squarely in the camp of winter sports destinations, it is no slouch when it comes to natural beauty and community events, particularly during the fall season. In downtown Lake Placid, autumn brings many festivities, and visitors looking to experience them. The most popular fall event in Lake Placid is the Flaming Leaves Festival, at which you will find all sorts of activities and amenities, including food trucks, hard drink vendors, live music, family activities, booths selling handcrafted artisan works, and so much more.
Another great way to experience autumn in Lake Placid, and more specifically Lake Placid's fall foliage, is to take the Whiteface Cloudsplitter Gondola up to the summit of Whiteface Mountain (gondola access 4 miles north of town). From the top of Whiteface, you will have a one of a kind panoramic view out and across the Adirondack mountains, covered in waves of luminous fall foliage that creates an ethereal effect.
Canandaigua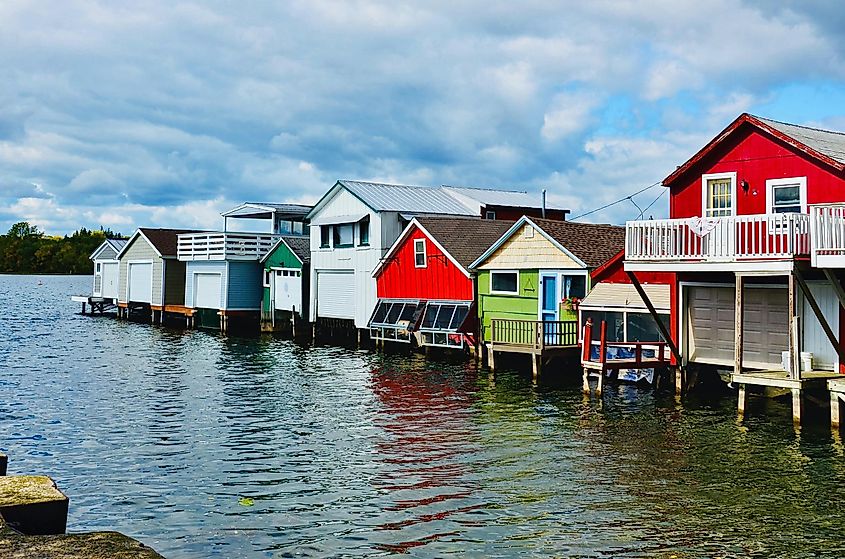 With a name like Canandaigua, meaning 'The Chosen Spot' in the Seneca language, the expectations of this town's natural beauty are understandably high. But where many things do not live up to their names, Canandaigua absolutely does. In town, there are many green spaces to explore, but none with such autumnal allure as the gardens at Sonnenberg Gardens and Mansion State Historic Park. Wander through the 50 acre large grounds and enjoy the curated fall foliage of this site. Another great way to experience the autumnal colors of Canandaigua and the surrounding Finger Lakes region is by taking the Bristol Mountain Sky Ride chair life up to the summit. Just 14 miles south of town, this is a popular excursion with locals and visitors, so you may want to book your ticket beforehand.
For those looking for a lively, fun fall celebration, Canandaigua is just the town for you. Opening the season in early September, there is the Heron Hill Harvest Celebration, put on by the Rohrbach Brewing Company, and the Ingle Vineyard Harvest Celebration, put on by the Heron Hill Winery. Both of these events include beer tasting and wine tasting, respectively. By the time you reach the Fall Into Canandaigua Festival at the end of October, there is a winter nip in the air. At the Fall Into Canandaigua Festival, there are activities for those of every age. Between pumpkin decorating, a kids Halloween costume parade, horse and wagon rides, and a local farmers market, this is the perfect event to close out the fall season.
Wilmington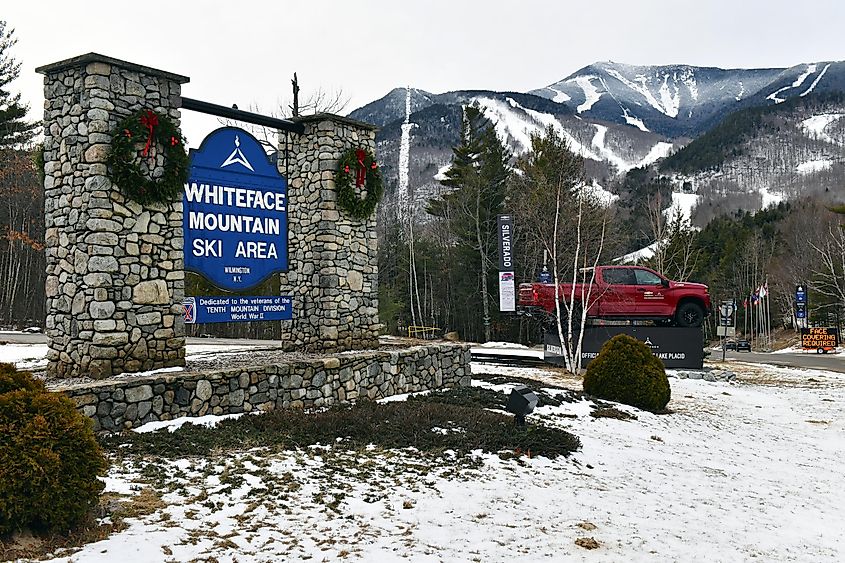 Of all the communities in Upstate New York that throw themselves into celebrating the autumn season, Wilmington, New York, is at the top of the list. Starting in the first week of September, Wilmington opens its fall season with the Wilmington Festival of Colors. One of the highlights of the Festival of Colors is the cupcake contest, which allows locals and visitors to enter their cupcakes. Also, at this festival, there are innumerable booths selling handmade artisan crafts, homemade jams, and a range of baked goods. Other popular events in and around Wilmington include the Fall Fun Weekend and the Whiteface Mountain Oktoberfest. There are also many hiking trails around Wilmington, where you can take in the fall foliage and serene beauty of the Northern Adirondack Mountains. Popular trails include the entire Flume Trail System, the Ausable River Trail, and the Wilmington Flume Trail.
Lake George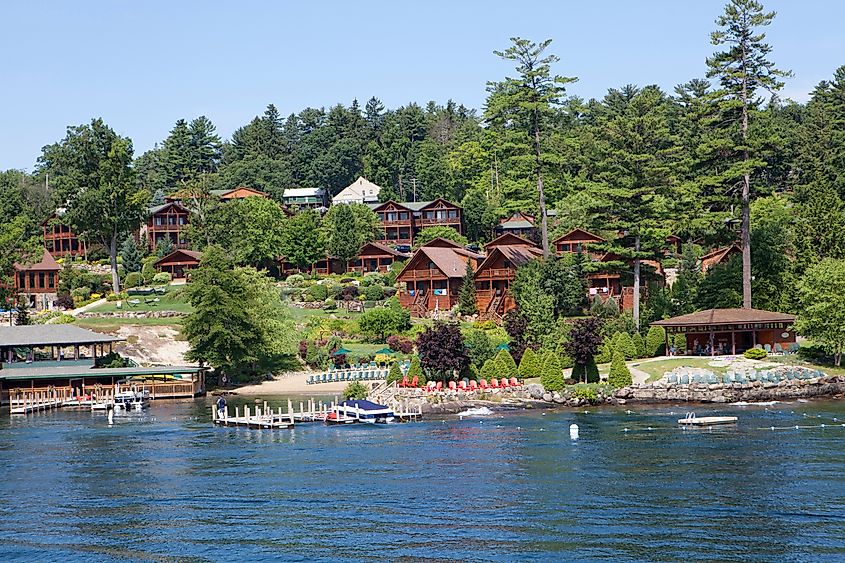 The Adirondack Mountains region is known for being one of the most stunning locals in the United States, especially during the fall season. However, it can be hard to experience this untouched beauty, as much is preserved and protected lands (and for good reason). For a one-of-a-kind experience that takes you into this mostly undeveloped region, the excursions facilitated by the highly-rated Revolution Rail Company are great options. This company has built rail bikes that use the retired train tracks that run into the untouched forests of Upstate New York, propelled by the peddling of passengers through a bike-style mechanism. The closest rail bike depot to Lake George is 9 miles northwest of town. Here, you will begin your 8 mile round trip journey towards Hickory Mountain, where you turn and head back to Thurman depot. 
In town, there are a range of fall festivals and events, the pinnacle of which is the Lake George Oktoberfest & Fall Festival. For families visiting with children, there are a slew of popular entertainments and activities, including many carnival rides, a petting zoo, and arts and crafts. There are also some beautiful selections of artisan vendor booths, where you can peruse handcrafted wares and perhaps even return home with something new.
Ticonderoga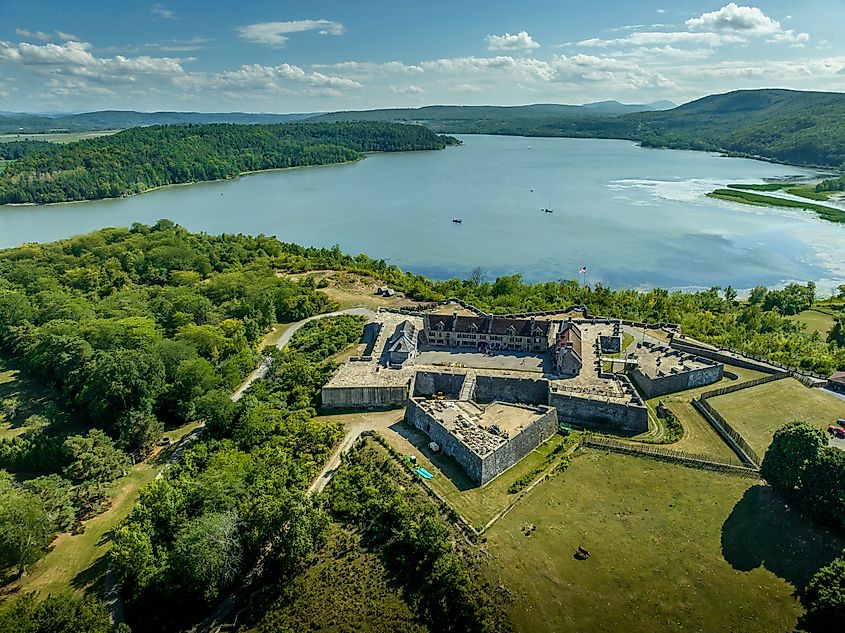 When the town of Ticonderoga, New York, is brought to mind, you probably think of this region's importance to American history, or perhaps you think of the historic Fort Ticonderoga. But Ticonderoga has so much more than just its history to offer. This Upstate New York town has a lively community charm, elevated during the fall season. One of the most popular events in Ticonderoga's autumnal season is the Heritage, Harvest & Horse Festival. This spectacular annual event brings many visitors, domestic and international, many wanting to watch the impressive horse show. There is also the Annual Ticonderoga FallFest, which is perfect for young children. 
Cooperstown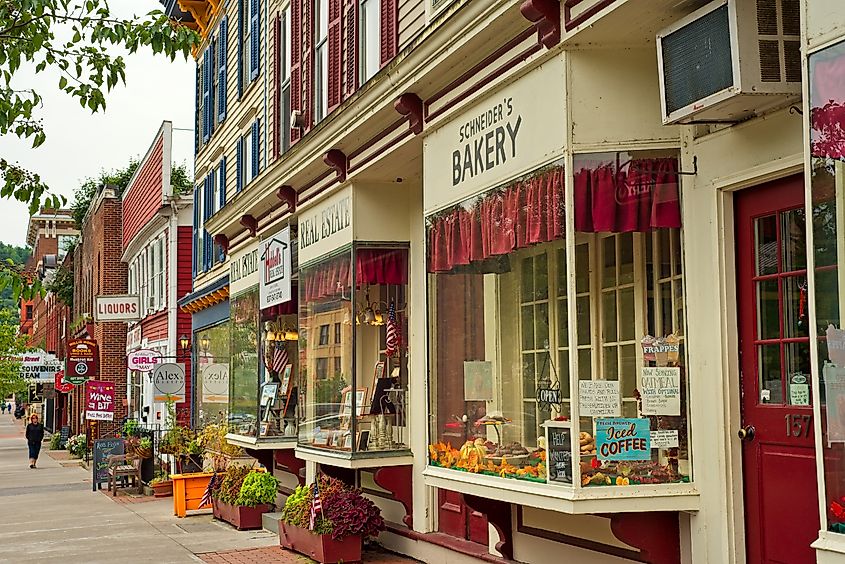 Known for its lively art scene, Autumn in Cooperstown, New York, puts nature's art on display. Beginning in mid-September with the Farmers' Museum Harvest Festival, this town celebrates the fall season in various enchanting ways, filling this town alive with autumnal charm. There is the Annual Harvest Festival (which is over 40 years old), the October Fall Fest, and the Red Shed Brewery's 6th Annual Harvest Fest. Turning to nature's autumnal display, you can see why artists would set up shop in Cooperstown. Outside of town are some fantastic hiking trails to explore, the top-rated of which include the Sleeping Lion Trail, the Clark Tower Trail, and the Star Field Trail. If you are traveling with young children, there are also some lovely green spaces inside the border of Cooperstown, with Cooper Park having some gorgeous fall foliage to enjoy. 
Catskill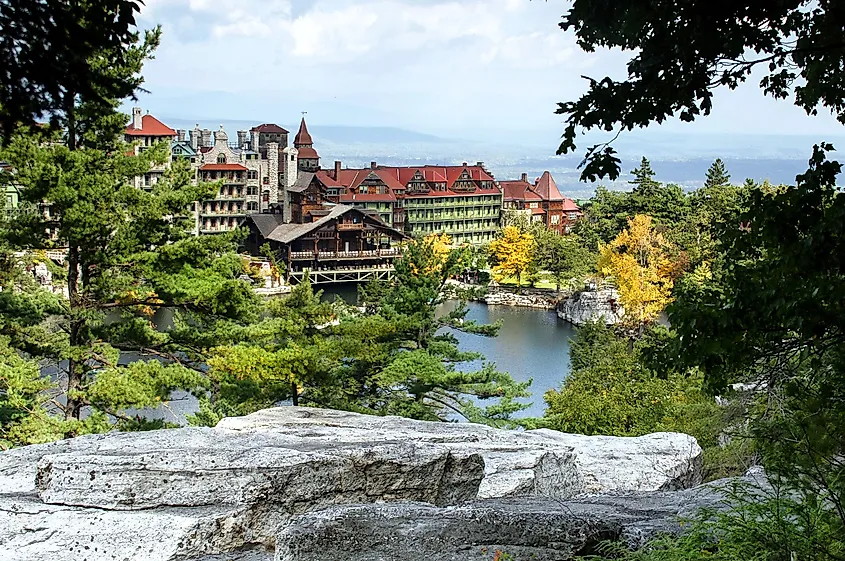 Welcome to the Catskill! A great place to experience Upstate New York charm mixed with gorgeous fall foliage. While many Upstate New York towns have a bundle of fall festivals running every weekend from mid-September to mid-November, the town of Catskill takes a calmer approach. There are certainly some fantastic fall events, including the Woodstock Farm Festival, held 25 miles southwest of town and includes all the staples of an Upstate New York harvest festival. However, other than the Woodstock Farm Festival, the local fall events have a more rustic, cozy appeal. From the Fall Fermentation Fest, the annual Twilight Tales event, and the Fall Vendor Festival, Catskill radiates an aura of lively simplicity during the fall season.
While in Catskill, you will want to explore the local hiking trails and experience the famous fall foliage of the Catskill Mountains. A great day trip is to the town of Hunter, which is 20 miles west of Catskill. Here, you can take the Scenic Skyride up Hunter Mountain and get a gorgeous view of the fall foliage all around. If you are looking to get up close and personal with the local fall foliage, visiting Olana State Historic Site, which is 4 miles east of town, is a great option. Here, you will find the Olana State Historic Site Trail, a 1.2 mile loop around the historic site, which is an easy, family-friendly trail. 
Alexandria Bay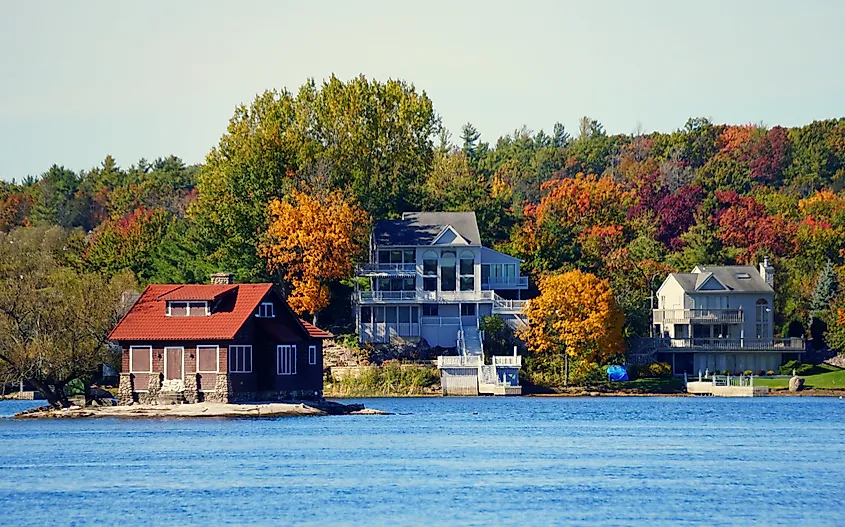 The region around Alexandria Bay in Upstate New York is famous for its lush and densely populated forests. Consequently, when autumn arrives in this region, it is spectacular. And what better way to enjoy this beauty than from the sky? There are a range of helicopter tours that you can take, which leave from NCH Heliport, which is just 3 miles southwest of town. During the summer, these tours offer a lovely view of this region, but Helicopter tours in the autumnal season are almost indescribably beautiful. With waves of fall foliage broken up by deep blue water, it is no wonder that Alexandria Bay is busy with tourists all through the fall season. Back on the ground, there are some great fall festivals to attend, including Oktoberfest at Thousand Islands Winery and the Annual Swan Bay Spooktacular.
The Take Home
No matter how many times you have visited Upstate New York until you explore this region during the autumn, you will miss out on a quintessential aspect of Upstate New York's regional identity. From fall festivals to local harvest celebrations, fall in Upstate New York is a busy season. Visit some wonderful festivals and take in the lively fall ambiance in Upstate New York. And when you need to recuperate from your festival antics, look to exploring this region's fall foliage. Get a fantastic aerial view from a gondola, or submerge yourself in the local autumnal colors by hiking or biking along the many trails in Upstate New York. While there are many towns that celebrate the fall season in unique ways, what is constant is that you will enjoy your fall visit to Upstate New York.