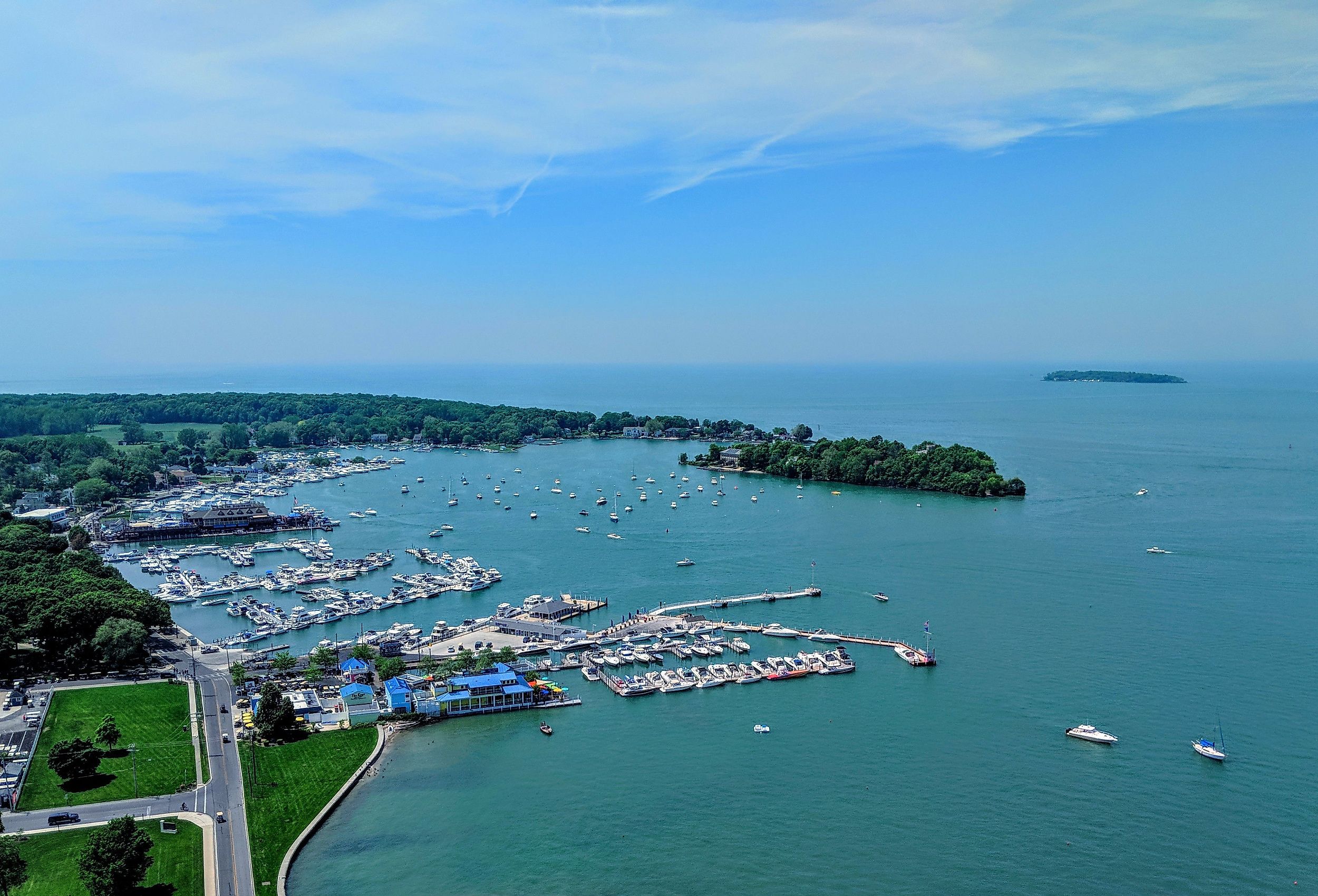 13 Best Small Towns in Ohio For A Weekend Escape
Ohio, the Buckeye State, is a warm and friendly region of the United States, with inviting people and lovely forested landscapes. Whether visitors come from near or far, they can take advantage of all this great state has to offer. Ohio is full of small-town charm. From gorgeous countryside and landscapes to quaint towns, eclectic villages, and national parks, this state is full of culture and beauty. Each small town offers something different, from a peaceful retreat to an adventure-filled town. Finding the perfect weekend escape is easy in one of Ohio's best small towns.
Marblehead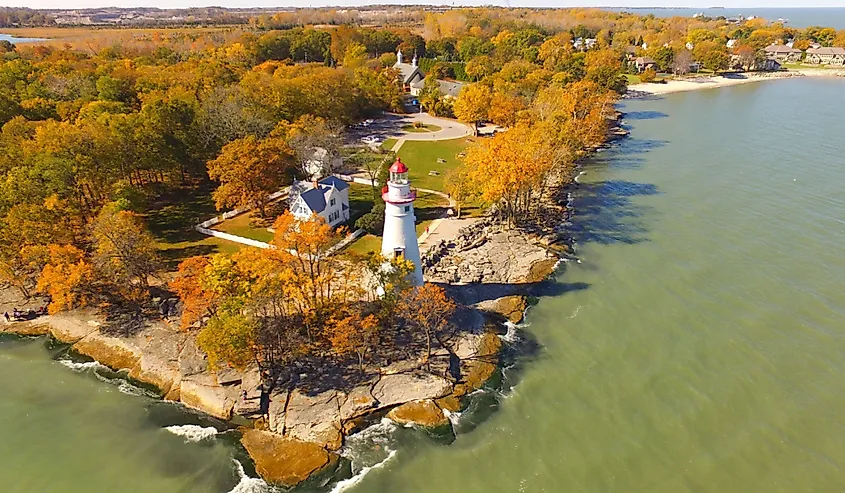 The town of Marblehead, Ohio sits along the Marblehead Peninsula between Sandusky Bay and Lake Erie. This gorgeous town is a great option for a weekend getaway or vacation. Outdoor lovers especially will enjoy the many recreational activities in the town, including hiking trails, boating, fishing, and kayaking. Sandusky Bay, Cedar Point, East Harbor Beach and the lovely Kelleys Island all make for wonderful places to explore and take in the natural wildlife of the area. Marblehead also has an interesting history, which visitors can learn more about by checking out the Marblehead Lighthouse, the oldest in the Great Lakes. The historical Keeper's House, constructed in 1822, was a battle site during the War of 1812. Between the natural landscape, history, and charming downtown area, this small town is great for a weekend away.
Loveland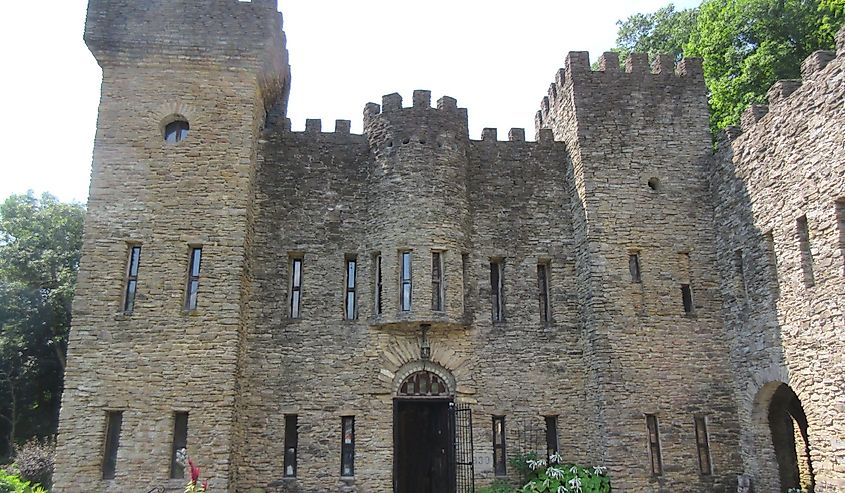 Loveland is a stunning little town, with a big draw. This tucked-away Ohio town takes its name after the prominent Loveland Castle, or Château Laroche, that stands tall over the town. Loveland is not far from Cincinnati, but the vibe could not be more different. The famous castle houses much of Loveland's history in the form of a museum and event space. Outdoor lovers will also love a weekend escape in Loveland exploring the Johnson Nature Preserve and the Little Miami State and National Scenic Rivers. There are a variety of hiking trails in the area, as well as opportunities for kayaking, biking, and exploring the natural beauty of the area.
Geneva-on-the Lake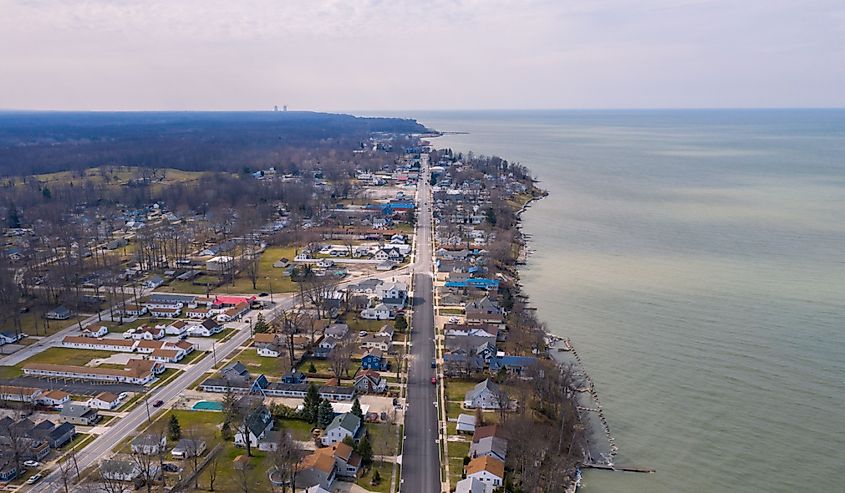 The town of Geneva-on-the-Lake is on the banks of Lake Erie and is one of Ohio's lovely small towns. Shorelines and sandy beaches stretch out along the water's edge, making for a great weekend destination in warmer summer months. Visitors can swim, sunbathe, stroll the shore, or enjoy a variety of water sports and recreational activities like boating, canoeing, fishing, or paddle boarding. The town also has a retro-style fairground complete with mini golf, a Ferris wheel, arcade games, and snack vendors. This wholesome fair atmosphere is the perfect place for an escape from the city, as visitors can take in the charming town and enjoy a slower-paced lifestyle for a few days.
German Village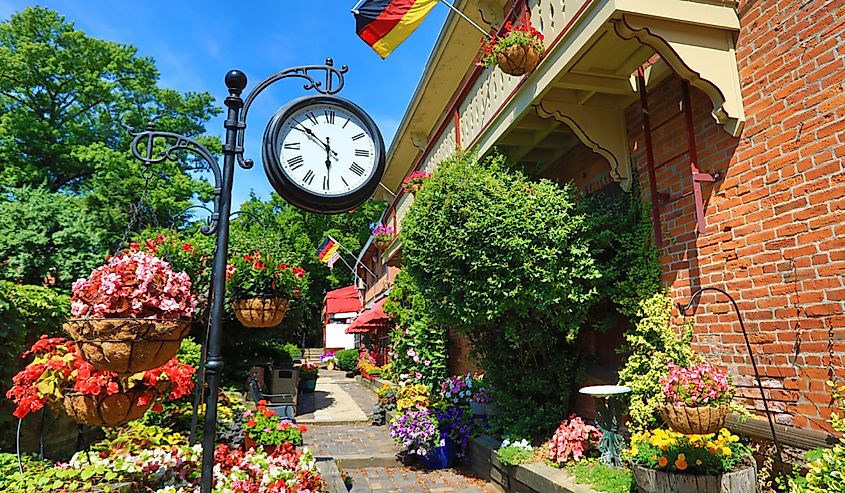 Another great locale to visit in Ohio for a small-town vibe, is German Village, a neighborhood located within the city of Columbus. German Village is a popular travel destination due to its beauty and history. The main streets and downtown area feature a lovely walkable neighborhood with brisk roads, beautiful homes, and quaint shops. The region is also inspired by German culture and architecture, as it was originally a German settlement. Shops, businesses, restaurants, and architecture all emulate Germany, adding even more charm and interest to this already beautiful town. Visitors can enjoy attractions such as the Book Loft giant bookstore, composed of over 32 rooms, and Schiller Park. Or book a walking tour or food tour to take in everything the town has to offer.
Yellow Springs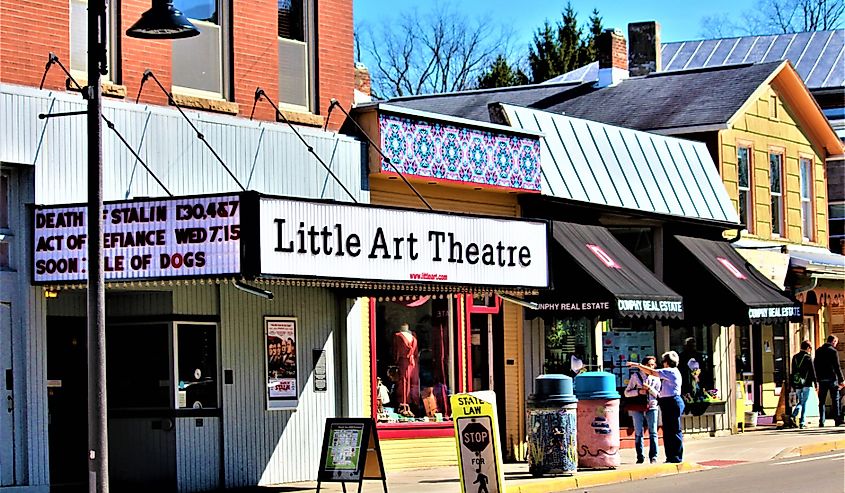 Yellow Springs is a unique town in Greene County Ohio with a population of roughly 3,700 people. This welcoming town is a great place to enjoy a weekend escape or a short-term vacation. The town is often described as having a hippie vibe and is heavily inspired by the 1960s. It has a thriving arts scene, including a number of galleries, boutiques, and artisan shops. Cafes, markets, and festivals are also common here, and visitors can enjoy any number of weekend attractions during their stay. Outdoor enthusiasts will also enjoy Yellow Springs for its natural beauty and recreational trails, including the Little Miami Scenic Trail, Glen Helen Nature Preserve, and the John Bryan State Park. Enjoy hiking, camping, biking, and exploring the gorgeous Ohio landscape.
Loudonville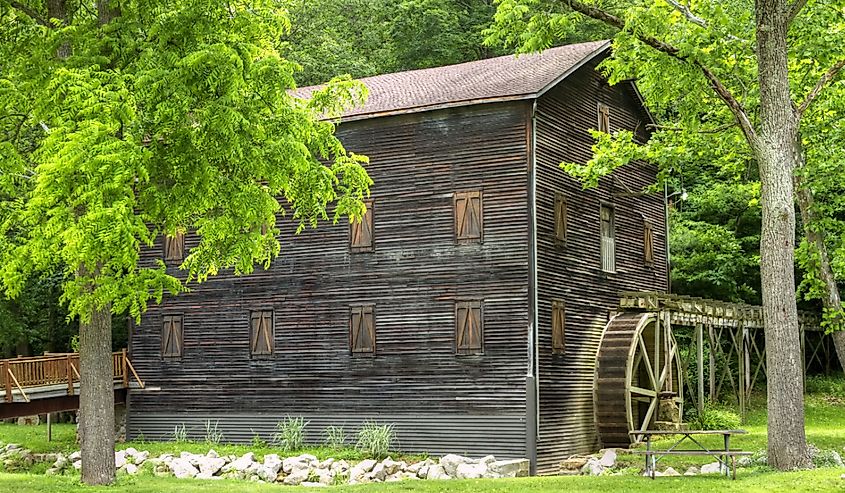 Loudonville is another scenic small town that makes a perfect destination for a weekend away. The area has a European style and a population of around 2,700 people. The town is particularly popular with nature lovers and those seeking outdoor recreation opportunities. The picturesque Mohican State Park is nearby and features gorgeous waterfalls, hiking trails, and even a castle. The castle, constructed during WWII, has a distinctly European style, giving the area a unique and exotic feel. Visitors can enjoy canoeing, kayaking, rafting, or exploring the wilderness. In town, cafes, quaint shops, and restaurants are great places to relax and unwind.
Marietta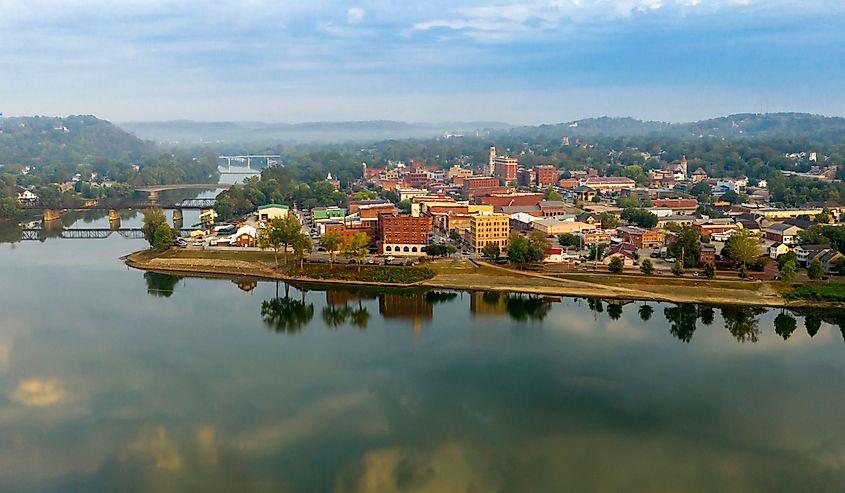 Marietta is another scenic small town full of natural beauty which is a great place to visit for a weekend getaway. Once an old riverboat town, it sits on the Ohio River and offers beautiful scenic river views. The town is also steeped in history and was originally settled in 1788. However, the Hopewell people occupied the area as early as 800 CE, as evidenced by the Quadranaou Mound. Other attractions in the area include the Ohio River Museum, Campus Martius Museum, and the Castle, a Gothic-Revival style home that hosts special events and has tours running throughout much of the year.
Put-in-Bay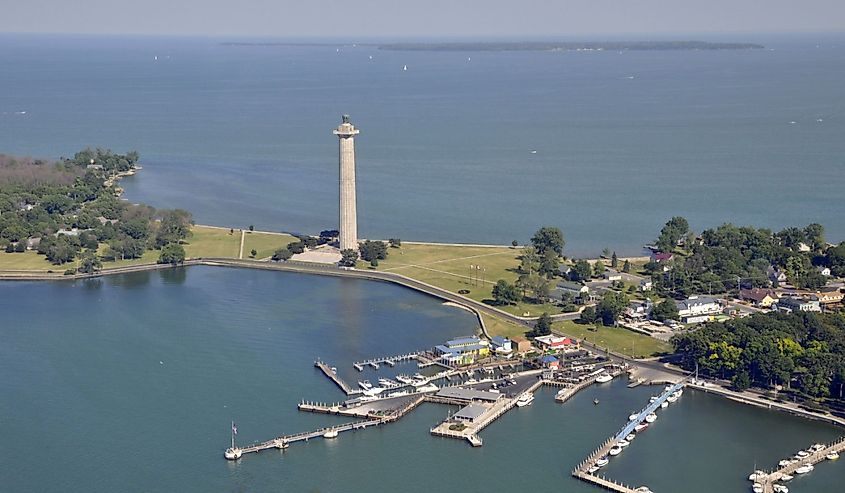 Put-in-Bay is a small town on South Bass Island, in Lake Erie. You can reach the island via the Miller Ferry and it is popular as both a scenic and historical destination. Attractions in the town include The Put-In-Bay Refuge Harbor and the Lake Erie Islands Historical Museum. The island, and bay, played a significant role during the War of 1812, and Perry's Monument marks the place where Oliver Perry set up his base during the battle. Also on the island is the International Peace Memorial which commemorates the peace formed between the United States, Canada, and Britain in the wake of this war. Visitors can also enjoy the Benson Ford Shiphouse, Perry's Cave Family Fun Center, a butterfly house, and a number of outdoor recreational activities such as paddleboarding, jet skiing, fishing, and boating. 
Granville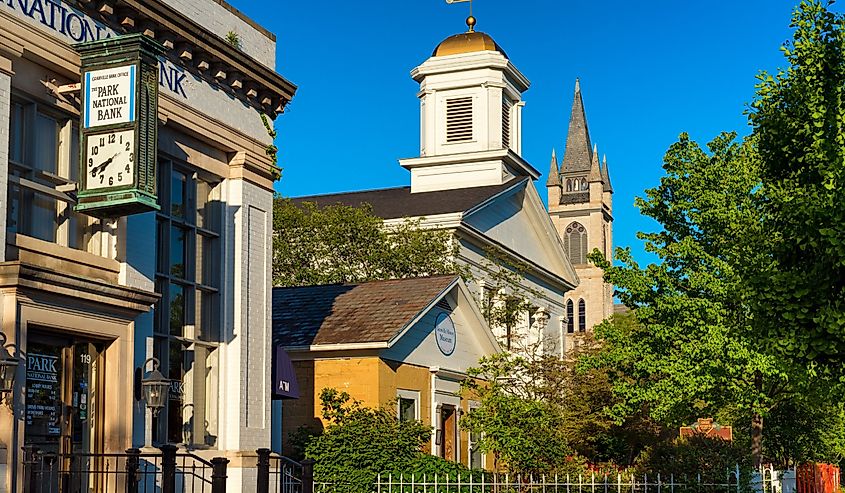 Granville, Ohio is a charming small town in Licking County, Ohio, not far from the larger city of Columbus. This is a town that has a strong art and culture scene, as well as a number of historical buildings and architectural landmarks. Visitors can experience the beautiful old Granville Inn, which dates back to 1924, Bancroft House, or the Bryn Du Mansion historical estate. Explore the Ohio landscape through parks and green spaces, boutiques and artisan shops, and a number of cafes, restaurants, breweries, and pubs. For a small town, there is a lot to see and do in Granville, making it a great destination for a weekend getaway.
Chagrin Falls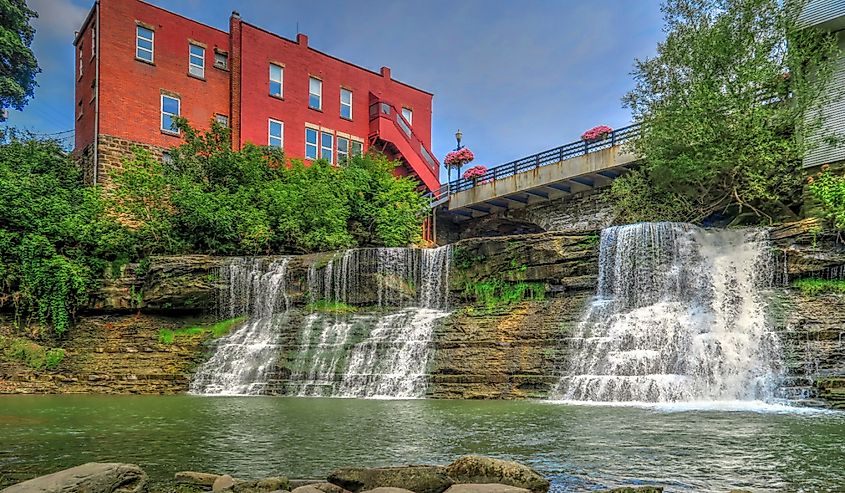 The village of Chagrin Falls is a gorgeous place in Cuyahoga County, Ohio, a short drive outside the larger city of Cleveland. The area is full of historical charm and dates back to 1844. Chagrin Falls boasts natural beauty, with scenic views and lush green settings. The name of the village comes from the local waterfall which is a notable place to visit. The downtown area is also full of old historical buildings and charming shops. The Chagrin Falls Popcorn Shop is a local favorite and dates back to 1949. Other old buildings and boutiques line the main street of town, providing unique shopping opportunities and a window into the town's culture.
Berlin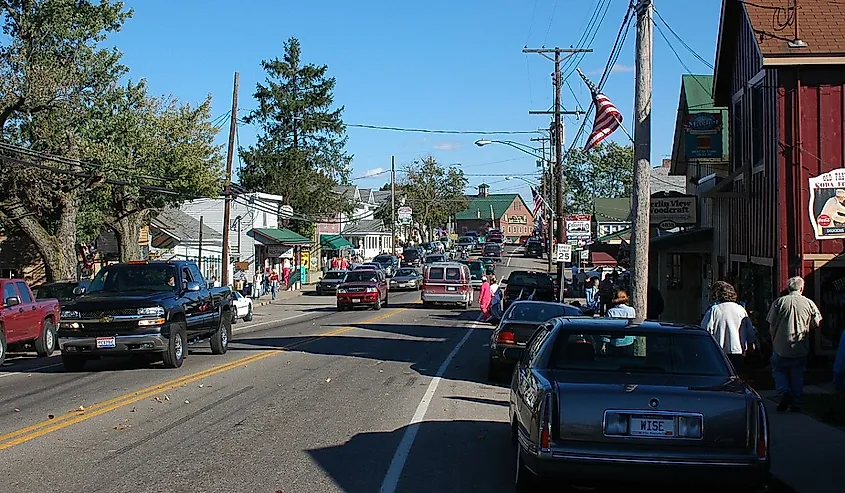 Berlin, Ohio is an Amish town in the middle of the gorgeous Ohio countryside. It is a peaceful and beautiful area where visitors can relax and unwind, enjoying the natural landscape and a slower way of living. Attractions in the area include the Amish and Mennonite Heritage Center, which outlines the history of the surrounding region, including optional visits to the Behalt Cyclorama mural painting, or shop at the antique or craft malls. This charming town has a number of places to enjoy local farm-to-table food, relax in cafes, or take in the scenery of the town and surrounding area.
Mariemont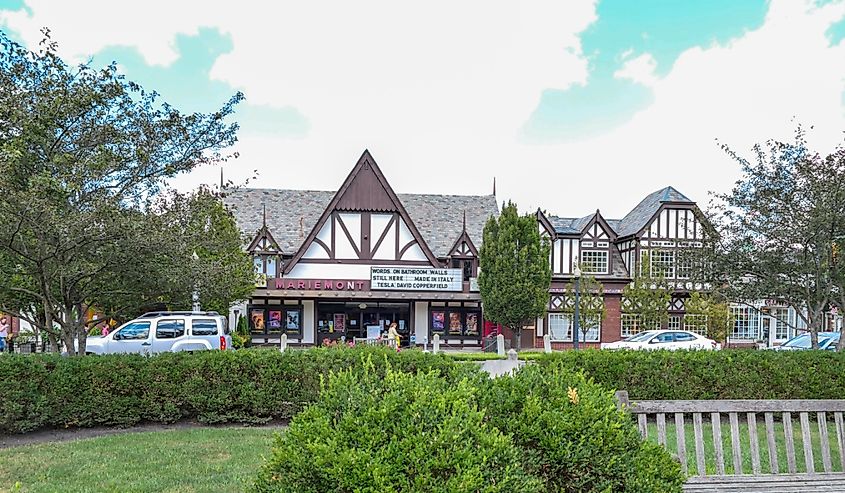 Mariemont is a lovely small town in Ohio, not far from the much larger city of Cincinnati. Founded in 1923, it has a number of striking buildings as well as historical architecture. The area has a strong community feel, with a quaint downtown and lots of parks and green spaces. Attractions include Dogwood Park. Activities and festivals are common here, from town fairs to concerts and holiday celebrations. The area has a homey and wholesome feel and is full of great places to stay for a weekend away. Enjoy a number of outdoor activities including biking, hiking, or strolling the town, then grab a picnic or dine in one of the cafes or eateries in the downtown area.
Peninsula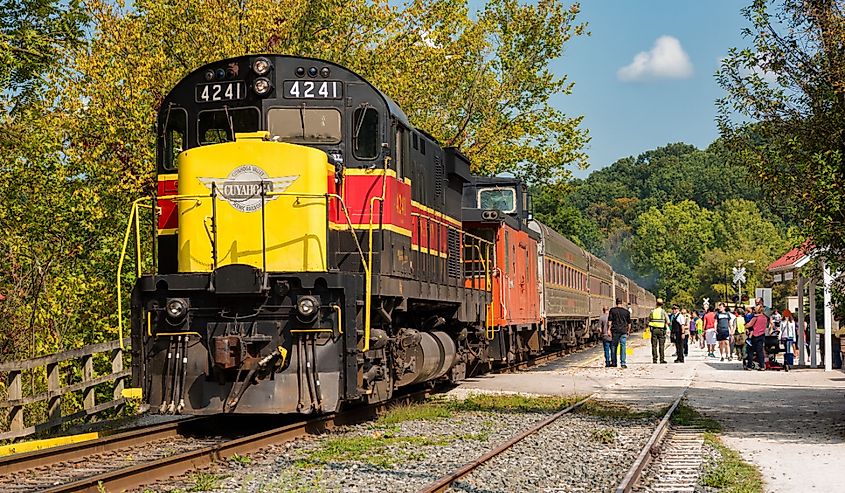 Peninsula, Ohio sits in a picturesque area full of natural beauty and outdoor spaces. A relaxing and peaceful destination, it is a great place for a weekend getaway. Visitors can enjoy close proximity to the Cuyahoga Valley National Park, which has beautiful hiking trails, waterfalls, and lots of wildlife to see. The region is also home to the Cuyahoga Valley Scenic Railroad, which offers scenic views of the park including views of the rivers, hills, and forests. The lush natural landscape and 19th-century history are major draws to the area. It is a peaceful and beautiful town to escape to for a weekend away and mixes culture and nature in perfect harmony.
Each small town in Ohio has something a little different to offer those looking for a weekend away. Whether it is a peaceful and tranquil weekend, a trip full of culture and festivals, or an adventurous vacation full of recreational activities, Ohio is a friendly place full of charm and character. Enjoy the culture, take in the scenic views, and taste the many flavors of these beautiful small towns. Each has something unique to bring to the table and has its own story to tell those willing to visit.