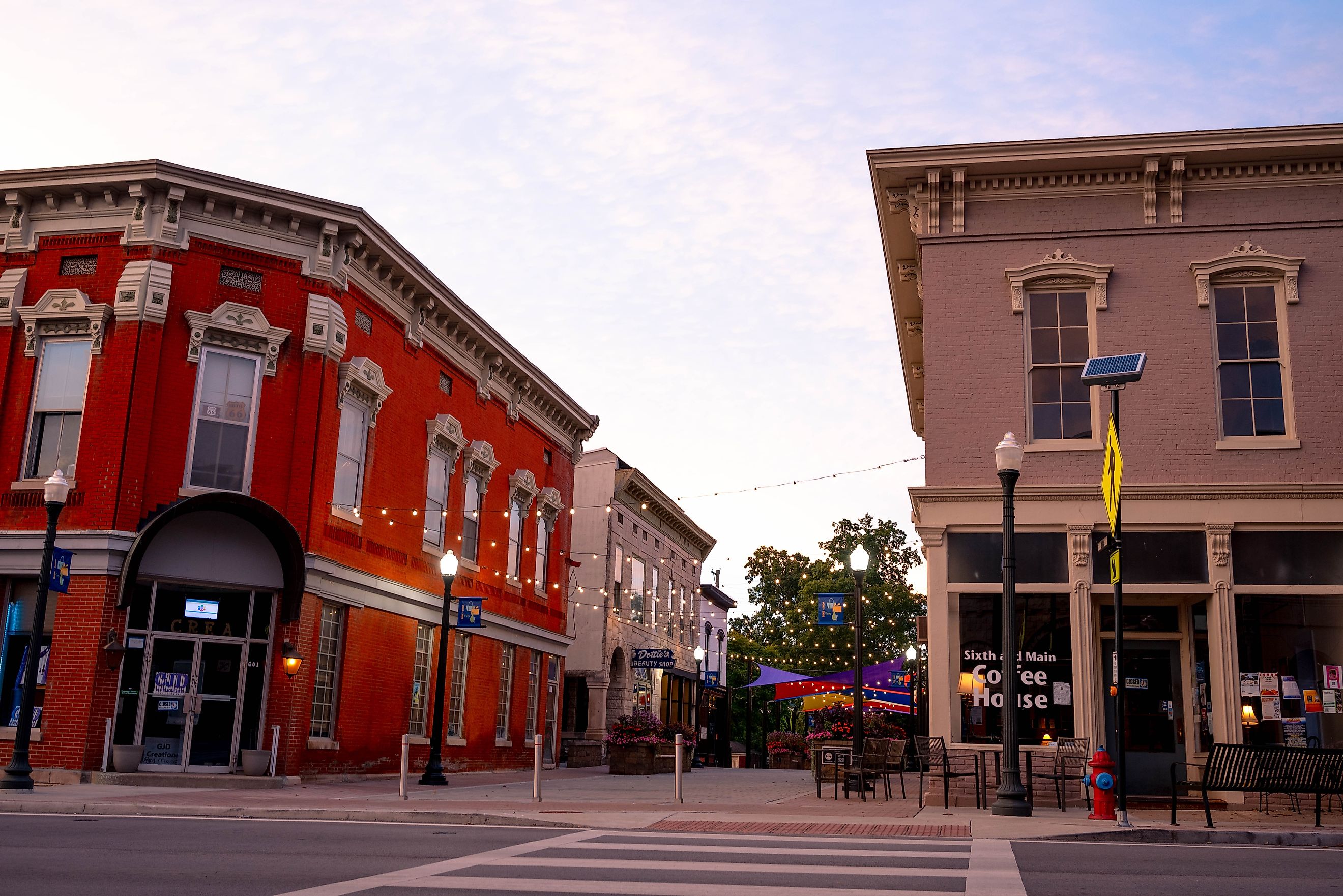 12 Most Scenic Towns in Kentucky
Celebrating the scenic landscapes of Kentucky towns is an immersive experience. Witness the natural beauty from the Ohio River in Henderson to the Kentucky River in Frankfort. From the lush pastures of Danville to the horse farms in Madisonville that define the Bluegrass Region, each town contributes to the captivating beauty. Towns like Paducah are, filled with architectural beauty, with buildings like the Market House Theatre, while Shelbyville showcases the beauty of William H. Ballard's House and legacy. In this journey through Kentucky's scenic wonders, we invite you to explore 12 such towns, each displaying its unique and vibrant beauty.
Berea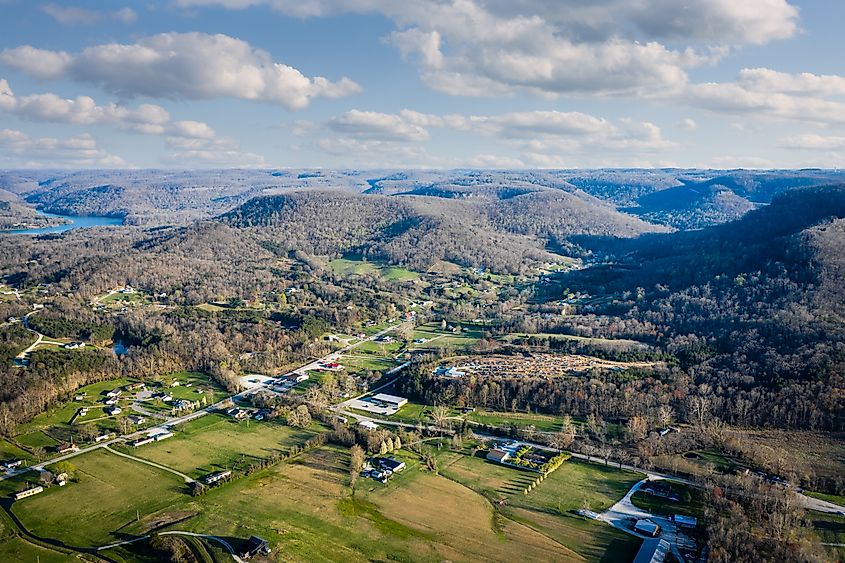 In the heart of the Bluegrass State, Berea, Kentucky, is for both nature enthusiasts and art lovers. The town is surrounded by the stunning Berea Pinnacles, a collection of unique rock formations that provide views of the surrounding landscape. Berea Forest offers a range of outdoor activities, including hiking and biking trails, along with peaceful spots perfect for picnicking and birdwatching. The Kentucky Artisan Center serves as a showcase for the finest artisans in the region, allowing visitors to not only admire but also purchase their exquisite creations. Berea College, known for its beautiful campus and commitment to education, invites visitors to explore its grounds, where stunning architecture and the Boone Tavern Hotel await discovery.
Bardstown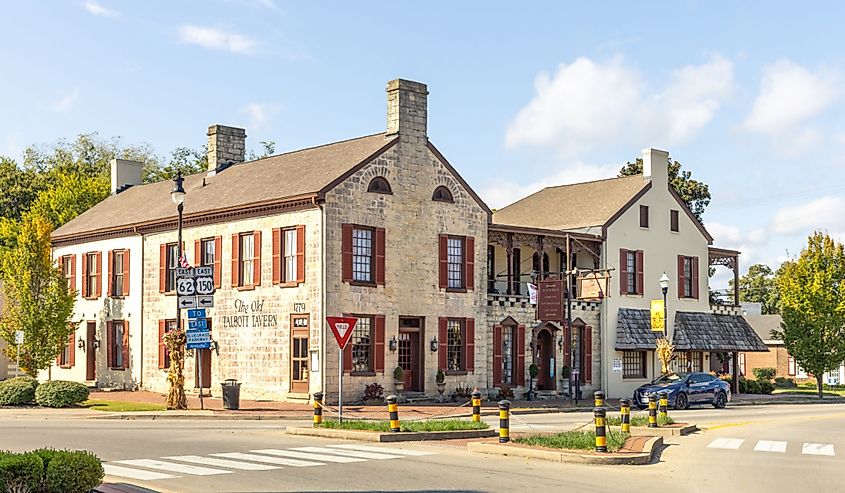 Bardstown, Kentucky, not only claims the title of the "Bourbon Capital of the World" but also has a rich history and breathtaking natural beauty. Surrounded by the rolling hills of the Bluegrass Region you can visit the Old Kentucky Home State Park, with its iconic Federal Hill Mansion, immerses you in the region's scenic beauty and is inspired by Stephen Foster's famous song. As you explore Bardstown's historic downtown streets, you'll encounter wonderfully preserved 19th-century architecture, such as the Old Talbott Tavern and Spalding Hall. Don't miss the chance to dine at The Rickhouse, where you can savor farm-to-table cuisine while gazing upon the stunning backdrop of rolling hills.
Paducah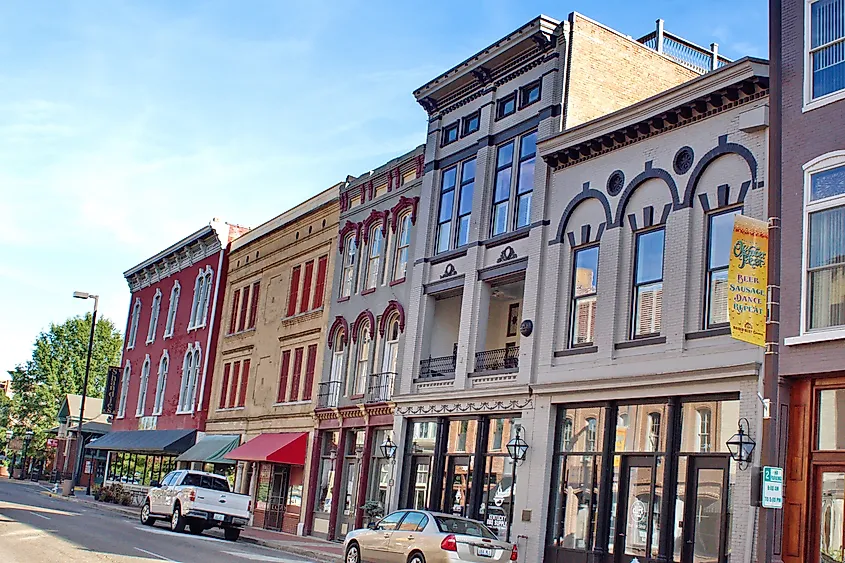 With artistic inspiration on the banks of the Ohio River, Paducah, Kentucky, holds the titles of "City of Quilts" and a UNESCO Creative City of Crafts and Folk Art, offering a unique experience that combines natural beauty with creative flair. Begin your journey with a leisurely stroll along the riverfront promenade. Venture into Paducah's historic Lower Town Arts District, where cobblestone streets and beautifully restored buildings like the Market House Theatre and The Irvin Cobb Hotel await your admiration. If you seek outdoor beauty, Paducah delivers. The Paducah Riverfront boasts lovely parks Like the BOB Noble Park, and gardens, including the Wall to Wall Mural and the River Discovery Center Gardens. History enthusiasts can explore the Lloyd Tilghman House and Civil War Museum.
Henderson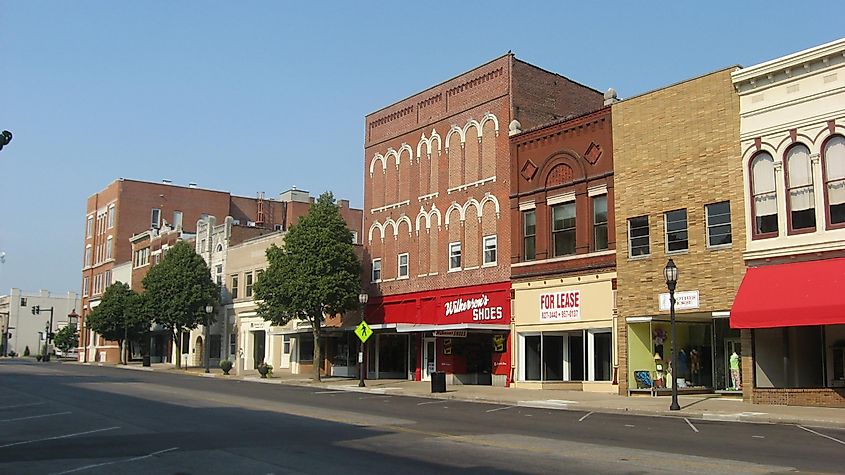 In Henderson, Kentucky, you can enjoy a leisurely walk along the Ohio Riverfront promenade, fish from the piers, or simply gaze at the tranquil waters, with the Ohio River providing an awe-inspiring backdrop. Relax within the renowned John James Audubon State Park, an oasis of greenery and wildlife spanning over 600 acres of forests, lakes, and hiking trails. As you explore the park, you'll have the chance to observe a variety of bird species. Henderson's historic downtown district is a filled with architectural magnificence. Stroll down tree-lined streets adorned with beautifully preserved historic homes, such as The Blue Heron Bed and Breakfast, before witnessing the fiery hues of an orange and pink sunset painting the sky.
Frankfort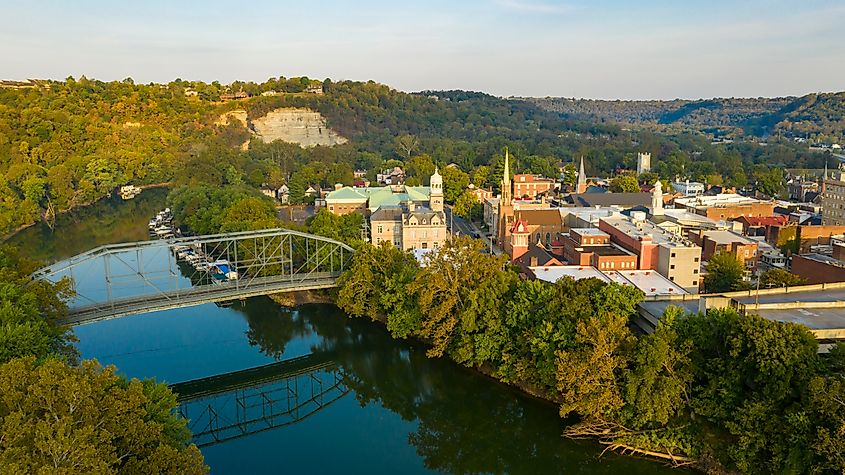 Frankfort wears its scenic beauty proudly. The Kentucky River winds gracefully through its heart, offering not just views but also opportunities for biking and walking along its serene banks. To capture a panoramic perspective of Frankfort's, ascend to the overlook at Capitol Plaza, perched atop a hill. You can admire the uninterrupted beauty of the city's historic downtown, the meandering Kentucky River, and the hills that stretch into the distance. As you explore the city, don't miss the well-preserved Liberty Hall Historic site in the historical district. And for those who seek the embrace of nature, parks like Cave Springs Park and Leslie Morris Park on Fort Hill beckon with their natural splendor and inviting trails.
Shelbyville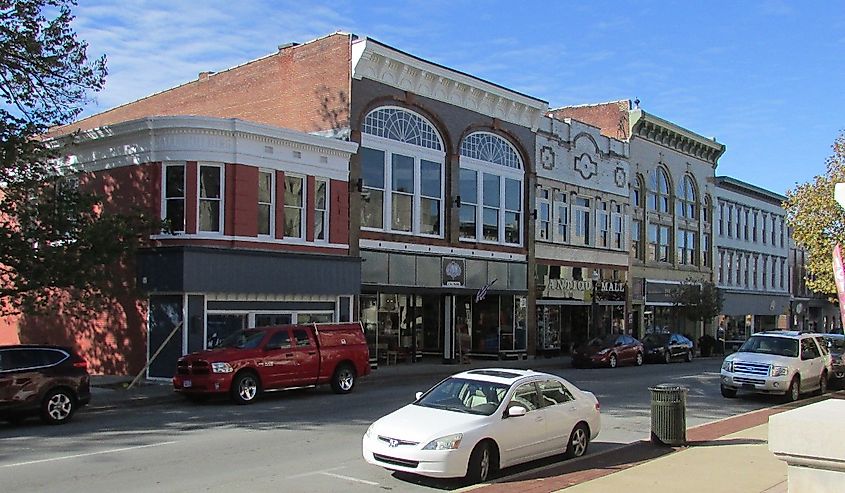 Shelbyville embodies the scenic beauty of the Bluegrass State. Its downtown district, steeped in history, boasts iconic historic buildings such as the William H. Ballard House and the Bayne House. Along picturesque Main Street, well-preserved architecture and storefronts like Baehr's Den Collectibles and The Polka Dotted Pineapple offer a nostalgic glimpse into the town's past. Nestled on the outskirts, Lake Shelby provides a serene escape, surrounded by wooded areas and walking trails, making it an ideal spot for picnics, fishing., Relax in Shelbyville's collection of parks and outdoor recreational areas, including Clear Creek Park and Shelby Trails Park, which are cherished destinations for birdwatching, hiking, and family outings.
Madisonville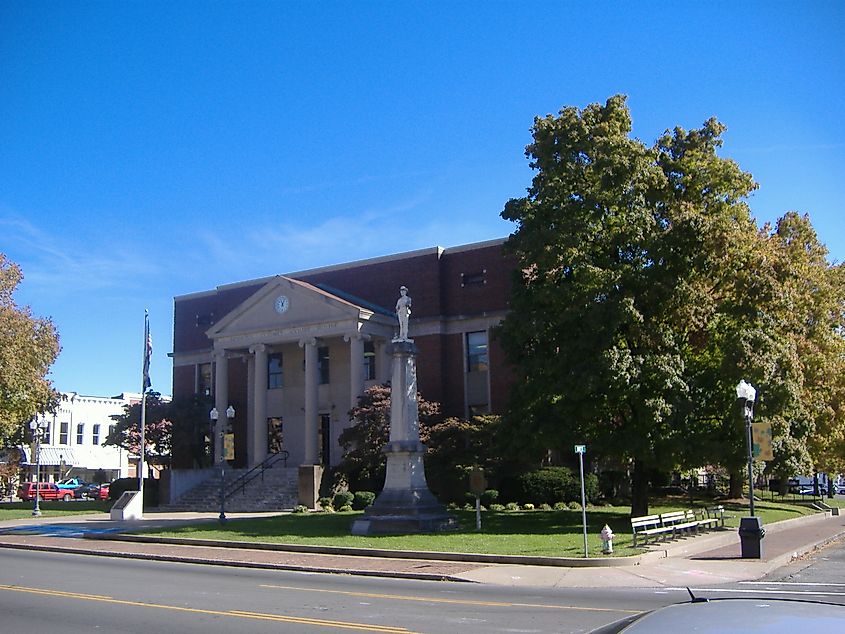 Madisonville, Kentucky, stands out for its proximity to Pennyrile Forest State Resort Park, a lush forest covering over 15,000 acres. The park offers a great experience for outdoor enthusiasts with opportunities for horseback riding, birdwatching, and leisurely picnics. Enjoy outdoor recreation at Madisonville City Park, where you can explore scenic walking trails, sports services, or spend the day relaxing. Nearby, Dawson Springs mineral springs provide a tranquil atmosphere, while Lake Beshear provides a scenic setting for activities such as boat rentals at the Kentucky Dam Marina, fishing, and swimming. Madisonville's scenic downtown area, lined with historic architecture like Madisonville City Hall and the Hopkins County District Courthouse create a captivating backdrop for leisurely strolls and exploration.
Danville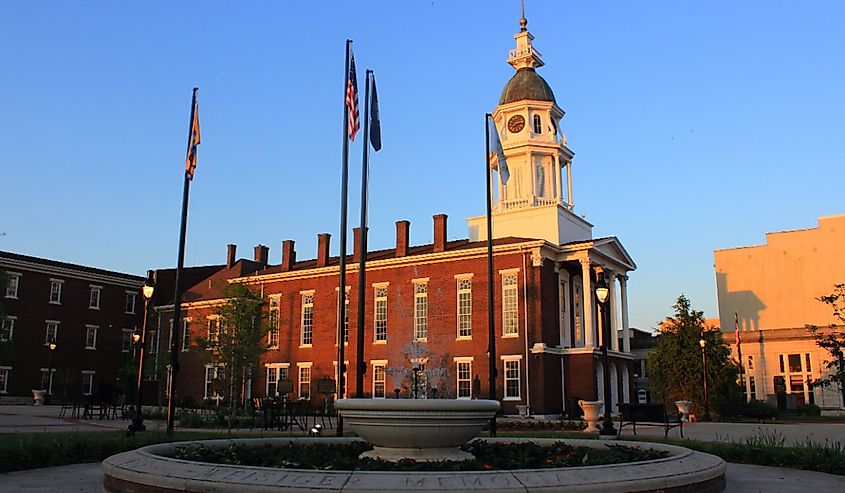 Danville, Kentucky, has some of the state's most captivating scenic beauty. As you wander through the town's well-preserved downtown district, you'll encounter stunning examples of historic architecture. Constitution Square Historic Site allows you to step back in time to Kentucky's early days and marvel at the recreated historic buildings, including the 1792 Courthouse and log cabins. For history and nature enthusiasts, a visit to the Perryville Battlefield State Historic Site is a must. This expansive park preserves the site of one of the most significant Civil War battles in Kentucky. Take a drive through the surrounding Bluegrass Region, known for its horse farms and lush pastures, you'll be treated to scenes of emerald-green fields dotted with horses and historic barns like the Sunnyside Farm Barn.
Glasgow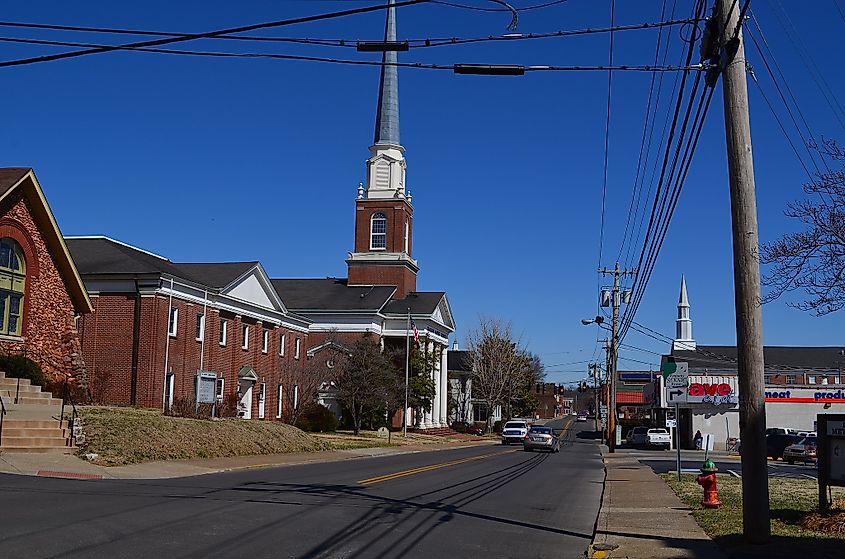 Glasgow, Kentucky, serves as a gateway to a multitude of outdoor adventures. Visitors can engage in activities such as hiking, biking, and camping in the nearby state parks and forests, including Green River State Forest and Thelma Stovall Park. The rolling hills of the Bluegrass Region invite you to embark on scenic drives, offering a glimpse of Kentucky's picturesque countryside. For those eager to explore underground wonders, Mammoth Cave National Park's guided tours take you through the world's longest cave system. Barren River Lake, with its expansive reservoir and tranquil waters set amid lush greenery, invites boating, fishing, and picnicking. And if your visit falls in the summer months, the Glasgow Highland Games await, a vibrant celebration of Scottish heritage featuring traditional games, music, dance, and delectable food.
Maysville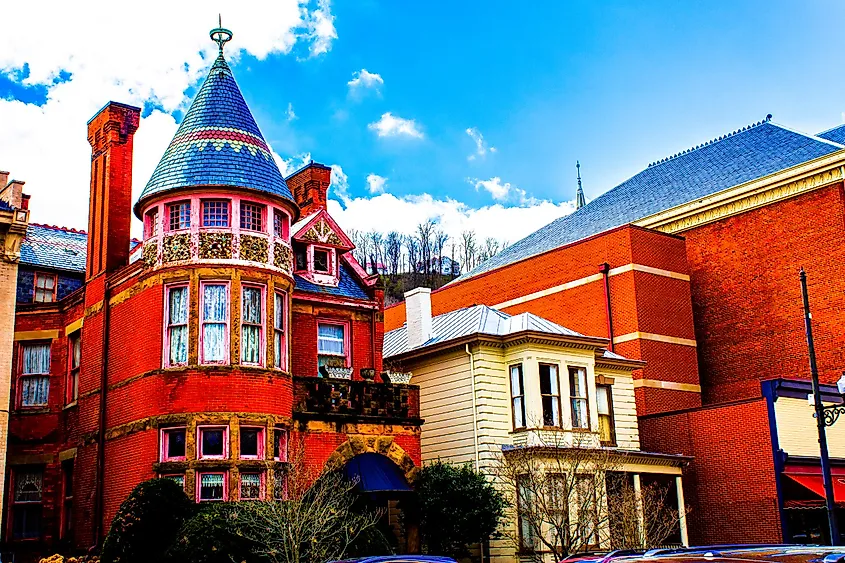 Begin your journey in Maysville, Kentucky, by exploring the Ohio River views along the riverfront at Limestone Landing. For a unique perspective, cross the historic Simon Kenton Memorial Bridge, connecting Maysville to Aberdeen, Ohio. From this vantage point, you can capture panoramic river views. Don't miss the Maysville Murals, an outdoor art gallery depicting local history and adding an artistic flourish to the streetscape. For nature enthusiasts, the Maysville-Mason County Recreational Park beckons with hiking trails and picnic spots, providing an opportunity to connect with the town's natural beauty. And if you're seeking tranquility and well-maintained gardens, the Floral Hills Memorial Gardens offer a surprising and serene escape, perfect for a peaceful walk amid the town's lush surroundings.
Elizabethtown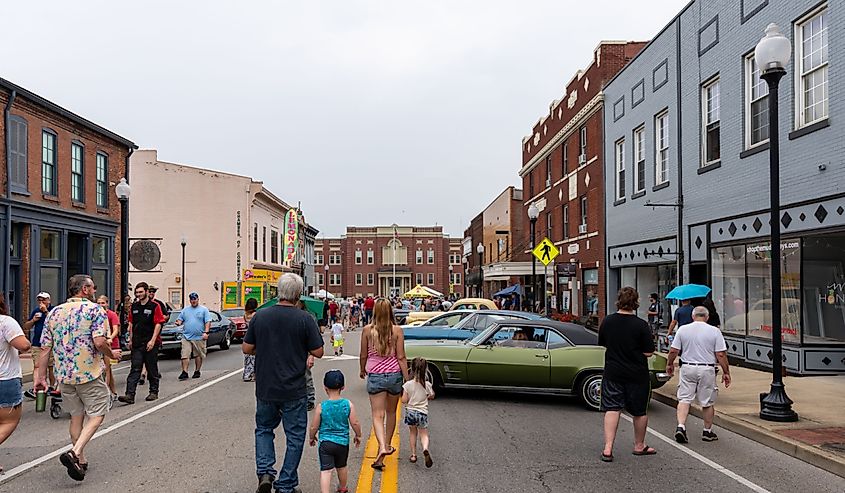 At the heart of Elizabethtown lies Freeman Lake Park, an oasis for nature enthusiasts. Surrounded by lush greenery, the park provides a serene setting for a variety of recreational activities, from walking lakeside trails to renting paddleboards onsite. Explore the history of Elizabethtown by touring the Brown-Pusey House, a historic mansion that now serves as a museum and community center, emphasizing the well-preserved historic downtown. Car enthusiasts will find delight in a visit to the Swope's Cars of Yesteryear Museum, showcasing a collection of vintage automobiles and memorabilia from the early to mid-20th century. For history buffs, Fort Duffield Park & Historic Site awaiting exploration. Fort Duffield is a preserved Civil War fort offering educational exhibits and panoramic views of the surrounding landscape.
Winchester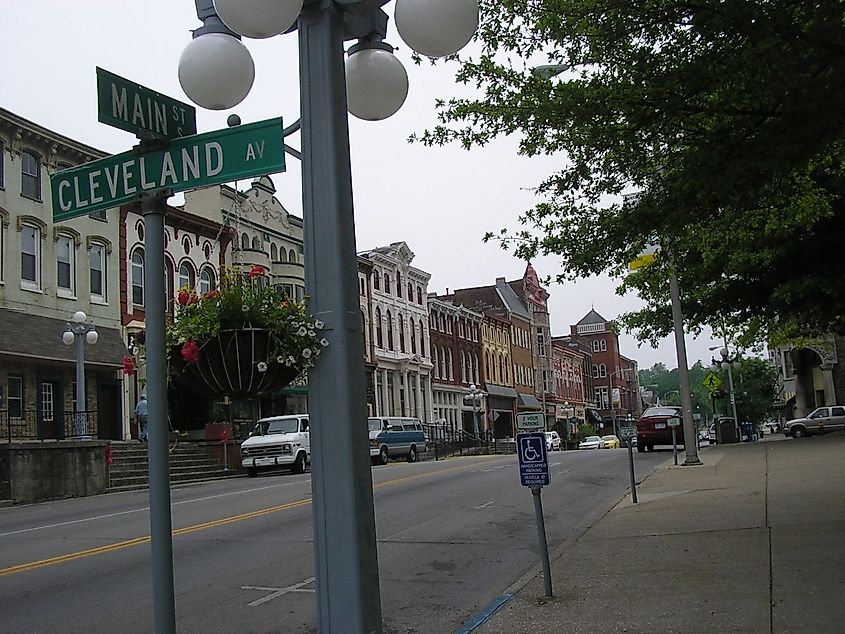 In Winchester nature enthusiasts can journey to the Daniel Boone National Forest. The forest has hiking trails that wind through woodlands, guiding adventurers to scenic overlooks. As you traverse Main Street in the historic downtown district of Winchester, iconic 19th-century buildings like the Holly Rood-Clark Mansion and Old Providence Church capture your admiration. Winchester's seasonal transformation unfolds as a visual spectacle, with leaves ablaze in fiery reds, oranges, and yellows. Whether embarking on a scenic drive or enjoying a leisurely walk through Legacy Grove Park, the town invites exploration. For history enthusiasts, immersion in the Civil War era awaits at Civil War Fort, adding another layer to Winchester's rich narrative.
Kentucky's allure extends bayond just the lush pastures and rolling hills of the Bluegrass Region. The state unveils a variety of scenic wonders, inviting exploration through towns and attractions like Winchester's Old Providence Church and Madisonville's City Hall. As we've traversed these scenic Kentucky towns, 12 unique narratives have unfolded. From the panoramic vistas at the Pennyrile Forest State Resort Park to the historic charm of the Old Kentucky Home State Park, these scenic Kentucky towns promise to reveal the true spirit of the state. The experiences they offer are not only elevating but also leave an lasting mark on the memory of every traveler.