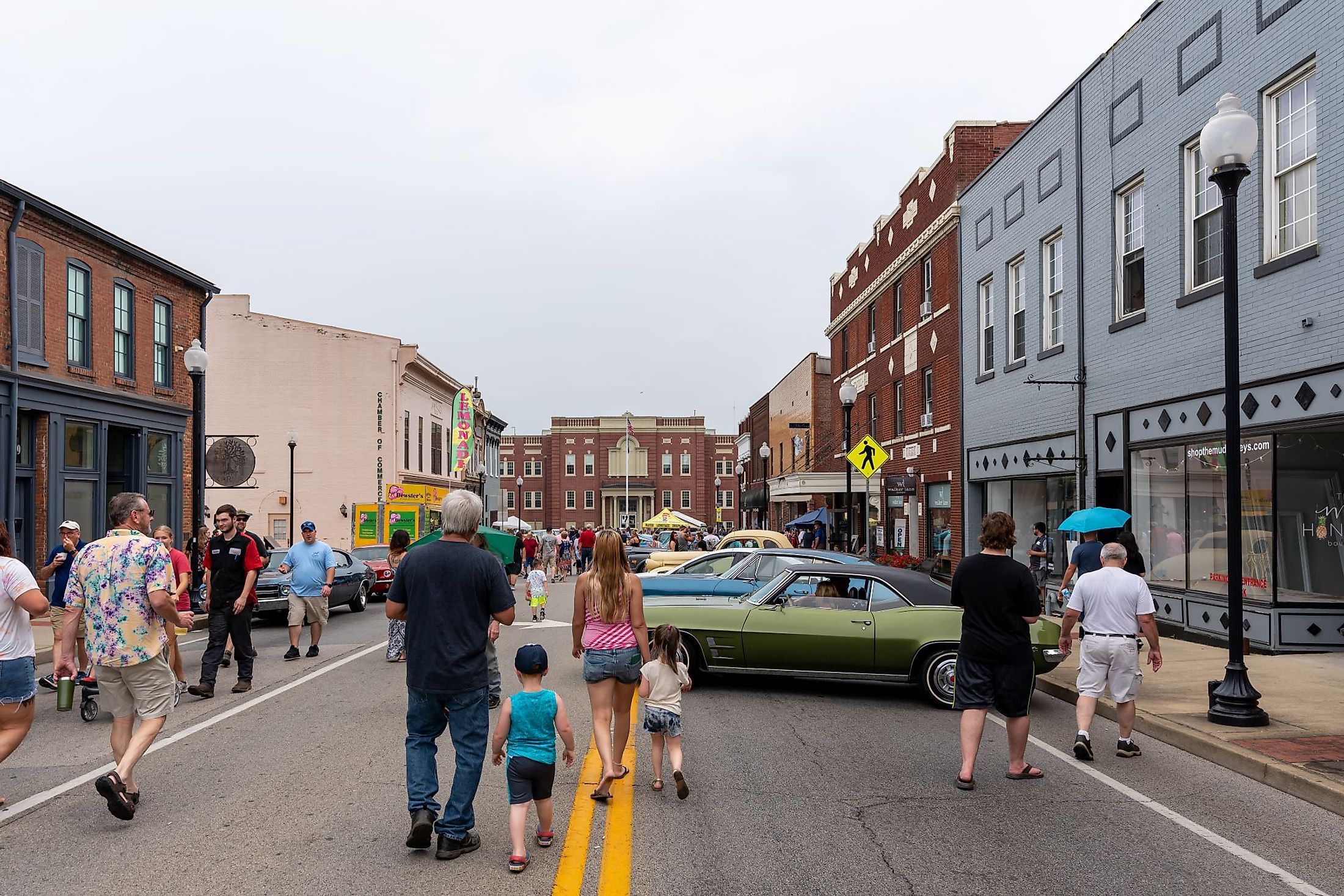 Elizabethtown, commonly known as E'town to the locals, is a lovely and historic Kentucky city founded in 1793. The city has many day-trip activities and is conveniently located along Interstate 65, outside Louisville. Early in the 1800s, Elizabethtown was home to Abraham Lincoln's parents. They soon relocated to the Sinking Spring Farm near Hodgenville in 1809, which is the birthplace of Abraham Lincoln. The Abraham Lincoln Birthplace National Historic Site lies in Hodgenville, 21 km southeast of Elizabethtown. Visitors can enjoy Elizabethtown's history, museums, arts, entertainment, downtown, nightlife, and numerous shopping options.
Geography And Climate Of Elizabethtown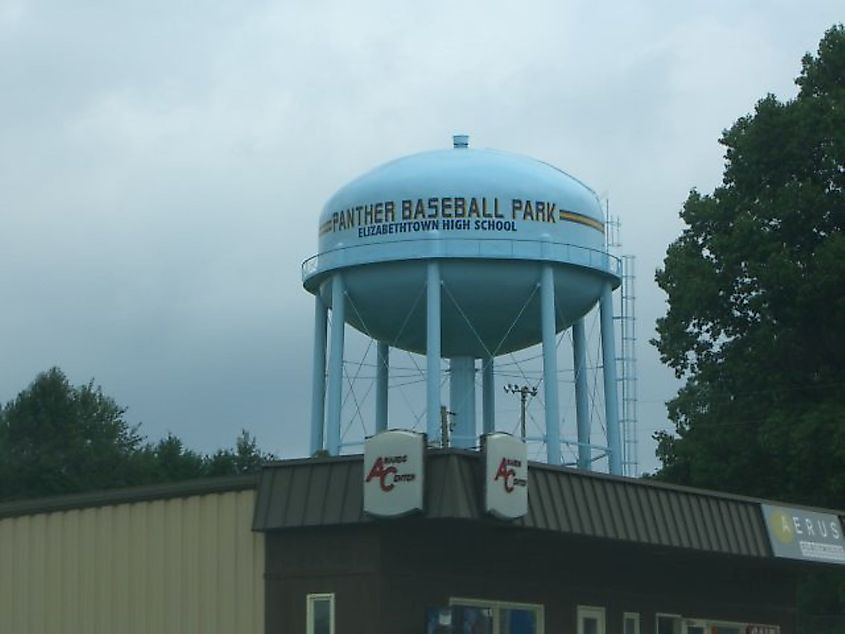 Elizabethtown is a small home rule-class city situated in Hardin County in the US State of Kentucky. It is the largest city in the Louisville-Jefferson County-Elizabethtown-Scottsburg, KY-IN Combined Statistical Area, which also includes Elizabethtown-Fort Knox. The city's southeast corner is traversed by Interstate 65. Elizabethtown is situated in the central-eastern portion of Hardin County, 48 km south of Louisville, 24 km south of Fort Knox, and 21 km northwest of Hodgenville. Elizabethtown covers a total area of 72.49 sq. km, of which 71.22 sq. km is occupied by land, and 1.27 sq. km is covered by water.
According to the Köppen climate classification, Elizabethtown has a humid subtropical climate, characterized by hot, humid summers and very cold, snowy, and windy winters. The average yearly temperature is 13.2°C, with July and January recording the highest (24.7°C) and lowest (1.2°C) average temperatures, respectively. On average, Elizabethtown gets 1193.8 mm of precipitation yearly, with January reporting the highest number (124.5mm). The snowy period occurs between November and March. 
History Of Elizabethtown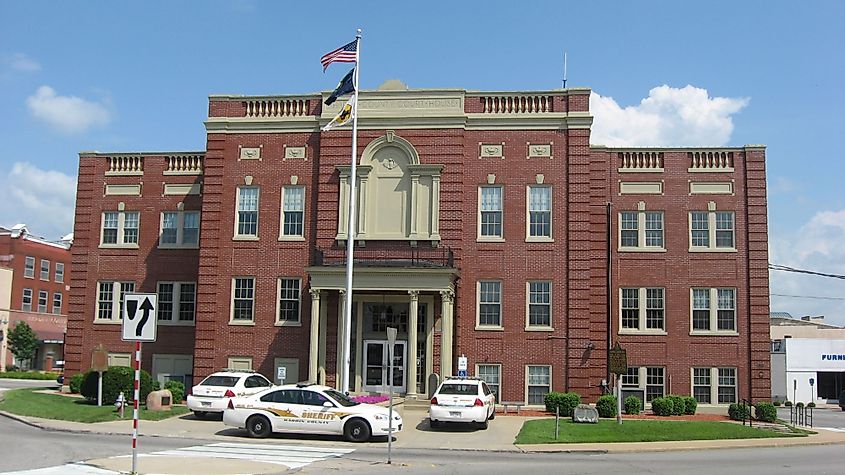 Three early settlers—Captain Thomas Helm, Colonel Andrew Hynes, and Colonel Samuel Haycraft—built forts with block buildings to serve as stockades in 1779 to protect against Native Americans. The forts formed a triangle because they were one mile apart. But soon, others followed and built settlements close to these forts. Professional men and artisans moved to the area shortly after Hardin County was established in 1793. To build Elizabethtown, Colonel Hynes gave thirty acres of property, divided into lots and laid out into streets. On July 4, 1797, Elizabethtown became a legally incorporated city and was given its name in honor of Colonel Hynes's wife.
The Population And Economy Of Elizabethtown
As per the US Census, Elizabethtown has a population of 31,394 residents, where 51.9% are females and 48.1% are males. The city's racial makeup is 74% white (non-Hispanic/Latino), 12.1% African-American or Black, 4.9% Hispanic or Latino, and 3.7% Asian. The remaining are distributed among American Indians and Alaska Natives (AI/AN), Native Hawaiian and Pacific Islanders, and other mixed races. English is spoken by 92.5% of the population. The rest speak Spanish (2.6%), Indo-European languages (2.8%), Asian and Pacific Islander languages (1.9%), and other foreign languages (0.2%). Only 55.6% of the population in Elizabethtown are naturalized US citizens. Veterans make up 14.2% of Elizabethtown's population, of which 79.5% are males, and 20.5% are females.
As of the same Census, the employment rate in Elizabethtown is 58%, with a poverty rate of 13.4%. The homeownership rate is 45.6%, where the median gross rent cost is $765 per month, with a median household income of $47,270. According to Sperling's BestPlaces, the unemployment rate in Elizabethtown is 4.2%. Moreover, over the past year, the job market in Elizabethtown has grown by 1.7%. In comparison to the US average of 33.5%, future job growth is expected to be 35.5% during the next ten years.
Attractions In And Around Elizabethtown
Freeman Lake Park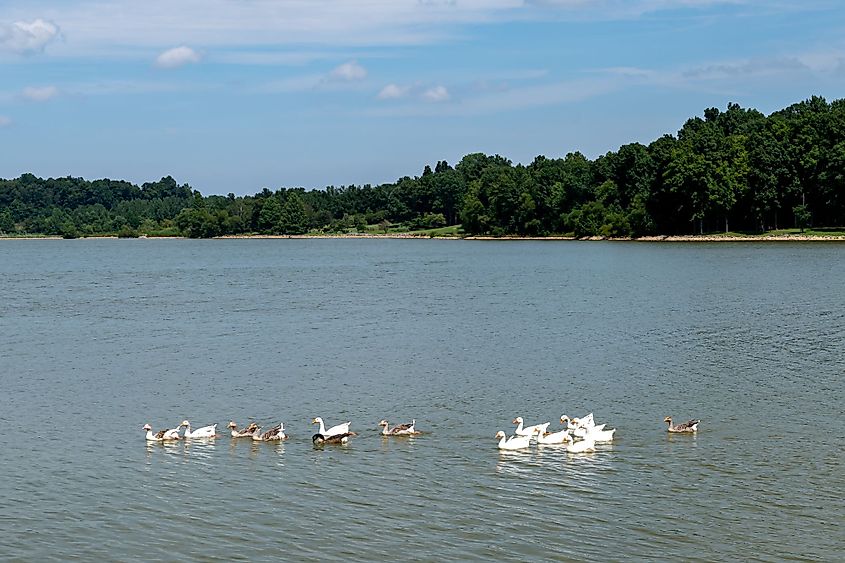 Freeman Lake Park, the town's most prominent city park, is a great place to relax and spend the day. Fishing and boating are the primary activities in this 170-acre park, and if you choose to go fishing, you may catch Rainbow Trout, Channel Catfish, Crappie, Large Mouth Bass, and Bluegill. If you prefer boating, you can rent a paddle or rowboat to travel around the lake.
American Legion Park
The American Legion Park is a fantastic place to spend some leisure time on a nice day. The park honors every soldier from Hardin County who lost their lives in a war. One can spend hours having fun at the splash pad, two water slides, lazy river, and kids' play area for a modest admission cost. A 9-hole par-3 golf course, a children-friendly nature trail, and Funtopia, an outdoor playground, are some of the park's additional attractions. There is also a sizable picnic shelter that is great for kids' birthday celebrations.
Historic State Theatre Complex
The Historic State Theatre Complex, also referred to as The State by locals, first welcomed guests in 1942 in the heart of Elizabethtown. The State shut down almost 40 years later, much to the dismay of the Elizabethtown neighborhood. The community launched a fundraising initiative in the 1990s that would see the old historic theater entirely restored to its 1940s Art-Deco beauty and reopen in 2009. Today, one can go to The State to relive one's childhood while watching a vintage film, experience live theater, or take in a concert or comedy act.
Hardin County History Museum
Visitors must visit the Hardin County History Museum to learn more about the Hardin County pioneer era. The museum was founded in 2003 to gather, preserve, and showcase an abundance of records, artifacts, and memorabilia shown in many ongoing and seasonal exhibitions. Today, tourists can travel back in time and experience daily life as it was more than 200 years ago for the first inhabitants of Kentucky's wild and isolated frontier regions. In Hardin County History Museum, one may find out about the James Hunt Morgan Raid in 1862, the county's connections to Abraham Lincoln, and the Civil War. Visitors can enter and view the Hardin County History Museum for free.
You must visit this lively city to witness its history, nature, museums, and parks. Since Elizabethtown has so much to offer, make sure to take your time planning your itinerary and the types of activities you enjoy.