Which Countries Have Banned Plastic Bags?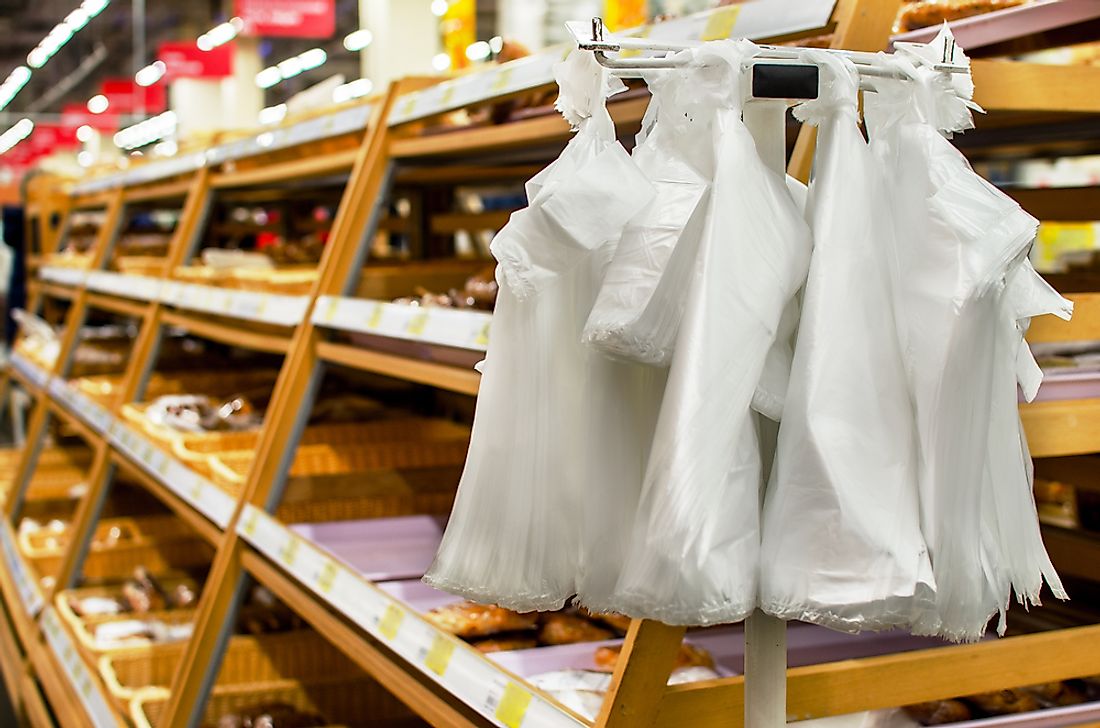 Many countries around the world have embraced banning the use of plastic bags in a bid to control environmental pollution. Plastic bags are typically made of low-density polyethylene plastic which is a thermoplastic that is made from the ethylene monomer. Plastic bags gained global popularity in the 1970s as stores and supermarkets would give them for free to customers as they were a cheap way to encourage shopping and build goodwill.
Evolution of the Use of Plastic Bags
Polyethylene which is commonly used to make plastic bags was created accidentally in a chemical plant in the small town of Northwich, England in 1933 and was secretly used by the British Military in World War II. The one-piece plastic bag was later designed by Sten Gustaf Thulin and patented by Celloplast, a Swedish company in 1965. By 1979, plastic bags were controlling 80% of the bag market in Europe. Plastic bags were later introduced in the US with companies marketing the new product as superior to ordinarily paper bags. Kroger and Safeway supermarket chains adopted the use of plastic bags in 1982 with other chain stores soon following suit.

Plastic Bag Pollution
Today plastic bags are estimated to be produced at a rate of one trillion bags a year. Plastic bags can now be found in almost all places man has come into contact. They can be found in the most unusual places including the depths of the oceans and polar ice caps. The use of plastic bags as a cheap substitute to traditional shopping baskets and reusable bags has been a constant challenge to various environmental agencies across the world as the struggle to manage the disposal of used plastic bags. In 1997, Charles Moore, a sailor and researcher, shocked the world with the discovery of the Great Pacific Garbage Patch, a large section of the ocean that has accumulated a large amount of garbage that is mainly plastic in nature sparking global outrage. Since then, several gyres of garbage have been discovered in the oceans. Plastic bags have been blamed for threatening marine life such as turtles which unknowingly consume plastic bag assuming they are jellyfish.
Controlling the Use of Plastic Bags

Governments have devised various ways of ridding and minimizing the use of plastic bags in their respective nations. Some of the policies introduced to control the use of plastic bags include a total ban on plastics bags, increasing taxes on plastic bags, and encouraging citizens to discard the use of plastic bags through environmental campaigns. Currently about 60 countries around the world have instituted plastic bag control mechanisms.
Which Countries Have Banned Plastic Bags?
Bangladesh
The first total ban on plastic bags was introduced in 2002 by the government of Bangladesh after they were found to pollute waterways and drainage systems. Other countries such as Rwanda, Kenya, China, Taiwan, and Macedonia have since followed suit.
Kenya
In 2017, Kenya was lauded for imposing the world harshest plastic bag ban in the world. Punishment for carrying plastics bags includes heavy penalties and jail terms. Manufacturing and importing plastic bags attract penalties ranging between $19,000 and $38,000 and jail terms of up to 4 years. Industrial packaging and garbage bags are however exempted from the ban. The ban was imposed after several failed past attempts to control the plastic bag menace such as regulating the thickness of the bags.
Rwanda
Rwanda is considered Africa's cleanest nation and was one of the first nations on the African continent to impose the plastic ban. The ban was imposed in 2008 after local authorities raised the alarm over the controversial way in which plastic bags were disposed after use. A majority of the plastic waste was burned thereby releasing harmful pollutants into the environment. Improperly disposed plastic bags were also found to clog drainage systems leading to flooding.
Challenges to the Plastic Bag Ban
Countries like Rwanda and Kenya have imposed nationwide plastics bans however, they have continuously experienced smuggling of large amounts of plastics bags for domestic use. The illicit trade is blamed on an overwhelming local demand with many people still considering plastic bags as cheap, convenient, and hygienic. Local authorities in Kenya have vowed to crack down on the illicit trade in border towns such as Busia that is a common entry points for plastic from neighboring country of Uganda.
Which Countries Have Banned Plastic Bags?
| Rank | Country | Year of Ban |
| --- | --- | --- |
| 1 | Albania | 2018 |
| 2 | Antigua and Barbuda | Unknown |
| 3 | Bahamas | 2020 |
| 4 | Bangladesh | 2002 |
| 5 | Belize | 2019 |
| 6 | Benin | 2017 |
| 7 | Bhutan | Unknown |
| 8 | Botswana | 2007 |
| 9 | Burkina Faso | 2015 |
| 10 | Cambodia | 2017 |
| 11 | Cameroon | 2014 |
| 12 | China | 2008 |
| 13 | Denmark | 2004 |
| 14 | Eritrea | 2004 |
| 15 | Estonia | 2017 |
| 16 | France | 2017 |
| 17 | Gabon | 2010 |
| 18 | Gambia | 2015 |
| 19 | Georgia | 2017 |
| 20 | Greece | 2018 |
| 21 | Guinea-Bissau | 2016 |
| 22 | Haiti | Unknown |
| 23 | Hong Kong | 2015 |
| 24 | India | 2002 |
| 25 | Indonesia | 2016 |
| 26 | Israel | 2017 |
| 27 | Italy | 2011 |
| 28 | Ivory Coast | 2014 |
| 29 | Kenya | 2017 |
| 30 | Latvia | 2019 |
| 31 | Lithuania | 2018 |
| 32 | Madagascar | 2015 |
| 33 | Malawi | 2015 |
| 34 | Mali | Unknown |
| 35 | Malta | 2009 |
| 36 | Mauritania | 2013 |
| 37 | Mexico | 2010 |
| 38 | Moldova | 2018 |
| 39 | Morocco | 2015 |
| 40 | Mozambique | 2016 |
| 41 | Nepal | Unknown |
| 42 | Netherlands | 2016 |
| 43 | New Zealand | 2018 |
| 44 | Niger | Unknown |
| 45 | Panama | 2020 |
| 46 | Papua New Guinea | 2016 |
| 47 | Poland | 2018 |
| 48 | Republic of the Congo | 2011 |
| 49 | Rwanda | 2008 |
| 50 | Senegal | 2015 |
| 51 | Slovenia | 2019 |
| 52 | Somalia | 2015 |
| 53 | South Korea | 2018 |
| 54 | South Sudan | Unknown |
| 55 | Sri Lanka | 2017 |
| 56 | Taiwan | 2003 |
| 57 | Tanzania | 2006 |
| 58 | Uganda | 2007 |
| 59 | Vanuatu | 2018 |