Society
US States by Population of Buddhists
According to the PEW Research Center, Hawaii has the highest population of Buddhists at 8%.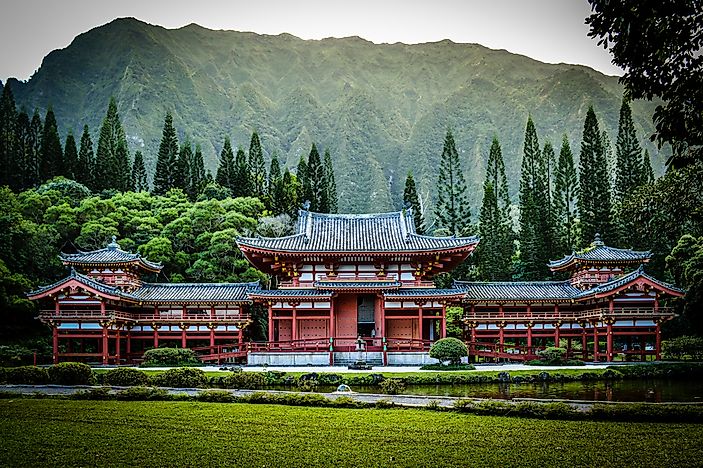 Buddhism is a religion originating from Asia that has gained popularity worldwide. Below we will analyze the states that claim the largest populations who identify as Buddhist.
Buddhism in America
Hawaii has the largest Buddhist population amounting to 8% of the total Buddhist population of the United States. California follows Hawaii with 2%. Most of the US states have a percentage of 1% or less of the Buddhist population.

Buddhism reportedly ranks 2nd when it comes to the religion with the most educated followers. Hinduism tops the list with 77% of its followers having attained a college degree. Among the Buddhists, 20% have post-graduate degrees. However, only 13% of the Buddhist population has a household income of $100,000 or more. More income earners fall within the bracket of $50,000-$9,999 as household income.
Buddhism in Hawaii
Buddhism in Hawaii is most common among the archipelago's Japanese community. The Japanese community in Hawaii hailed from the south and West Japan, where the Jodo Shinshu (Japanese Buddhism) was particularly strong. Jodo Shinshu was introduced in Hawaii as early as 1889 when Kagai Soryu, a leading Japanese Buddhist priest immigrated to Hawaii. Since then, Japanese Buddhism grew immensely in Hawaii as most Japanese in Hawaii were already Jodo Shinshu adherents and did not need to be converted. Since then, Jodo Shinshu remained dominant in Hawaii.

There are also specific Buddhist Temples for specific ethnicities in Hawaii. For example, Chan Khong Monastery (Vietnamese), Wat Lao Sithammaram (Laotian), Kagyu Thegchen Ling (Tibetan), Higashi Hongwanji Mission (Japanese), Hsu Yun Temple (Chinese), and Mu Ryang Sa (Korean). This is due to the fact that all these ethnicities have different Buddhist traditions and one ethnicity would feel uncomfortable adhering to another's traditions. For example, Korean Buddhists would not worship and enshrined Japanese man as the Jodo Shinshu dictates.
Buddhism in Hawaii has not transcended ethnic and cultural boundaries unlike in other countries such as Korea and Japan. The different forms of Buddhist cultures transported to Hawaii have remained independent of each other with all ethnicities tied to their customs. They celebrate different holidays and are generally governed by different calendars.
US States by Population of Buddhists
| Rank | State | % of Population Identifying as Buddhist (Source: PEW) |
| --- | --- | --- |
| 1 | Hawaii | 8% |
| 2 | California | 2% |
| 3 | Alaska | 1% |
| 4 | Arizona | 1% |
| 5 | Colorado | 1% |
| 6 | Connecticut | 1% |
| 7 | Illinois | 1% |
| 8 | Kansas | 1% |
| 9 | Louisiana | 1% |
| 10 | Maine | 1% |
| 11 | Maryland | 1% |
| 12 | Massachusetts | 1% |
| 13 | Michigan | 1% |
| 14 | Missouri | 1% |
| 15 | Montana | 1% |
| 16 | Nebraska | 1% |
| 17 | New Mexico | 1% |
| 18 | New York | 1% |
| 19 | Ohio | 1% |
| 20 | South Dakota | 1% |
| 21 | Tennessee | 1% |
| 22 | Texas | 1% |
| 23 | Utah | 1% |
| 24 | Vermont | 1% |
| 25 | Virginia | 1% |
| 26 | Washington | 1% |
| 27 | Wyoming | 1% |
| 28 | Alabama | < 1% |
| 29 | Arkansas | < 1% |
| 30 | Delaware | < 1% |
| 31 | District of Columbia | < 1% |
| 32 | Florida | < 1% |
| 33 | Georgia | < 1% |
| 34 | Idaho | < 1% |
| 35 | Indiana | < 1% |
| 36 | Iowa | < 1% |
| 37 | Kentucky | < 1% |
| 38 | Minnesota | < 1% |
| 39 | Mississippi | < 1% |
| 40 | Nevada | < 1% |
| 41 | New Hampshire | < 1% |
| 42 | New Jersey | < 1% |
| 43 | North Carolina | < 1% |
| 44 | North Dakota | < 1% |
| 45 | Oklahoma | < 1% |
| 46 | Oregon | < 1% |
| 47 | Pennsylvania | < 1% |
| 48 | Rhode Island | < 1% |
| 49 | South Carolina | < 1% |
| 50 | West Virginia | < 1% |
| 51 | Wisconsin | < 1% |