Top Fish And Seafood Exporting Countries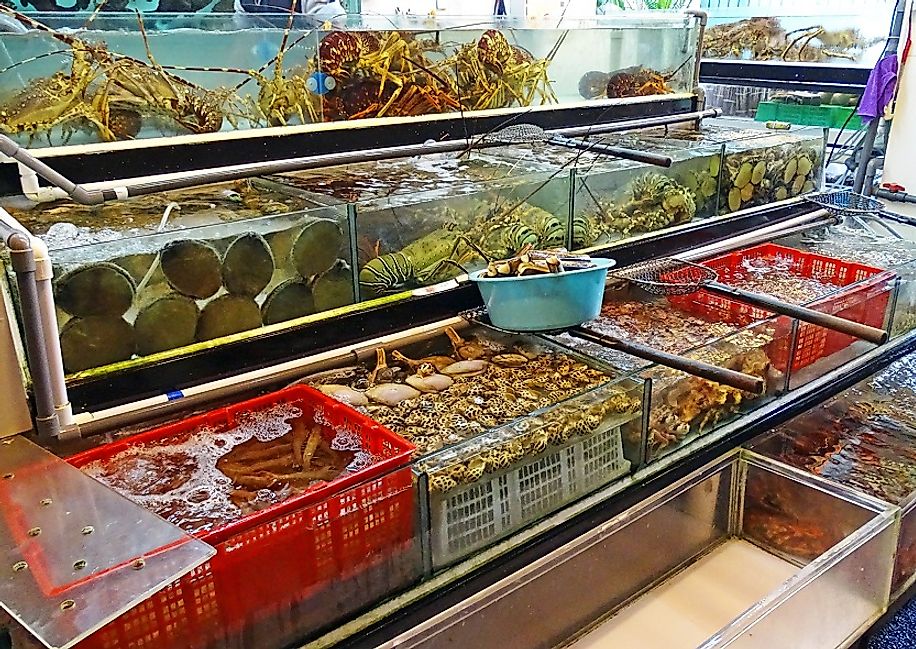 Seafood has long been an important part of human diets, and increasingly a major source of economic value. The countries listed below export large amounts of marine food products, including fish, crustaceans, mollusks, and others. These include fresh, frozen, smpked, dried, and pickled, and those sourced from both aquaculture (fish farms) and wild-caught fish from both fresh and oceanic waters.
10. Indonesia ($3.11 Billion USD)
Indonesia's long fishing tradition, coupled with its location near fish-rich waters, renders it as one of the most important fish and seafood producers in the world. In 2012, the country's total fish production was estimated to be around 15.26 million tons (5.81 million tons from wild capture and 9.45 million tons from aquaculture). Fishery exports from this country have also been significant, generating $3.11 billion USD annually as per the recent estimates. East Java, an island in Indonesia, is responsible for a third of the country's shipments of fish and seafood. Shrimp, frozen fish, and fresh fish form the largest sections of exported fish and seafood products from the country.
9. The Netherlands ($3.13 Billion USD)
The fish and seafood product exports from Netherlands totalled $3.13 billion USD annually, as per the recent estimates by the International Trade Center. In 2013, the top foreign markets (with their respective shares) for the Dutch fish and seafood products were Germany (18.7%), Belgium (15.3%), France (12.5%), Italy (9.1%), and Spain (6.5%). Cold water shrimp and prawns generated the highest export value ($203.2 million USD in 2013), which was closely followed by frozen shrimp and prawns ($168.6 million USD). The other important export products of the Dutch fishing and seafood industry were frozen jack mackerel, frozen horse mackerel, and frozen herrings.
8. Sweden ($3.7 Billion USD)
Sweden is one of the largest fish and seafood exporters in the European Union. With the Baltic Sea on the east and the Kattegat Sea to its west, and large expanses of freshwater resources within the country's mainland, Sweden's fishing industry lands far more fish than the country can consume. As per recent statistics, Sweden is the eighth largest exporter of fish and seafood in the world, with an annual value of $3.7 billion USD. The fish products exported from the country include fresh and frozen fish like salmon, herring, and cod species. Sweden also exports processed fish products like preserved herring, fish roe, and substitute caviar.
7. Chile ($4.0 Billion USD)
Chile has a flourishing fish and seafood industry, with the most recent data estimating the Chilean export value for fish and seafood products to be $4.0 billion USD annually. Trout, salmon, and mussels are the leading export species of Chile. The country is also the world's second largest supplier of farmed Atlantic salmon. The largest markets of Chilean fish and seafood exports are found in Japan, the United States, and Brazil. The European Union is also a major importer of Chilean fish and seafood products, accounting for 19% of the total seafood exports of the country. Improvements in infrastructure and increased investment in the fisheries and aquaculture sector of the country are believed to be the factors most responsible for the rapid growth of this industry here.
6. Canada ($4.2 Billion USD)
Fish and seafood form one of the largest sectors of food product exports from Canada, generating a revenue worth $4.2 billion USD annually. Approximately 85% of the total fish and seafood processed by Canadian harvesters is exported into the world marketplace. In 2014, the leading export species from Canada included lobster, snow crab, queen crab, scallop, shrimp, and Atlantic salmon. Lobster was the top export species, generating $1.52 billion alone in 2014. The aquaculture industry of the country is extremely well-developed as well, employing around 14,000 Canadians. All in all, more than 80,000 Canadians depend on fishing and related activities for their respective livelihoods.
5. India ($4.6 Billion USD)
The Indian fish and seafood industry touched an all-time high in the most recent years, with an annual export value of $4.6 USD billion as per the latest estimates. Frozen shrimp and prawns continued to be the leading export product, contributing 34% in volume, and 67% in dollar value, to the total seafood exportd from the country. 3,57,505 metric tons of shrimp were exported in the year 2014-15, generating a value of $3.7 billion. The Indian seafood export found its largest market in the United States (26% share of the produce) followed by South East Asia (25.7%) and the collective members of the European Union (20%). Besides shrimp, frozen fish was the second largest commodity, accounting for an 11% share in the total export value of fish and seafood products from India.
4. USA ($5.1 Billion USD)
U.S exports of fish and seafood reached a record high in recent years with a total value of $5.1 billion USD annually, thus making the country the fourth largest supplier of fish and seafood products to the world export market. Higher volumes of production, rather than rising prices, have been primarily held responsible for the rising export value of U.S. fish and seafood, which has grown by nearly 43% over the last 5 years. In fact, the price growth of fish and seafood products lags behind the price growth of other protein products in the country. In 2014, the value generated by fish and seafood export from the country nearly equaled that generated from the exports of poultry, and were even greater than the values of fresh fruit and cotton exported from the USA. Alaskan pollock, salmon, fish roe, and surimi collectively accounted for 40% of total U.S. fish and seafood exports in 2014.
3. Vietnam ($5.8 Billion USD)
With a coastline spanning 3,000 kilometers, and many aquaculture farms both inland and along the shore and out to sea, it is no surprise that the Vietnamese fish and seafood industry is flourishing and doing exceedingly well. In 2012, over 5 million people were directly employed by the country's fishing and seafood sector, and around 8 million people derived their income from the fisheries sector in all. The value of exports from the fish and seafood industry of Vietnam has also increased significantly, rising from $776 million in 1997 to $5.8 billion USD in 2015. Japan has been, and continues to be, the largest market for Vietnamese seafood exports. In 2014, the fishery sector of Vietnam produced 8% of the gross value added to the nation's economy. Total output from the fisheries in the country amounts to around 6.5-7 million tons of produce, with aquaculture contributing 65-70% of this total output.
2. Norway ($8.8 Billion USD)
2015 was a grand success for the Norway fish and seafood industry, and a year when Norway exported seafood worth NOK 75 billion (approximately $8.8 billion USD) which was an 8% rise from the export value obtained in the previous year. Other European Union members and the United States served as the largest markets for Norwegian fish and seafood exports. The EU accounts for nearly 67% of the total seafood export of Norway, and exports to there generated revenues worth NOK 50 billion for the Norwegian economy in 2015. Salmon and trout were the two leading species of fish exported from Norway in 2015. Codfish, clipfish and fresh codfish products were the other leading seafood products exported from the country. Shellfish exports, including shrimp, snow crab, and king crab, also performed exceedingly well in 2015.
1. China ($14.1 Billion USD)
Since 2002, China has been the world's largest exporter of fish and seafood products. In 2005, China exported $7.7 billion USD worth of fish and seafood products, with edible aquatic plants such as kelp chipping in to a significant degree. Currently, as per the most recent data obtained from the International Trade Center, fish and seafood export earns the country a revenue worth $14.1 billion USD annually. In 2013, China's leading exports included squid and frozen cuttlefish ($1.6 billion USD), frozen shrimp and prawns ($1.2 billion USD), and frozen fish ($1 billion USD). Japan, the United States, and Hong Kong are the top export destinations of Chinese fish and seafood. In 2010, approximately 14 million people people were engaged as fishermen and fish farmers in China.