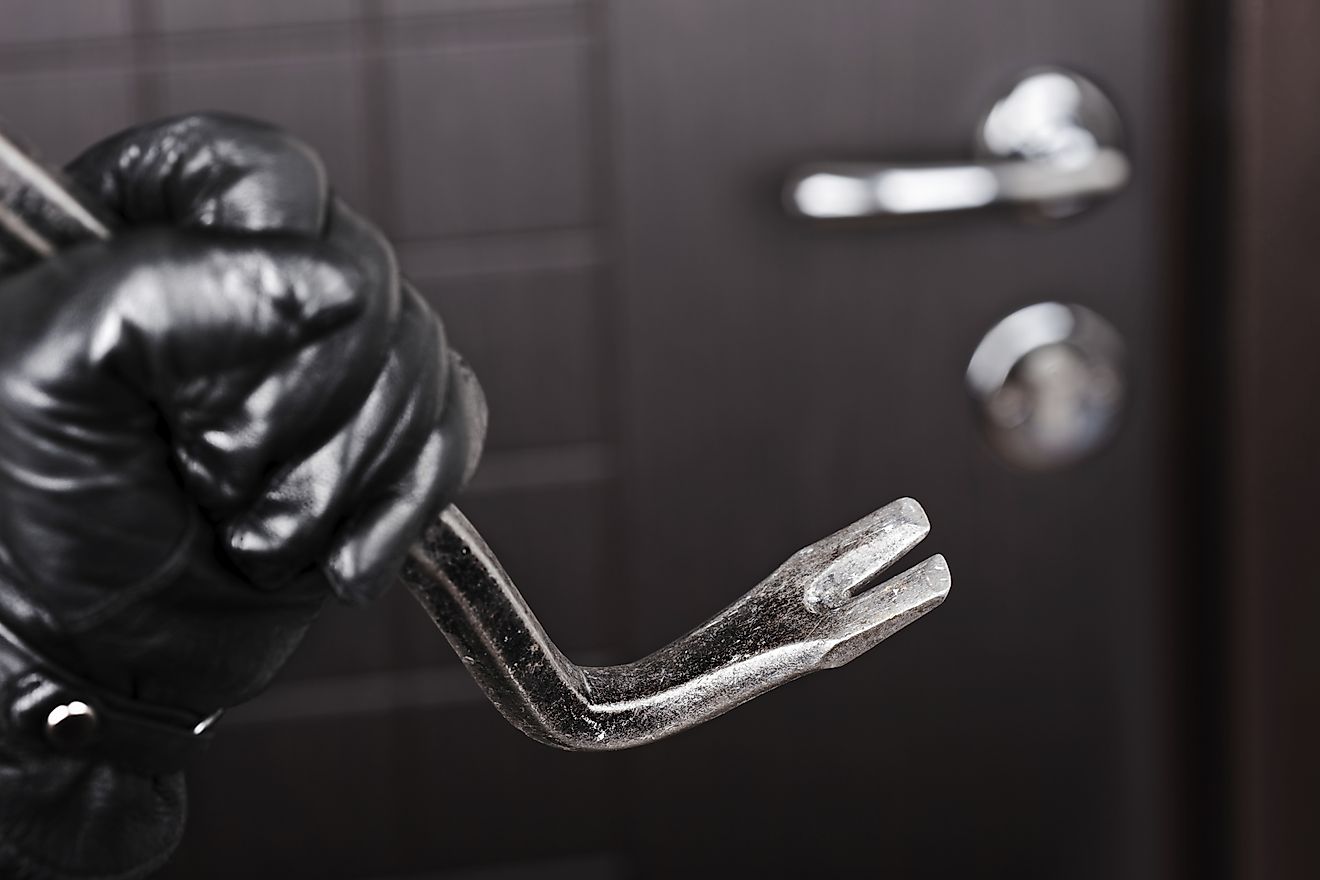 As per the FBI's Uniform Crime Reporting (UCR) Program definition, burglary is the unlawful entry of a structure to commit theft. Forcible entry need not be present in order for an offense to be categorized as burglary. The three subclassifications for burglary as identified by the UCR program are the following: unlawful entry, forcible entry, and attempted forcible entry. By structure the UCR means either an apartment, house, or barn which is used as a permanent office, place of dwelling and or stable. We look at the states and cities therein that have the highest burglary incidence rates in the U.S.
South-Central Region Ranks Worst for Burglaries in the US
States located in the South Central Region, such as New Mexico, Arkansas, Louisiana, Alabama and Mississippi, had the highest numbers of burglaries per 100,00 people, with New Mexico topping the list. Within New Mexico, Albuquerque's burglary rates are even higher still. Nonetheless, this trend comes as no surprise to many officials and experts in criminology. According to retired police officer Rep. Paul Pacheco, "Two major drug arteries run right through Albuquerque. You've got I-40 and I-25."
New Mexico ranks as the 36th most populous state in the US, and one of the least densely populated, of which 51% are women, 13% are 65 or older and 7.5% are below 5 years old.
West Memphis Has the Highest Crime Rate in Arkansas
If you're a new resident of the mountainous and heavily forested lands characteristic of Arkansas, you're may be wondering if you made a good choice moving there. Rest assured, as there are safe cities and locales across this state wherein you can live without constant fear of losing your property or, worse still, your life. Among these cities are Pocahontas, Elkins, and Bella Vista, where property crimes go as low as 1.2 per 1,000 people, which is a far cry from the entire state's 835.7 per 100,000.
On the other hand, there are areas of Arkansas where crime is so rampant that they boost state-wide burglary rates significantly. If you're a long time resident of West Memphis, Newport, or Monticello, then you're probably aware that these cities have been ranked as some the least safe cities to live in Arkansas. Not only do they possess high crime rates, but the unemployment rates are high as well. Combined with oft times exorbitant living expenditures, this yields a perfect formula for high rates of burglary.
The Problem of Burglary in Louisiana
Louisiana is home to one of the United States' most popular destinations, New Orleans. Unfortunately, this city is also known to be plagued with murder and theft. Furthermore, crime rates across the entire state of Louisiana rank among some of the worst in the United States, with property crimes constituting 88% of all reported criminal offenses in the state. These include burglary, larceny, and motor vehicle theft.
Towards a Safer United States
Despite their high rates of burglary incidences, the states topping this list are populated predominantly by honest, hardworking people who just want some peace of mind. It is up to them to set examples for others in regards to how to live as a productive member of society. Further, they should be on the watch to report criminal activity, and urge their respective governments to take action against wrongdoers. Further, much of the South-Central US has suffered more than their fair share of economic downturns and natural disasters, which have contributed significantly to high rates of burglary incidences there.
Burglary Rate By State
| Rank | State | Burglaries (Per 100,000 People) |
| --- | --- | --- |
| 1 | New Mexico | 887.3 |
| 2 | Arkansas | 835.7 |
| 3 | Louisiana | 824.5 |
| 4 | Alabama | 819.0 |
| 5 | Mississippi | 813.3 |
| 6 | North Carolina | 798.2 |
| 7 | Washington | 783.0 |
| 8 | Nevada | 772.3 |
| 9 | Oklahoma | 760.9 |
| 10 | South Carolina | 759.9 |
| 11 | Georgia | 756.9 |
| 12 | Florida | 719.9 |
| 13 | Tennessee | 712.2 |
| 14 | Ohio | 680.0 |
| 15 | Arizona | 647.1 |
| 16 | Texas | 627.8 |
| 17 | Delaware | 616.5 |
| 18 | Missouri | 581.5 |
| 19 | Indiana | 559.3 |
| 20 | Hawaii | 547.9 |
| 21 | Kansas | 545.0 |
| 22 | Kentucky | 526.7 |
| 23 | DC | 526.0 |
| 24 | California | 522.3 |
| 25 | West Virginia | 484.9 |
| 26 | Maryland | 468.7 |
| 27 | Iowa | 464.4 |
| 28 | Rhode Island | 457.1 |
| 29 | Michigan | 445.9 |
| 30 | Colorado | 438.2 |
| 31 | Oregon | 434.0 |
| 32 | Alaska | 427.6 |
| 33 | Nebraska | 422.5 |
| 34 | Idaho | 393.3 |
| 35 | Utah | 391.4 |
| 36 | Illinois | 388.2 |
| 37 | Minnesota | 380.7 |
| 38 | Maine | 378.2 |
| 39 | Massachusetts | 370.1 |
| 40 | Wisconsin | 368.5 |
| 41 | North Dakota | 366.1 |
| 42 | Pennsylvania | 357.5 |
| 43 | New Jersey | 354.8 |
| 44 | Montana | 351.2 |
| 45 | Puerto Rico | 339.2 |
| 46 | Connecticut | 332.4 |
| 47 | South Dakota | 330.3 |
| 48 | Vermont | 324.6 |
| 49 | New Hampshire | 313.7 |
| 50 | Wyoming | 289.1 |
| 51 | Virginia | 277.7 |
| 52 | New York | 257.2 |